Kolkata, West Bengal, India
Globally Competitive Work, Innovation and Knowledge Hive
This mix use campus for ITC is a multi-facility business and knowledge complex comprising corporate office towers a hotel, IT/ ITES workspaces, knowledge hub, cafeteria & recreation facilities as well as support and utility facilities, with provision for future expansion. The 22-acre site lay disposed linearly along the east-west direction approached by a major arterial road on the Kolkota's eastern new development, had a proposed road running along its longer edge. INI's design accounts for the ITC Corporation's global appeal and strong commitment to sustainability, as well as INI's own innovative, intuitive and integrating approach.
Builtup Area : 25,60,000 SF
Services : Master Planning, Concept Design - Architecture, Landscape Design Sustainability (International Bid Entry)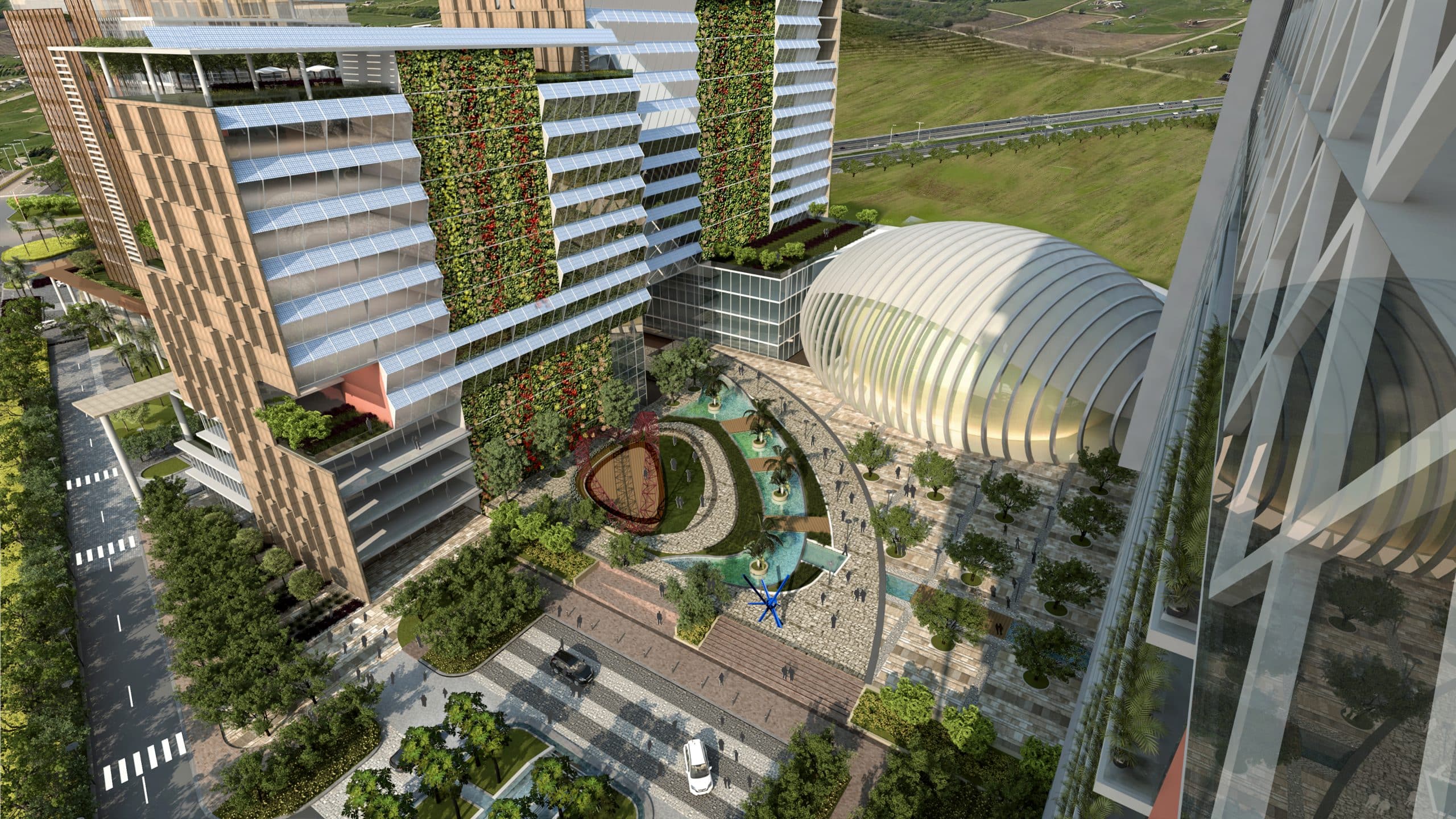 Optimizing a Linear Site through Design
While the ITC hotel and ITC corporate office towers get located at the western front abutting the main road, the towers constituting the IT/ITES facilities with a connecting egg-shaped knowledge hub occupy the center of the site. Provisions for support facilities and future expansions have been made at the rear, i.e. eastern end of site.
Bespoke Environments that go Beyond the Call of Business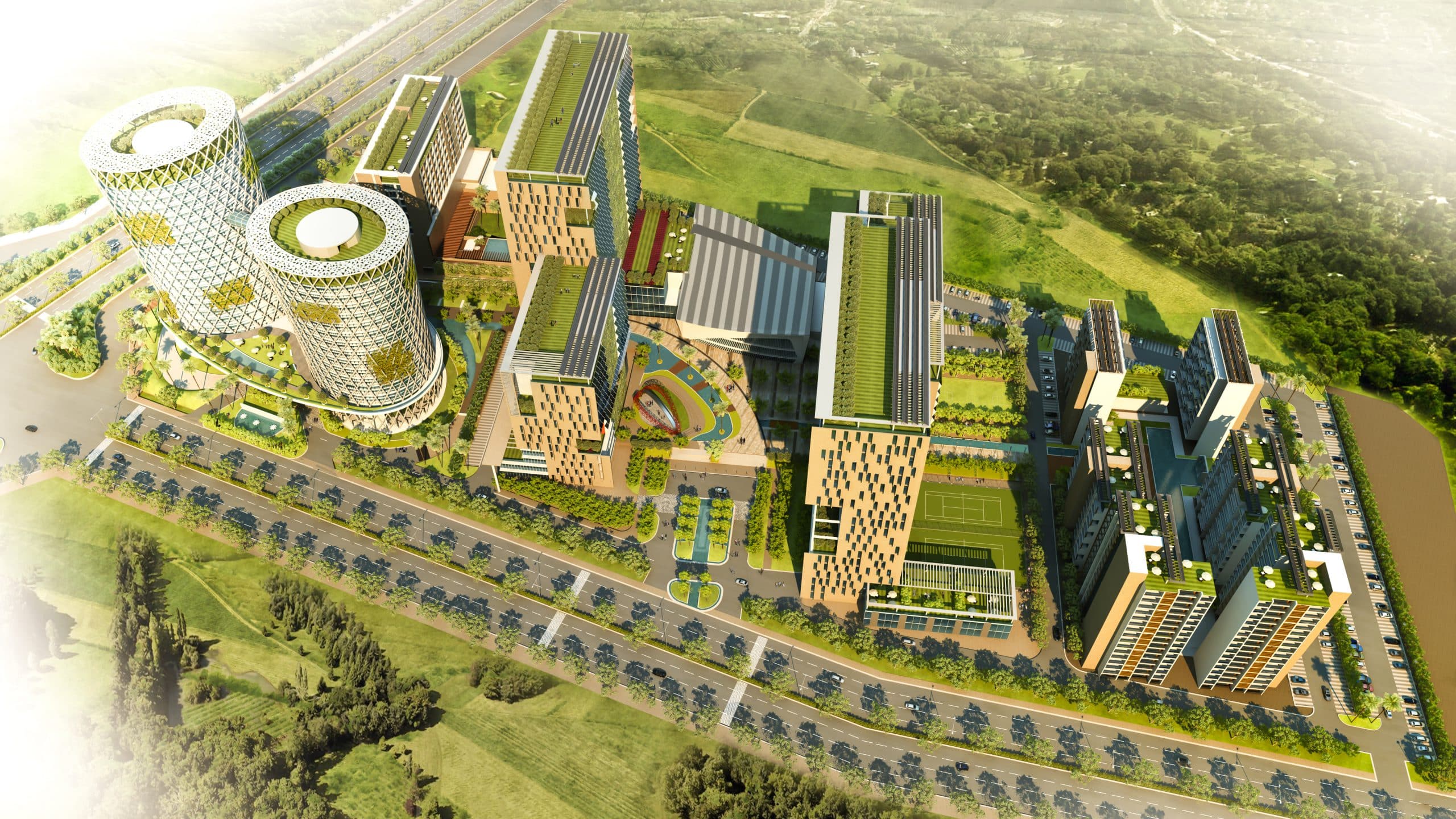 Pedestrian Friendly Planning Creates Interactive & Vibrant Community on Landscaped Campus
A peripheral road services each part of this mixed-use complex terminating with dedicated drop off points at each facility. This allows all the central spaces to be purely pedestrianized, woven as they are around the various buildings as elaborately landscaped courtyards with hard and soft landscapes and connected water features. The landscape design follows thoughtful detail, adapting to seasonal changes and incorporating vegetated bio-swales for collecting & conveying storm-water run-off along with its pollutants in such a way as to recharge the groundwater table. At various levels as well, terraces carved out of different corners and vertical green walls adorning large surfaces immerse the buildings in greenery while creating insulating properties for the buildings' enclosures.
Well-Calibrated Sustainability and Climate Response
Sustainability and climate response by means of passive and active strategies drive the design of this campus with a holistic and integrated approach. In addition to retaining run-off water from pavements, medians and terraces for rainwater harvesting, recycling and reuse for various gardening and toilets' flushing purposes, many strategies including energy management have been incorporated. Each façade facing different directions has been specifically designed to respond to specific climatic behavior in that direction. Thus, the eastern and northern façade have vertical fins fixed n frosted glass windows that let in maximum daylight, the western façade has horizontal shading fins, while the southern façade is equipped with an additional layer of solar PV (BIPV) shading by perforated screens which also enhance the elevational aesthetics while generating green energy.