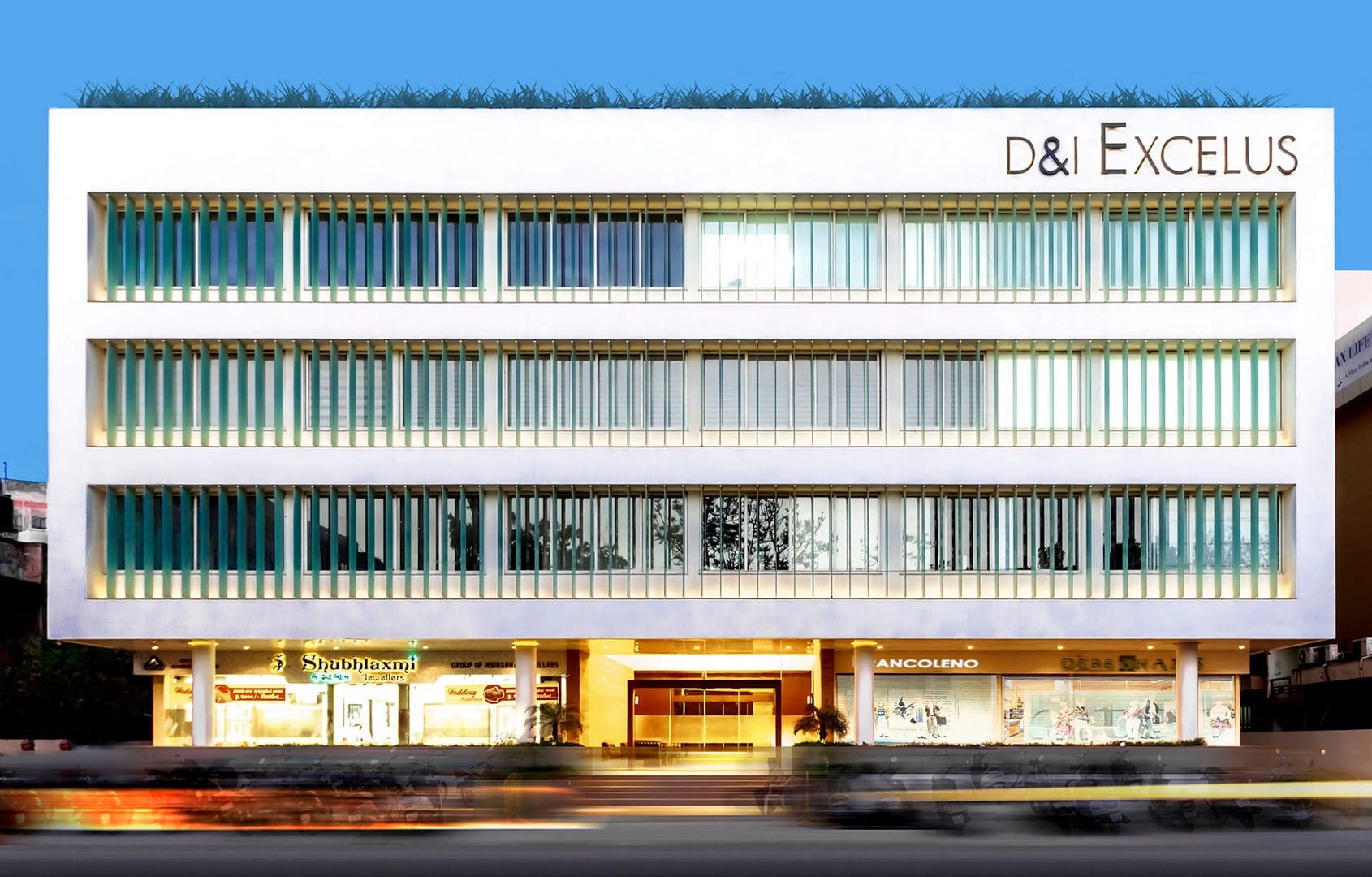 Bhavnagar, Gujarat, India
This project is a symbol for the city's upcoming and thriving work community—a one-of-a-kind project in Bhavnagar, conceived and developed on the principles of international design ideologies, robust infrastructure and ultra-luxurious amenities.

The building is intentionally calm and elegant in contrast to a varying Bhavnagar streetscape, with linear and symmetric opening treatment of glass louvers. These are recessed as long slits within the solid mass of the cubic building. The efficient layout, with varied sizes of retail spaces and offices, was designed with the intention of catering to and providing for the elite corporations, banks, multinational companies, and international retail brands. A plush foyer, elegant and tasteful, greets the executives on their way to their workspaces, and tranquil terrace gardens offer the perfect respite from demanding business responsibilities. An ease of movement and access, elevated volumes and an overall sense of productive hum to the space offers a perfect setting for inspired business and work.
Size : 44,320 SF
Services : Architecture, Interior Design, Landscape Design, MEP Engineering, Sustainable & Green Certification
Accolad : IGBC - LEED Silver Rating
Signature Corporate & Retail Address for Bhavnagar
This exquisite commercial venue housing exclusive retail as well as corporate offices was developed by the promoter as Bhavnagar city's answer to the emerging global scene of premium business addresses equipped with the technology and ambience to set the stage for MNC brands, SMEs and banks to conduct global businesses. Luxurious amenities, advanced technologies and a lavishly envisioned ambience have been put together in an extremely efficient layout that wastes no space to derive an exclusive business venue.
The architecture is elegantly minimal, defined by a clean-lined geometry within a large span structural framework that creates efficiently serviced vast usable interior spaces. A grand reception lobby on the ground floor is flanked by two large retail showrooms on either side, while its double-height atrium creates an impactful interior volume at arrival. A space-efficient elevator and staircase core at the center of the plan gives proximal access to offices on three upper floors. An operable glazed façade with laminated glass fins and terraces carved into the mass let natural light and ventilation enter every office space, irrespective of size or placement. Utilities like washrooms and pantries are neatly inserted in the space behind the elevator lobby resulting in a compact consolidation of all services.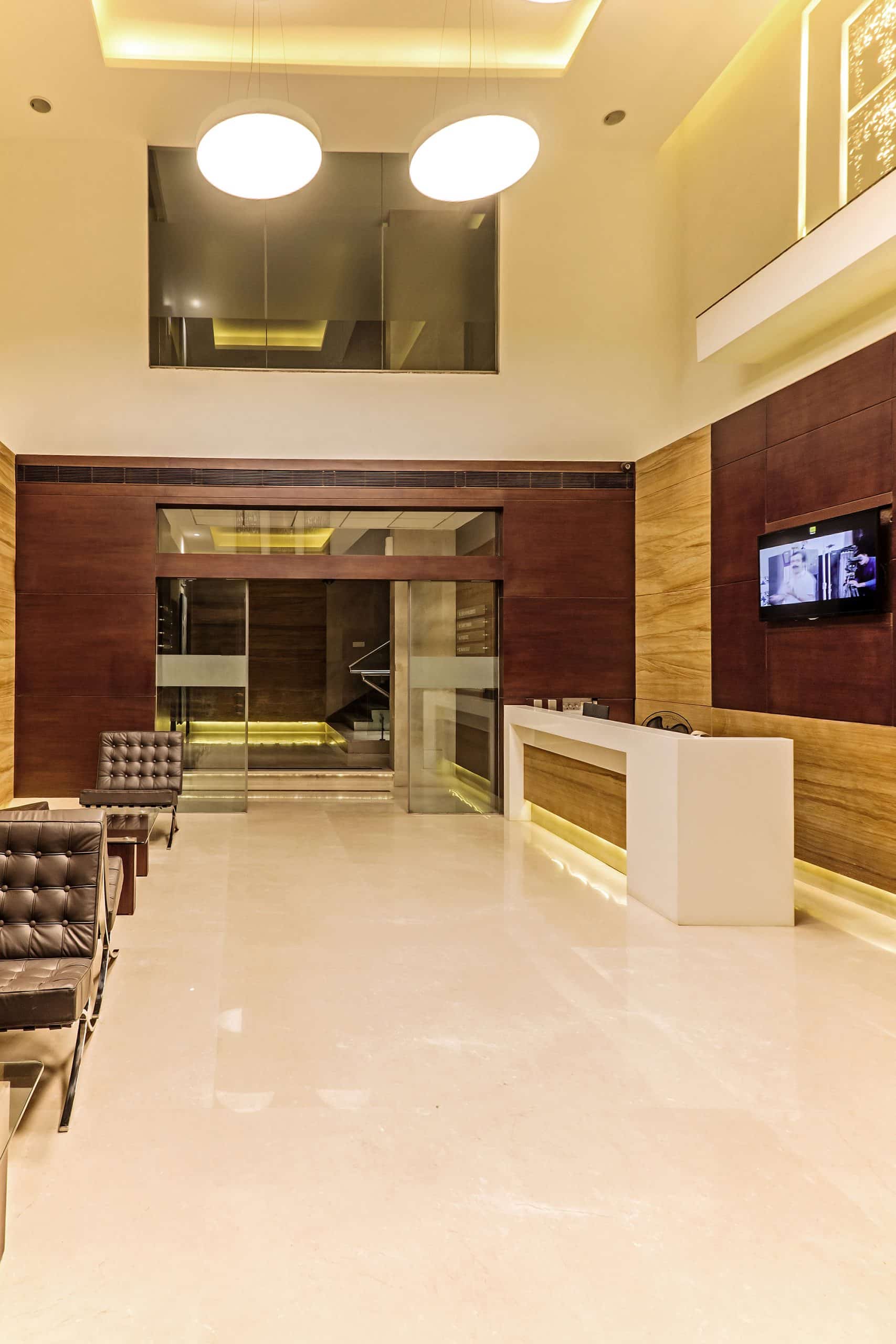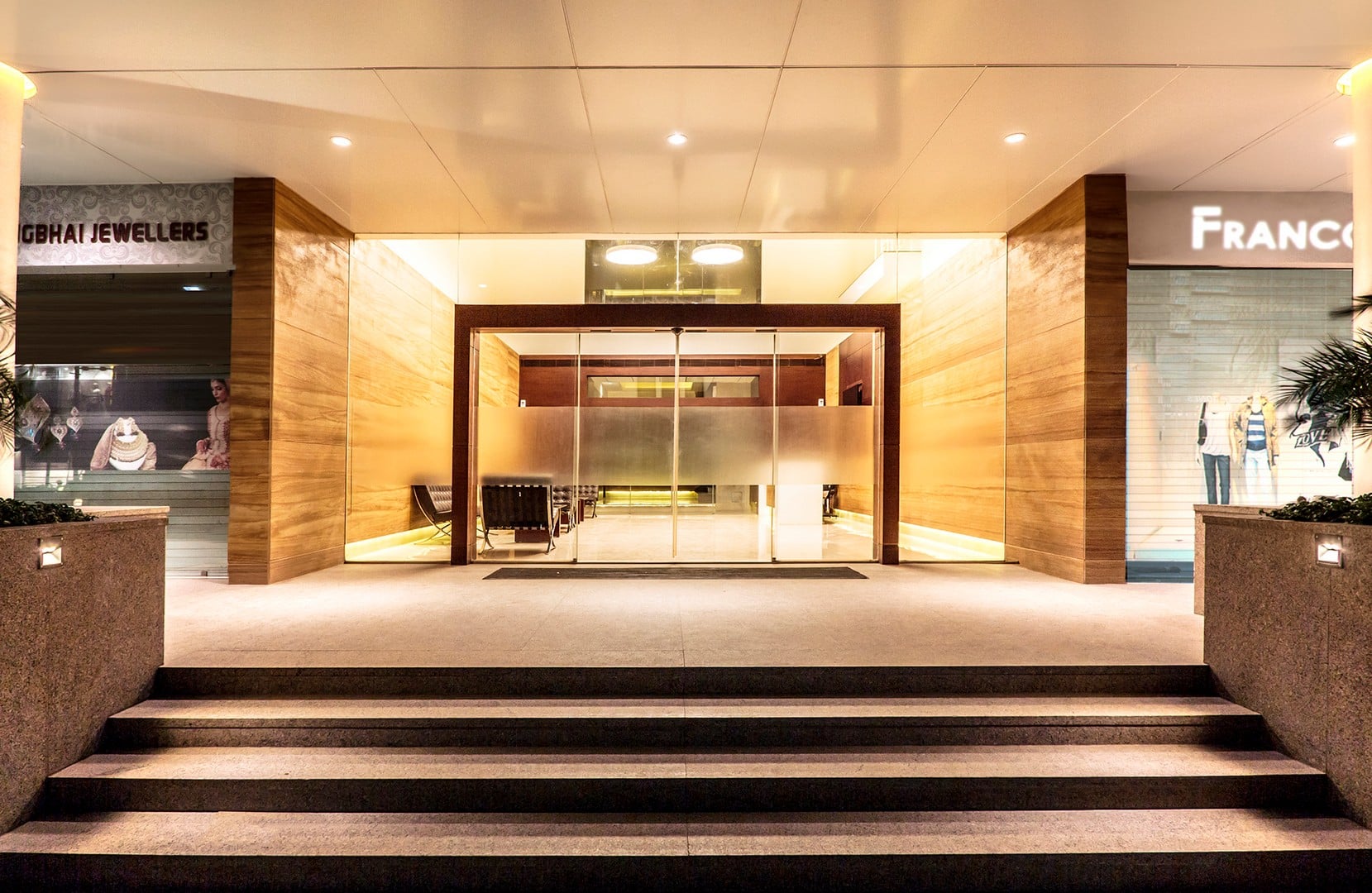 Grandiose, Epigrammatic Set-Up Engages Business Nucleus
Treated with plush finishes and lavishly accessories, all spaces within the building bear the mark of an exclusive venue designed to inspire momentous & collaborative business interactions at the offices and retail outlets here. While second floor offices have terraces carved out from the sides, third floor offices overlook terrace gardens and internal courtyards which lead up a set of stairs to partitioned sit-outs on the building's terrace floor – thus offering maximum green connections and open spaces for interaction. The fact that this premium environment has been achieved through a spatially optimum design where the building occupies a maximum portion of the site lend it an epigrammatic quality.s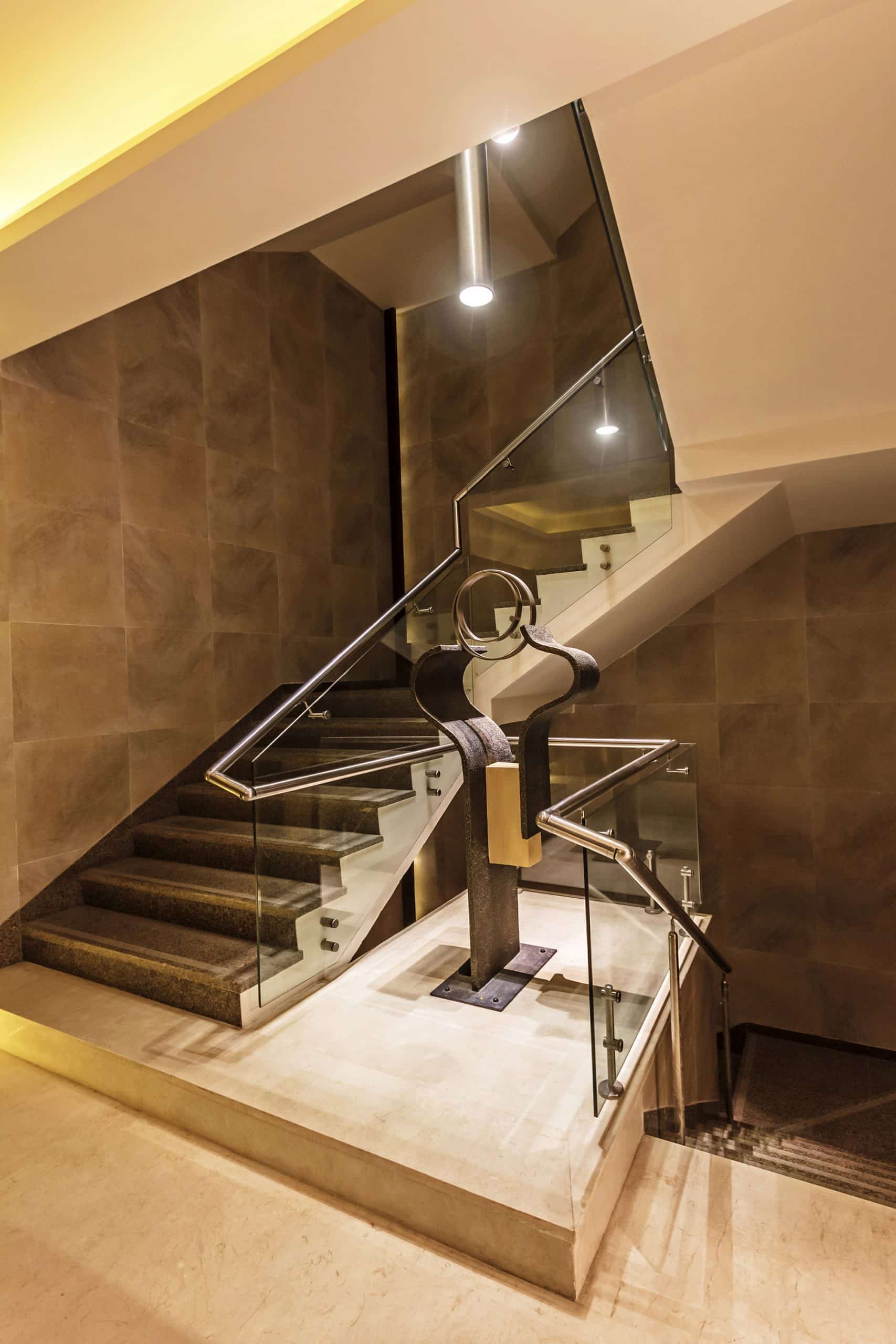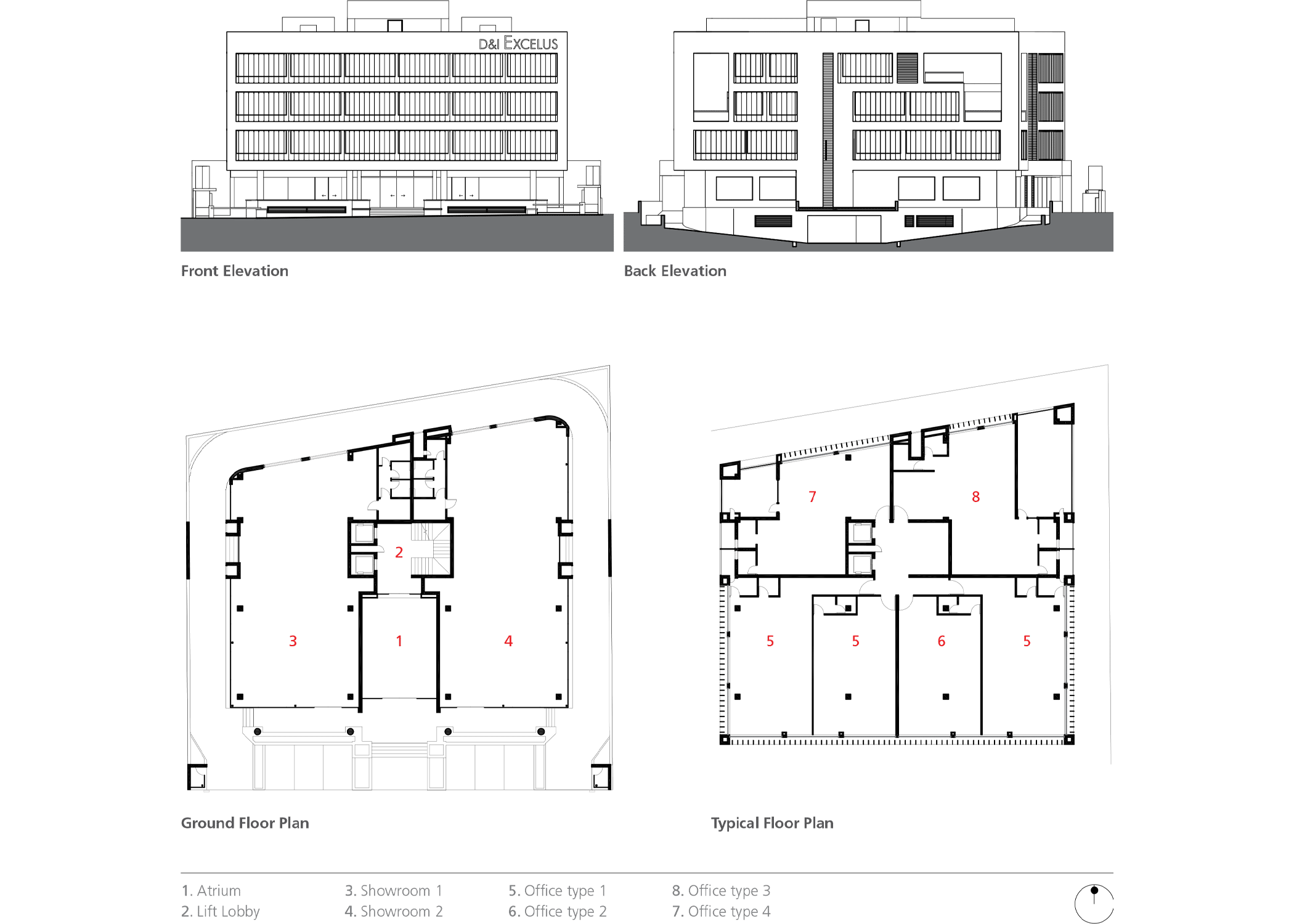 Future Ready Amenities & Sustainability
Advanced information and communication technology at par with the global best has been employed to enable businesses to be in step with their international peers. A pillared portico on the ground floor that gives a shady recess to the glazed shop-fronts and vertical laminated glass fins lining the glazed façade of the office floors above retarding heat and glare to offer comfortable natural light and ventilation to the interiors are some of the passive measures employed to create a future-ready LEED Gold certified sustainable building.