Ahmedabad, Gujarat, India
In order to foster a participatory environment, the office features spontaneous ideation areas where visitors and staff can collaborate on a variety of project types. Glass walls and surfaces are used as blank canvases, while open meeting areas promote the open exchange of ideas and thoughts. This holistic approach to design encourages interaction, extends transparency, and provides a healthy environment for all. Ultimately this space represents our commitment to providing innovative, functional and sustainable architectural services to our clients on a local and personal level.
Size : 17,500 SF
Services :Interior Design, MEPF Engineering, Turnkey Design Build, Sustainability, PMC, Art, Environmental graphics & Signage
Accolade : USGBC LEED Platinum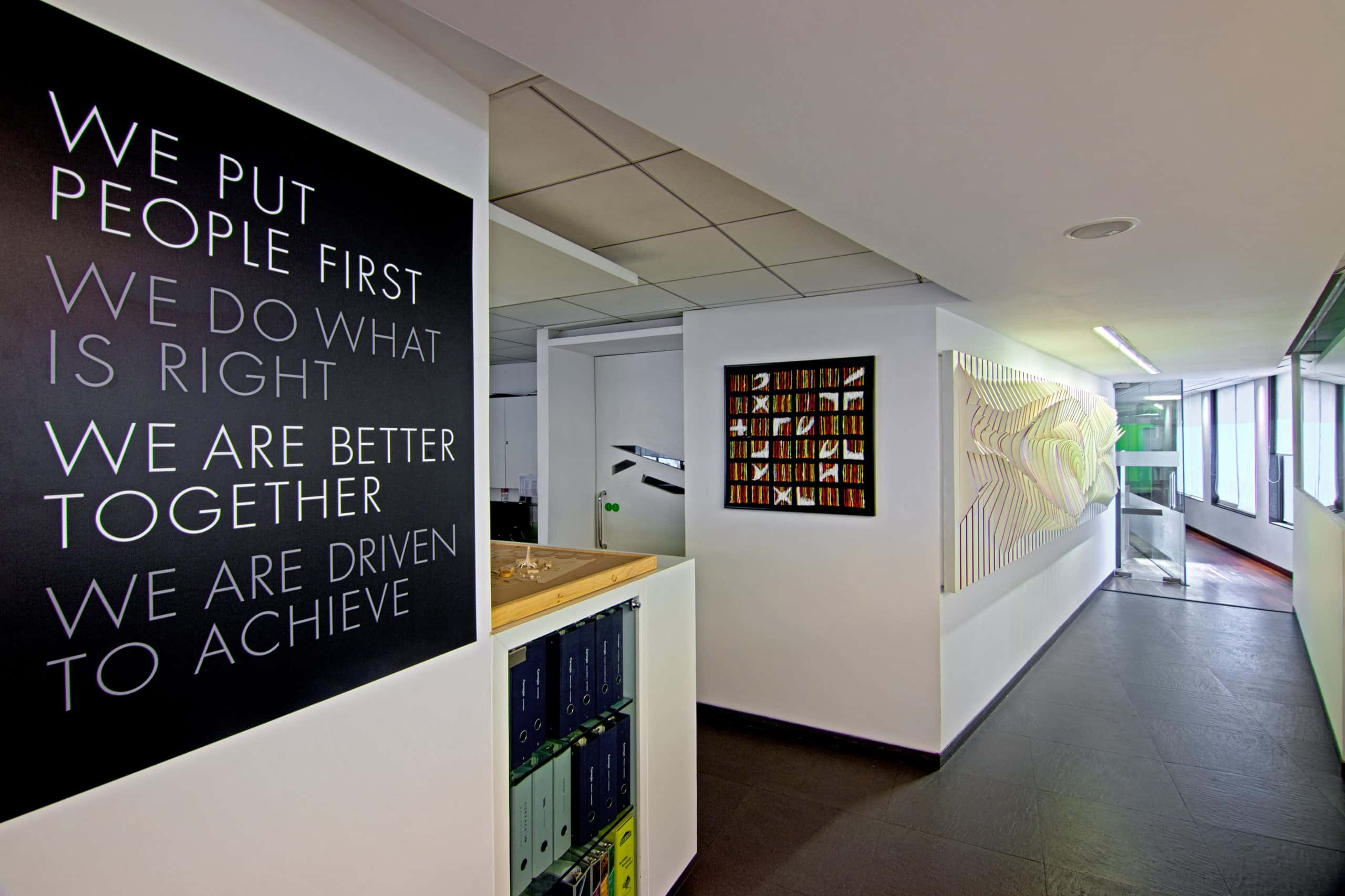 Expression of Commitment to Delivering Innovative, Sustainable Design Solutions
Spaces we humans create for our own use often come to express who we are and what we stand for. This observation stands veritable in regard to the INI Office at Ahmedabad – the vibrant workplace of around 200 members of our founding office. Planned over an expansive floor plate spreading out on either side of the building's elevator lobby and core, the INI office interior reveals a seamlessly flowing, barrier free zone with just glass surfaces screening the few partitioned spaces within. For a practice that espouses a design philosophy centered on collaboration guided by research and sustainability, achieved through an integrative process, this office space articulates this belief and work culture substantially.

An apparently simple, adaptable, orthogonal open plan of workstations separated by half-height partitions and surrounded by cabins that offer acoustic privacy as needed which line the external wall periphery is disrupted by a skewed axial line piercing right across both wings of the office floor plate. This disruptor transforms into a connector with most of the meeting/ discussion rooms and facilities for research/ reference like an island library finding their place in the vicinity of this axis.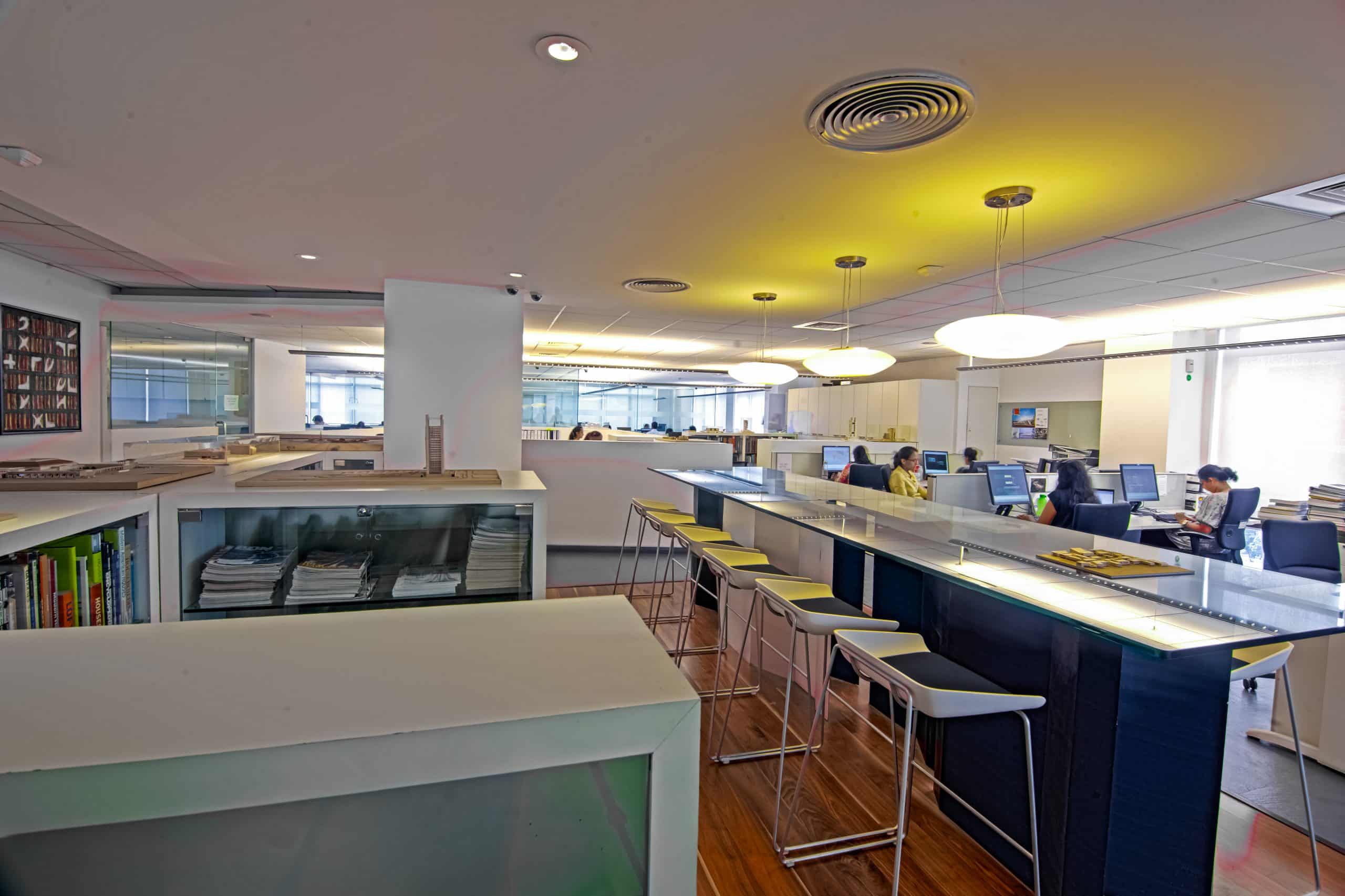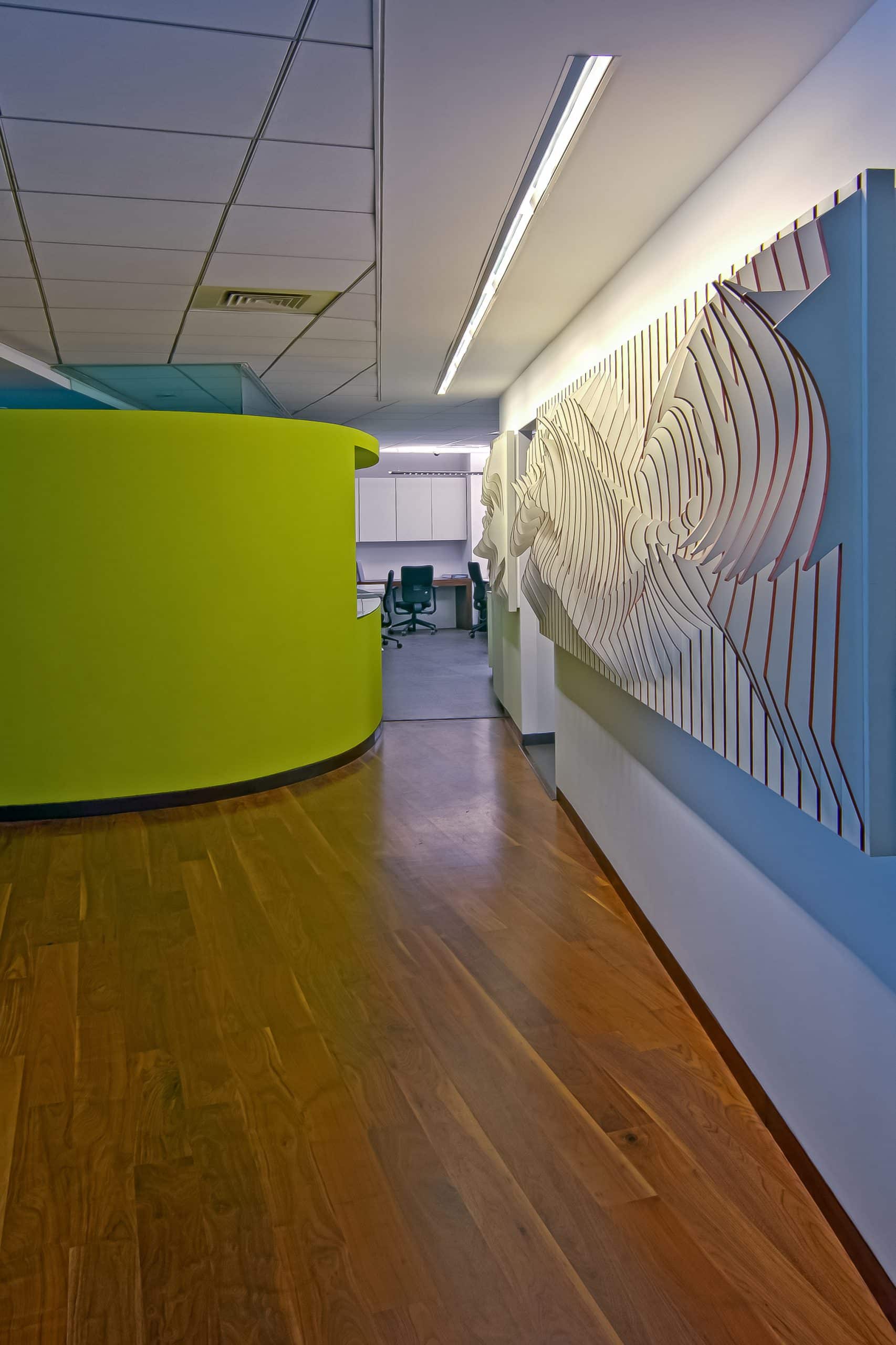 Open Workspace for Spontaneous Ideation & Collaboration
These meeting areas being formed in between the workstations encourage spontaneous discussion & ideation sessions between the staff, management and clients, which is the collaborative/ integrative process forming the bedrock of INI. An island of stacks in the center houses books and other literature which are invitingly available for reference accessorized by a reading bar-table, thus facilitating and ensuring a firm research base for all design decisions taken here. A dedicated section created for the crucial engineering team as well as one for a physical model-making workshop right at the center of the architects' workstation layout speak for the emphasis INI lays on the continuous integration of these conventional fundamentals into the design process.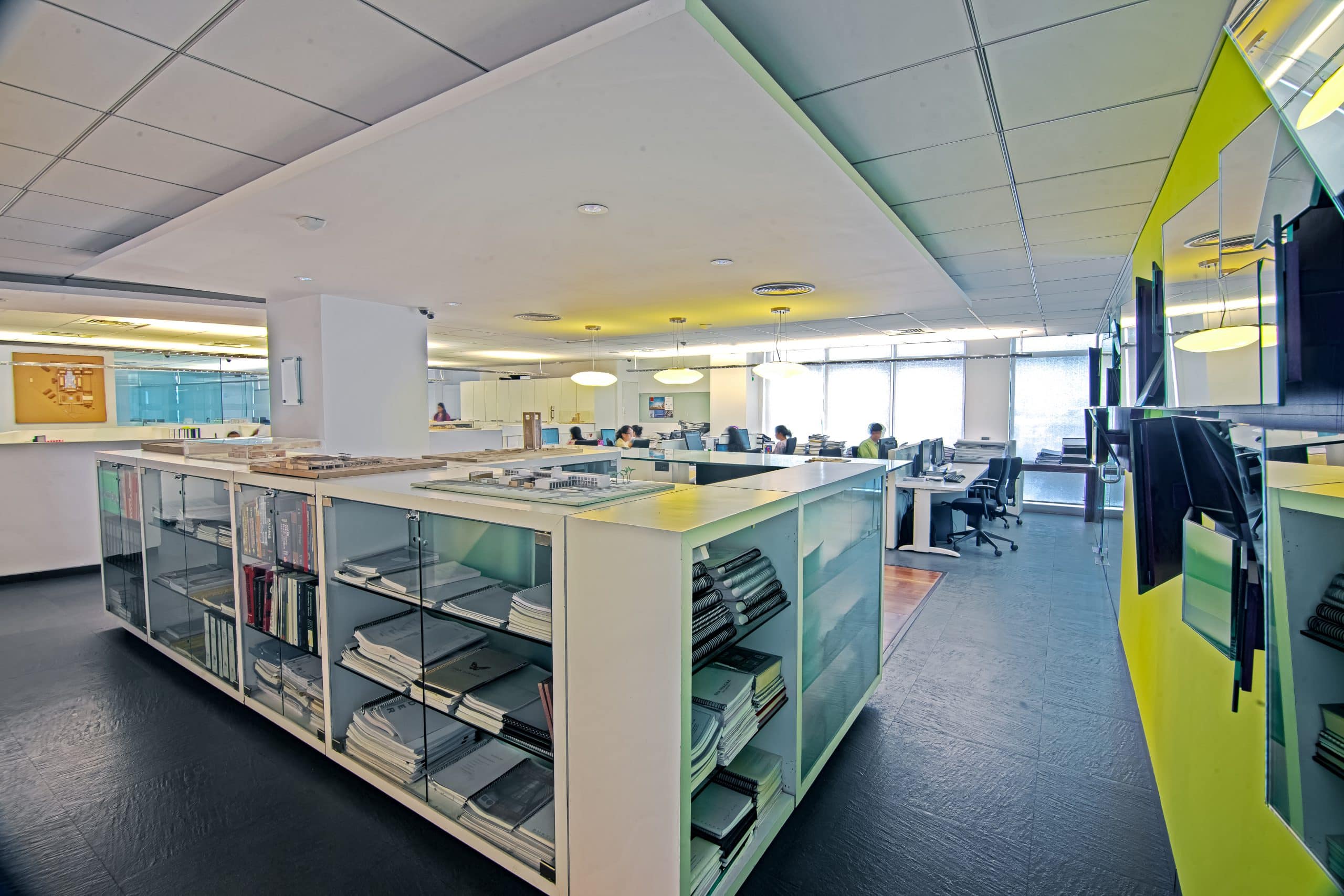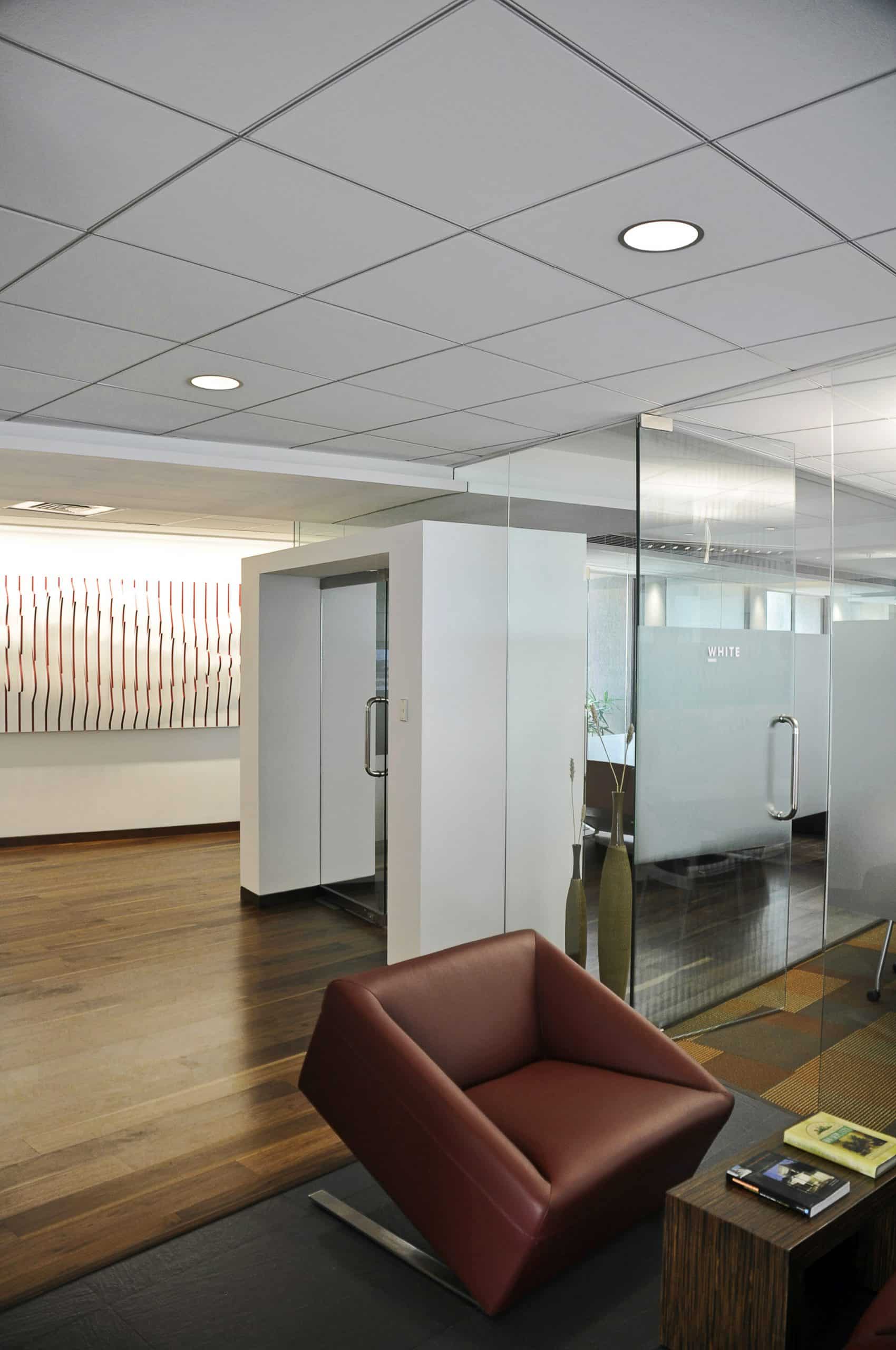 Sensory Ingredients Inspire Warmth & Creative Vibes
The reception lounge which spreads linearly on both sides as one enters from the elevator lobby wears inviting warm vibes in hues of yellow, woody parquet flooring and plush brown leather sofas grouped around coffee tables to form separate discussion bays. Moving inside the workspaces, the woody flooring continues as the warm hues transform into energetic greens and yellows used as accents amid the predominantly minimalist white or glazed surfaces which offer blank canvasses for innovations to be ideated on. Exclusively crafted three dimensional relief art works on selected walls infuse a dynamism that stimulates the creative work environment.
Design for Immediate & Long Term Sustainability
Design strategies for sustainable energy, water and waste disposal have been embedded into the II office design to make it an exemplar that inspires clients to adapt the same measures in their projects. These measures which contribute to immediate as well as long term sustainability have earned this office design a LEED Platinum rating award.