Dishman Pharmaceutical Corporate
Headquarters
Ahmedabad, Gujarat, India
The building is designed with the intent of developing a dynamic form that leaves a lasting impression and is highly responsive to the arid climatic conditions. The visually emphatic structure of gently sloping columns holds the building above the ground as if a cradled child, further accentuated by part of the lower floor rising from the ground and tapering upwards to afford those standing at ground level a framed view of the sky and the green foliage. In juxtaposition, the building mass above slopes toward the ground, providing the office floors framed views of the rich landscape. All office floors have scooped open-to- sky landscaped terraces that marry the formal environment of the offices with the informal, organic outdoors.
Builtup Area : 60,000 SF
Services : Building Design - Architecture, Interior Design, Landscap Design, MEPF Engineering, PMC, Structure Engineering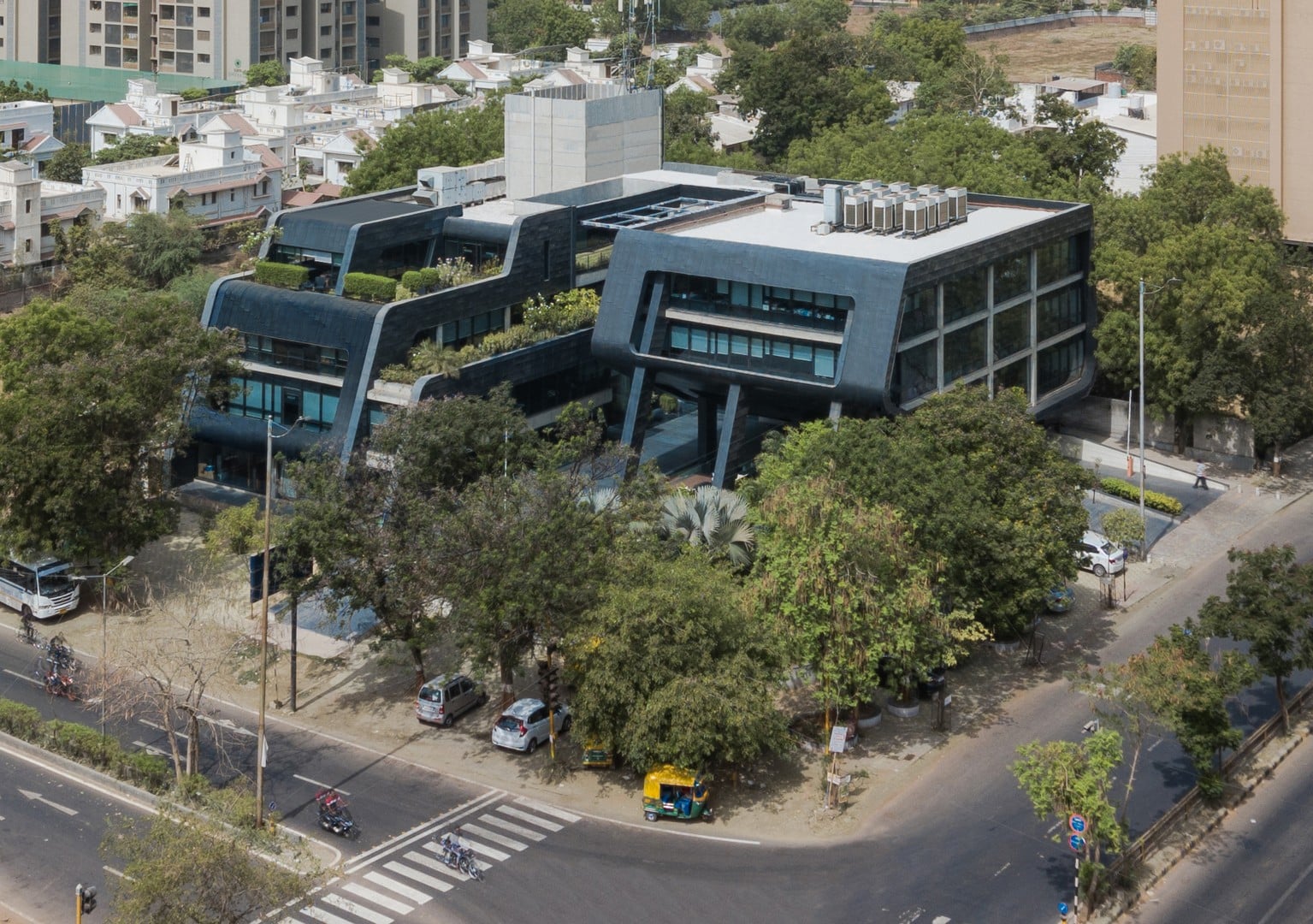 Innovative Spin lends Allure to Corporate Architecture
A twist in the tale of boxy glass-and-concrete corporate built-form infused it with unforeseen charisma at the Ahmedabad headquarters of Dishman Pharmaceuticals. A larger exterior glazed envelope gets broken down to smaller relatable masses framed in glimmering loops by insulated zinc panels. A cheerfully dynamic profile emerges as bands of this looped frame set off at a gentle upward angle from a set-back first floor slab, to be propped up by a row of elegantly sloped columns fronting the façade, before tilting backwards to complete the loop. It allows a landscaped public plaza to invitingly adorn this corner site's front, continuing as tucked into the rear stilted end.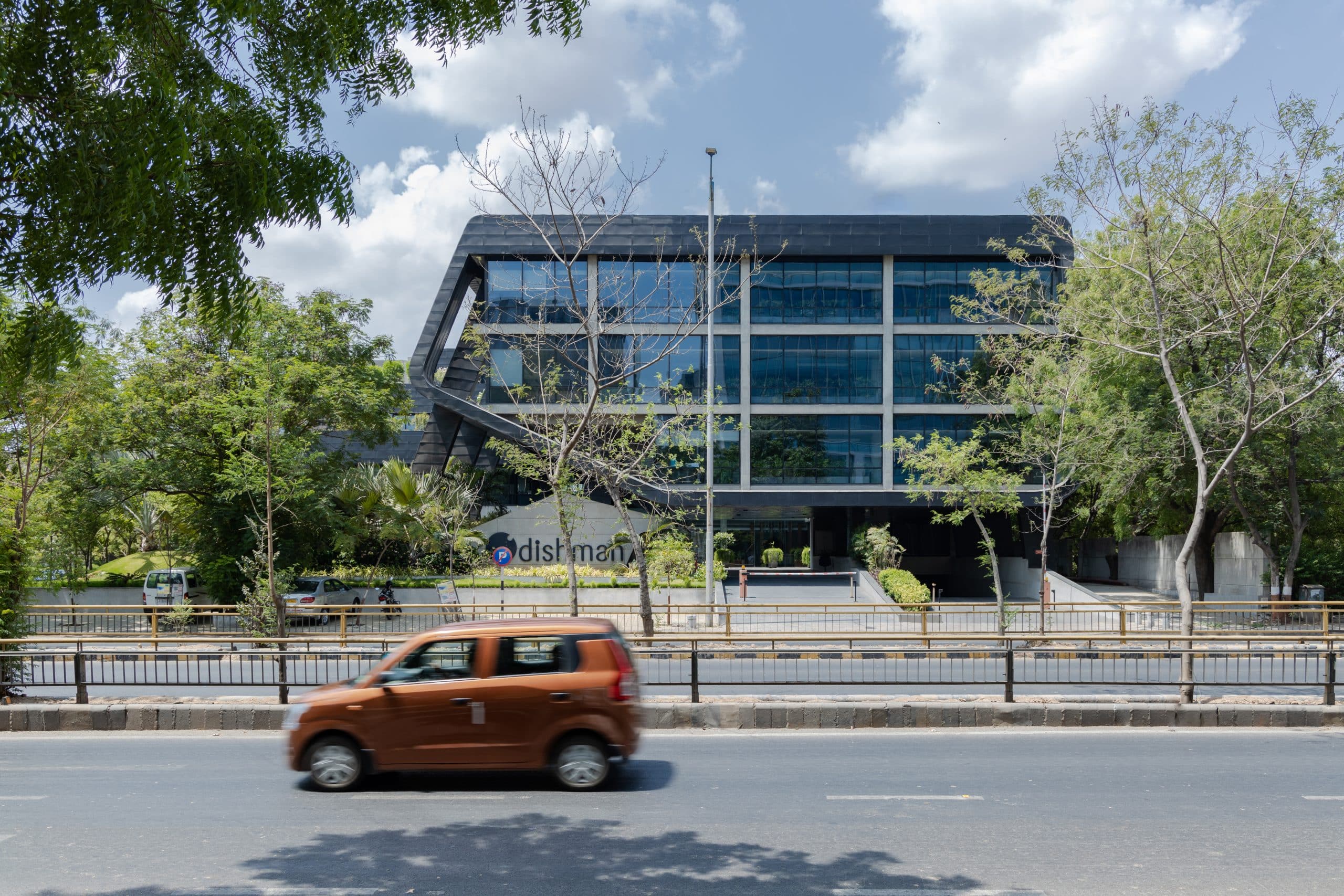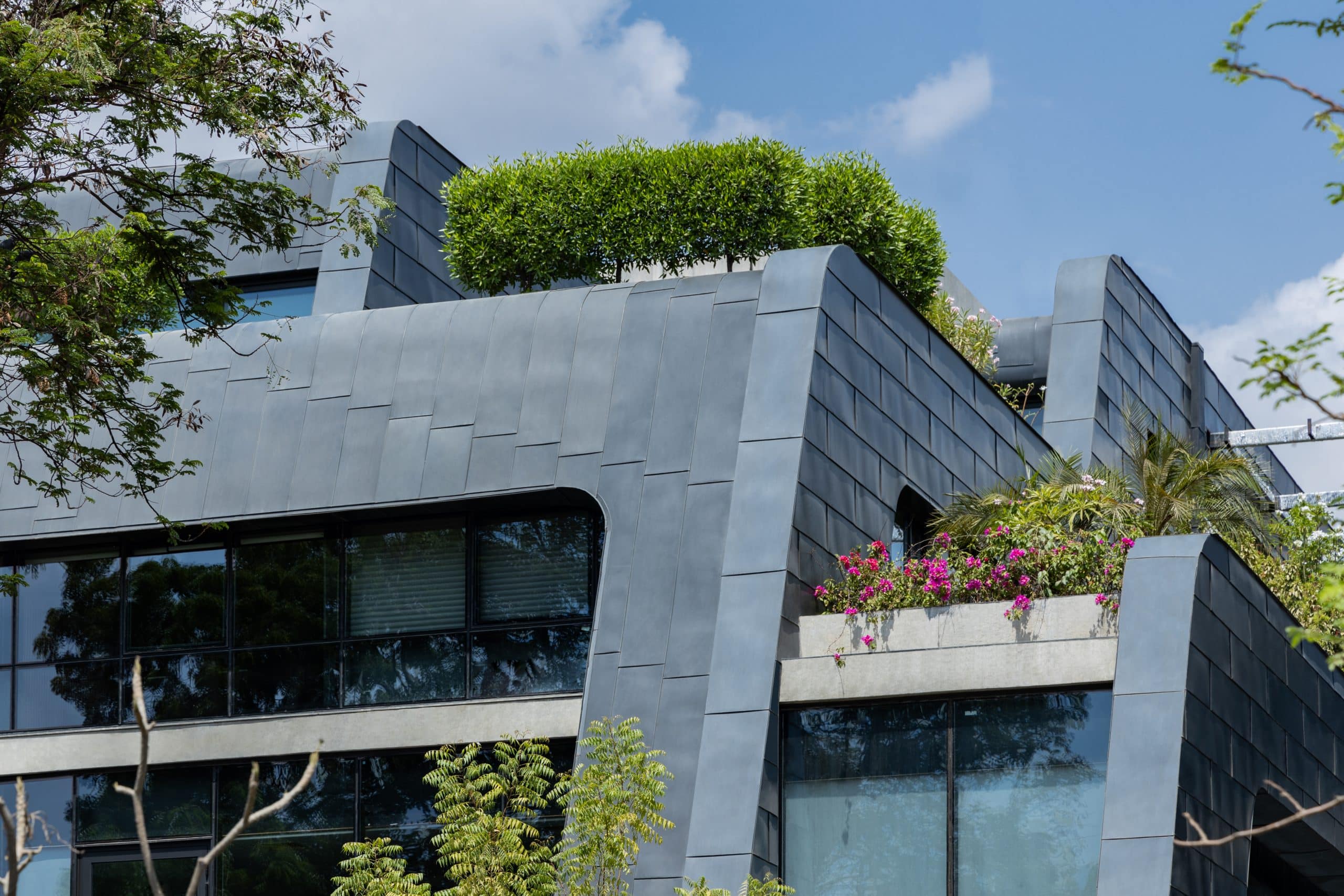 Interlaced Spaces and Views
This imaginative angular lift of frontal bands creates framed vistas of the garden below for first floor occupants and similarly framed views of interiors from the plaza below. Similarly sloped bold bands carrying the name banner extend along the extreme front wing of the L- shaped footprint, defining the site entry and framing interior views through glazing.
Integrated Climate Response
A low emission DGU glazing and insulated zinc envelope teams up with rows of fins crowning the glazed structure to combat the harsh Ahmedabad heat. Green patches accommodated into scooped out hollows along glazed surfaces afford climatic and visual relief to the interior occupants.