Rajarhat, Kolkata, West Bengal, India
Premium Hospitality in Compact Urban Settings
Located in the heart of the new mixed-use development in the affluent Rajarhat area of Kolkata, Vicinity Hotel is a five star hospitality facility. As a result of sharing the site with the mall it is connected to, the hotel required to be planned on a deep parcel of land having a narrow entry point at one end. The challenge of arranging premium facilities for five star hosting on such a site situation was overcome by INI's teams through an innovative approach coupled with functional clarity and uncompromising quality.
The ground plus seventeen story hotel has its café, bar and restaurant with kitchens and ancillary facilities, as well as a business center & meeting rooms on the bottom four floors, and a banquet hall on the fifth floor. F & B outlets like a lounge and bar as well as spa and gym come up on the sixteenth floor, topped by an open-to-sky deck with a swimming pool on the seventeenth floor. 180 guest rooms of around 35 sq m are housed from the fourth to the fifteenth floor along doubly loaded corridors accessed by guests' elevators and stairs from one end and service/ housekeeping elevator/ stairs from the farther end.
Builtup Area : 1,62,169 SF
Services : Master planning, Concept Design for Architecture, Landscape Design & Interior Design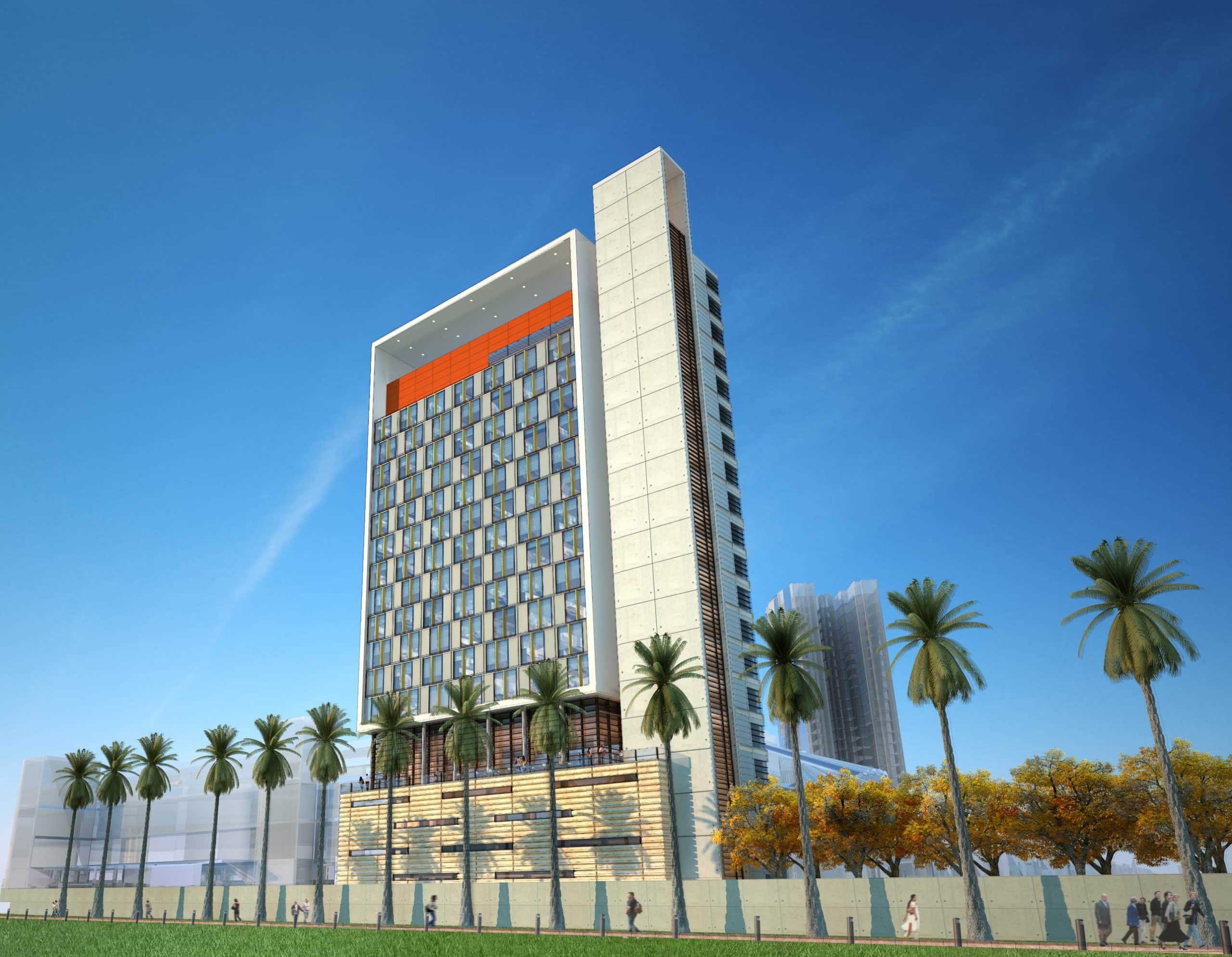 Unique Drop-Off Experience
A tree-lined and landscaped forecourt uses a water-feature to segregate the incoming & outgoing vehicular movement, taking the visitors to the deep-set drop-off point ahead of the grand, double height spacious entrance lobby and reception area. After dropping the guests, the vehicles turn around to enter the basement parking bays through an entrance placed under the water-feature. Vehicles leaving the basement are lead out via a neatly delineated exit path out of the site.
Rooms with Views, Banquet Connected to Mall
All rooms in the hotel have their windows facing either the outer view from the site or the view towards the mall and atrium. The lower floors that align with the mall do not have rooms on that side, but the fifth floor banquet hall located there enjoys the advantage of being accessed from either the mall or the hotel. A service floor is introduced just below the floors where guest rooms are located while other MEPF and HVAC related facilities are positioned at the rear end of the building.