Surat is one of the fastest-growing cities in India with a strong and versatile economy and is the home to the diamond and textile industry. A prominent port on the west coast led to its fast-paced growth and is now being on the list of smart cities in India.

The Municipality of Surat envisioned an iconic and public place in the center of Surat that showcase its culture, diversity, and vibrancy. INI Team started with a few fundamental questions to guide the design process including:
What role does City Center play for Surat? What will help so citizens and city guests will like being there? What will contribute so it feels like a gathering place for the community? What will be required for important events to happen here? What will it need so one brings visitors here, full of pride?
Site Area : 6.65 Acres
Builtup Area : 6,60,944 SF
Services : Master Planning, Benchmarking, Market Analysis & Feasibility Study, Concept Design, Landscape Design Concept, PPP Structuring & Implementation Model, Risk Assessment of the Project, Assessment of Linked Infrastructure and Project Implementation Schedule, Sustainability
Collaboration : Coldwell Banker Richard Ellis (CBRE)
To create an identity of Surat in the global market, the municipal corporation intends to develop an iconic structure that shall serve as a center for cultural, social and economic identity. The structure will reflect city's wealth, peace and cleanliness. The structure will have unique design and shape of high standards that will be recognizable and will stand different from the rest of the city. Additionally, there will be a designated space allocated for public and recreational use with facilities such as gathering place for various events and festivals, park, kid's corner, commercial activity, food court, gaming zone, laser show with fountain, landscaping, gardens, amphitheater and parking in the South zone of the Surat city. By creating this, the structure will have the potential to attract tourism, create jobs and further enhance the local economy.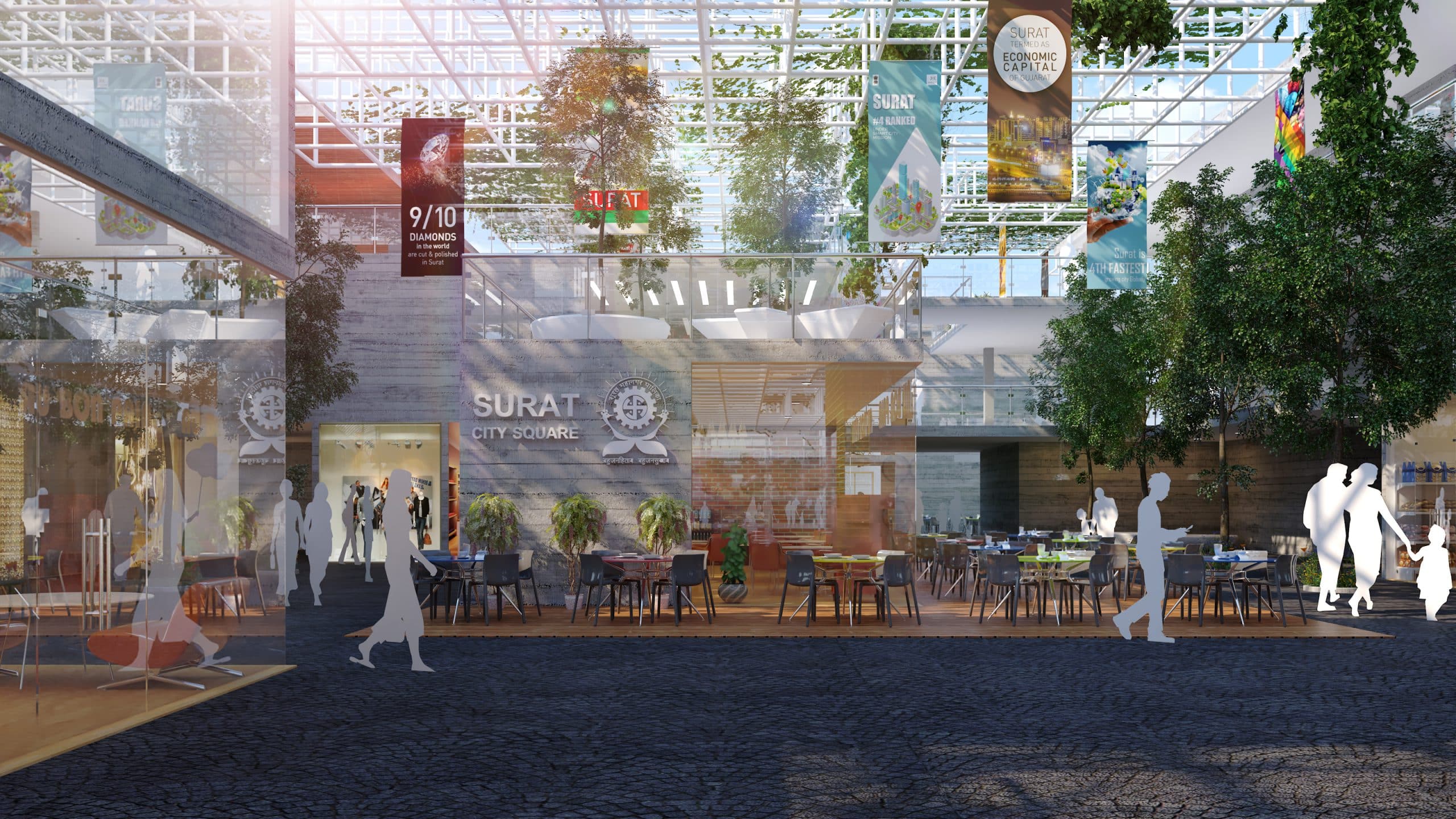 Designing an experience to represent the city
The process of design included extensive research of various successful city Centers across the world and analyzing what factors worked/or not worked. Based on benchmarking study; we proposed mix-use characteristics with public spaces, commercial/retail, hospitality, exhibitions/cultural events, and hosting international/national brands and a museum that showcases cities' reach heritage and leadership in textile and diamond industries. The City Square plays a part as a catalyst for growth providing facilities like urban gardens, handicrafts studios, themed outlets, a children's play area, a theatre, and a Laser show with fountains. The project design also focused on enhancing Surat's brand & identity for the city while highlighting the rich culture, heritage, and industrial prowess of the city.
Planning enigmatic public spaces
Features such as water fountains and laser shows, food courts, and urban landscaped plaza areas are along the edge of the development and integrate from the drop-off point of the BRTS Corridor for increased footfall and tourist attractions. The cultural themed district is proposed that will host a world of activities bringing an international experience close to home. The experience center specifically focuses on showcasing the vibrant and diverse nature of Surat's progress in the Diamond and Textile industry, history, culture, and economy.
A central plaza with an open-air performance area is carefully designed to motivate the citizens to more actively participate, encouraging local theatre and artists to perform. This central plaza is designed to have multiple entertainment areas open to hosting fairs and festivals for the public.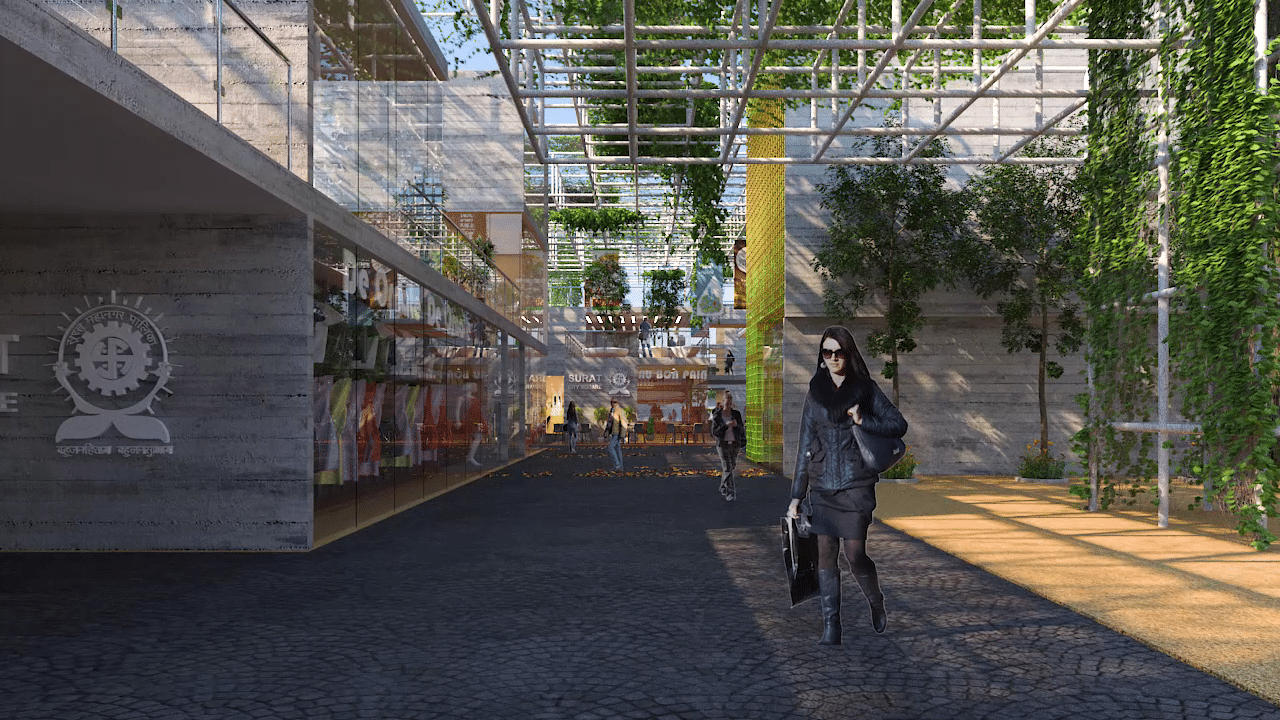 Lastly, the offices, commercial and retail zone, entertainment and multiplexes zone, and hotels with the crown of this square add to the vibrancy, driving value, and business to all adjacent areas. The transportation proximity to Surat's main tourist attraction and the development of road networks in this manner will set a strong foothold for the proposed square to be uniquely emblematic. The master plan also integrated and enhanced the issues such as accessibility, connectivity, and transportation to the site.