Puppalaguda, Hyderabad, Andhra Pradesh, India
To incorporate the principles of Vastu Shastra across 6 phases, in puppalaguda area of Hyderabad totaling up to large number of apartments, yet maintaining a modernist architectural styling and centered around the concept of active living was a daunting task which was a challenge that we took head on and achieved the result that Pacifica was looking for as clients. The highest point is designed to be the club house, go-to place for entire township. While the lowest was designated to be the start point that is phase-1 ensuring that through the entire construction process on the hilly terrain one can see the progression of the development. The 6 phases sit on step podiums that elevate progressively as a response to the terrain and form individual societies that make up to township.
Site Area : 38 Acres
Builtup Ares : 90,53,553 SF - total Project, (16,16,146 SF - phase-1)
Services : Feasibility Study , Programming, Master Planning, Landscape Design, Building Design - Architecture, MEPF Engineering, Campus Infrastructure Design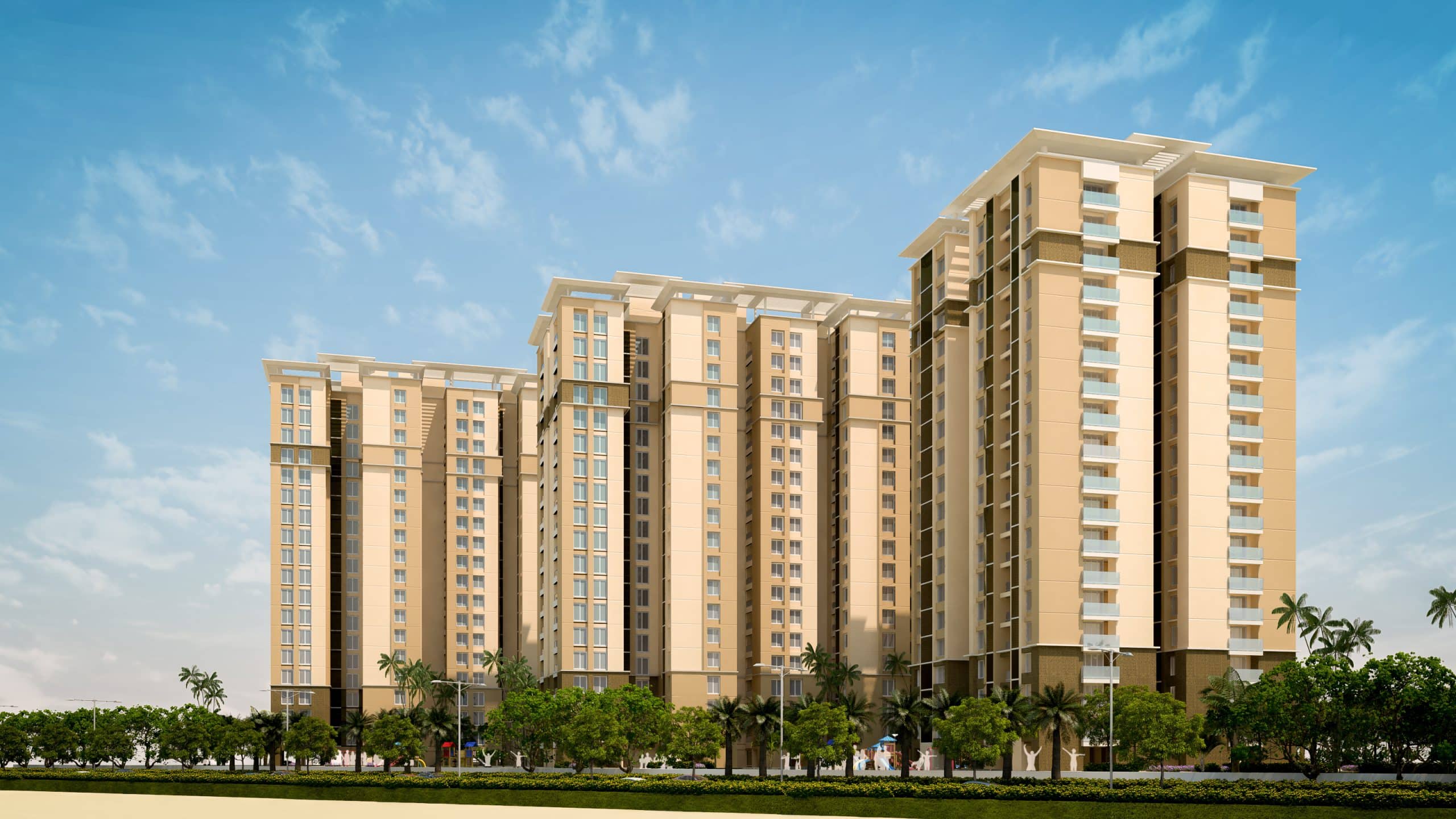 Integrated Township with Vaastu Compliance for Each Unit
Realty Developer Pacifica put forth a challenge for the INI Design Team at this township project at their hilly Hyderabad site – which is that every home here must comply with Vaastu Shastra stipulations. In an apartment building where multiple units are arranged around service cores on each of several floors, letting each home have its parts face stipulated directions is difficult, on a mass scale as in Hillcrest it is daunting. The challenge was overcome by aligning every unit and every building along the same axis as the linearly projected site, and the Vaastu compliance was met to the satisfaction of all stakeholders while simultaneously conceiving a balanced architectural form. Hillcrest is a township spread over 40 acres of a contoured site in a prime Hyderabad location, constituting 2, 3 and 4 BHK homes along with commercial, entertainment and sports amenities. The masterplan creates a homogenous integration of this program mix with 16 to 20 storied towers rising from a green podium to delineate a gracefully balanced skyline.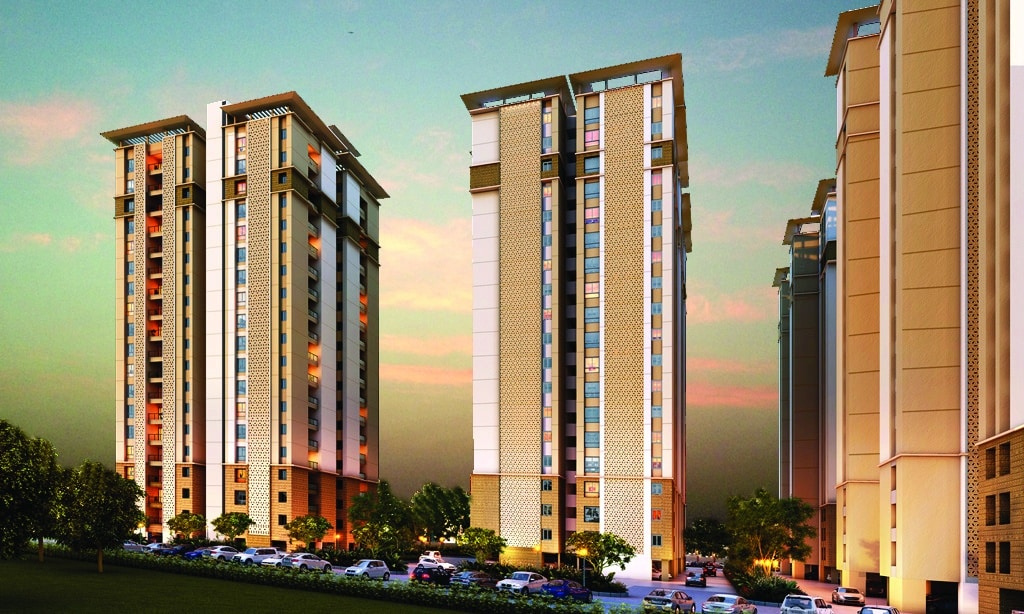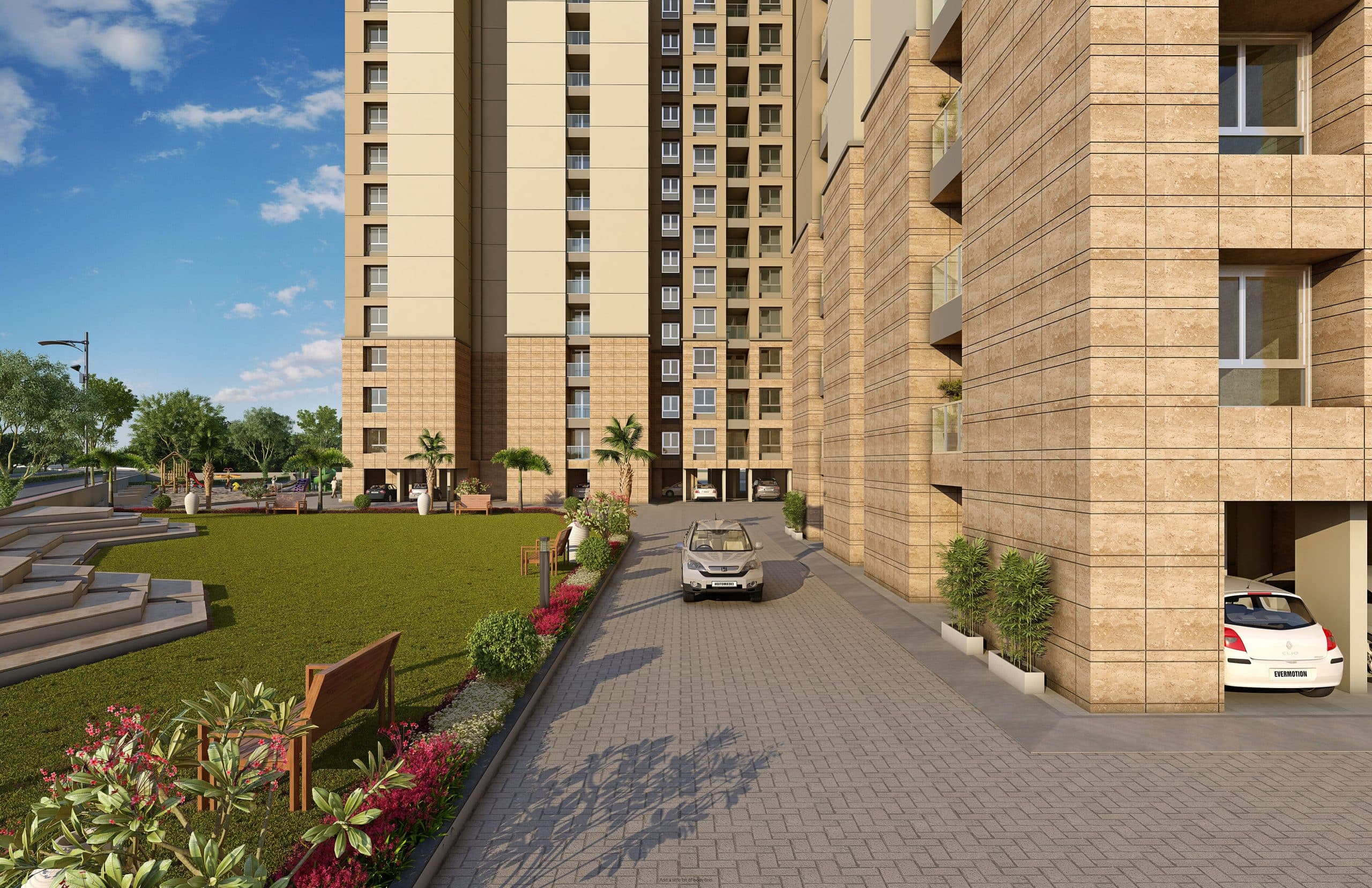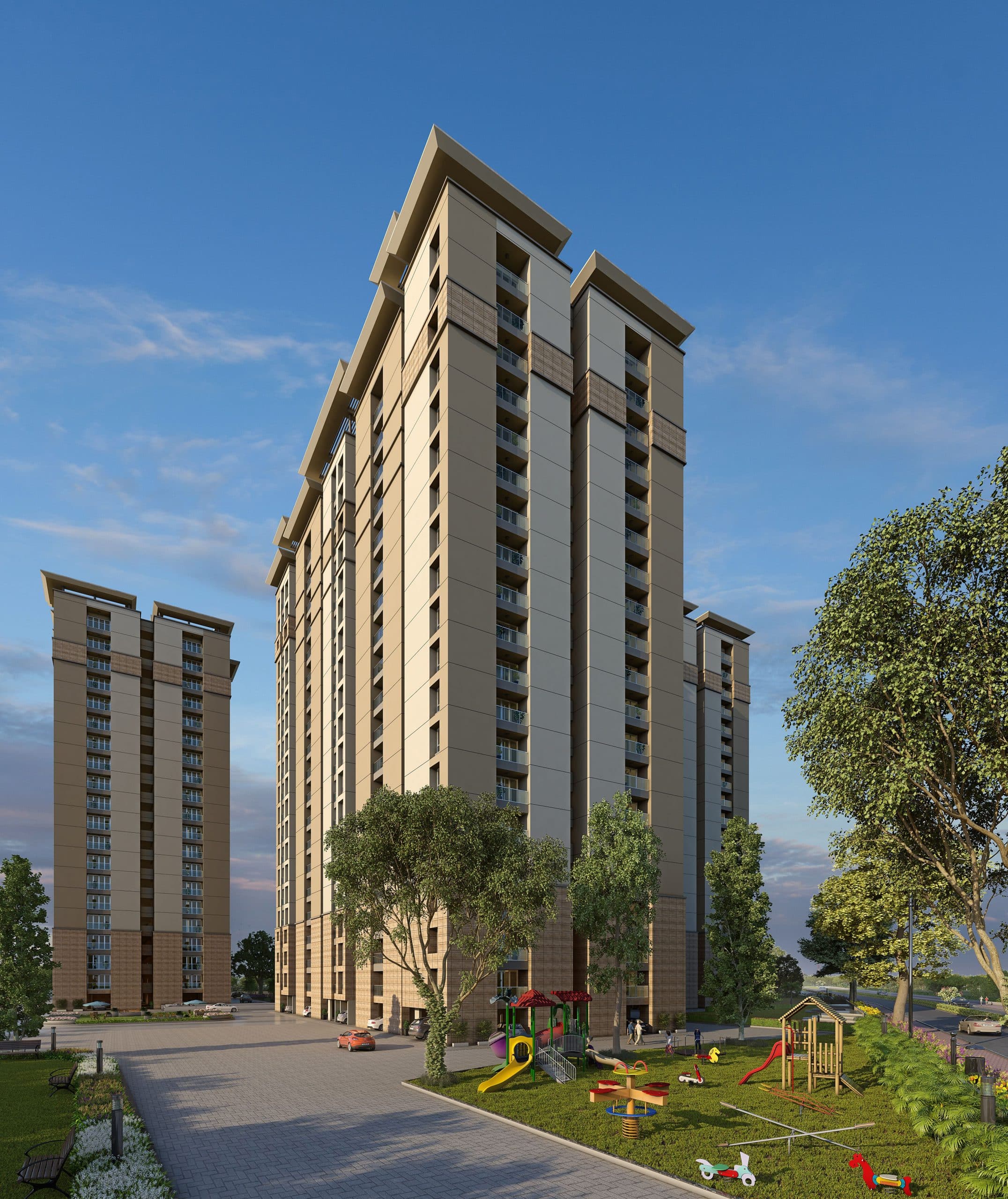 Phase-wise Progression up a Hilly Terrain
This oblong, hilly site slopes downwards as one moves to its interior from its entry point from the road at the highest level. It is dealt with by means of podiums at six levels which step down with the contours and hold the towers that rise from them. The 5 phases of construction are allocated to the six levels of the podium, enabling each phase's construction progress to be visible at a higher plane to the completed phases at the lower level. The club-house with a swimming pool and play court occupy the top-most point as the culmination of the community. The road loops around the entire township, its two arms that flanking the site branching inwards intermittently to serve each residential tower, leaving the central pedestrian spine undisturbed by vehicular movements.
'Active Living' Encouraged by Premium Amenities
Each level of the podiums is treated with landscape and hardscape to accommodate all the social, recreational and sport amenities like multipurpose courts, fields for various sports, jogging track, kids' play parks, Amphitheatre, gym, library, card room, yoga and aerobics hall, etc. These serve to nurture the concept of 'active living' envisioned for this complex. Each tower is treated with contemporary aesthetics and each apartment replete with modern facilities.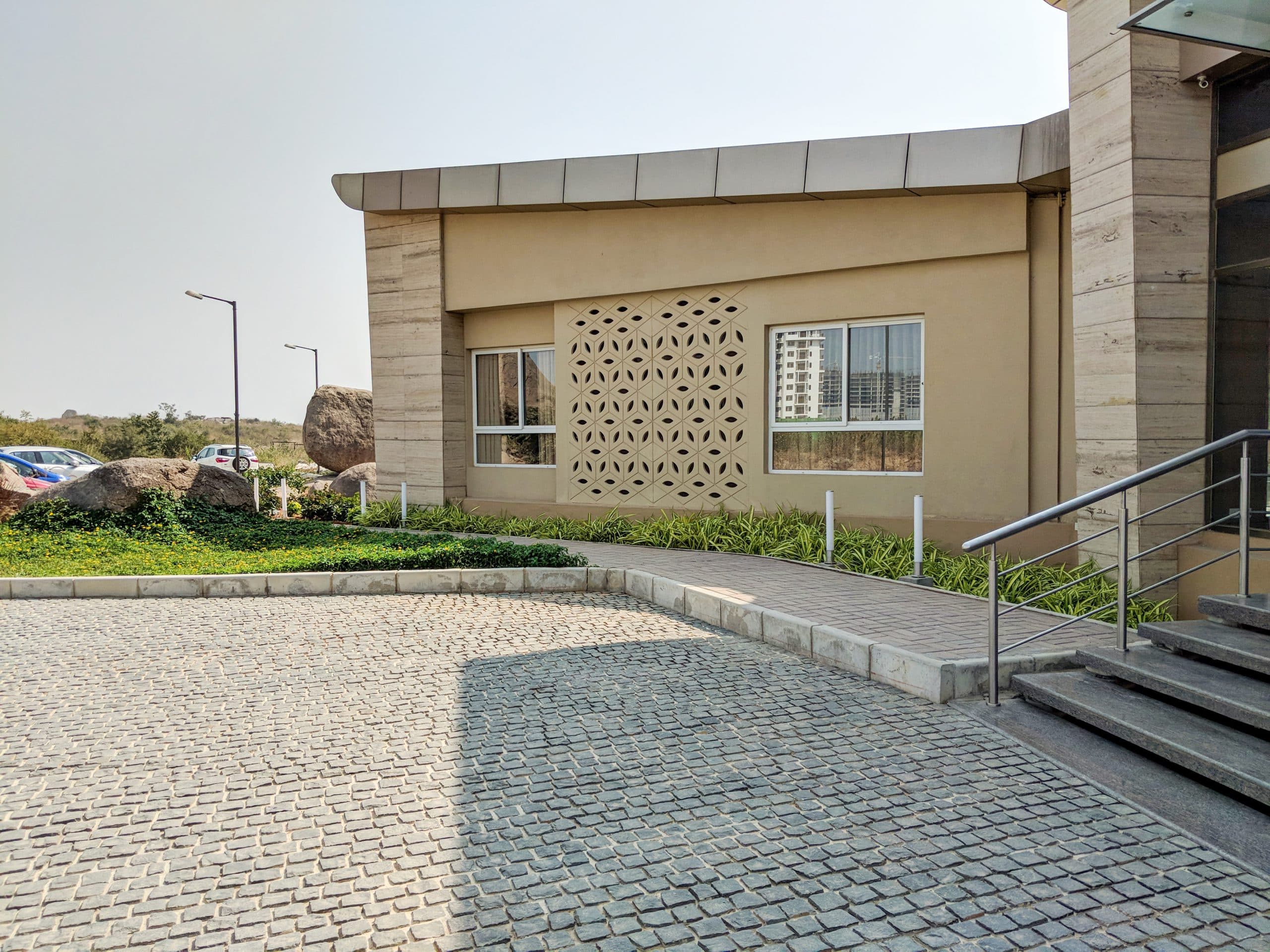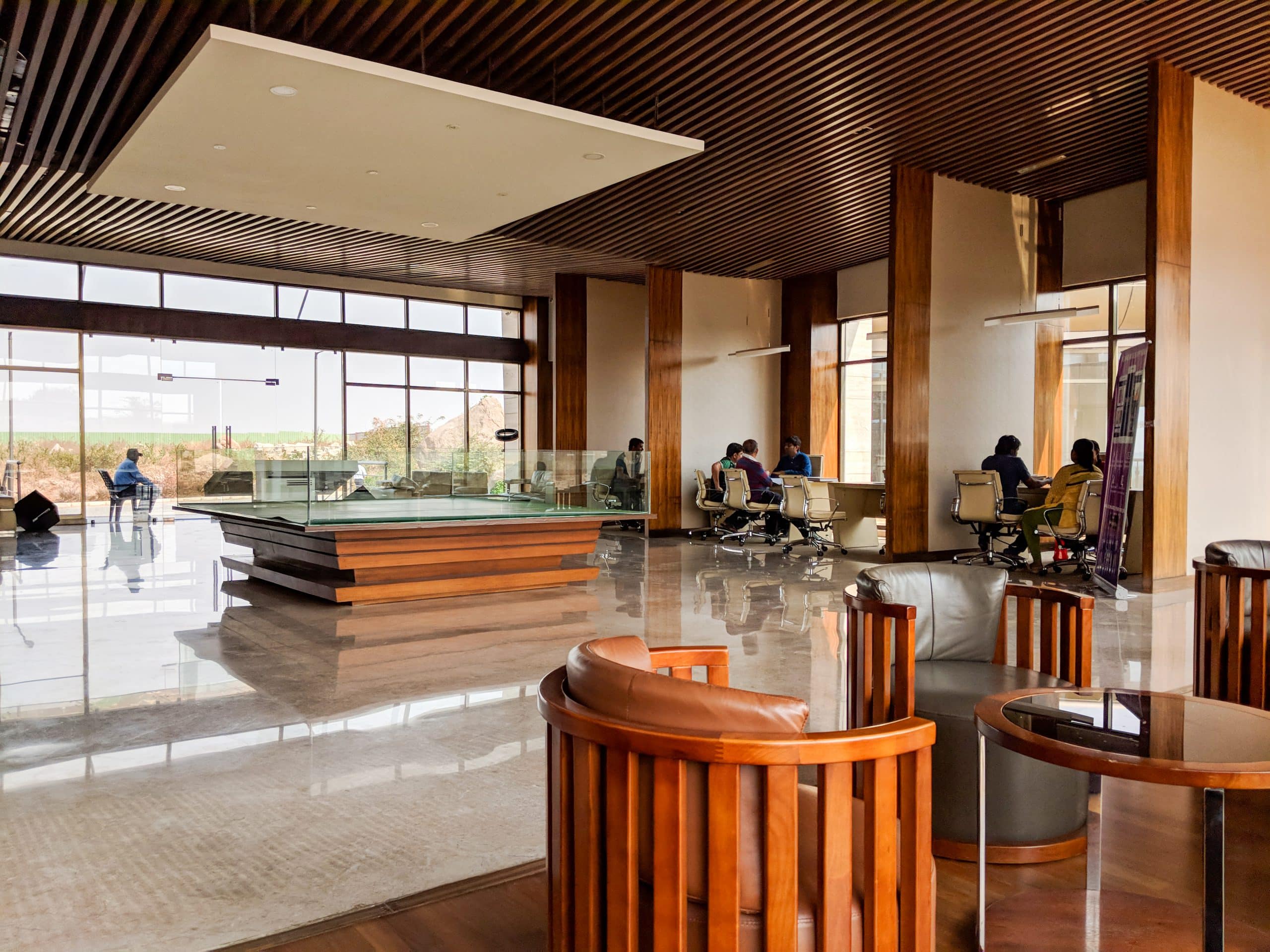 Imagining 'Homes' as a Wholesome Living Precincts.