Central Business District (CBD) -
Ahmedabad
Ahmedabad, Gujarat, India
AUDA has prepared a Development Plan and with AMC has proposed several overlay zones. One of these is the Central Business District (CBD). The areas defined for establishment of the CBD for the city are along the riverfront. These areas are along the public transport route (BRTS and Metro) and form the center of the city. The CBD will become known for its VITALITY: a place where people will wish to come to WORK, to SHOP, for ENTERTAINMENT, for SERVICES, for CULTURE, and simply to WALK around. Visitors, employees and residents will experience a CBD that features a range of uses and design elements that celebrate Ahmedabad's HISTORY and DIVERSITY. It will be a place, people will recognize as the NEW HEART OF AHMEDABAD.
Size : 172 Hectares (52 Hectares for East & 120 Hectares for West CBD)
Services : Land Planning, Urban Design, Development Regulations, Town Planning Scheme
Accolade : India's Best Design Studio Awards - 2018, CBD Project was one of the five projects submitted for the Best Design, Studio Award By Indi Design - an international design magazine from India.
A Vibrant Commercial & Social Magnet at Ahmedabad's Heart
A Central Business District, CBD, at the heart of the city, distributed on the eastern and western banks of the Sabarmati River was proposed under the Ahmedabad Urban Development Authority, AUDA's Development Plan for Ahmedabad, in concurrence with the Ahmedabad Municipal Corporation. INI Design Studio developed the design for the Eastern CBD, accounting for 172 Ha of brownfield area to be densified and vitalized. The mass transit routes constituting the BRTS and Metro lines run through identified CBD area forming its vital crux, calling for strengthening of connections within the area to the mass transit route to incentivize the desired development. Broadly, the approach to the project included tweaking development regulations to increase local density refurbishment of existing road network and building new infrastructure and street furniture and identifying and nurturing socio- cultural amenities as activity magnets. The aim was to create an easily accessible and walkable central space which attracted people as a work, shopping or recreational destination in addition to being a well-serviced and efficient neighborhood for residents.
A Denser Fabric to Maximize Serviceability, Walkability
The idea was to have more residences, business concerns and workplaces packed densely into a small area around a transit hub in order to deliver the gains of the area's services and infrastructure to the maximum number of citizens, and having their lives' needs located within efficient/ walkable access. The tools employed to achieve this were an increase in FSI from the existing 1.8 to a proposed 5.4, and an increase in permissible building height to 100 meters along arterial roads.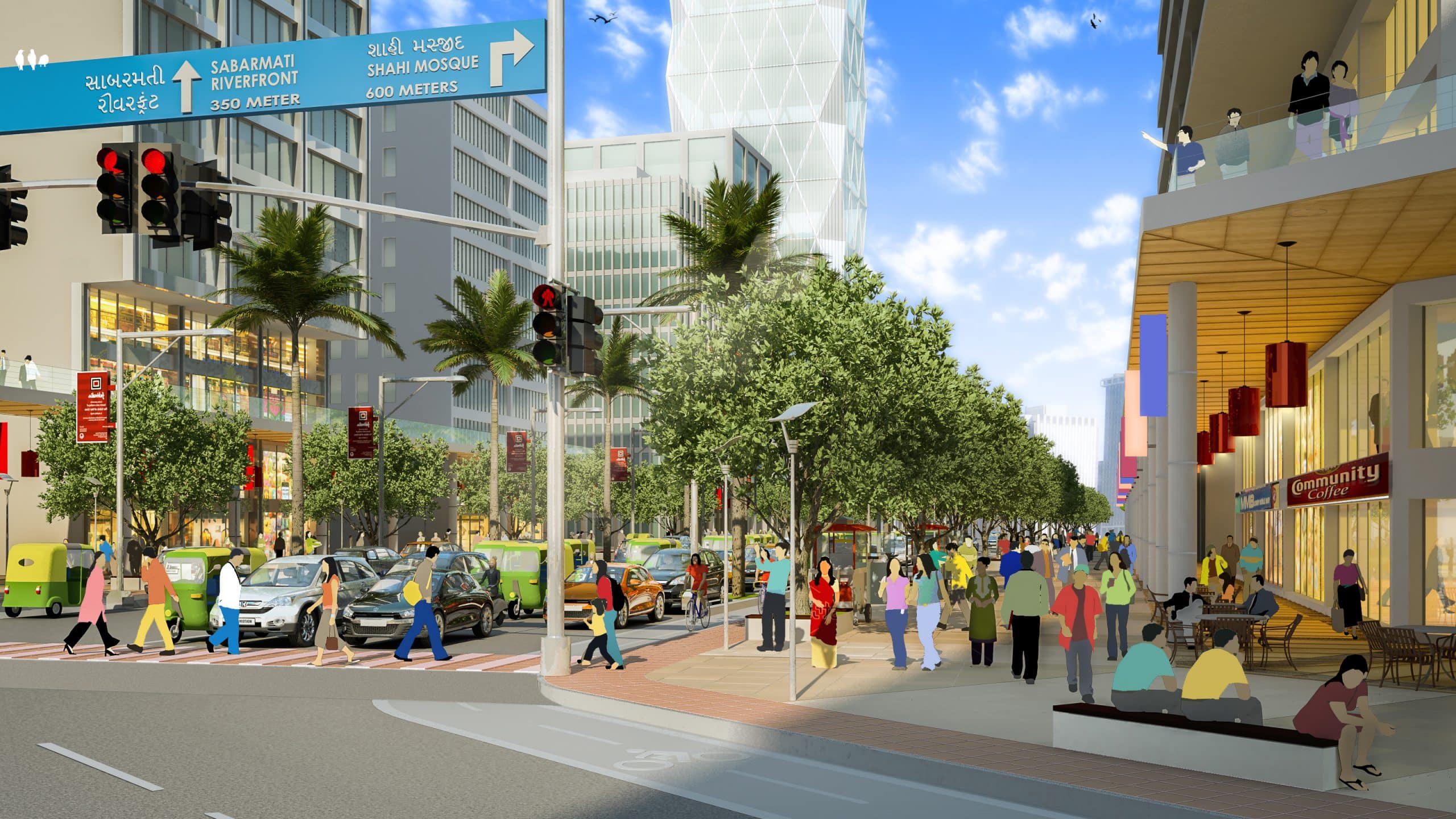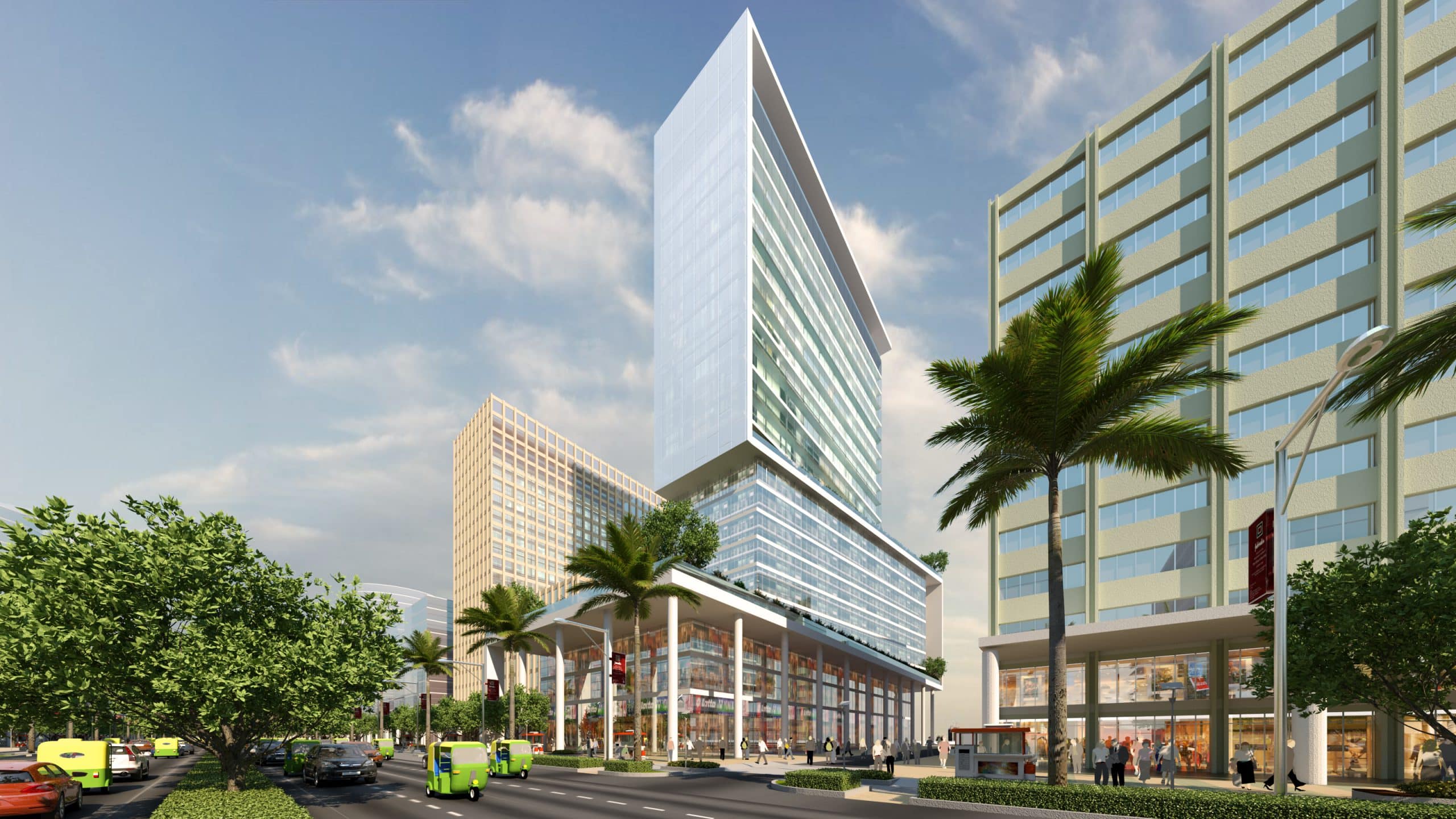 Assessing, Leveraging Existing Conditions
After a thorough study of the existing road network as well as the one proposed under the DP, plans were drawn to refurbish these and add new ones to align with and strengthen the network. The result was an increase in road area from 6.75% to 24.72% of the project area, and an increase in RoW from 35,000 sq m to 125,000 sq m, with a well-defined 6 level hierarchy of roads within the network. This was bolstered with the facility of multi-modal movement options including walkways, cycle-tracks and motorized means for moving around within the CBD.
Enhanced Living through Spatial Transformation
The design plan transformed the existing low-rise, spread out profile into a compact, high-rise neighborhood, with upgraded road-networks and transport options serving to enhance people's comfort and efficiency of moving locally as well as accessing the mass transit hub. Detailed road sections incorporated broad, shaded sidewalks and green spaces to linger around or sit a while. A variety of shopping venues, exhibition galleries, eateries, gardens, river-front, and cultural/heritage landmarks like a local mosque were nurtured with allocated funds aiming to invigorate the vibrancy of the district with flocking populations.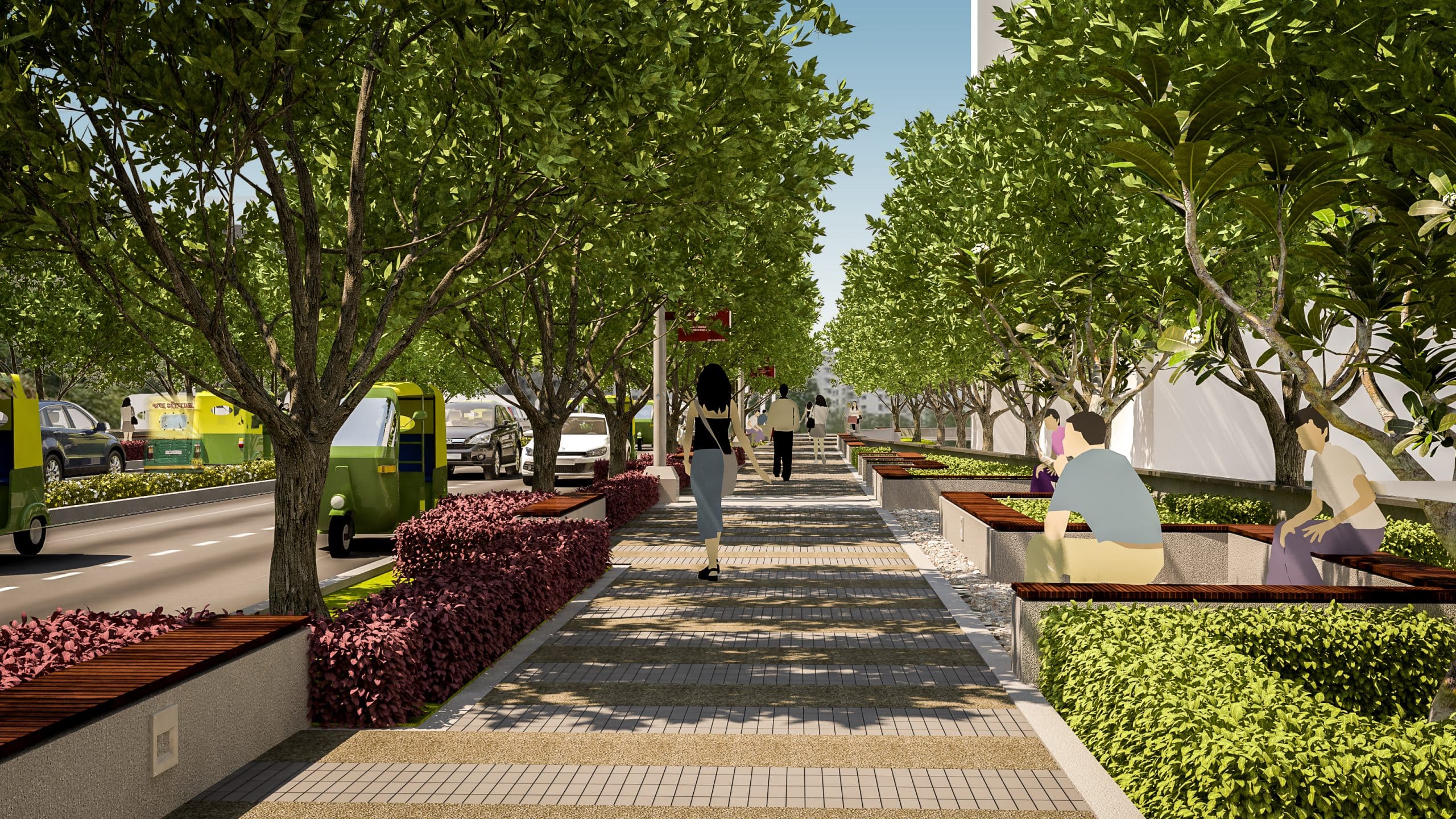 Intervening to Integrate, Innovating to Invigorate