Banglore International Airport
Banglore, Karnataka, India
KIAB (BLR) has been planned as a two parallel- runway airport. This configuration provides a great deal of operational flexibility and allows the terminals to be developed between the runways. The northern runway was constructed first. The master plan calls for a second parallel runway to be built in the south and to be connected to the northern runway and taxiways by two sets of cross taxiways, one to the east and one to the west at approximately the quarter points of the two-runway layout.
Builtup Area: 7,80,384 SF
Services : MEPF Engineering, Infrastructure Engineering, Sustainability
Collaboration : SOM Inc USA, Stup Consultant Ltd.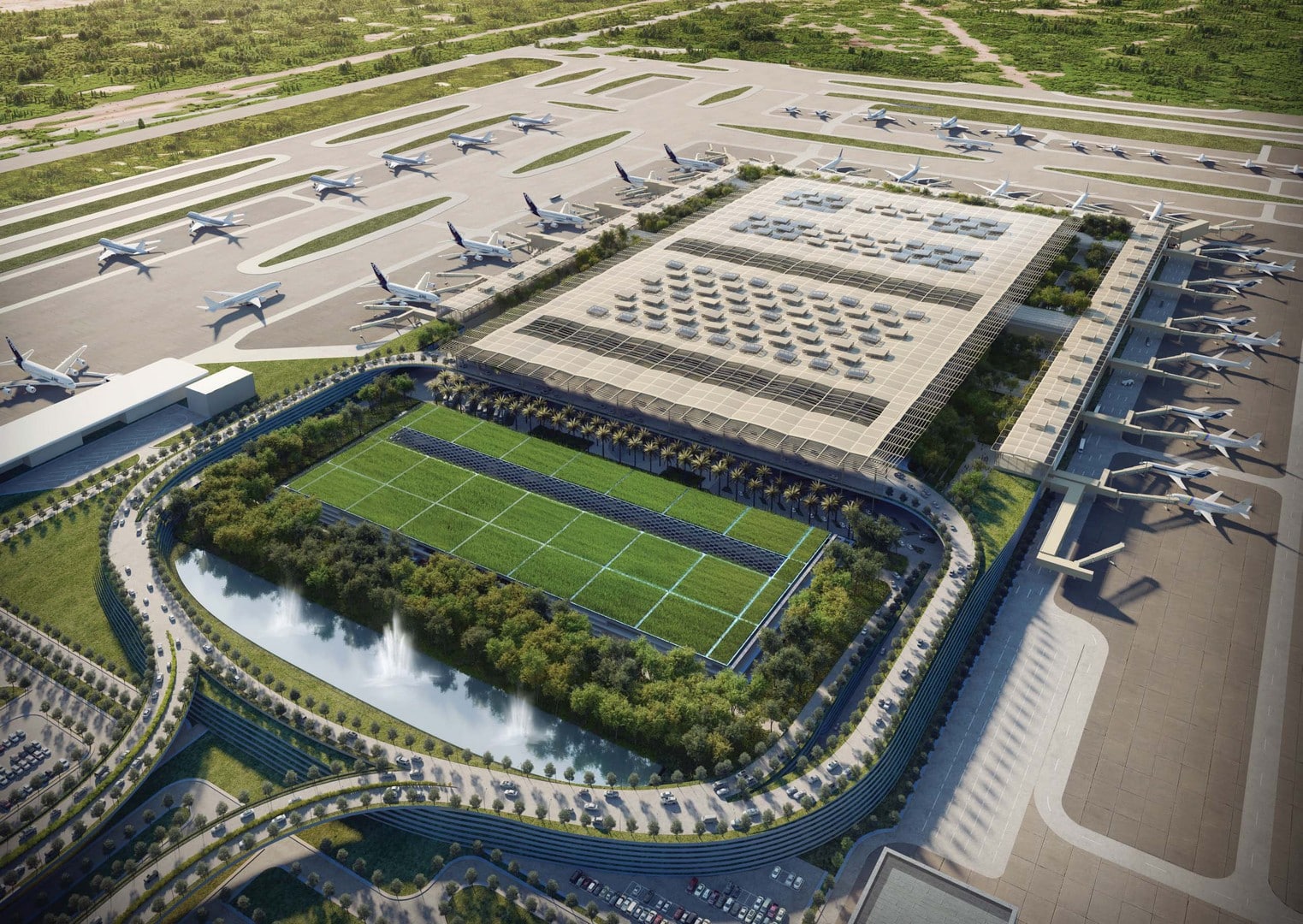 A Landscaped, Forested Experience for the Garden City Airport
The design for the Kempegowda International Airport Terminal T2 for Bengaluru has been unveiled as a green & serene experience zone in consonance with the historic reputation of Bengaluru as the Garden City of India. By exchanging the usual airport aura of a completely artificial technologically built environment for a uniquely green aura replete with thickly landscaped exteriors as well as interiors, the SOM led design and engineering team have set the Bengaluru airport apart from any other airport in the world. Given its green and sustainable planning and design, it can be a prototype worthy of emulation for future airport designs. The landscaped airport concept creates an inviting and memorably tranquil green space to arrive at/ depart from and also seeks to add some of the green cover lost to urbanization in the wake of Bengaluru becoming an IT epicenter back to the city's environment.
From the arrival/ departure lounges to the check-in and baggage claim services, from every passageway connecting various parts of the 2.5 lac sq m airport area to the exquisite shopping and eating outlets in the duty free zone – all areas are detailed with landscape elements like planters, gardens, green walls, trees, water features and even hanging gardens suspended amid skylights from timber slatted ceilings. The forecourt has been imagined as a three tiered forest with an organically shaped lagoon which, besides adorning the terminal with a delightfully natural front, functions as a nursery to supply and maintain the greens used in the airport. Elevated walkways enable passenger to overlook this verdant green carpet as they arrive/ depart.
Blend of Natural Rustic and Technologically Refined Material Palette
A blended palette of rustic natural materials to evoke the city's natural beauty as well as industrially refined finishes to represent its unequalled technological competence has been employed to create the airport's unique look and feel. So, while rugged concrete with pigments and aggregates, exposed brick work and terracotta as well as natural wood in various forms adorn floors, walls, ceilings, screens and installations, contrasting machine aesthetics and refined industrial finishes have been adopted for signage, systems, and services. Art & craft installations representing the city's cultural heritage can be seen enhancing the experience.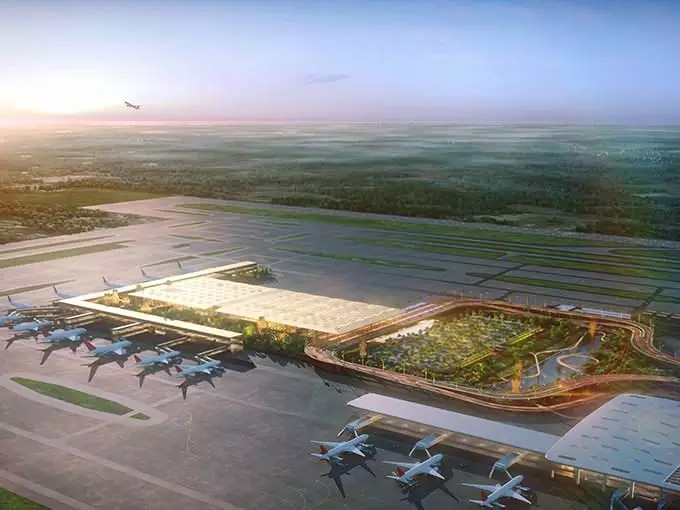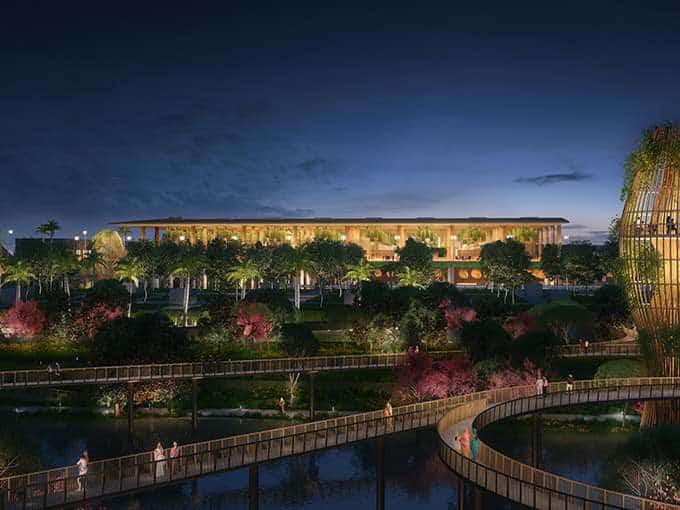 Planning and Management of Pedestrian and Vehicular Mobility at Forecourt
This terminal T2 being located at the far end of the access road passing between existing terminal T1 and future terminal T3 beside the Airport Hotel necessitated an elaborate multilevel and multimodal transport approach-way to be planned for ease of mobility. The result is elevated carriageways for entry/ exit of T2 flanking the at grade carriageways for T1 and T3, below which runs the underground metro tunnel. Ample parking is provided at grade as well as at multiple levels for cars, taxis, and buses at different locations between the three terminals. Pedestrian mobility has also been well planned and provided for through crossings and underpasses.
Engineered for Coordinated Efficiency and Sustainability
This expansive development project is embedded with numerous passive strategies for efficient green use & sourcing of energy, water and waste disposal to make it competitively sustainable. Besides tapping solar energy for lighting and employing low radiation insulated double glazing incorporated with calibrated shading tools for the façade, the lagoon on the forecourt acts as a rainwater collector to augment the water efficiency of grey water recycling and re-use systems.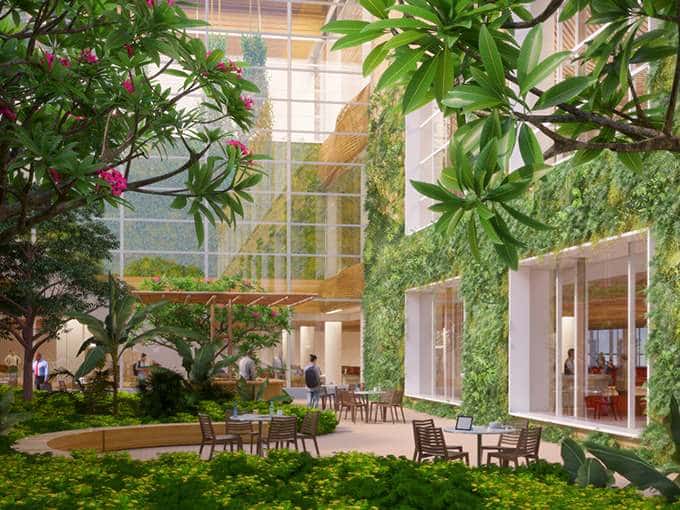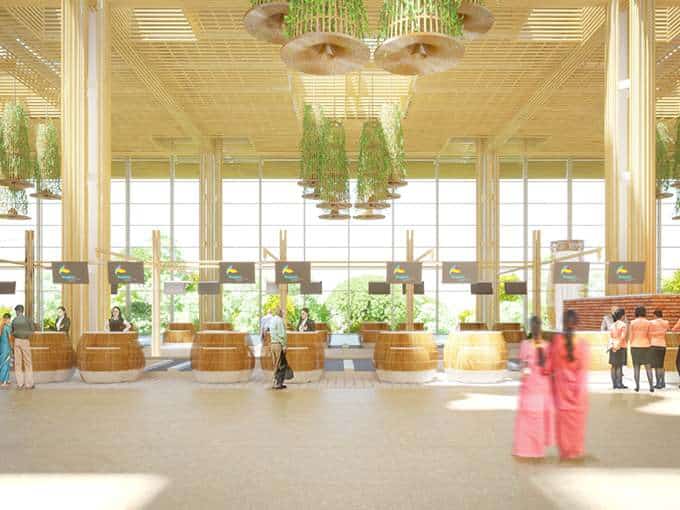 The design helps enact ambitious sustainability goals. Gardens and vegetation complement the engineering systems to purify air and serves as a natural counter to carbon emissions. A large lagoon as a unique design feature captures rainwater for reuse in grey water processes including cooling and irrigation The design of all mechanical, electrical, plumbing and air-conditioning systems which ensure an efficient and coordinated functioning of this colossal project has been engineered by the INI team. A vast experience and time-tested methodology of MEP engineering design and execution of varied nature of projects as well as the inherent understanding of the architectural approach ensured that the team was able to actualise the client's and architect's vision successfully.