Balaji Mixed - Use Development
Offering an Aspirational Mix
The project, when proposed, was launched with the intent of providing the culturally and economically vibrant city of Vadodara an extraordinary venue with Avant garde features that would project it at the forefront of development. The building site overlooked the proposed Vishwamitri river front development area, adding value to in terms of scenic views and recreational opportunities available in the neighborhood. Being the only mixed use development project of a comparable scale in the largely residential vicinity coupled with the inherent proximity to the airport and important roads assured a measure of undivided attraction that the project would garner.
INI Design Studio envisaged a vital mix of high-end residential, retail, office and hospitality spaces integrated as an energetic, sparkling living hub. The corner site with a lengthy road-side boundary offered numerous individual ground-level approach-ways to the mall, shopping street, hotel, office tower and residential complex. Essentially resolved by a podium-and-tower formula, the lower levels of the podium, shopping street, landscaped residential area are porous and closely networked while the office, hotel and residential towers rise up adorned in their own individual identities to create an eclectic scale and composition. The provision of civic spaces like plazas, terraces and boulevards simultaneously enables a strong urban integration.
Site Area : 16,00,000 SF
Services : Interior Design, Concept Architecture, Landscape Design

Globally Competent Infrastructure Enabling
Comfortable Local Lifestyles
A 3 level mall occupies the road-side face with window-dressed shop-fronts offering an attractive welcome. The shop units have been arranged in clusters with enhanced operational efficiency and offer shop owners a range of modular sizes and orientations to choose from. 'The Boulevard' is essentially the shopping High Street - a luxuriantly detailed passage which cuts through the ground level of the mall with shops lining up on either side to invoke a modern bazaar-like experience, quite different from the one offered by the mall section.

2, 3 and 4 BHK apartments have been planned with spacious culturally aligned layouts to occupy levels above the retail podium in the residential tower. The façade is defined by wave-form balconies having glass railings enhance their curvature. The homes are accessorized by ample common amenities like a clubhouse and gym placed along the elongated podium top such that its projecting canopy enables shaded jogging track, play areas and games court which overlook the hubbub of shopping spaces below.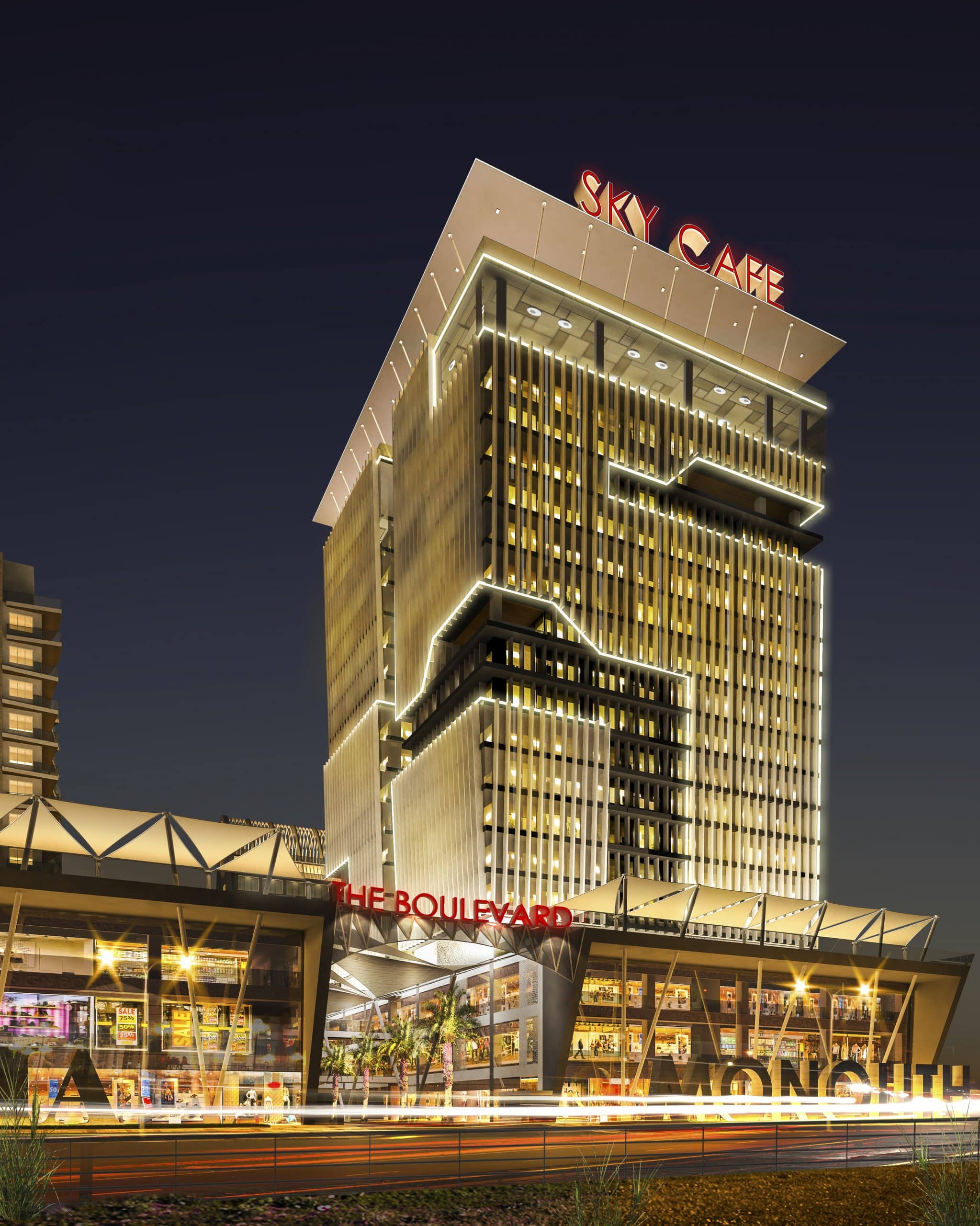 Varied Visuals & Dynamic Forms
The office tower is adorned in its own unique corporate identity by means of a high-performance fritted glass exterior shell which acts as a shading device as it slopes outwards towards the upper levels. This 70 m tall tower gets punctuated by refuge terraces offering breakout spaces created using terrace gardens and green walls and is topped by a sky café which enjoys panoramic views of the city.

The five star hotel located at the farther corner is accessed independently and revels in its own individual aesthetic. A bulbous shell achieved using insulating metal sheaths the entire building ending in a crown at the top which encases an open-to-sky swimming pool and café on the terrace.
Clear Circulation through Networked Spaces
While much thought has been dedicated to maintaining separate functional identities and a clarity in their individual circulation patterns, a considerably strong network has been achieved between these entities by way of shared interfaces and interactive spaces. This community proffers a well-knit, vibrant, and sustainable environment to live, work and entertain in.