LIC Mixed-Use Development at Ghaziabad
Ghaziabad, Uttar Pradesh, India
As a finalist for a design competition, INI proposed an office building to be developed by the Life Insurance Corporation of India. This project required INI to work within a compact space to design a building with a unique twist. A flexible arrangement of floor plates is used to create unique spaces for the building to be used as either multi or single tenancy. Design features for this 200,000-square-foot building includes segregated entries according to function and zone and ample underground parking.
Size : 2,00,000 SF
Services : Masterplanning, Building Design - Architecture, Landscape Design, MEPF Engineering, Structure Engineering, Sustainability (International Bid Entry)
Designs for Distinguishable & Iconic Corporate Presence at Twin Sites
LIC of India envisioned the development of two of their plots in sectors 8 and 14 of Ghaziabad city as modern office buildings with state-of-the-art infrastructure for conducting its corporate operations. INI designed the two office tower complexes in response to individual site contexts ensuring maximum utilization of floor space (FSI) while simultaneously integrating a wholesome working environment and sustainability measures which qualified them for highest ranked sustainability ratings awarded by institutions such as IGBC and LEED. The two designs with their sleek, modern architecture are at par with international benchmarks while articulating architectural forms rooted in their individual site contexts.
Landscaped functional outdoor spaces, high quality modern open-plan interiors for flexible planning, transparent and collaborative working environment and integration of sustainability measures managed by a Building Management System (BMS) remain common to both the building designs.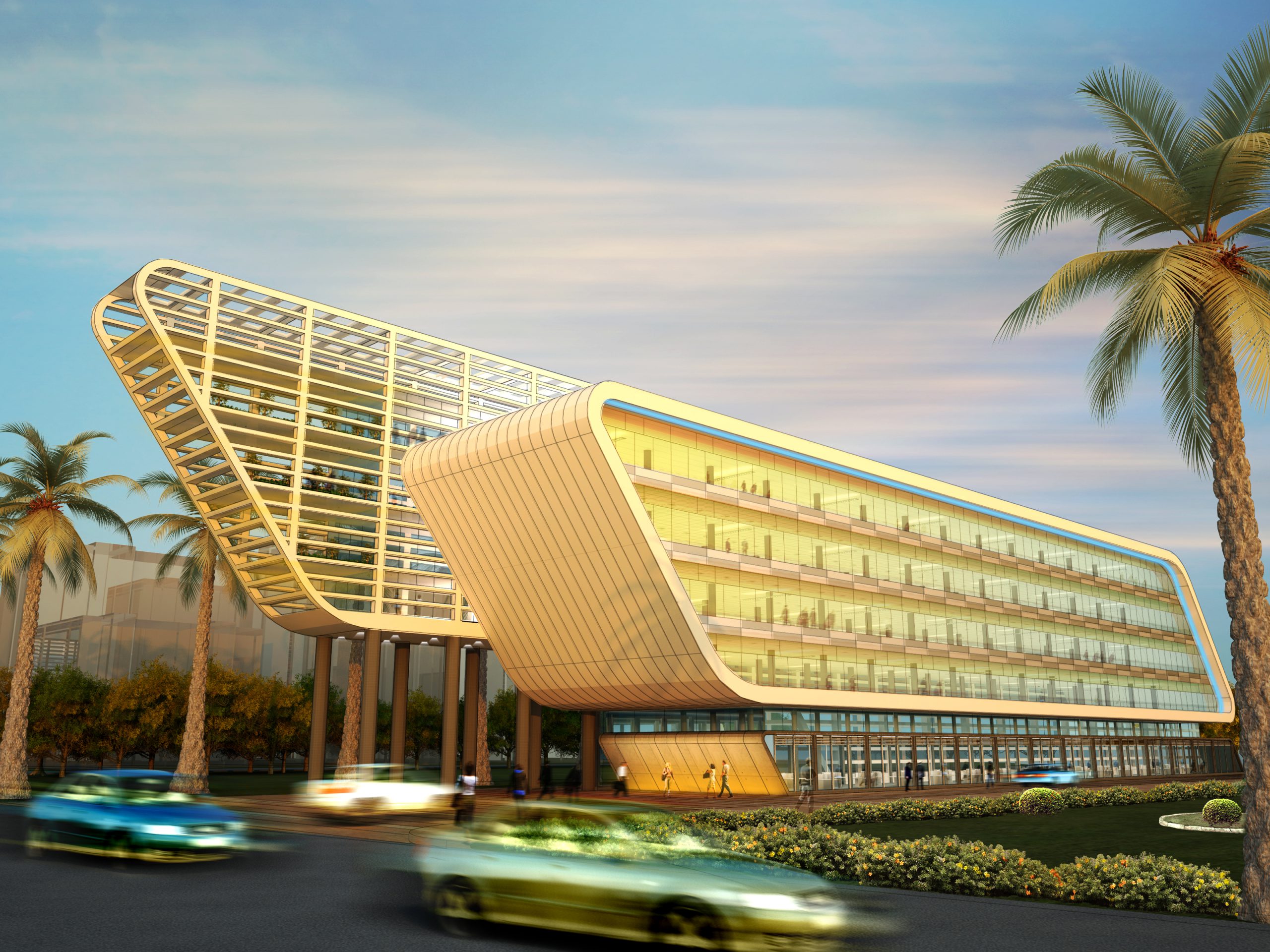 Sector 14: Dynamic Presence, Unique Articulation for Long & Narrow Site
Located on a deep, narrow linear plot wedged between two other buildings, this building project demanded an architecture which would distinguish itself from the surrounding landscape as a landmark relatable to the LIC brand name. The ground plus five story linear building designed to stretch across the depth of the site is visually split in two splices which mutually step outward towards the road-front with every floor rise. This apparent forward motion in the facade lends a dynamic energy to the built form, with the narrower splice elevated on stilts till the second floor adding elevation to this dynamism and emphatically achieving the required distinct identity.
Two separate circulation cores enable an efficient servicing of the entire length of building, with a long span structure enabling a considerably column free floor plates offering flexible interior planning. The entire side facades being glazed enables optimum daylight penetration, while low-E performance double glazing with cavity and shading devices help reduce the heat-gain and glare. A line of tall palms on each lengthwise edge of the site and a lush lawn stretching across the site's depth opening onto the street invitingly are the elements in the landscape that highlight the building's slender silhouette.
Sector 18: Organic Integration with Open Edged, Inviting Public Facility
The square-ish corner site here required an open-faced architectural response which would mitigate the blindness of the corner and integrate it smoothly with the road junction. This has been addressed with a centrally placed building on the plot with an almond shaped footprint inscribed within a square canopy of pergolas at the first floor level which houses a hyper market for public users. With paved walkways ambulating around the entire plot amid a green landscaped environment, the premises seamlessly merges with the public footpath bordering the road outside, creating the required visual porosity around the corner.
Serviced by a single central circulation core the three levels of office floor plates rise above the pergola. With high performance glazed façade allowing complete day light penetration and a column-free floor space enabling flexible interior arrangements to be created through an agile process, the ideal modern office space is created. A landscaped roof terrace lends a green break out space for all the office users.