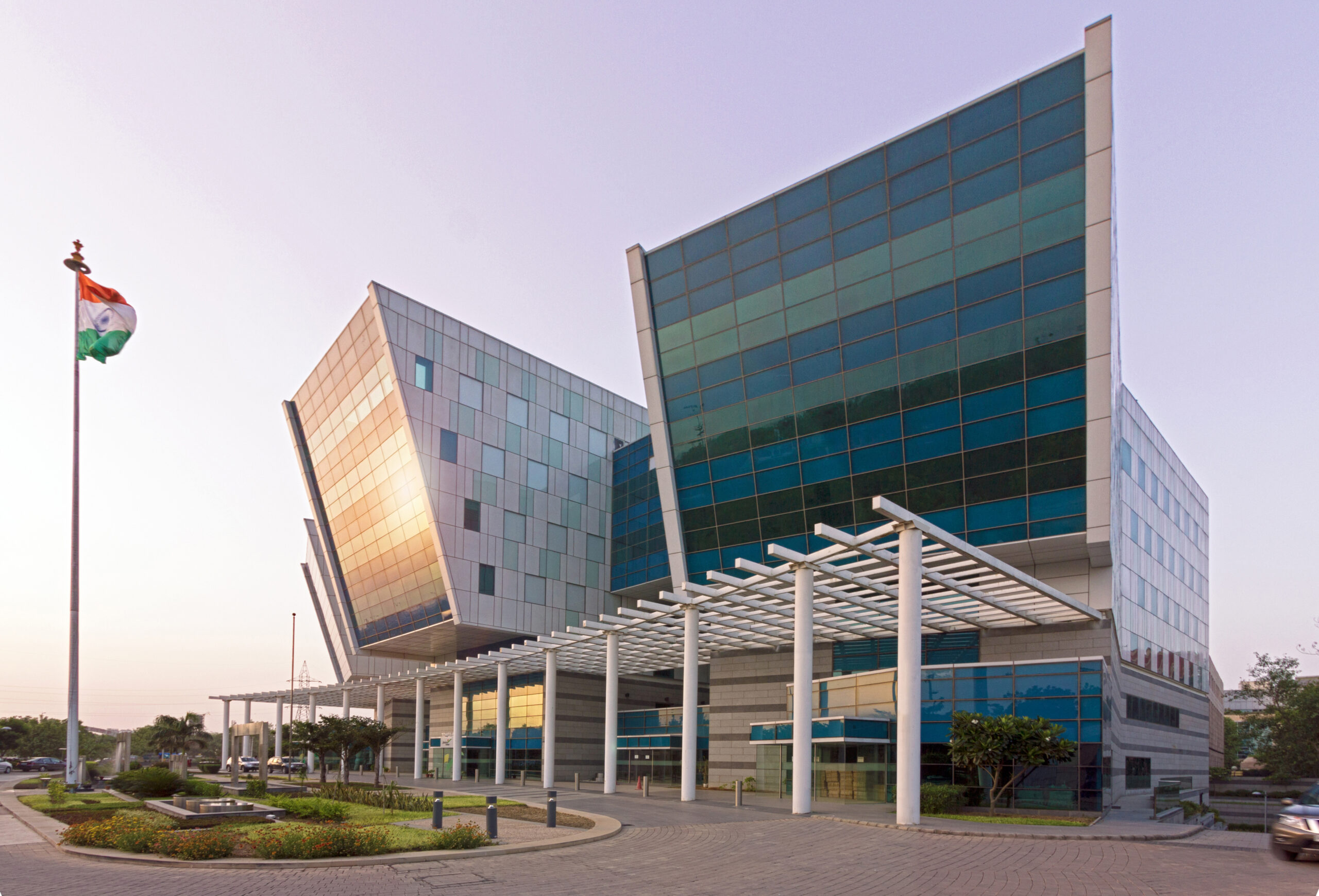 Articulating a Multi-Faceted Corporate Identity
The Jindal Centre located at Gurugram in the National Capital Region is a corporate facility housing the offices of three of the Jindal Groups companies, i.e. JSW, JSPL and JSAW. The architectural articulation of this steel industry giant's triple concerns comes to life in this three-faced modern corporate structure clad in glazing and composite panels. Essentially laid out as three towers/ wings rising from a common base structure, they appear on the façade as three individual inclined glazed faces. Upper portions of each wing being only 4 (side wings) to 5 (central wing) floors high gives them a horizontal dispensation in the side elevations, as do the cladding bands on the base structure, setting the building apart from the corporate tower typology. The floors in the base facilitate reception, lift lobbies and atrium for all three wings and support amenities. These are fronted by an elegant pergola-covered porch which is further preceded by an elaborately landscaped arrival court greeting visitors & staff as they enter.
Size : 2,50,000 SF
Services : Master Planning, Building Design - Architecture, Interior Design - Core & Shell, Structure Engineering, Landscape Design, MEPF Engineering, Sustainability & Green Certification
Accolade : IGBC-LEED Gold Rating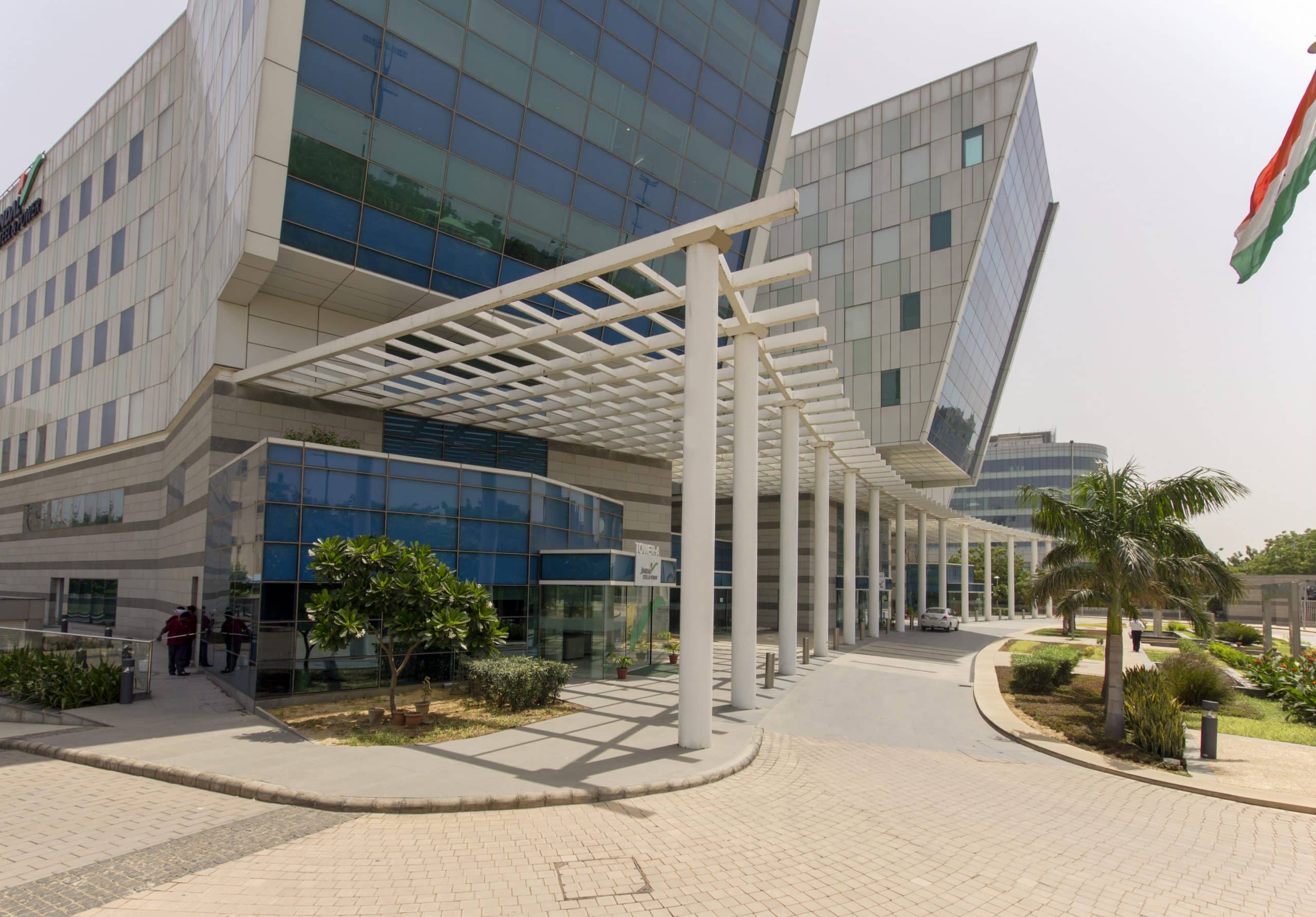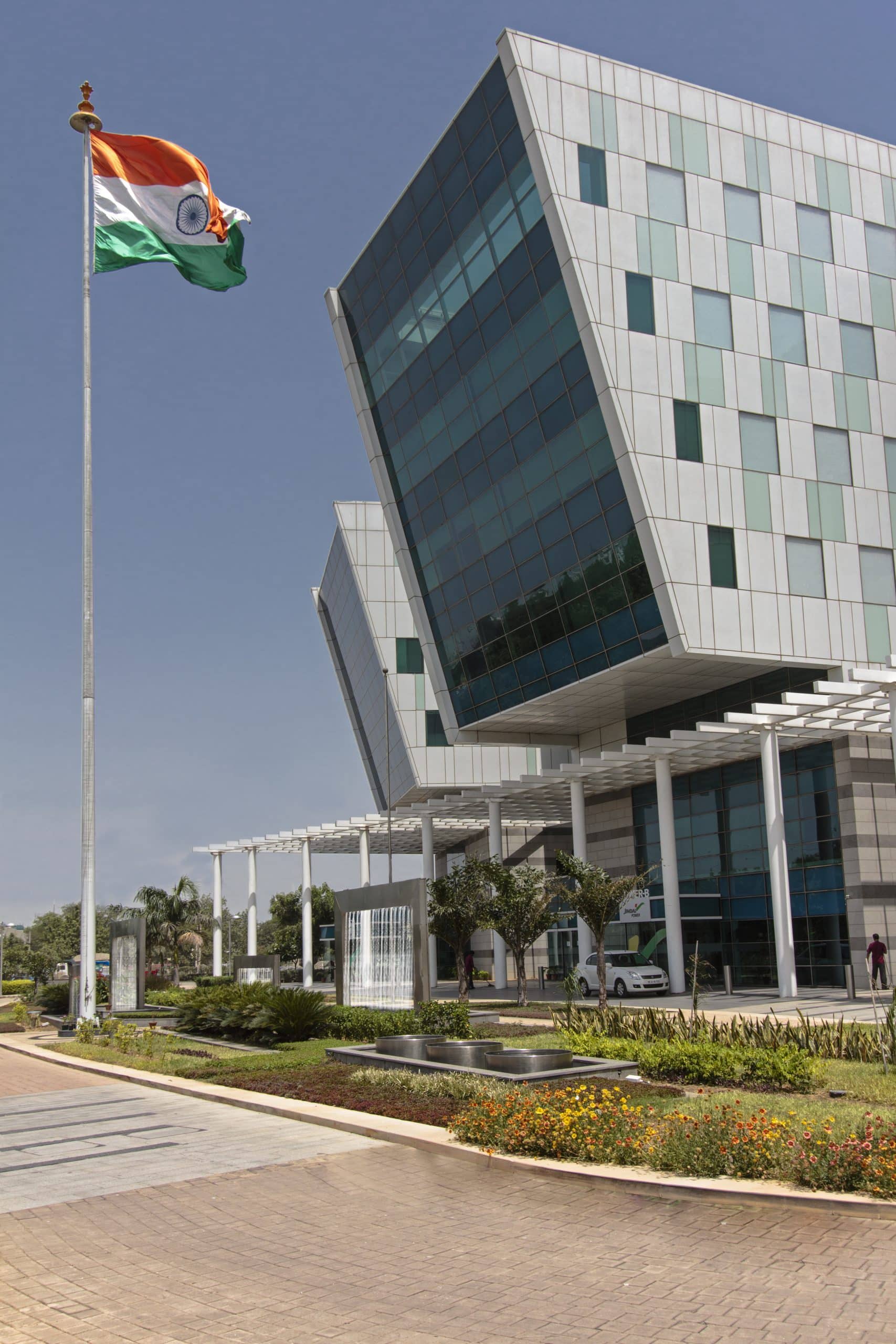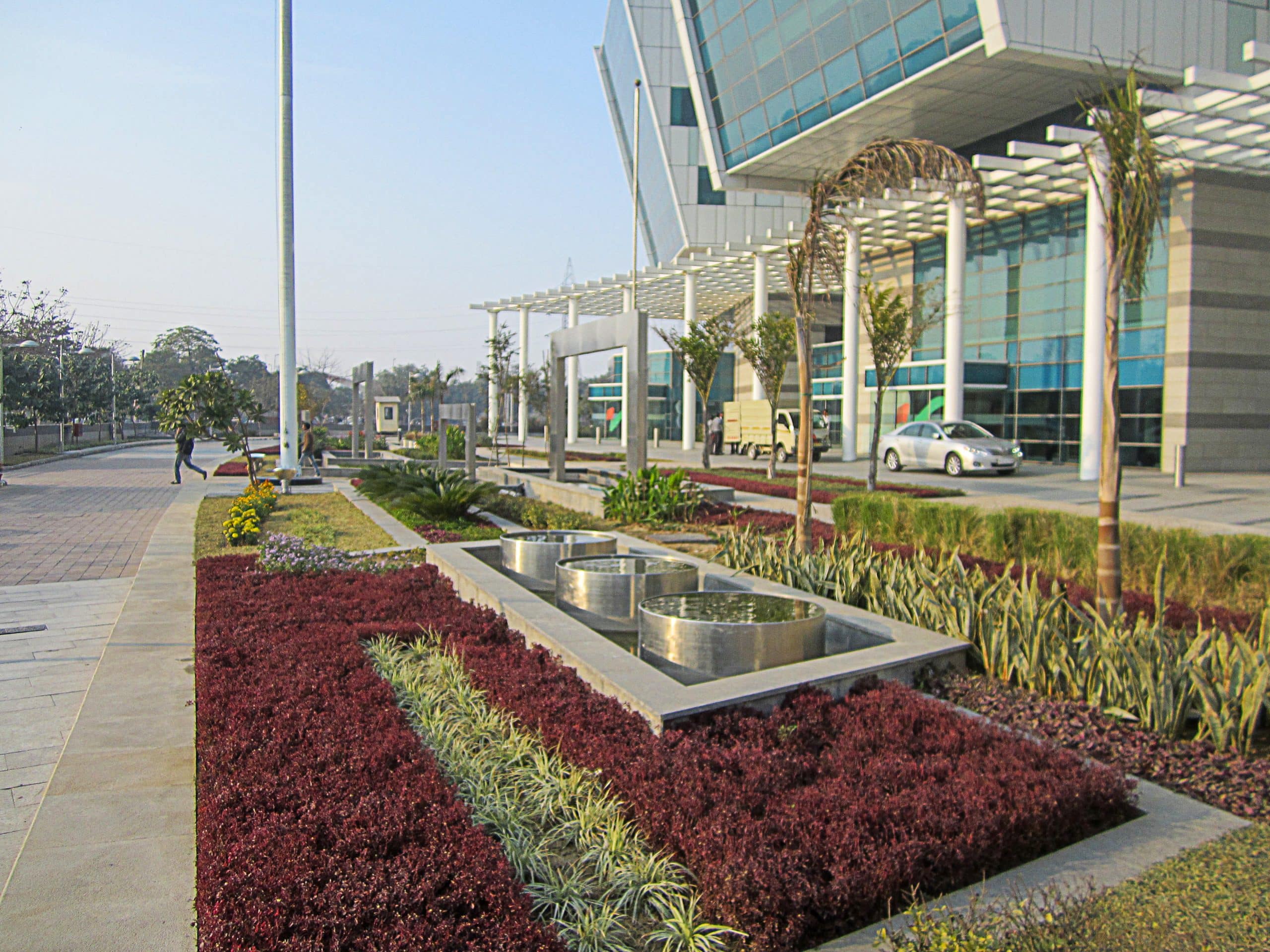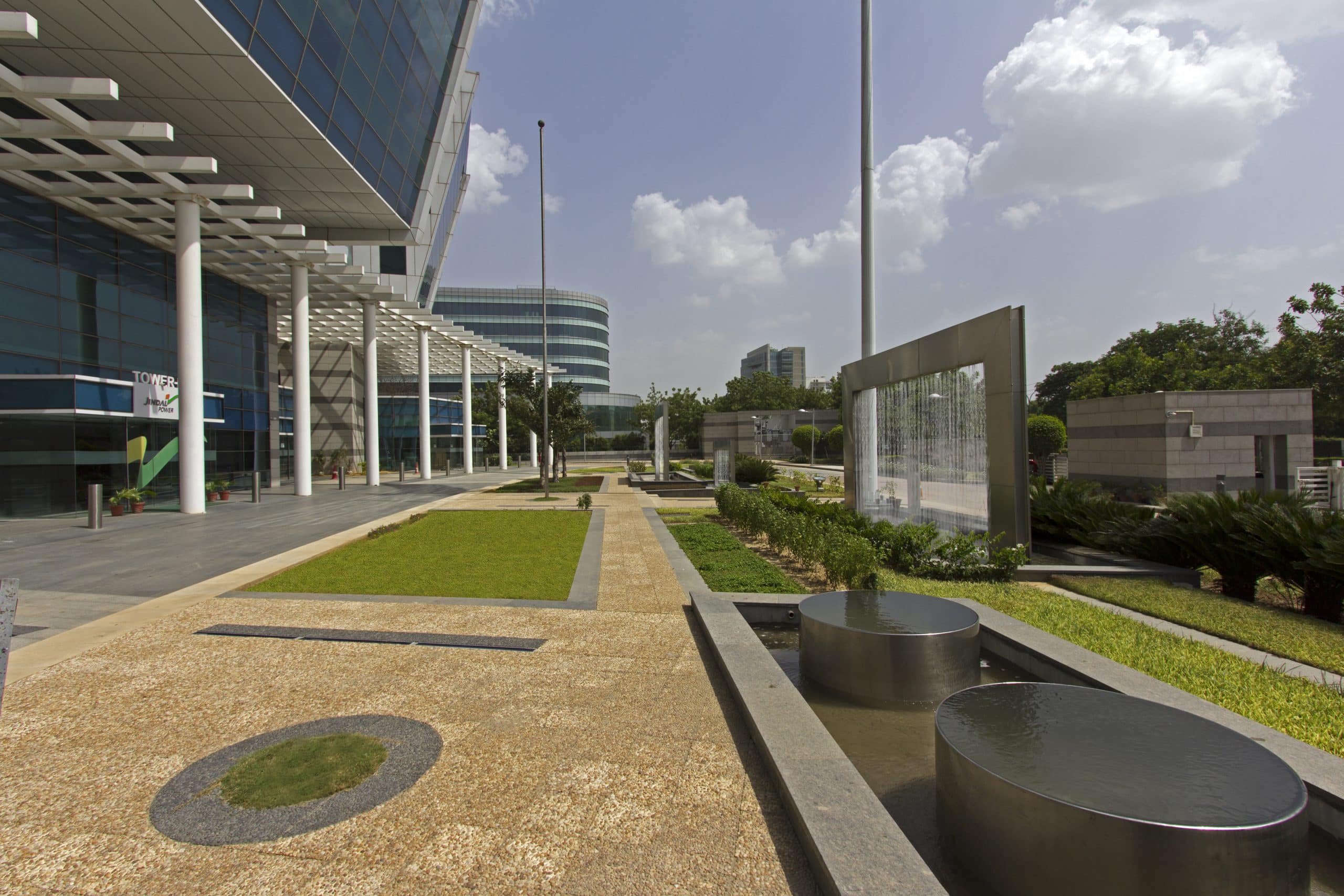 The three wings get re-bridged via glazed atria opening up in their interstitial spaces, set back a little from the façade. These atria, spacious and flooded with sunlight, offer collaborative and breakout spaces which blend the three business arms of the Jindal Group, and come together at the café in the central wing. Meeting rooms, training center, shared offices, conferences, presentation rooms and supporting office spaces of the three concerns occupy the individual wings for clear, efficient functioning.
Pioneering Gold Rated Sustainability
Beginning with the three faces fitted with high performance double glazing to the hybrid air conditioning, efficient MEP equipment design, wastewater management and recycling, rain water harvesting, and re-use of grey water for toilet flushing, gardening and air conditioning, the sustainability strategies incorporated here met with the IGBC-LEED Gold rating standards.