Ahmedabad, Gujarat, India
The design for this high-end commercial & corporate development integrates unique aesthetics with efficiency of space while keeping in mind its prime location along the transit-oriented zone. The project conceives an intensive design program to maximize the efficiency of the permitted FSI along the Bopal - Ambli road. Two 70 mts tall, high density towers are proposed that will house over 10 exclusive corporate houses at the ground level with high-end retail frontage. The individual office space on a typical floor varies from 800 sq.ft up to 20000 sq.ft offering diversity in the commercial activity. The project is envisaged to set a new benchmark in the Ahmedabad real-estate market by offering exclusive corporate spaces that have their individual identity along with other office spaces.
Size : 2.44 Acres
Builtup Area : 10,50,000 SF
Services : Masterplanning, Building Design - Architecture, MEPF Engineering, Façade Design, Lighting Design, Interior Design of common area, Landscape Design, Wayfinding & Signages
Accolade : Realty Plus Conclave and Excellence Award, INI Design Studio Wins Firm of the Year Award 2022
An Iconic Address for Ahmedabad's Corporate & Commercial Community
Given the pre-occupation with 'brand image' or 'identity' in today's corporate/ commercial ecosystem, every urban business hub worth its salt gets identified by at least one landmark venue that enjoys a primacy in the city's workplace & business landscape. Commercially thriving Ahmedabad seemed wanting of an iconic modern workplace venue in its otherwise illustrious skyline, the answer to which was conceived in the form of Navratna Corporate Park. Planned on a 1, 06,425 sq meter corner plot along the BRTS route integrated with the Transit Oriented Development Zone inherently implied a prime location with excellent access. Team INI adorned it with an imposing 70 m tall twin-winged towers composed of stacked masses enveloped in vertical glass fins & ceramic frit screen double layer glazing and looped in a metallic panel clad frames. It which reflects large swathes of Ahmedabad by day as a massive mirror and shimmers by night as a hive of business activity. Competent state-of-the- art infrastructure required for future-ready corporate houses, workplaces with imposing floor heights and exquisite interior look & feel, ample breakout spaces catering to needs of interaction and collaboration, 8 high speed public elevators and 2 large service lifts for uninterrupted vertical movement as well as functioning, maintenance and renovation of the occupant premises make Navratna Park an enviable workplace venue.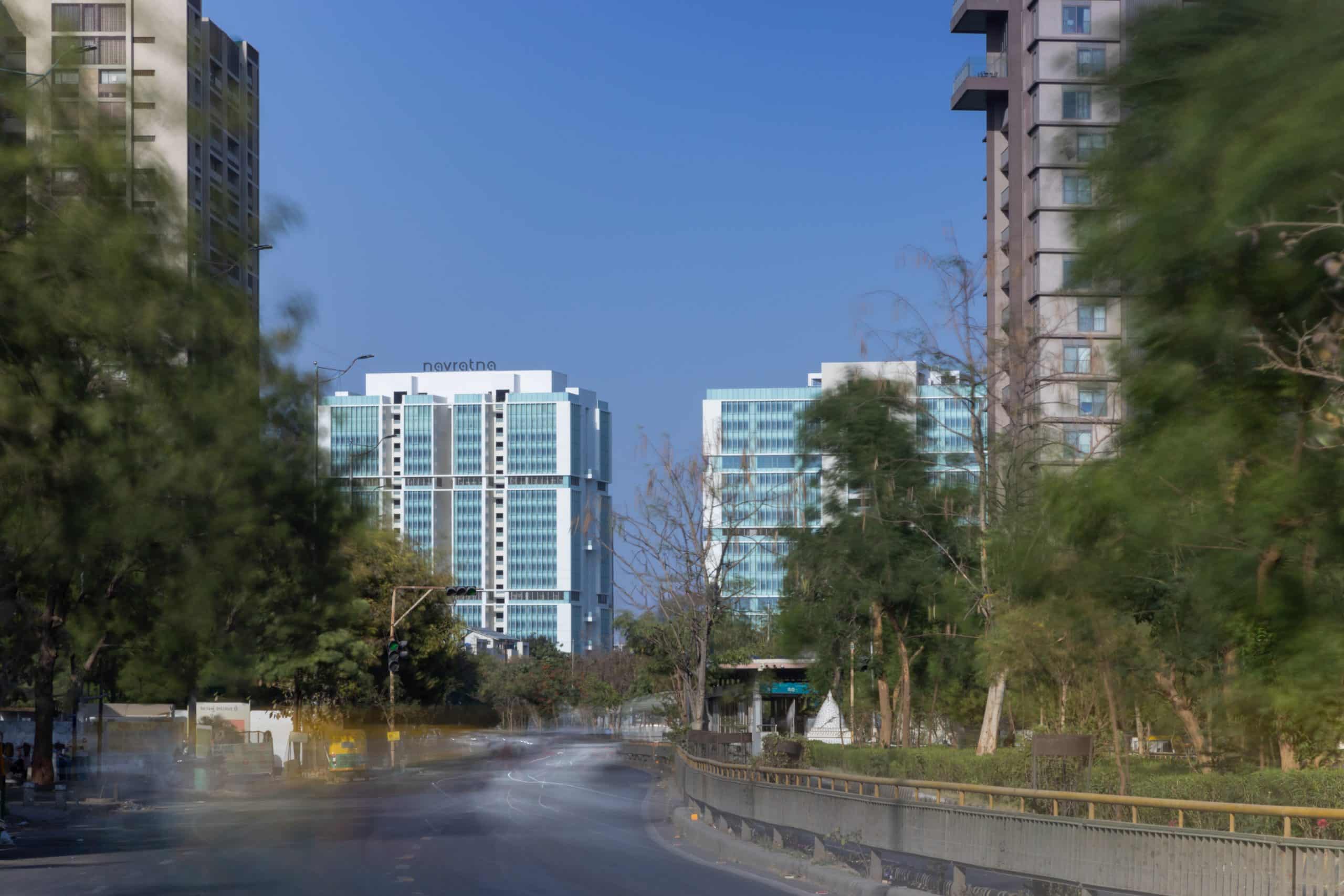 Business Venues with Style & Sustainability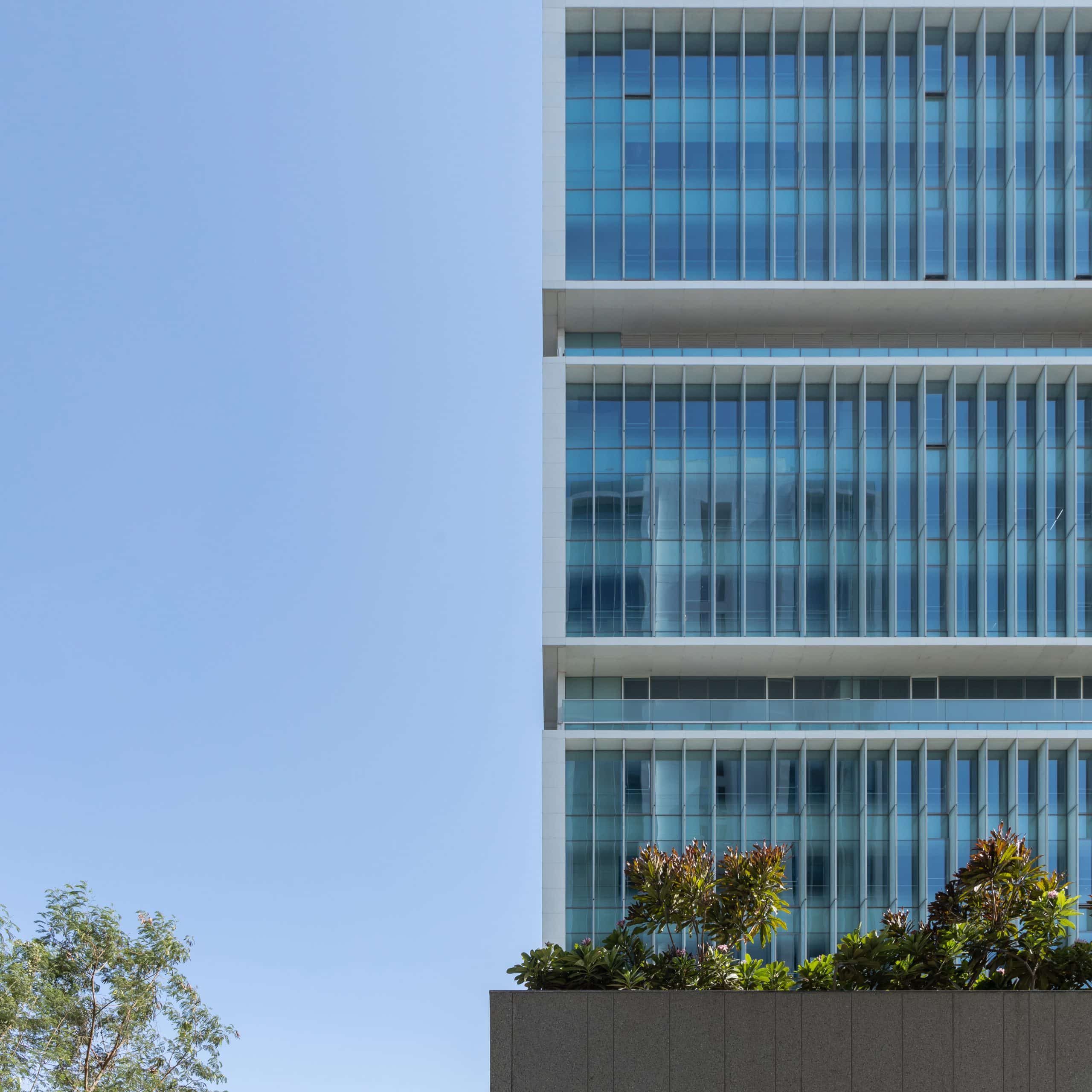 Prime Frontage for Retail Brands, Distinct Individuality for Corporates
The bottom level, 18 m high and accessed through a spectacularly designed entrance foyer, is occupied by commercial brands with their retail outlets enjoying prime frontage on both faces of the corner site. The upper floors in both wings offer exquisite office spaces of unit sizes varying from 2000 sq ft to 20,000 sq ft, custom fitted with contemporary infrastructure, dedicated drop-offs, private internal elevators for multi-storied offices and ample space and opportunity for individual image-building.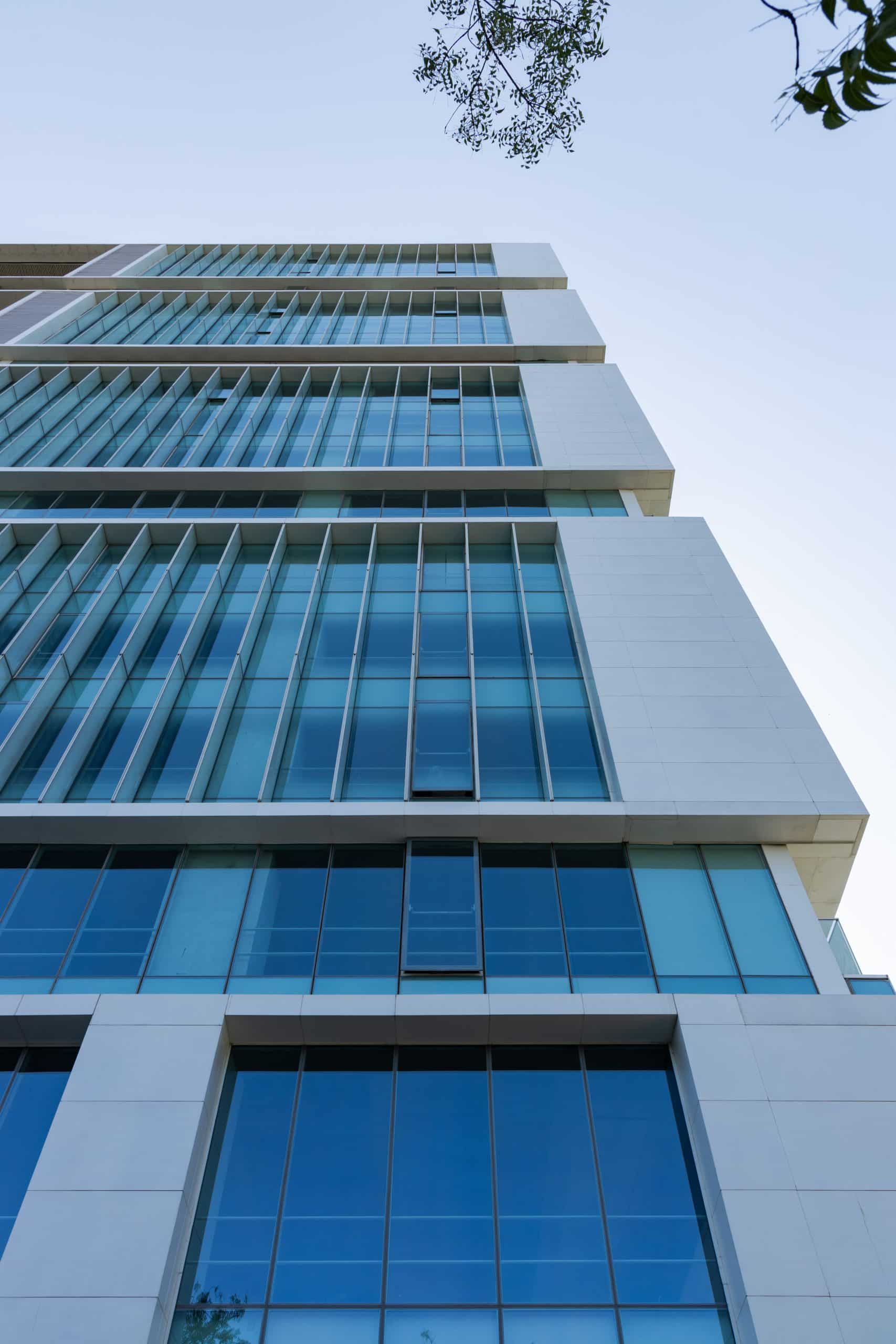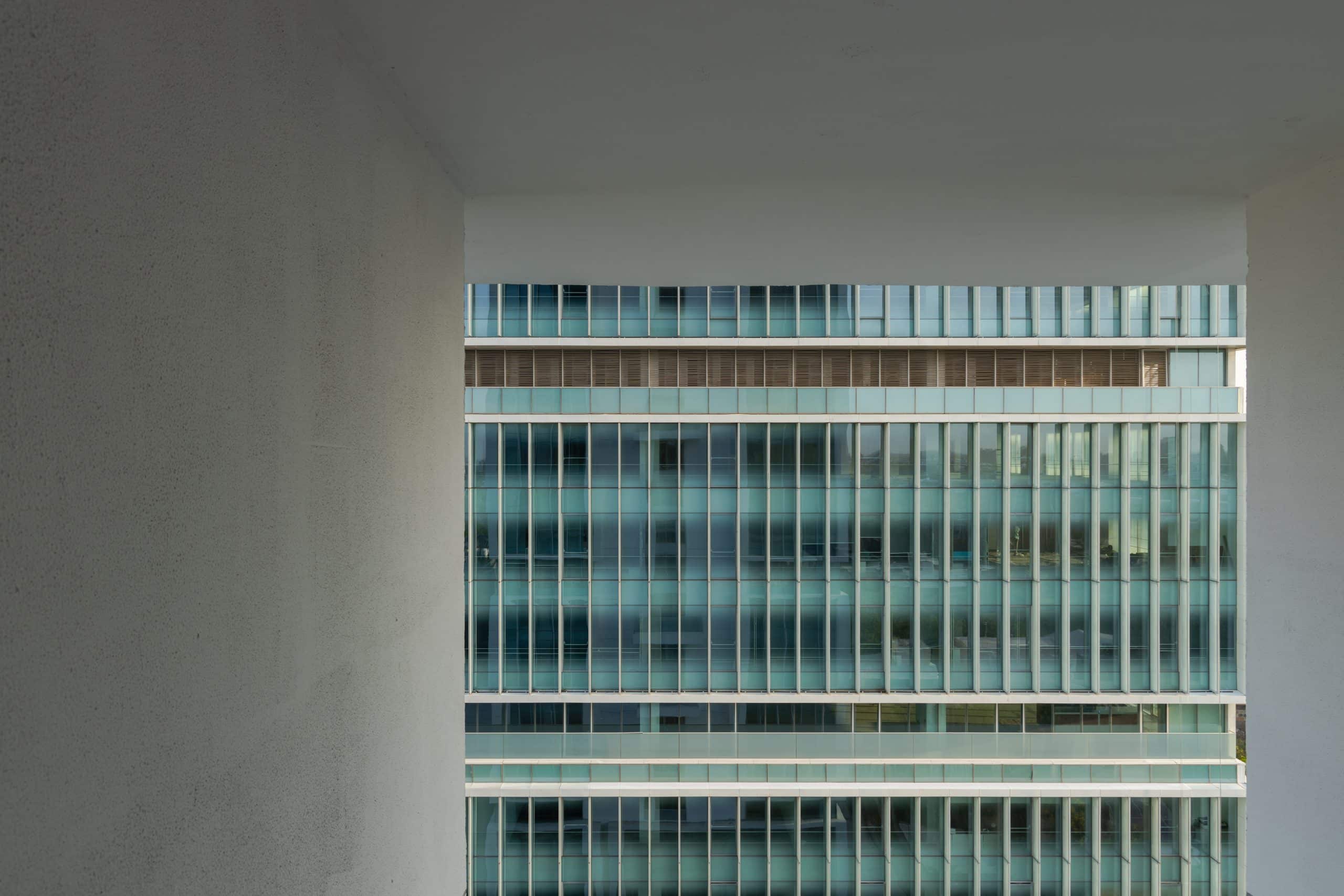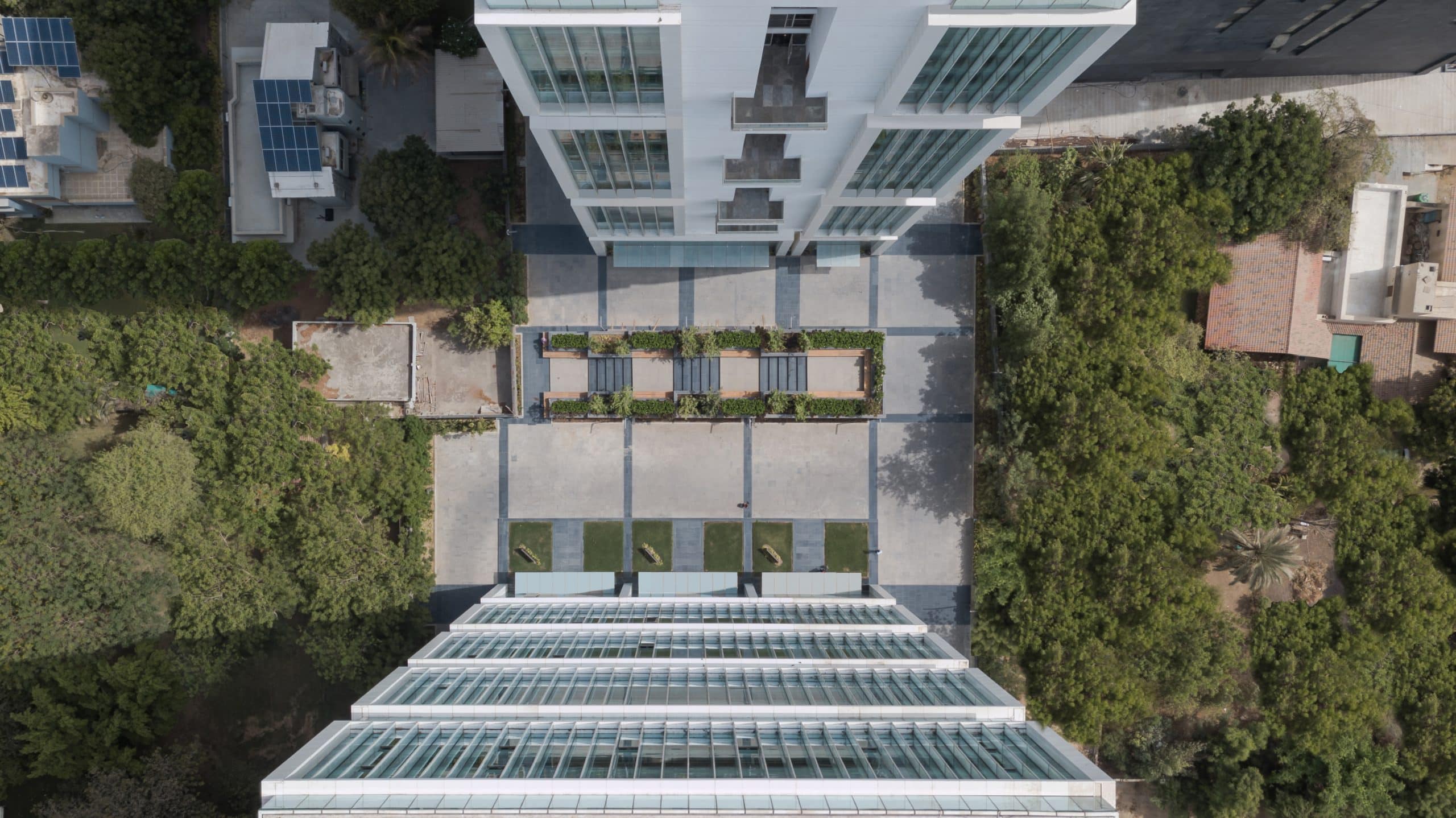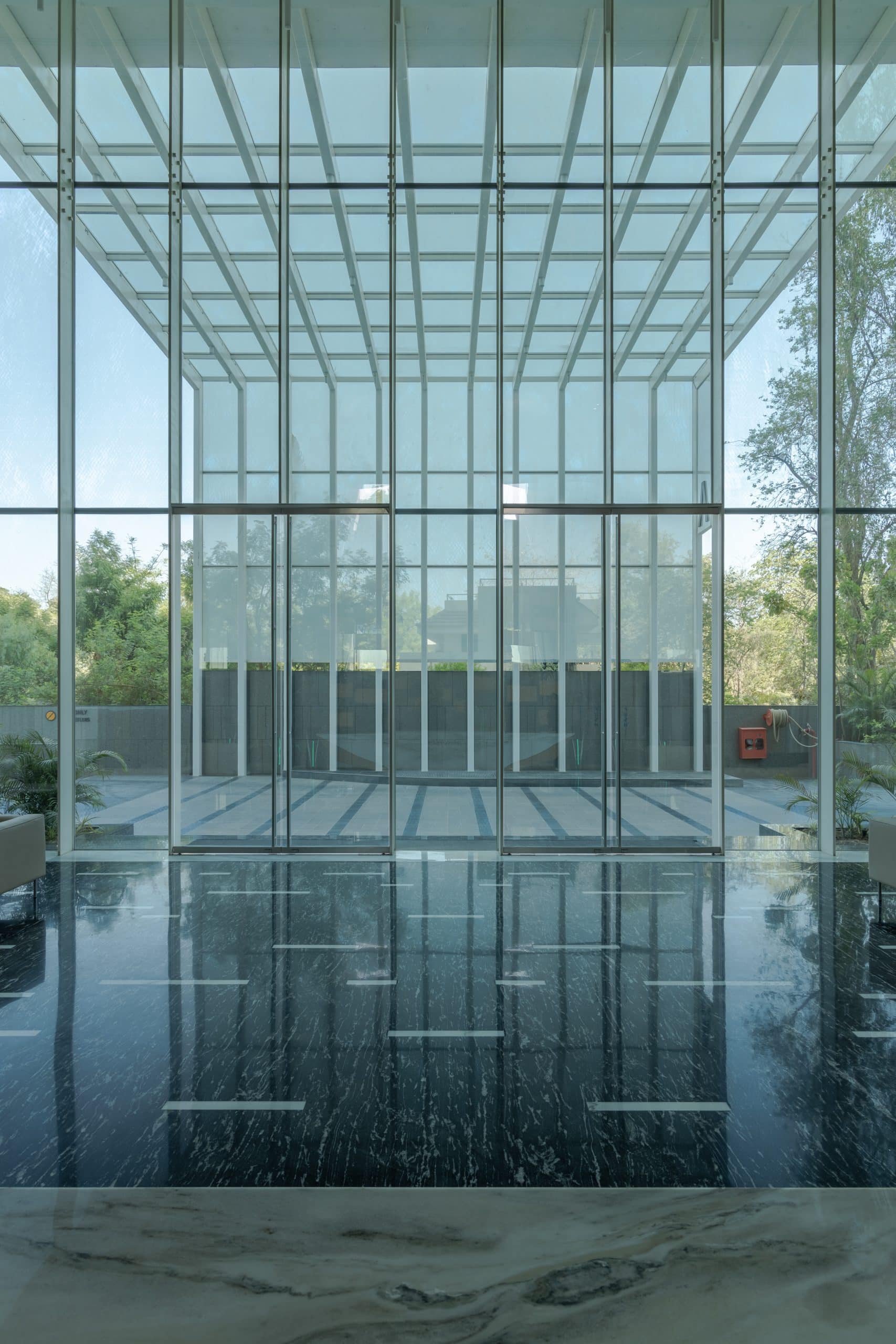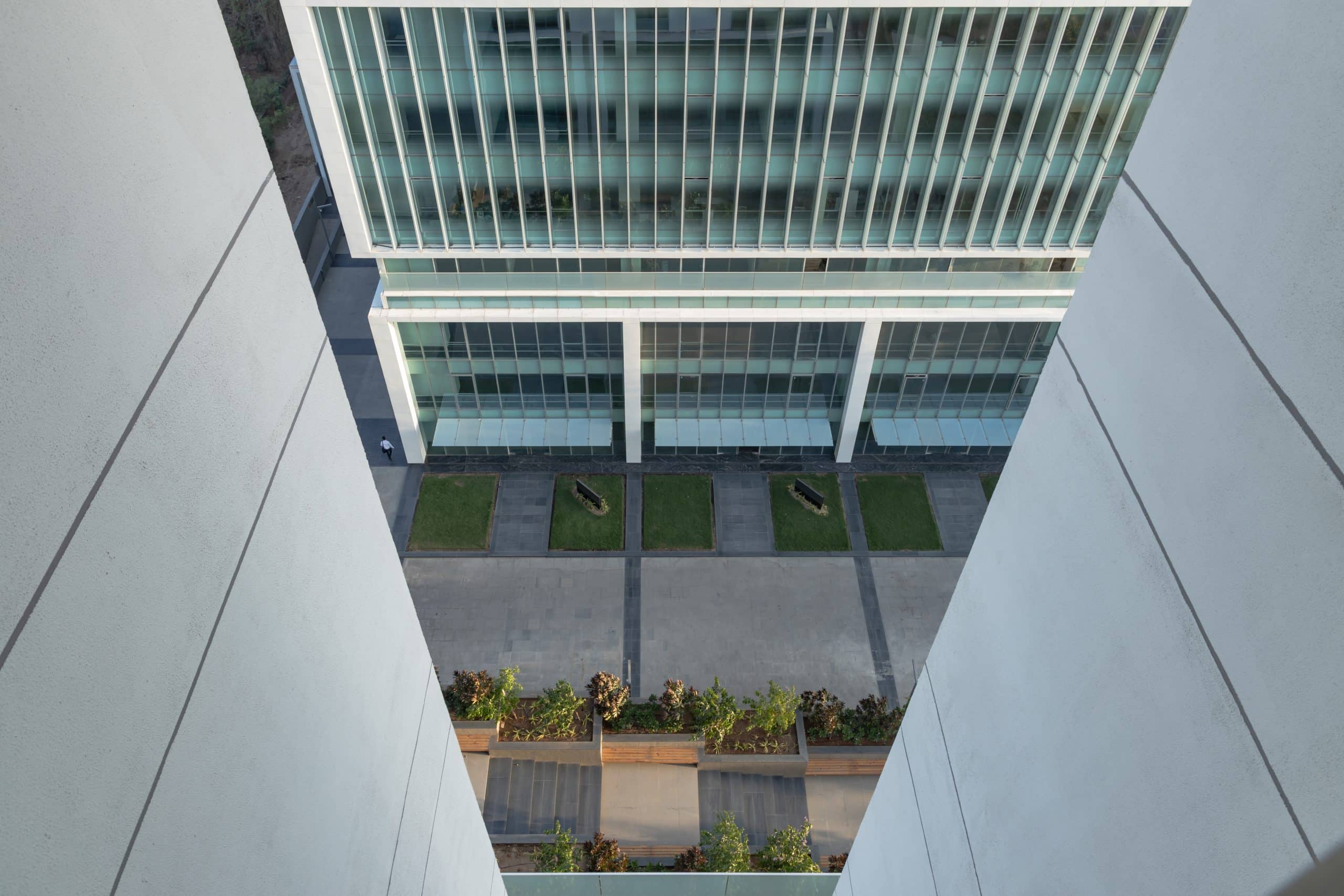 Green Surrounds & Interstices to Breakout & Breathe In
Natural greens and fresh air can be experienced during work breaks not just at the ground level lawns, but also in the floor level interstices between the two wings where tall vertical greens flank the luxurious breakout lobbies which sport cafes and eateries, gently punctuating the sweeping glass façade. Every thoughtful, sophisticated provision made in the design of Navratna Corporate Park served to set a benchmark in Ahmedabad's corporate architecture landscape.