Hill Crest Community Office
Poppalguda, Hyderabad, Andhrapradesh, India
The building design responded to the topography of the site such that the landscape becomes the central to the design, emphasizing on the flow of greens and water elements through the building. There are two wings connected by glass-bridge that overlooks the entire site and allows water element flowing from below; one wing is having the sample apartments and the other wing being the sales office. The inclined columns and roof canopy further accentuate the natural topography. The glass-bridge and large windows act as a mediator between nature and the built spaces.
Size : 11,000 SF
Services : Building Design - Architecture, MEPF Engineering, Landscape Design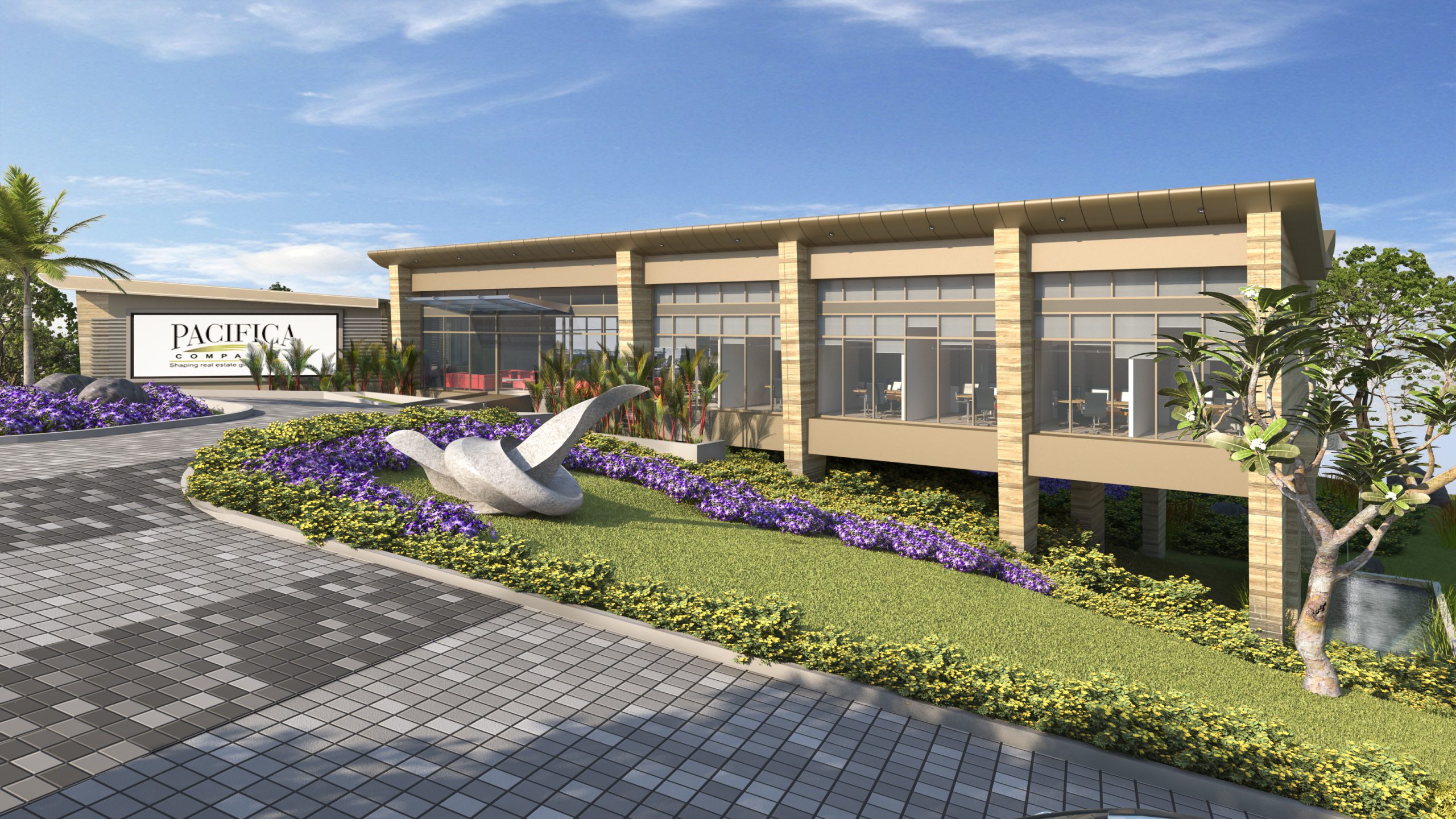 Functioning Along the Natural Order
Watchful Eyes, Raised on Stilts
The Community Office for Pacifica's Hillcrest Township is the first structure seen on entering from the road, located at the highest point with a clear view of the entire site as it slopes downwards hereon. It was envisioned to function as a project branding office during construction/ sale stages and transform into a community office later. Its two wings, one with office & collaborative spaces and the other having sample flats for display, are connected by a glazed bridge. The structure is raised on stilts which help to make it visually light and levitating, leaving the natural ground foliage mostly undisturbed, and to obtain a levelled floor plate on the contoured site. The external side walls wear a faux-stone cladding which melds with the hilly site. Projecting roof canopies over glazed walls give the appearance of watchful eyes – an apt metaphor for the building's function of overseeing and managing the community's activities while showcasing the site's natural features. The building sits like a forest 'machan', raised high and looking out at community activities downhill.
Respectfully Showcasing the Natural Setting
As the inclined stilt columns and canopied roof accentuate the site's sloping terrain, bushy greens are allowed to roll underneath the building's raised form. These landscape continues over the building's surroundings with colorful flowerbeds, boulders and artistic sculptures adorning the front lawns in a welcoming gesture. Water cascades down from walls at both the end as well as from below the connecting glass bridge to complete the composition highlighting the site's natural elements.