Surat Municipal Corporation High Rise Office Campus
The Surat Municipal Corporation envisions to develop a new administrative head office building that can accommodate all departments at one place for cohesive and integrated working. In line with the city's progressive strides on growth, the building is envisioned as a modern high-rise that is sustainable, efficient and iconic. INI Design Studio has been appointed as design and comprehensive services consultants for the new building. The project includes architecture design, landscape, engineering, interiors, procurement assistance, construction supervision, and project coordination.
Site Area : 5.57 Acres
Builtup Area : 23,69,900 SF
Services :Master Planning, Building Design - Architecture, Interior Design, Landscape Design, MEPF Engineering, Sustainability & Green Certificate, Structure Engineering, Lighting Design, Facade Design, Infrastructure Engineering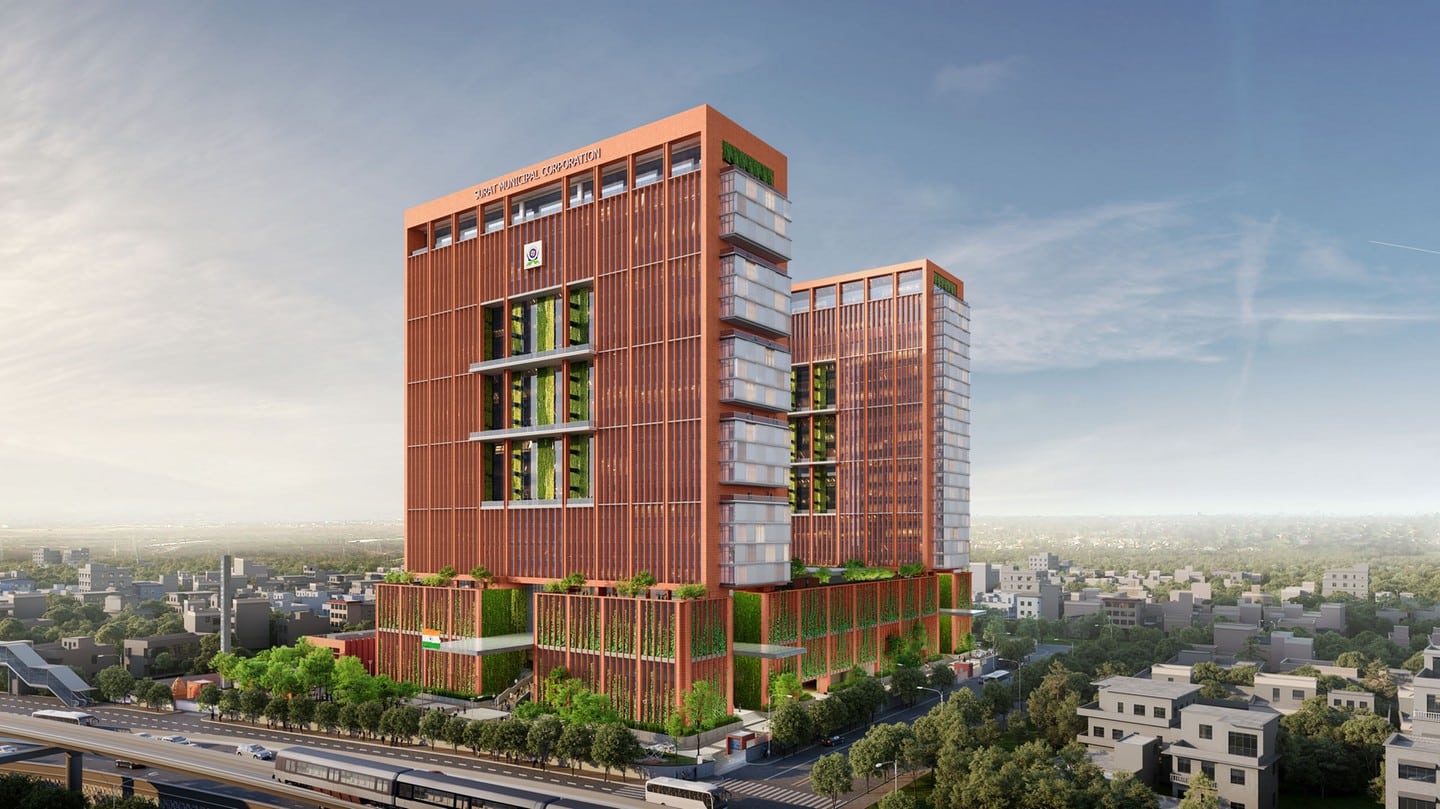 Municipal Administration Campus Premises
Re-imagined for Integration, Sustainability & Tech Competency
This design for the municipal administrative office of Surat city in Gujarat aimed to consolidate its various departments functioning from different premises spread across the city into a single, cohesive entity servicing te citizens as an efficient unified cluster. The 22,500 square meter site chosen, flanked by roads on three sides of which one is a major road carrying the metro line and a car over-bridge, suggested a high-rise campus for the greater than 2 lakh square meter built-up area requirement.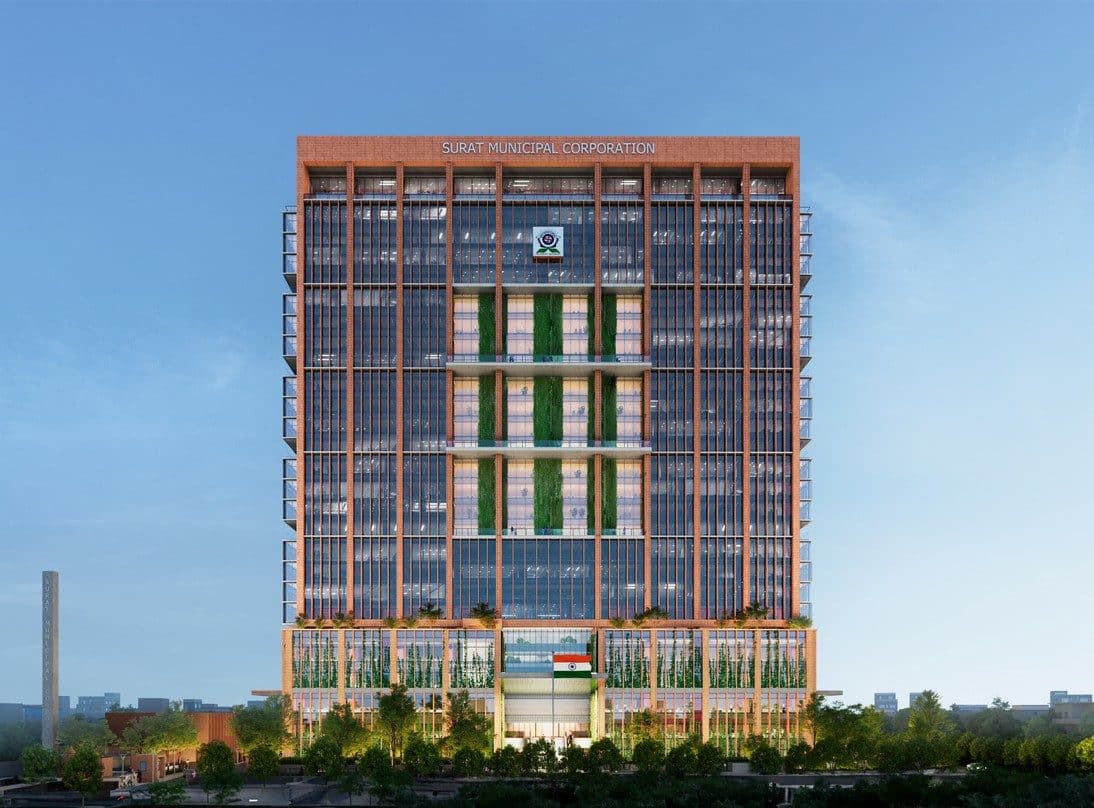 INI Design Studio's proposal for the new corporation building rises G + 27 floors (104 m) above the ground covering all departments and functions with the latest available technological provisions of international standards yet maintaining visual porosity, humane connectivity, green environment, climatic response and contextual relevance. Two towers rise from a common G + 4 floors of podium which has a landscaped terrace with recreational amenities. The program covers every department of the SMC like town planning, health, PWD, slum rehabilitation, housing, water supply, sanitation, horticulture, accounts, audit, O & M, SPVs and others, all on the same premises.
Podium + 2 Towers Integrated with Access from Multi-modal Transport Network
The surrounding urban fabric has been integrated through a well-coordinated access and approach incorporated into the design. The major road faced by the building carries a vehicular overbridge as well as a metro line. An underground tunnel has been designed to take vehicles of staff and visitors from this road directly into the building's amply provided double basement parking to avoid a vehicular bottleneck at the site's ground floor entry.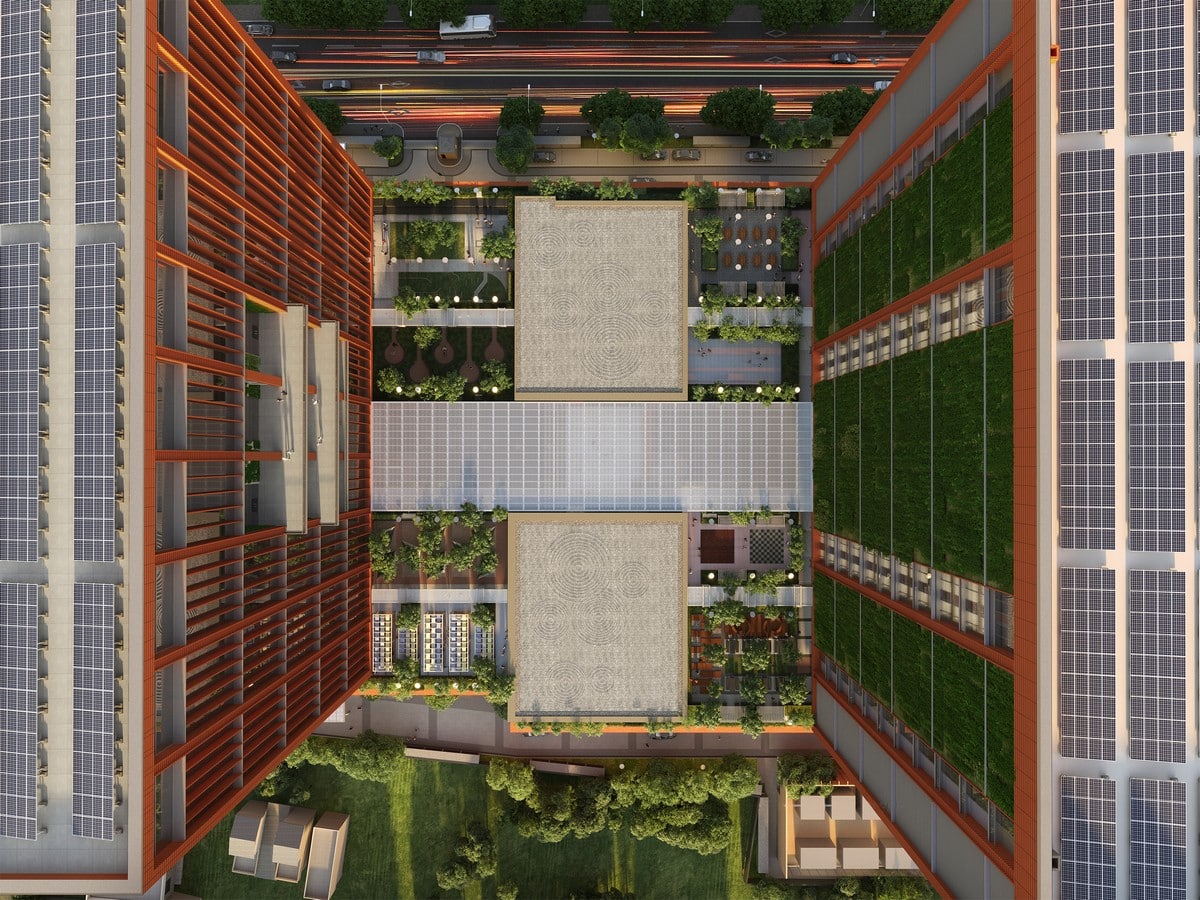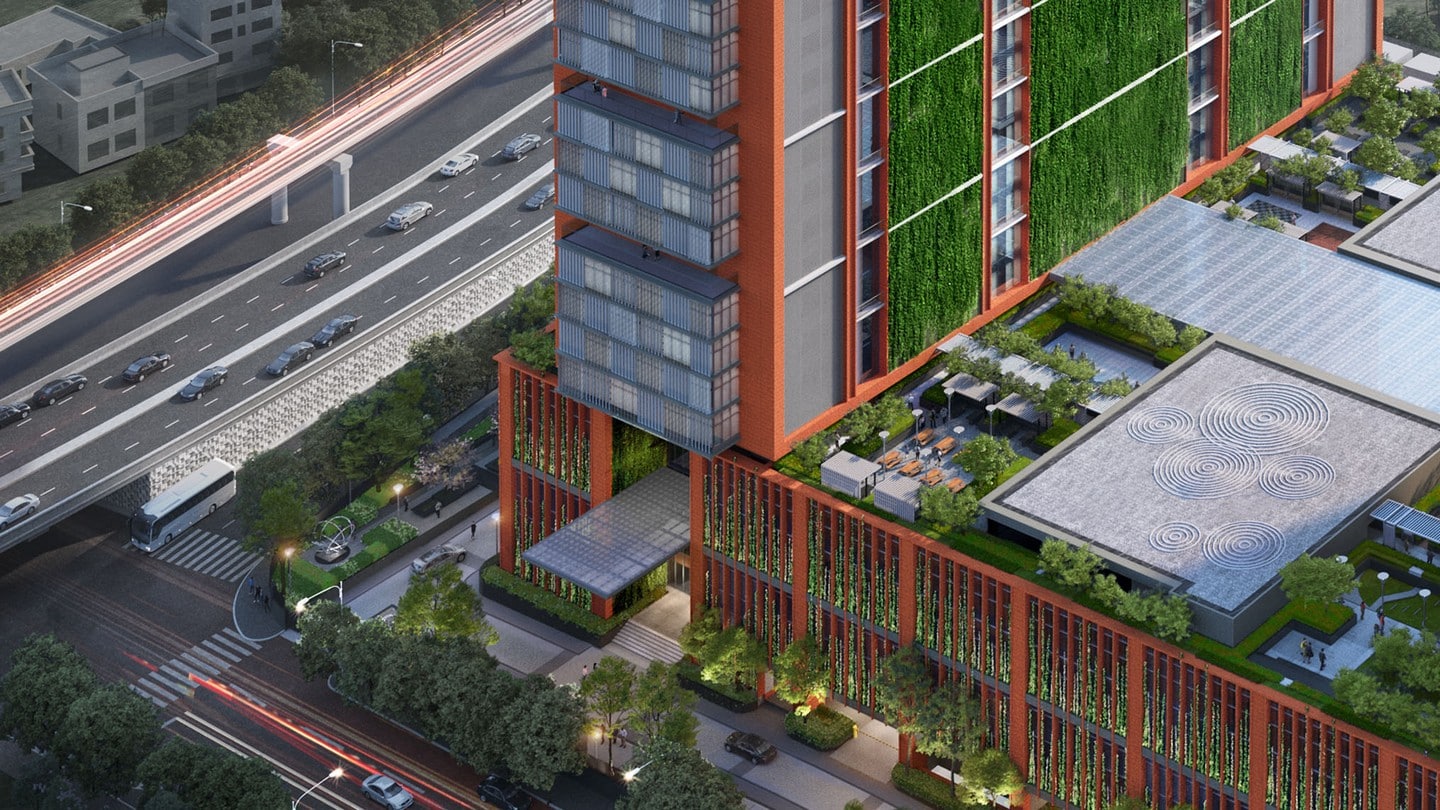 In addition, a skywalk carries pedestrians from the metro station across the road as well as from a BRTS stop down the road to a point near the site's entrance via escalators and elevators. Thus, the campus becomes well connected for its own staff as well as for citizen visitors. Furthermore, a helipad has been integrated at the top of the 104 m high tower to enable attending emergency services to land directly on the building whenever required, thus establishing an air connection for disaster management as well.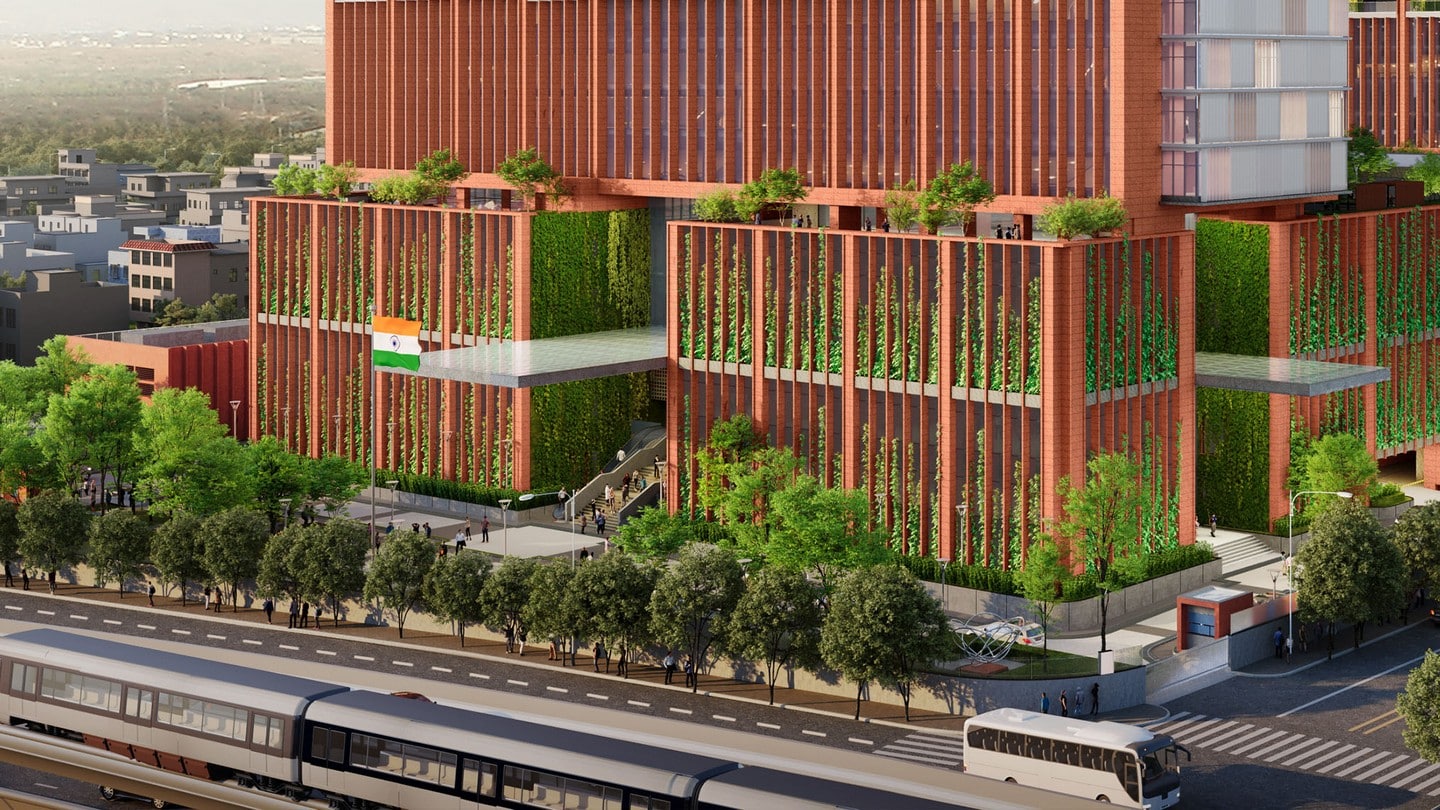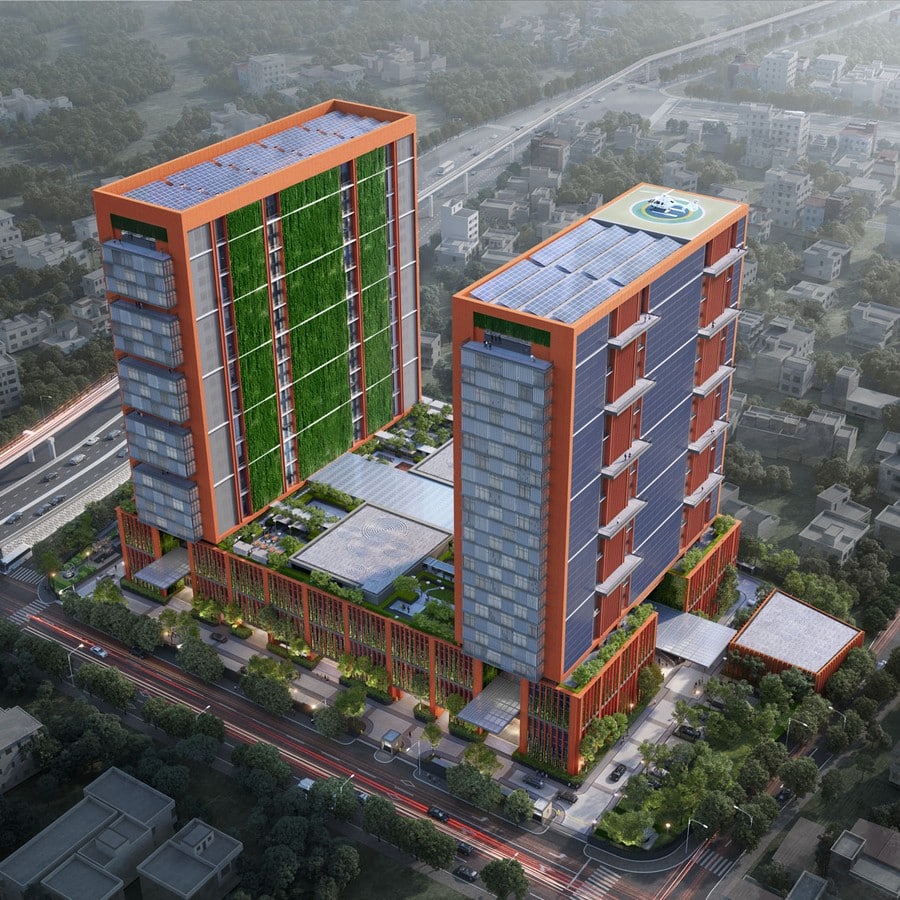 Comprehensive Programmatic Provision Covers Each Department & Function
The offices of every department of the municipal corporation have been accommodated in the G + 4 floors of podium, 22 floors of towers. Services occupy the topmost floors of both towers while the 5th floor above the podium remains open as a landscaped terrace having common recreational amenities like a gym, yoga room, sports court, library, cafeteria, meeting and conference rooms. Vertical transportation is divided into six cores, two in each tower and two central ones exclusively for the podium floors. Each core having six lifts and a staircase is annexed by a spacious, well-appointed lobby at each floor.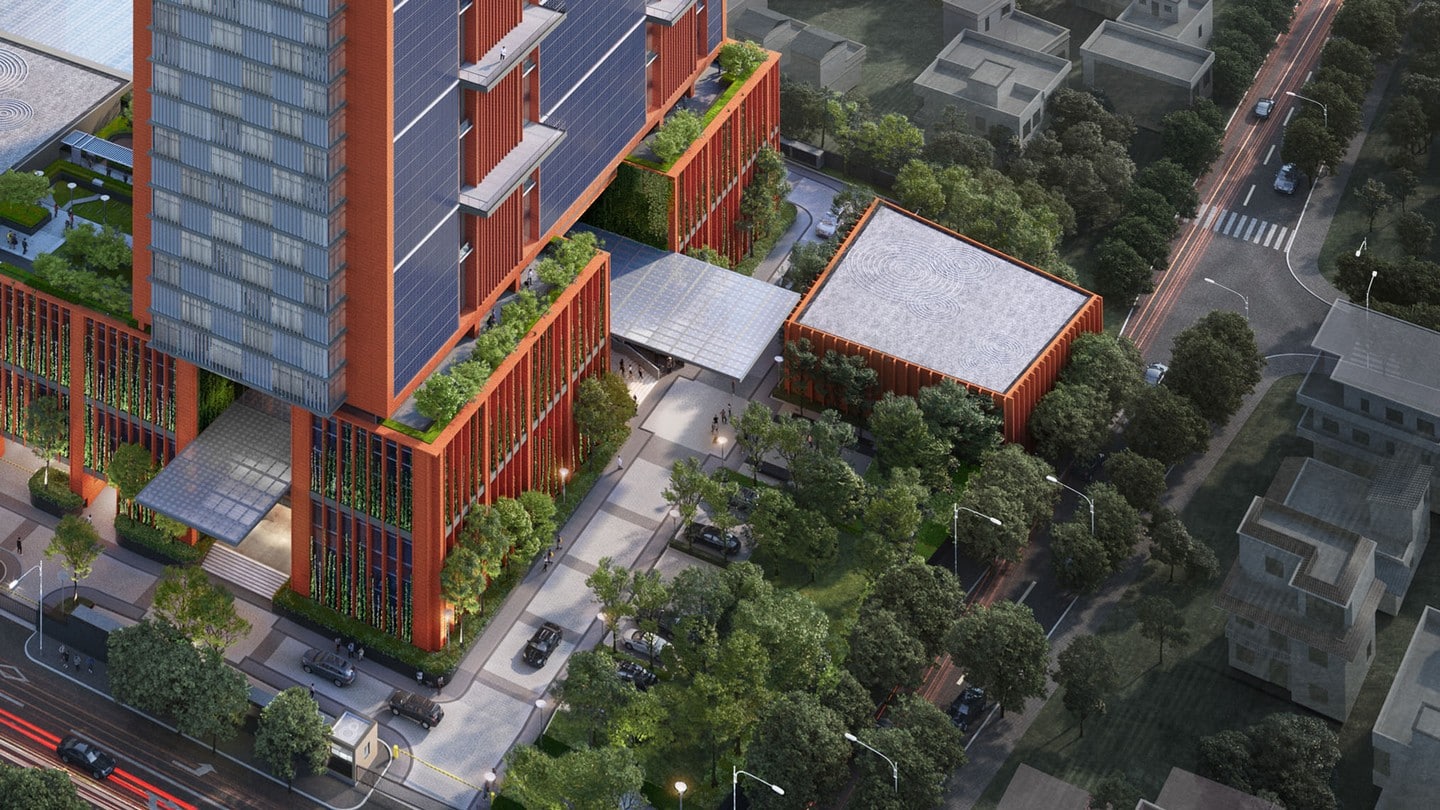 On approaching the premises from either the front or rear, one climbs up a set of monumental steps to enter the reception area at the first floor and is then led to lift/ staircase lobbies placed on either side. The ground floor remains open for VIPs to be dropped off at their exclusive lobby around the central circulation core from the rear. This leads them up to the commissioner's office set-up, or to the offices of the executive arm or elected representatives of the ruling party and opposition on the second and third floors. The first floor has a full-fledged auditorium and a media room to complete the requirements of the city's administrative machinery.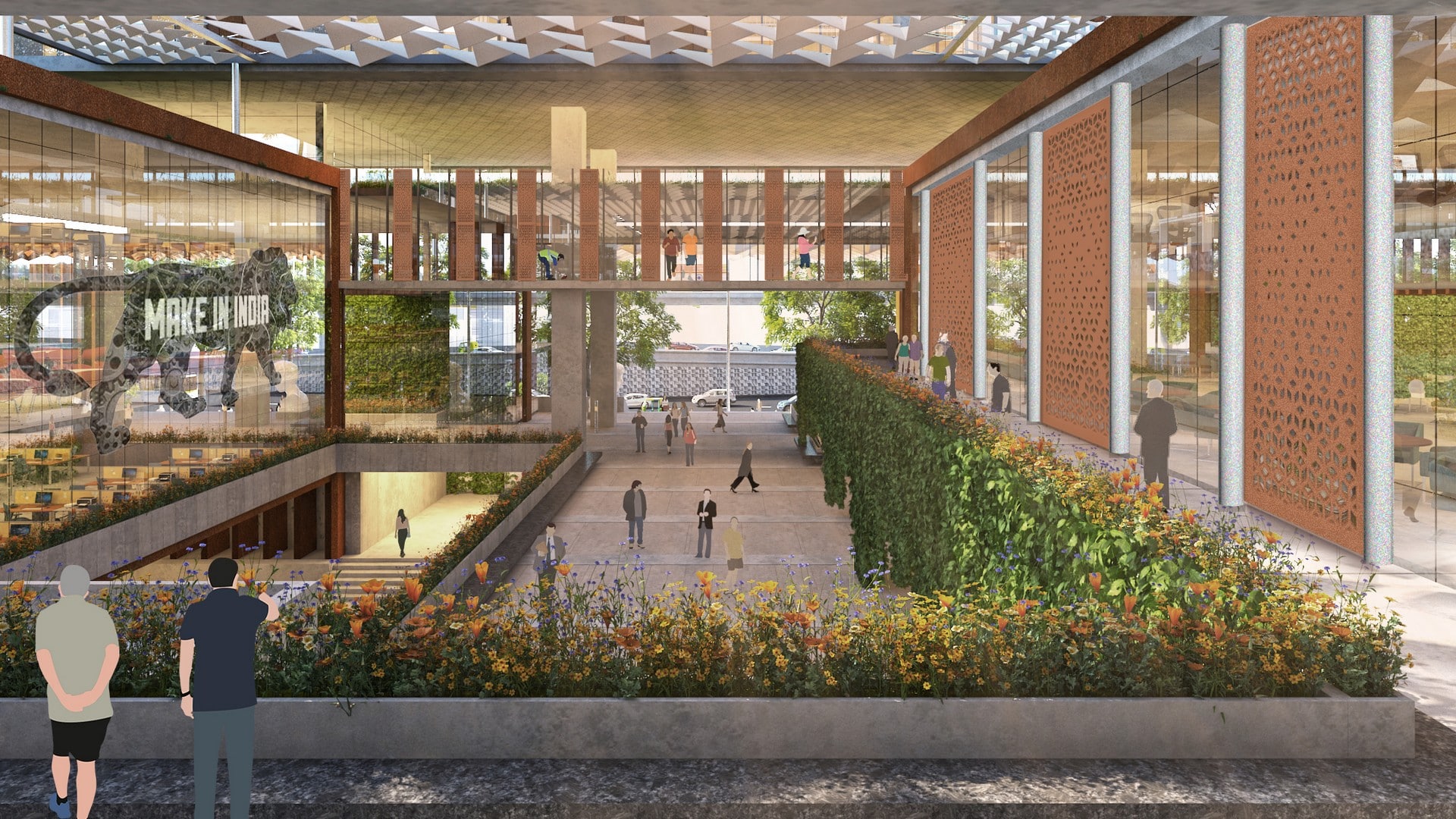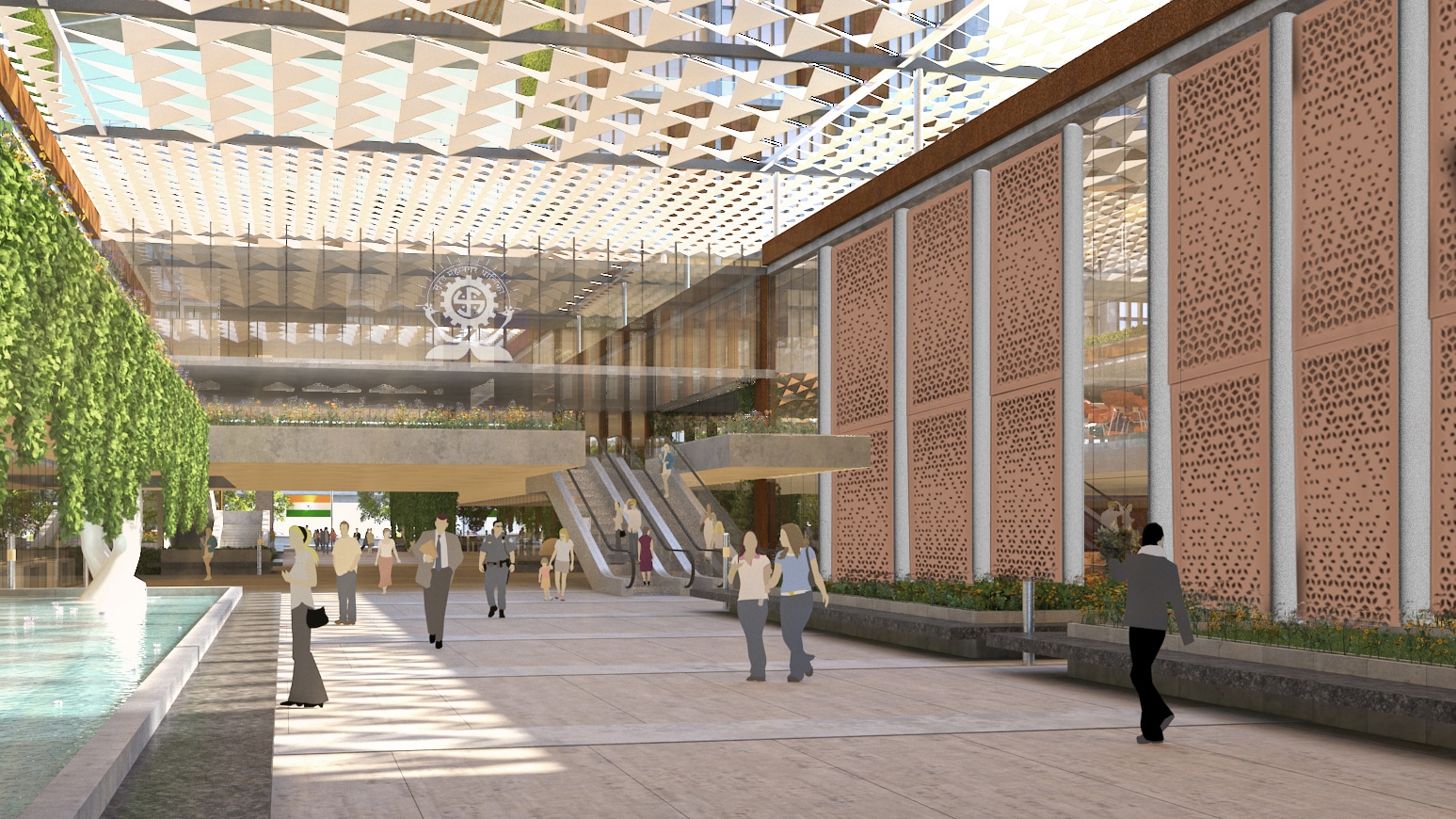 Voids in Built-Form Accomplish Visual Lightness, Physical Integration & Green Incorporation
Despite rising to a great height, this built-form conveys a pleasing and light-weight visual narrative on account of the massing getting distributed in two widely spaced towers, and further, due to large green voids incorporated in each tower. Profuse landscaping witnessed at the ground and podium levels and as green walls and planters in the mid height voids created in both towers, connector bridges with glass railings crossing the open spaces, all add life and vibrancy.
Material & Technology Palette Aligned to Sustainability Goals
The terracotta rain screen system with profusion of screens and pergolas, and ample landscape features carve out a distinguished yet pleasant, humane and approachable imagery for the campus. Many passive climate –responsive strategies like solar shading on east and west faces, fins with low-E glass to admit sufficient day-light while cutting off most of the associated heat help to maintain climatic comfort with low energy usage. Some other features used include operable windows for ventilation, day-light sensors to cut artificial lighting needs, building-integrated solar PVs on the south façade and terraces, efficient central cooling and rain-water harvesting which help in attaining the highest prevalent sustainability standards.
Concept Evolution Sketches
PLAN CONcept evolution sketches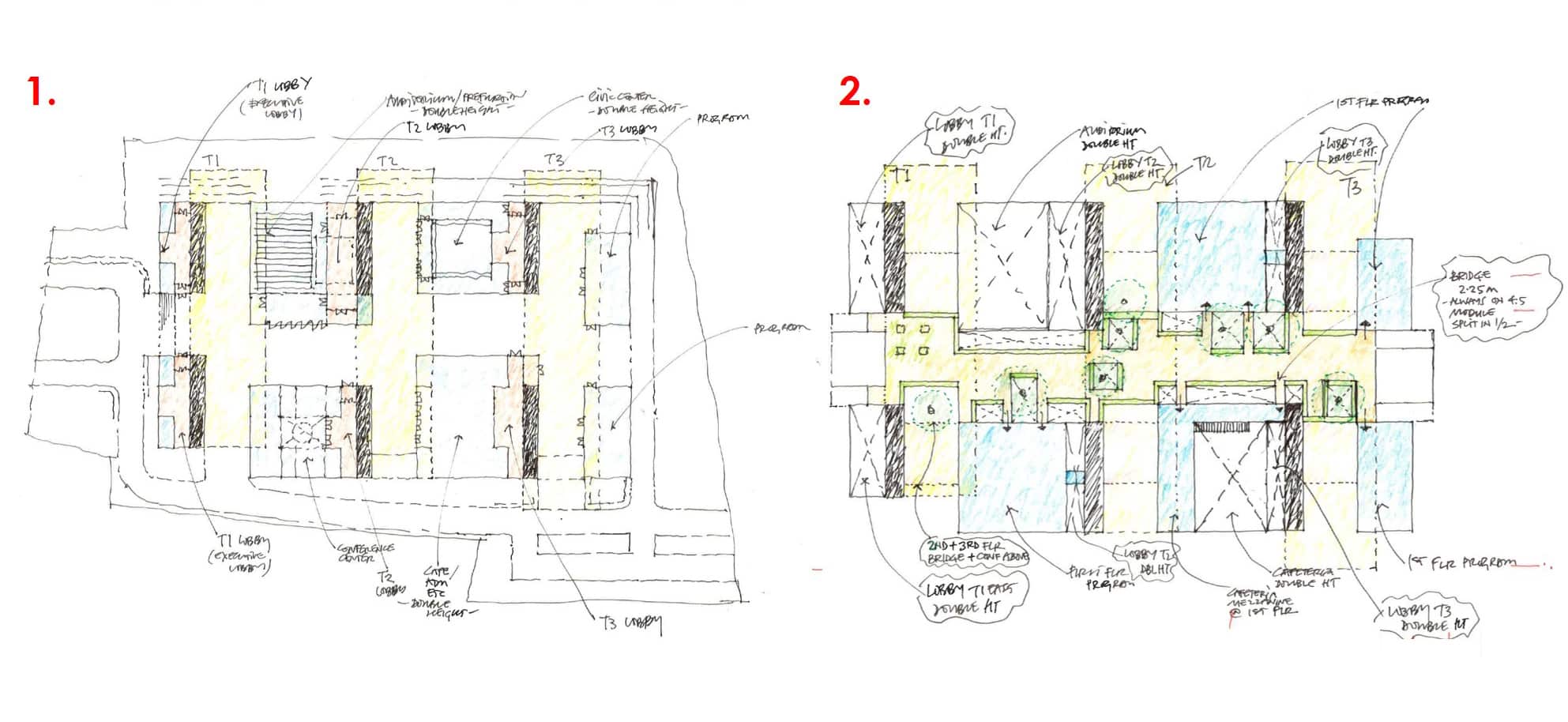 PLAN CONcept evolution sketches