BKC, Mumbai, Maharashtra, India
The JSW corporate headquarters is one of the largest completely open office complexes in Mumbai. The building's two elliptical sides glide fluidly, one into the other in balanced rhythm. The building design incorporates not only the most advanced sustainable building technologies, but also uses the latest concepts in corporate office design and configuration. With its large atrium and the entirety of the exterior glazed with a high- performance double skin, the headquarters building provides maximum natural light while maintaining extremely efficient systems operations.
Builtup Area : 5,50,000 SF
Services : Master planning, Building Design - Architecture, Interior Design - Executive Floors, Landscape Design, HVAC, MEPF Engineering, PMC, Sustainability & Green Certificate, A/V - IT
Accolade : IGBC - LEED India Core & Shell Platinum Rating
The ArchiDesign Award for the Best Sustainable Design (Green Architecture) - 2016
The Economic Times & Saint Gobain Smart Green Awards 2016 in Work- Building Category
India's Best Design Studio Awards -2018, JSW Center Project was one of the five projects submitted for the Best Design Studio Award, By Indi Design - an international design magazine from India.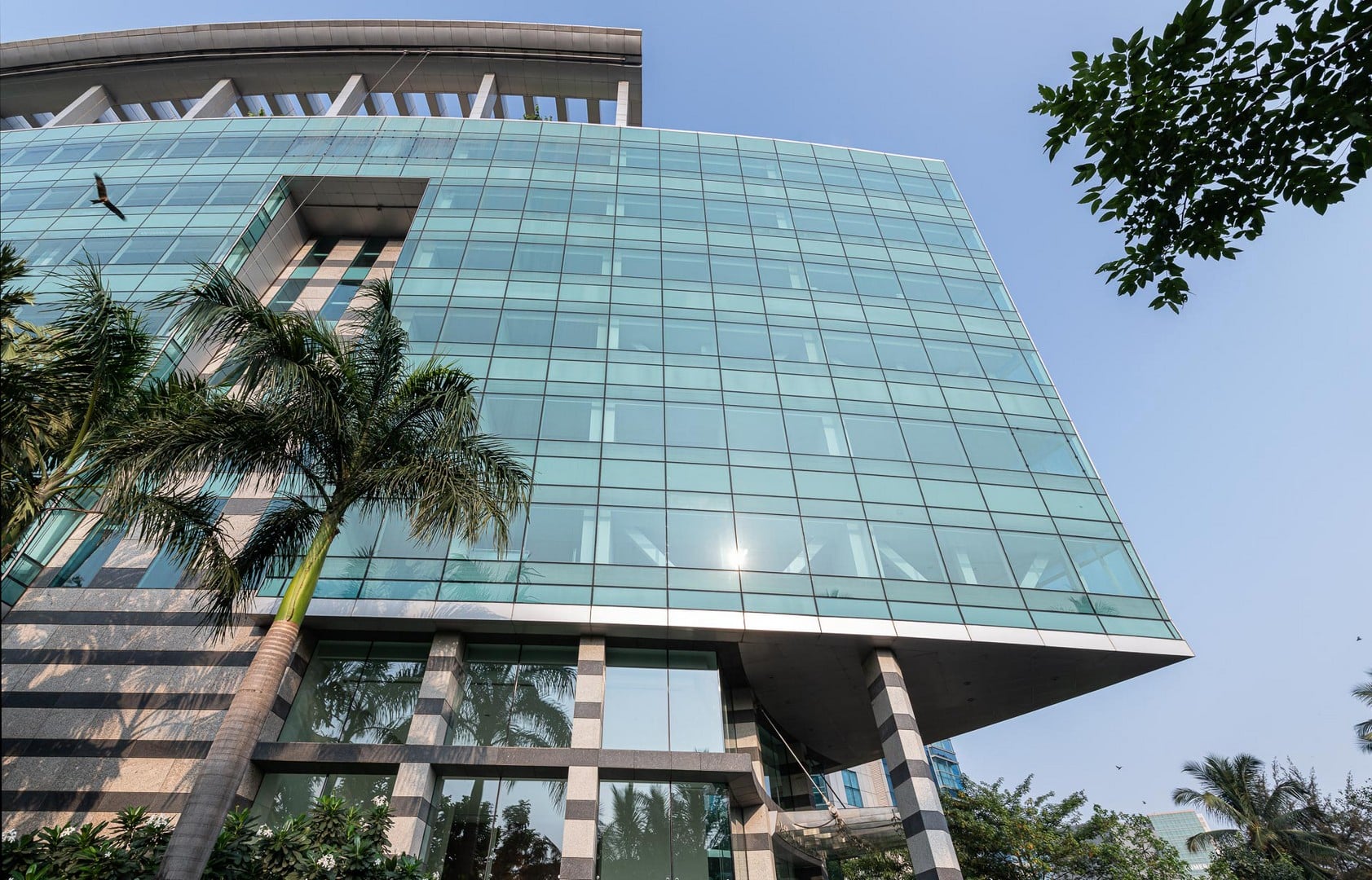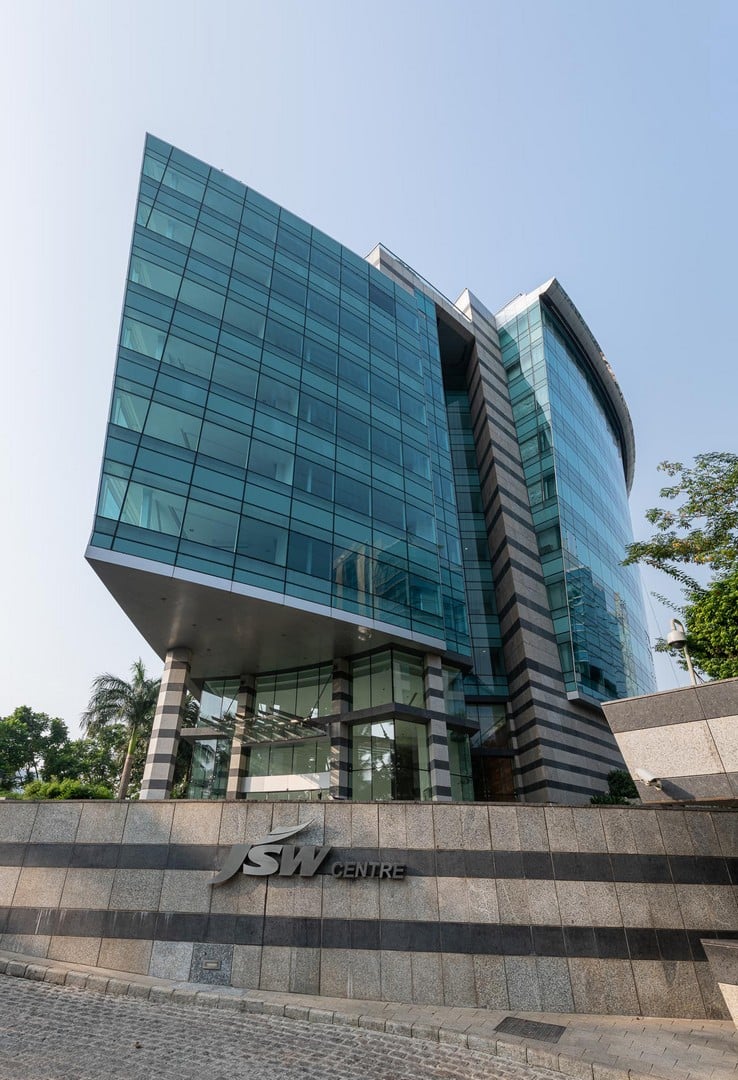 Iconic Steel
Edifice to Seat Steel Leadership
Strong, impactful, future-ready, and versatile – expressions that describe the modernist metal 'steel', as also the peerless industry leaders, Jindal South West Steel Ltd.. Even at the initiation of creating their headquarters at BKC, Mumbai, in 2007, theirs and our partnering design team at INI were both convinced that this building's architecture would embody these very qualities. The result was a bold, iconic, completely steel 11 storey structure enveloped in an energy efficient, ventilated glazed double skin, negotiating a challenging eye-shaped site with a 2.2 acre whirlpool footprint around a grand, sun-lit central atrium – an architecture simultaneously articulating leadership and sensitivity.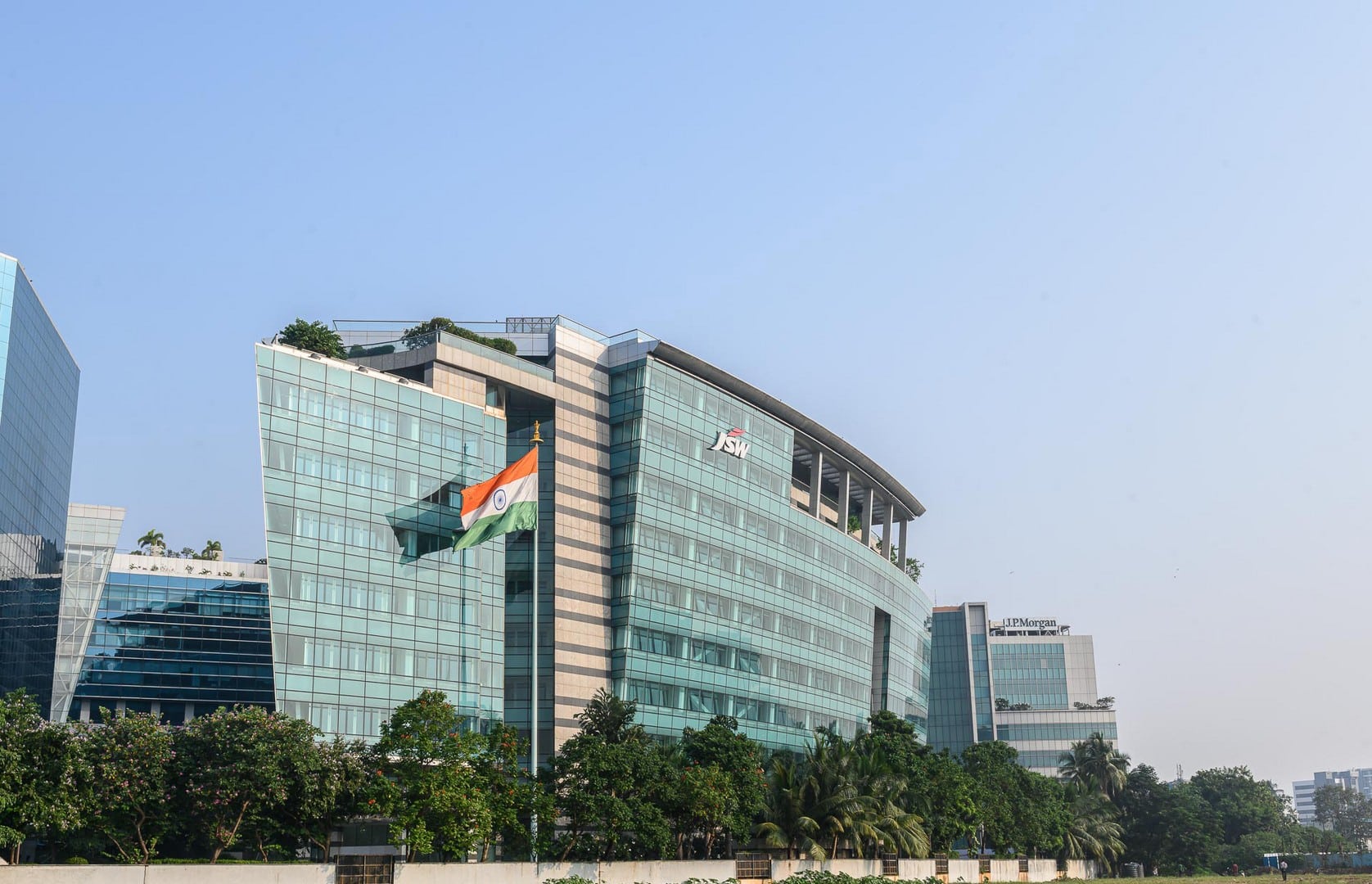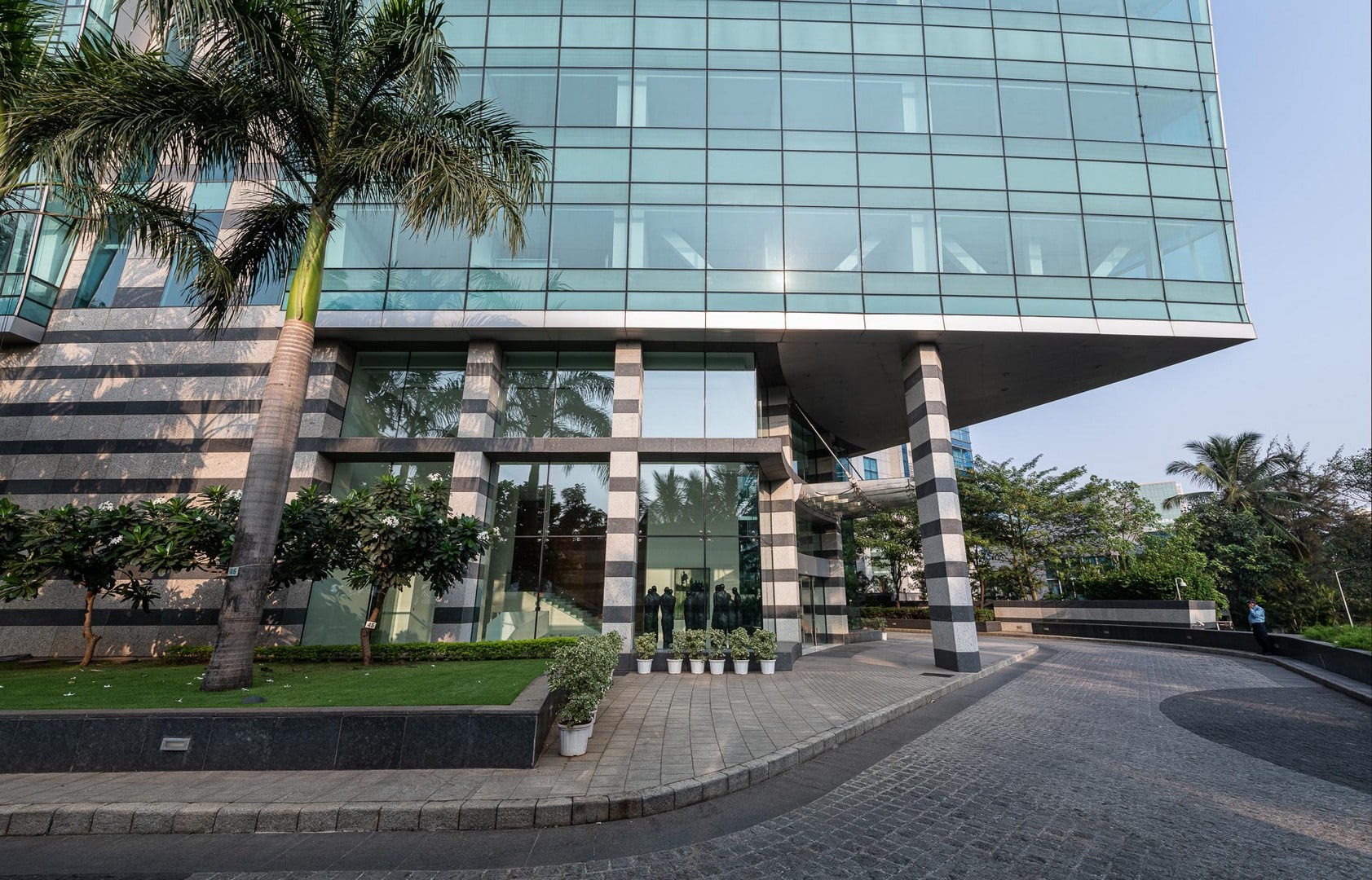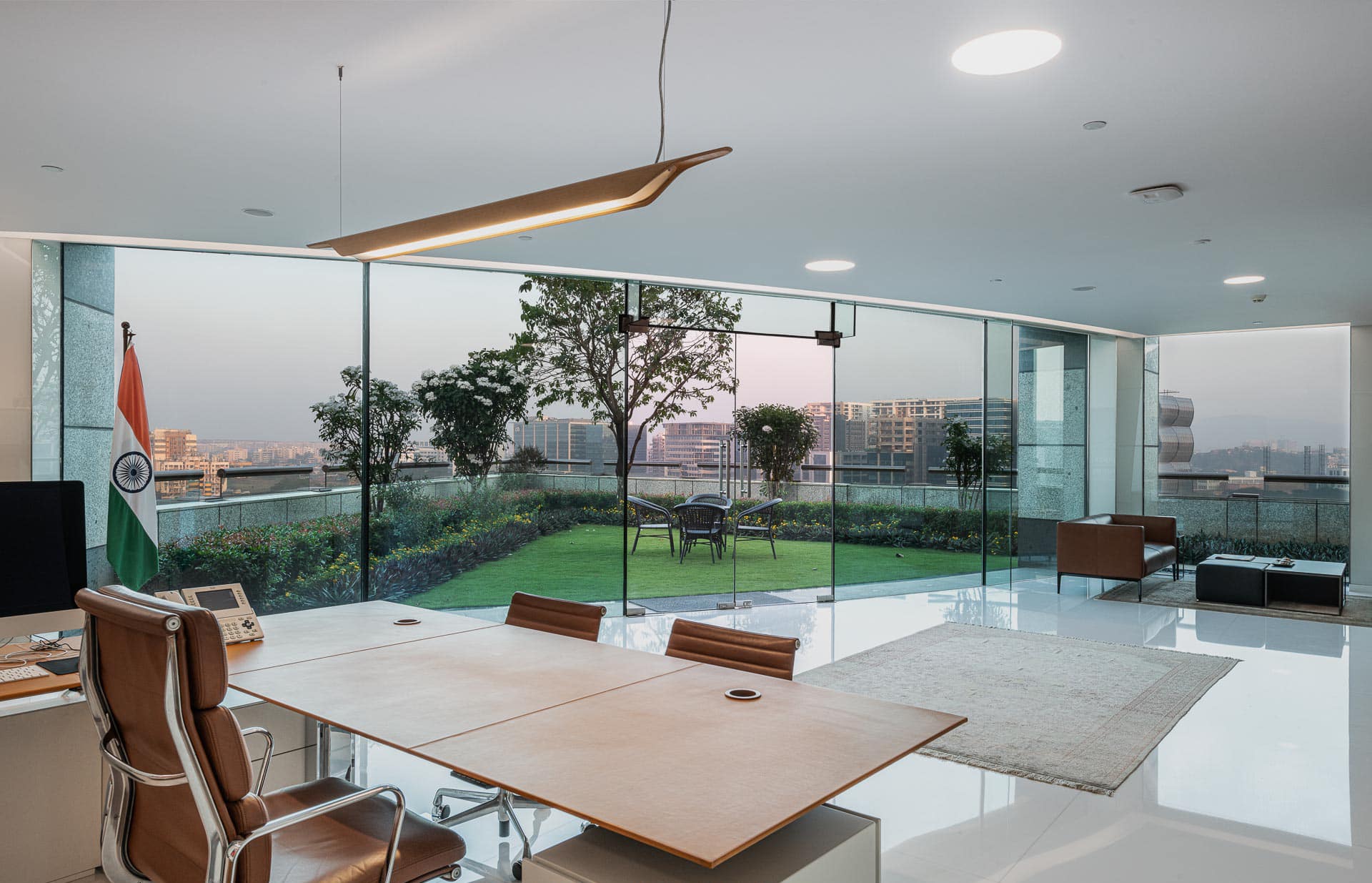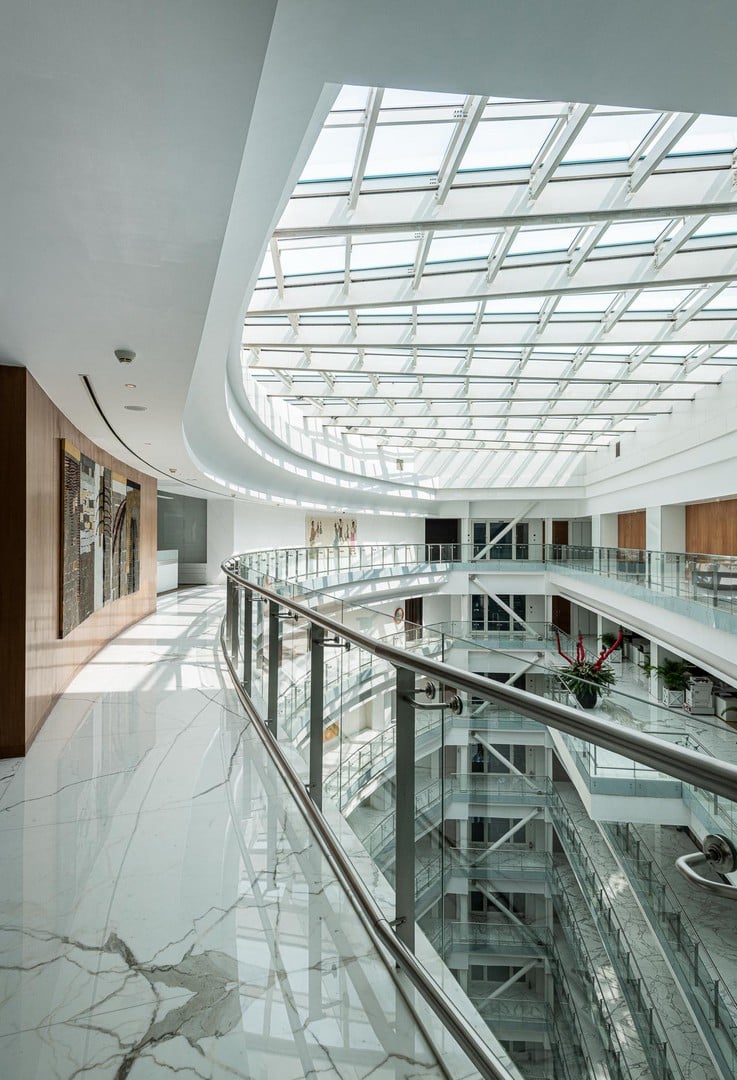 Efficient Performance by LEED Platinum Rated Green Design
Form fluidity, double glazed façade with a ventilated buffer cavity, green terraces, smart integrated BMS connected to blinds, occupancy sensors, etc. for energy efficiency, glass façade and atrium top allowing maximal sun-lit spaces, rain-water harvesting, recycled grey water use for landscaped levels, washrooms and HVAC, hybrid air-conditioning systems are some key features which helped this design accomplish a LEED Platinum pre-certification.
Interconnectedness, Parity, Transparency
Work-spaces spread over 11 levels of elliptically disposed floorplates remain visually connected across the span and height of the atrium, which even allows upper floors to overlook the bustle at the atrium floor, spilled over from surrounding ground level events and dining spaces. This spatial integration and structural porosity stands enhanced by 14m deep cantilevered canopies marking the built-form's ground level endpoints with two equally grandiose entrance porches. The design facilitates an unimpeded energy exchange through such seamlessly catenated spaces to deliver a high-performance office space.