Dadri, Greater Noida, Uttar Pradesh, India
The cricket stadium is a unique feature of Shiv Nadar University with its structural system of sheet roofing suspended from columns and wedge-shaped mounds built with natural green seen as seating from within and landscape from without. The 3000-seat capacity concrete stadium stands on axis at one end, and carries forward the materiality and language of other buildings on campus. Located at the far Southeast corner of the campus adjacent to student housing, the Shiv Nadar University cricket stadium is a place where all 8000 students of campus can get together either to cheer their cricket team or for a large event.
Builtup Area: 43,293 SF
Services : Programming & Planning, Building Design – Architecture, MEPF Engineering, Civil & Structure Engineering, Interior Design, FFE, Sustainability & Green Certification, AV-IT, Acoustic, PMC Support, Lighting Design, Environmental Graphics & Signage
A Full-Scope Campus Facility for the Country's Favorite Game
As part of the immensely sprawling SNU Campus at Dadri, Greater Noida, which takes pride in its commitment to the green cause in more senses than one, this facility for India's favorite sport cuts no corners. Offering a cricket ground of a size on par with international standards, it is replete with all requirements like full turf pitches, net pitches, changing rooms and accompanying support facilities. It can be accessed from the front as well as rear ends by different campus roads through elaborate portals housed in sleek and sophisticated buildings marked by a modernist architectural language. Ample stadium seating provided adjoining the entrance portals is covered by cable stay roofs, where sheet roofing is held up by cables suspended from a row of masts, creating an interesting built form.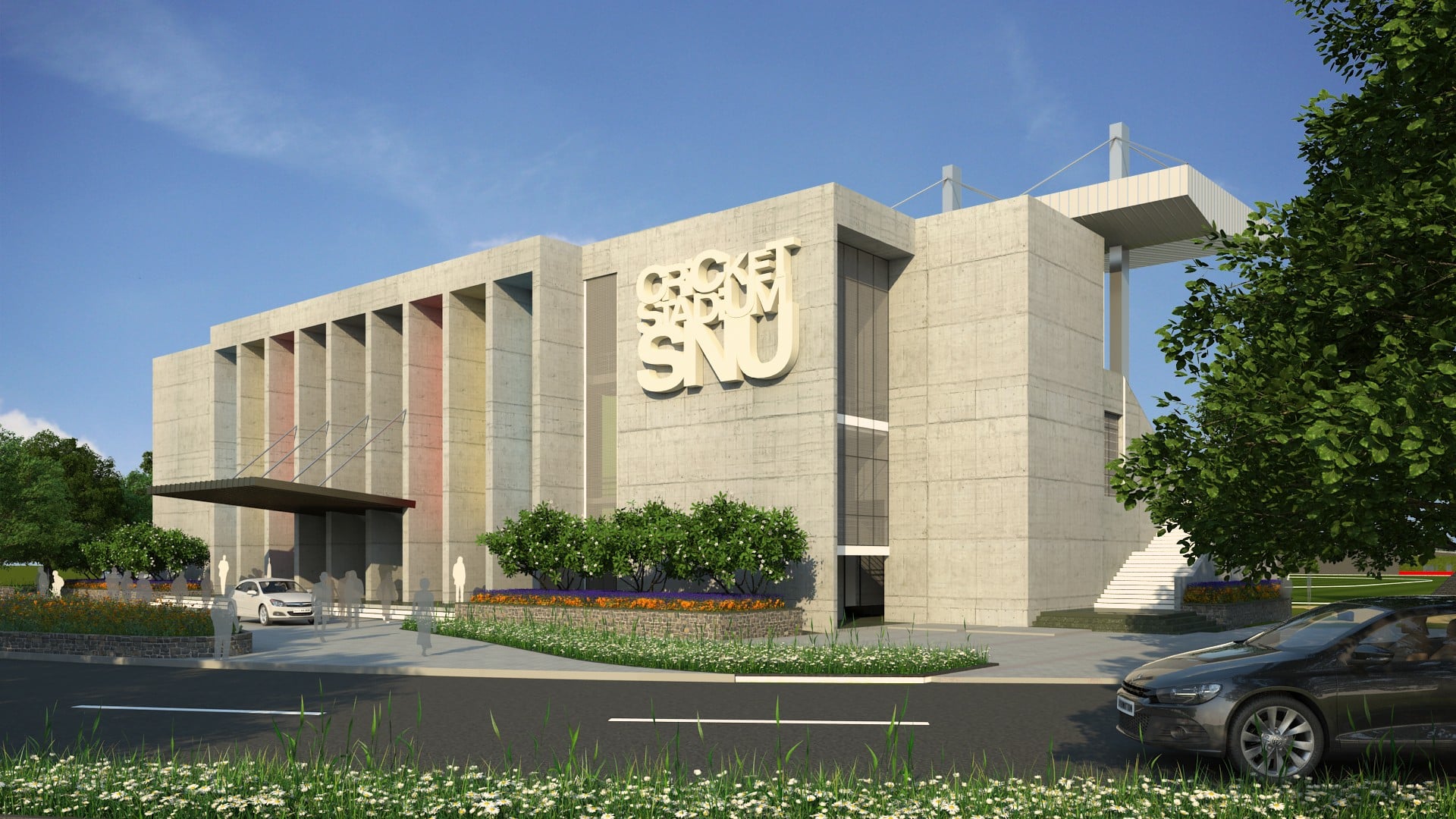 Nothing But the Best for India's Favourite Sport
Green Stadium for Green Campus
A special design feature of the SNU cricket ground is its green spectator seating arrangement, which appears as wedges of bermed up mounds of green grass all around the circumference of the ground, doubling up as landscape as well as spectator stands. Strategies for passive climate response which pervade all buildings on campus, like recessed fenestration and shady canopies are present in the stadium's portal structures as well. The SNU cricket stadium and ground not only offer the campus community and its visitors a venue for pursuing a healthy lifestyle and holistic character building but also provide state-of-the-art facilities for their cricketing and other sporting activities and also a vibrant venue to socialize over sport.