The Belvedere Golf & Country Club -
Interiors at Shantigram
Ahmedabad, Gujarat, India
The client's Integrated Township, Shantigram, was planned with the Belvedere Club overlooking its signature 9-hole golf course extended over 69 acres of greens as a nucleus of this Mixed-use development. The club is designed to bring together a diverse demography within the community by providing a luxurious sports, dining, recreation and entertainment facility. A processional entrance to the campus is designed on a podium level with ample parking space below. A center courtyard with an enormous Reflecting Pool and several intimate courts are intertwined with buildings for the various functions. The Spanish Mediterranean style architecture provides a resort like setting, designed to permeate an aura of luxury, exclusivity & comfort.
Site Area : 90 Acres including Golf & Club facilities
Builtup Area : 11,76,118 SF
Services : Interior Design, MEPF Engineering, Environmental Graphics & Signage, Art Integration, FFE, Lighting Design, AV, Kitchen & Laundry Design, Sustainability
Accolade :
10th Realty Plus Excellence Awards (GUJARAT) in Luxury Interiors of the Year - 2018
India's Best Design Studio Awards - 2017, Belvedere Golf and Country Club Project was one of the five projects submitted for the Best Design Studio Award By Indi Design - an international design magazine from India.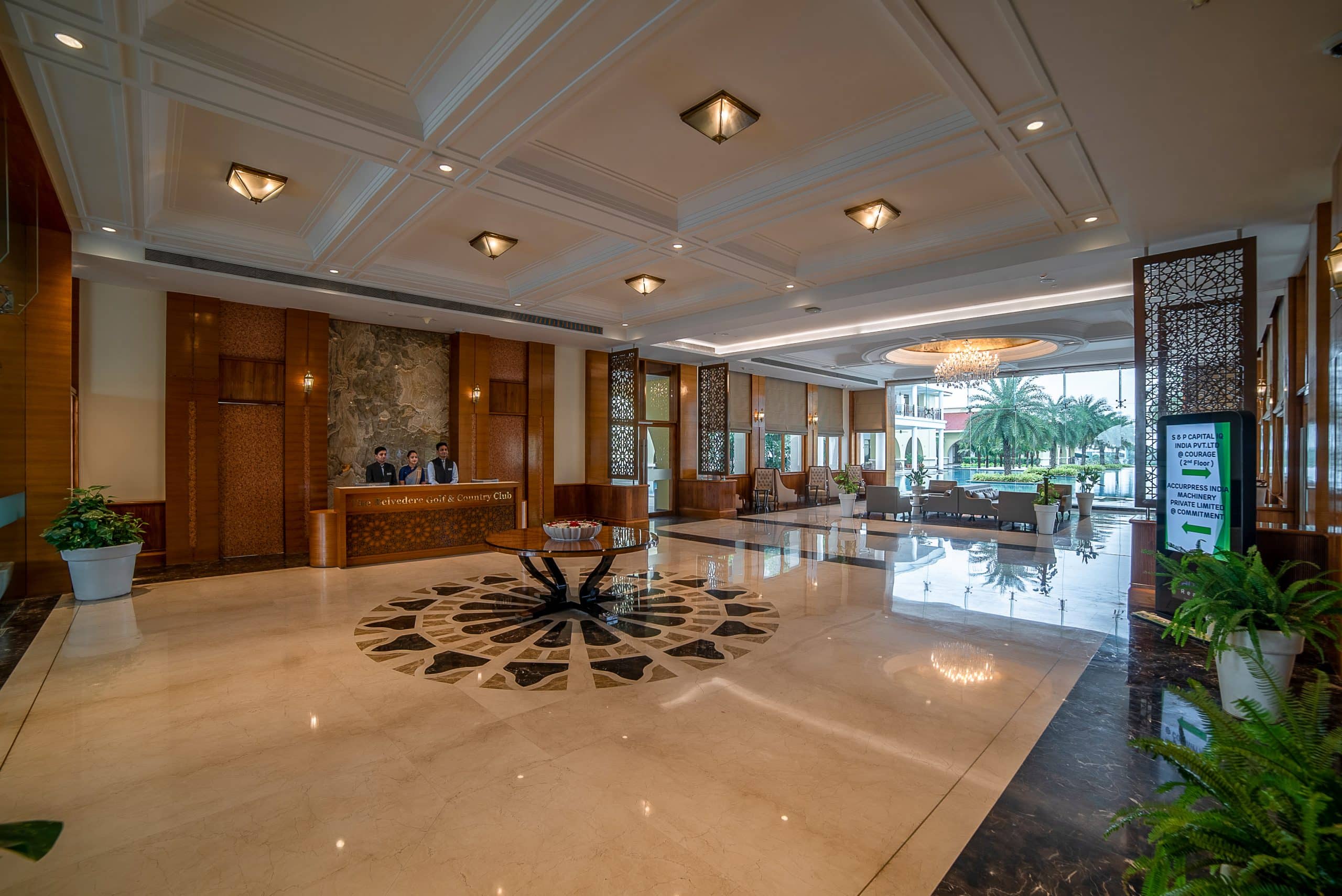 Luxury & Variety Enrich Interiors of Poolside Mediterranean Architecture
The conversation of relaxed luxury initiated by the Mediterranean architecture of the Belvedere Golf and Country Club set amidst 69 aces of green in the heart of Shantigram Township is carried forward by its rich and varied interior. As the club's built form opens on to a widening reflecting pool and weaves around landscaped courtyards, the décor for its numerous spaces catering to various uses and activities follows a need-based response without compromising on a plush look and feel. The lofty ceiling heights and expansive spaces available inside have been opportunely treated with bespoke colors, textures, materials and elements that suit both, the ambient grandeur as well as the use for which they're assigned.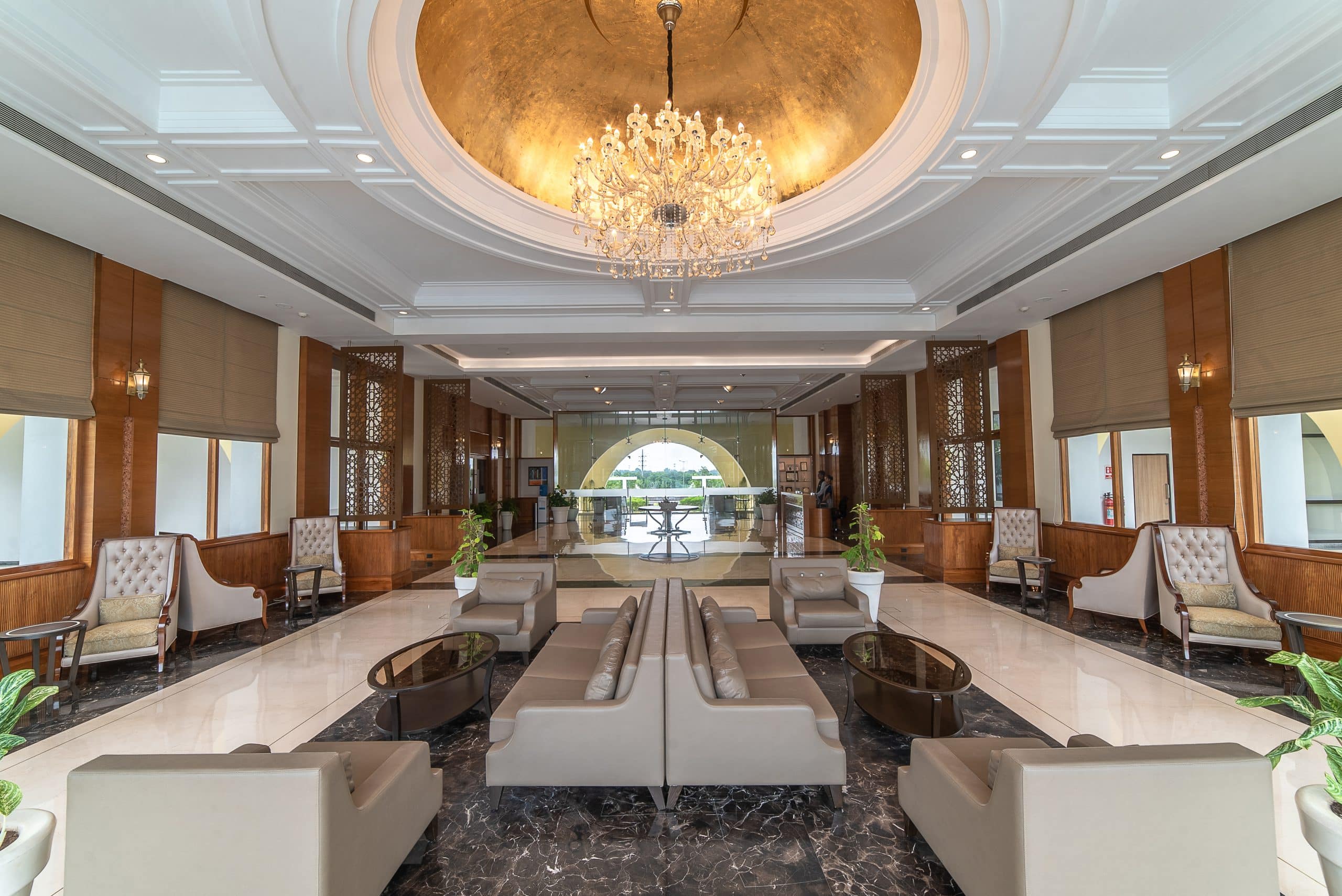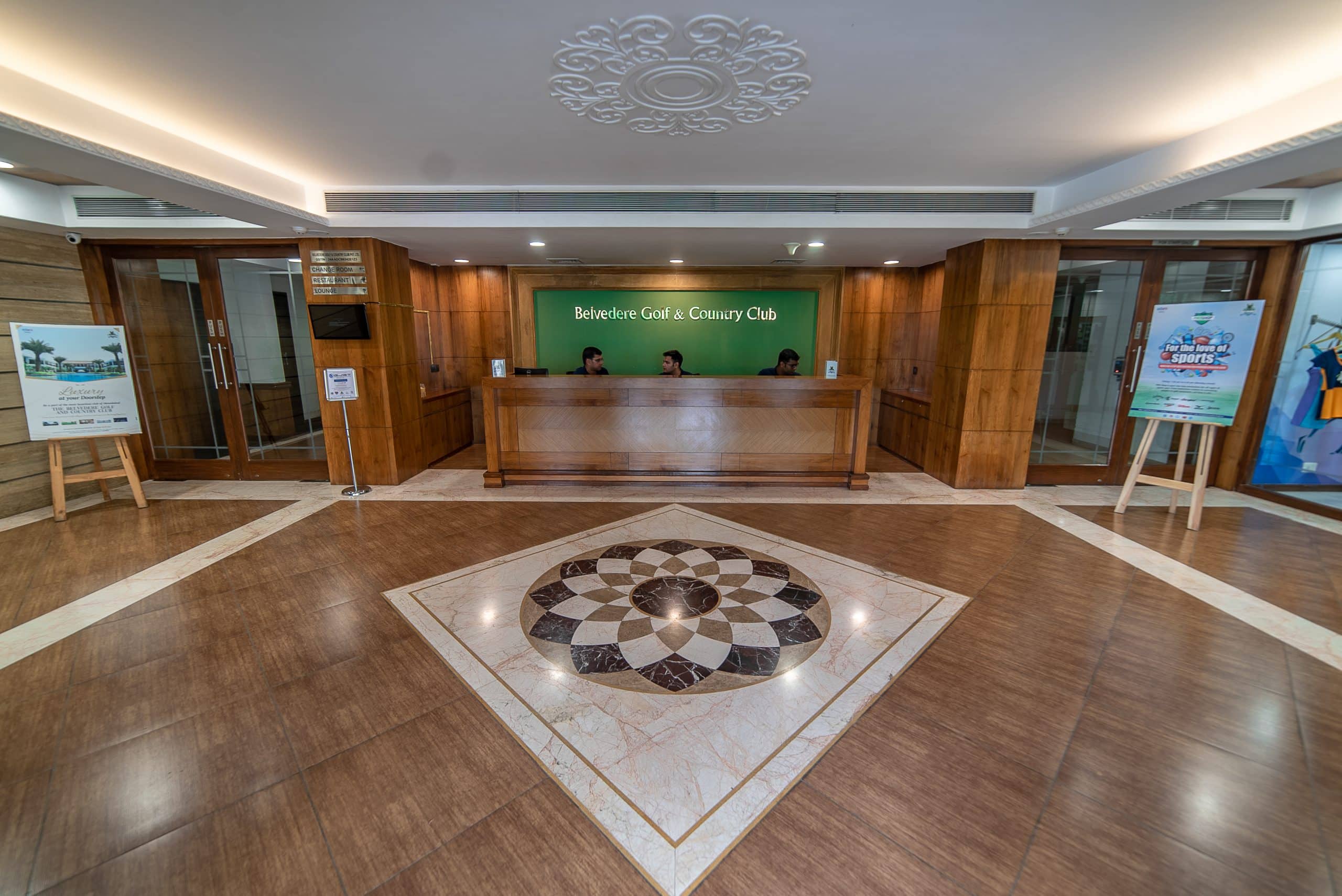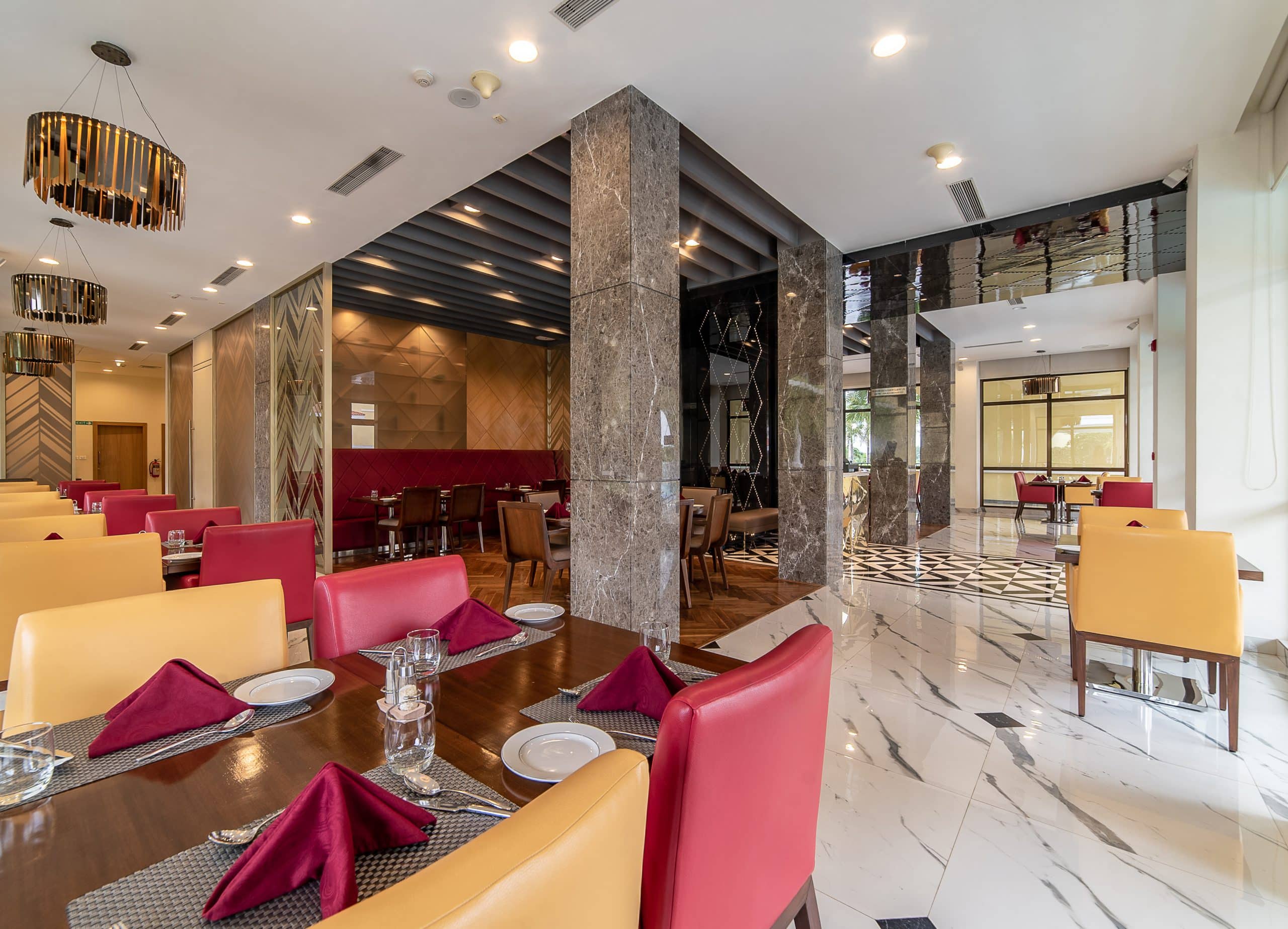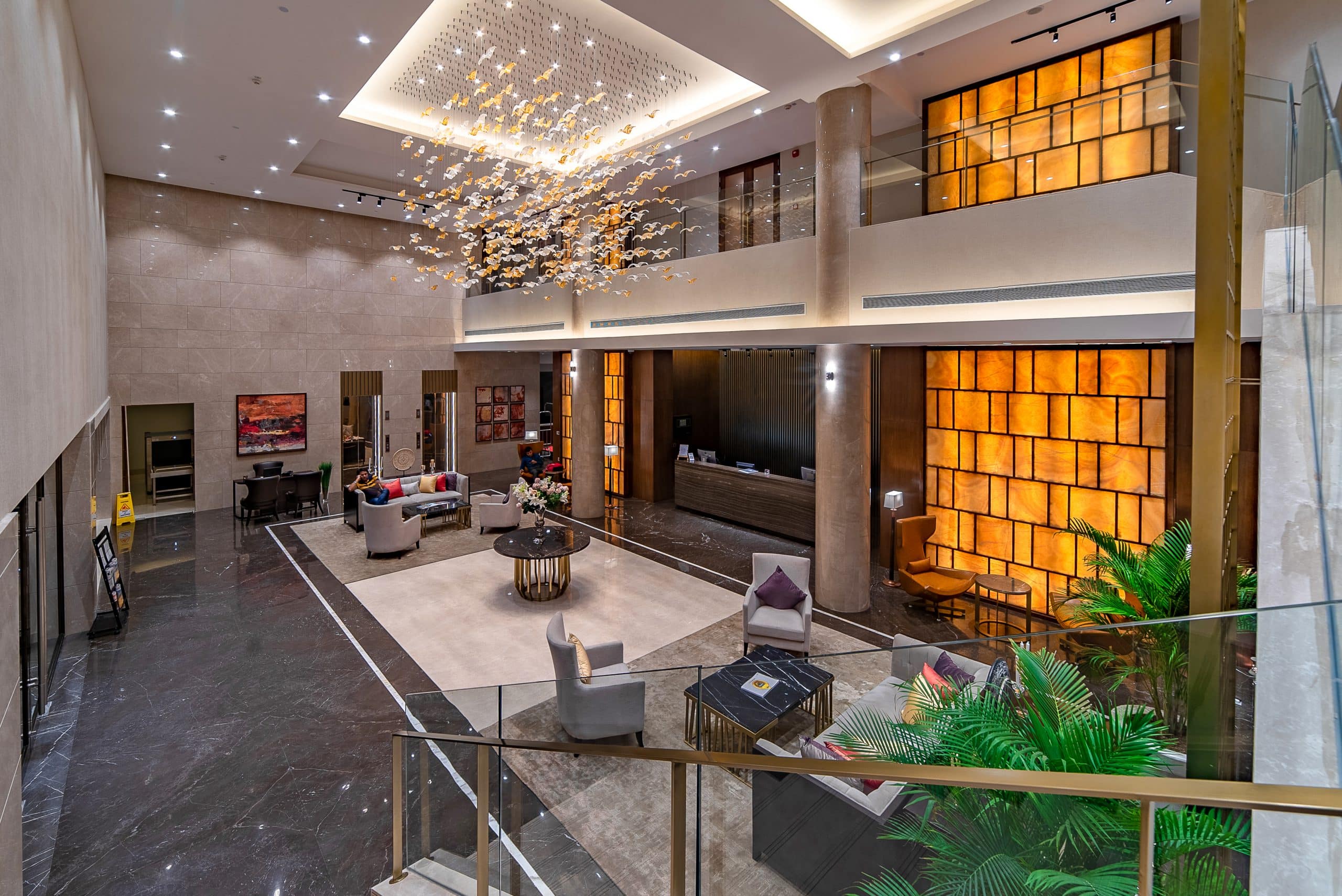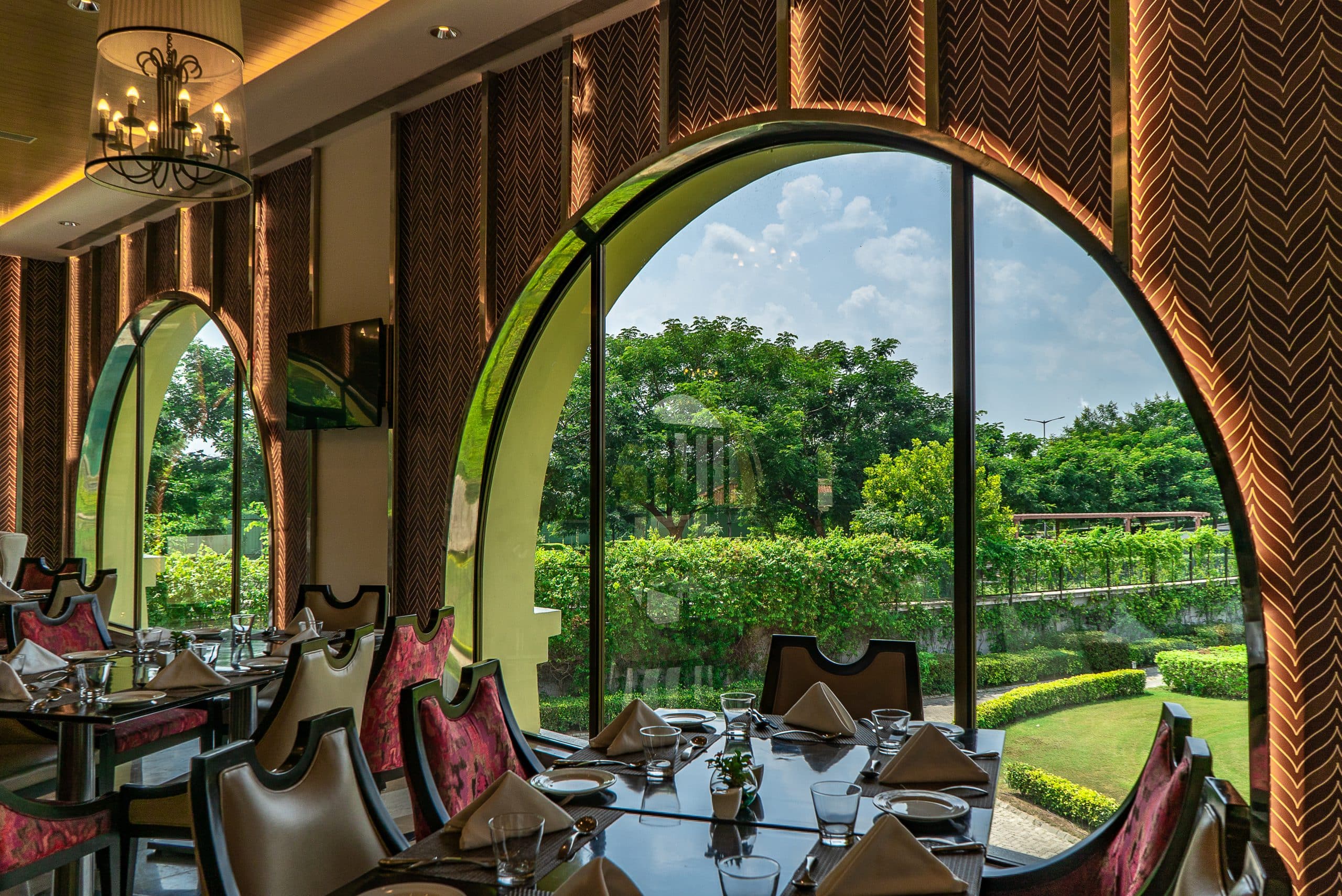 Grand Reception Defines Tone & Scale
The extensive reception lobby a visitor enters from the ceremonial forecourt stretches a significant length before merging with the background of the palm-lined pool followed distantly by the golfing greens. The boundless expansive quality of this space has been exploited and accentuated by the grandiose décor which matches plush period furniture, ornate chandeliers, and plush upholstery on spacious sofas and attractively crafted arm-chairs matched with premium marble flooring inlaid with geometric patterns and laser-cut perforated screens. Warm lights and wood paneled surfaces around the reception desk exude welcoming warmth.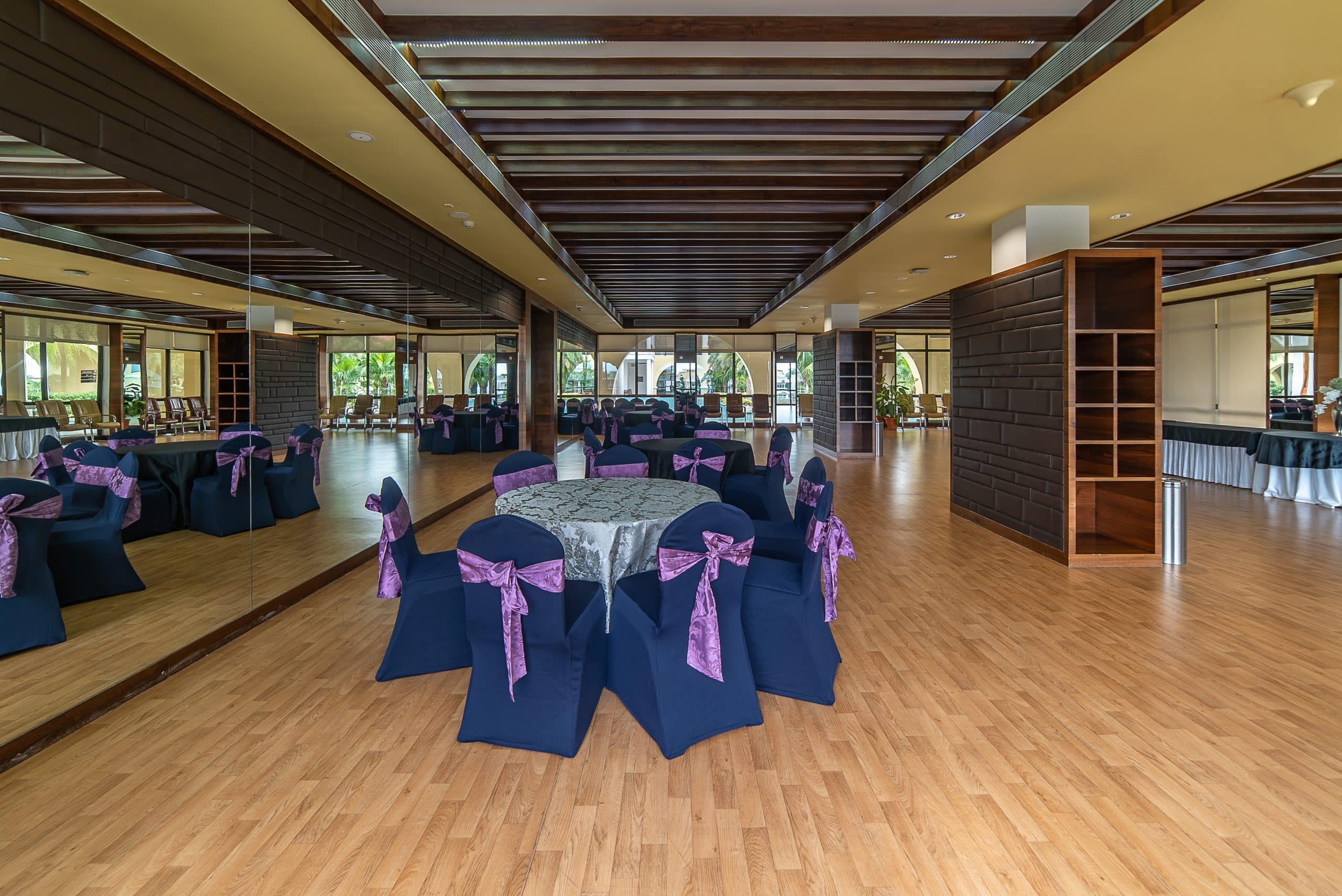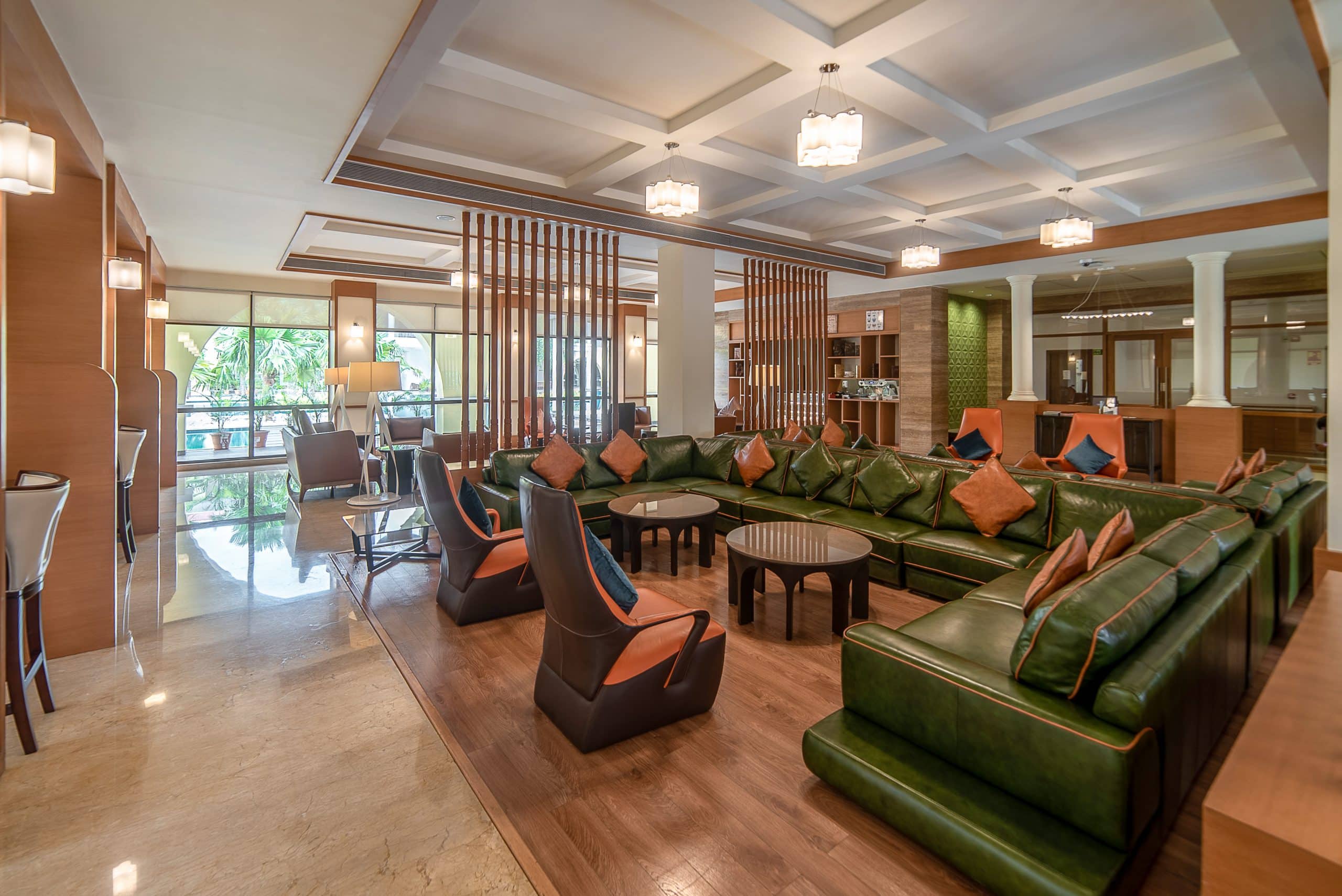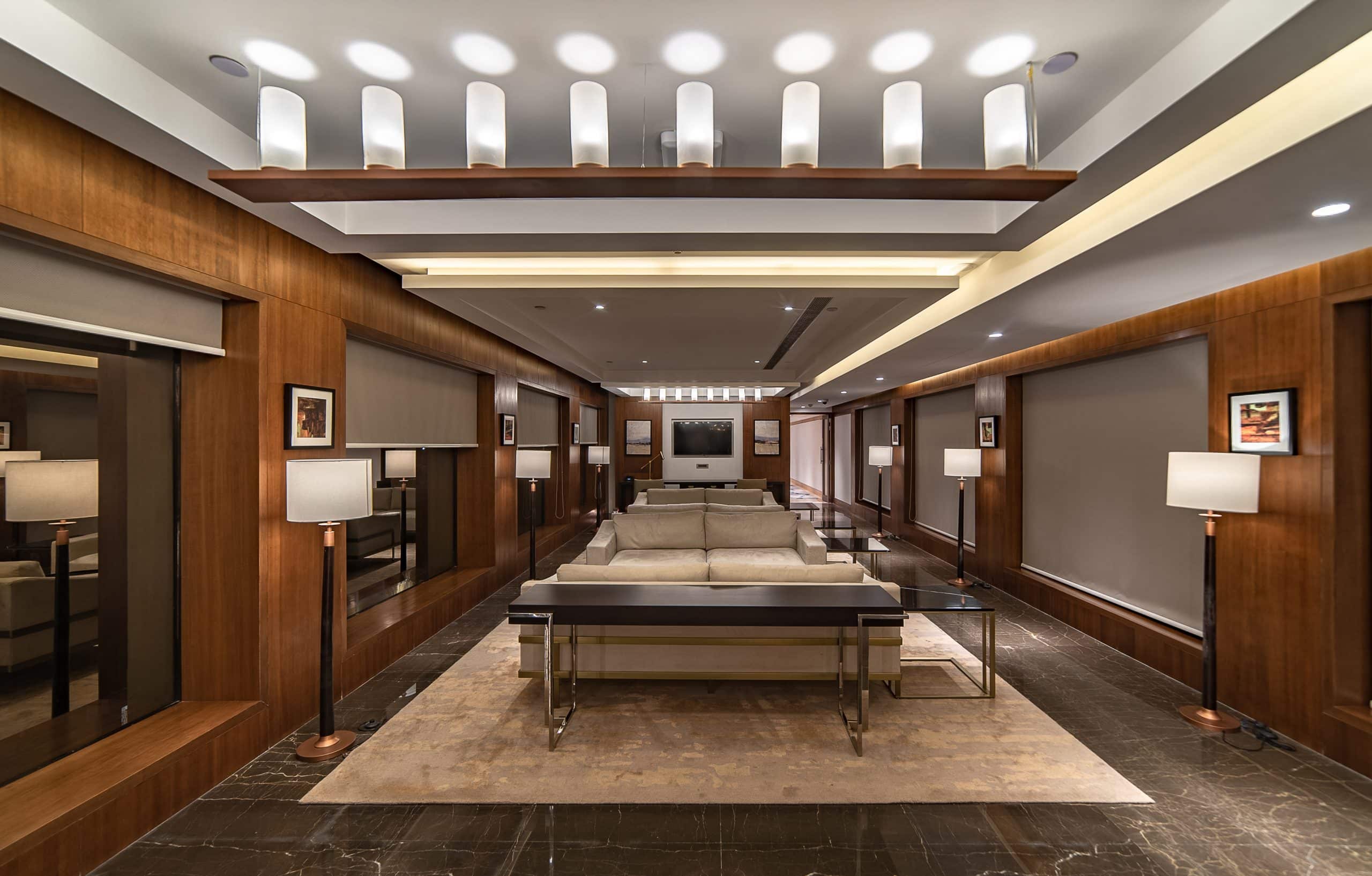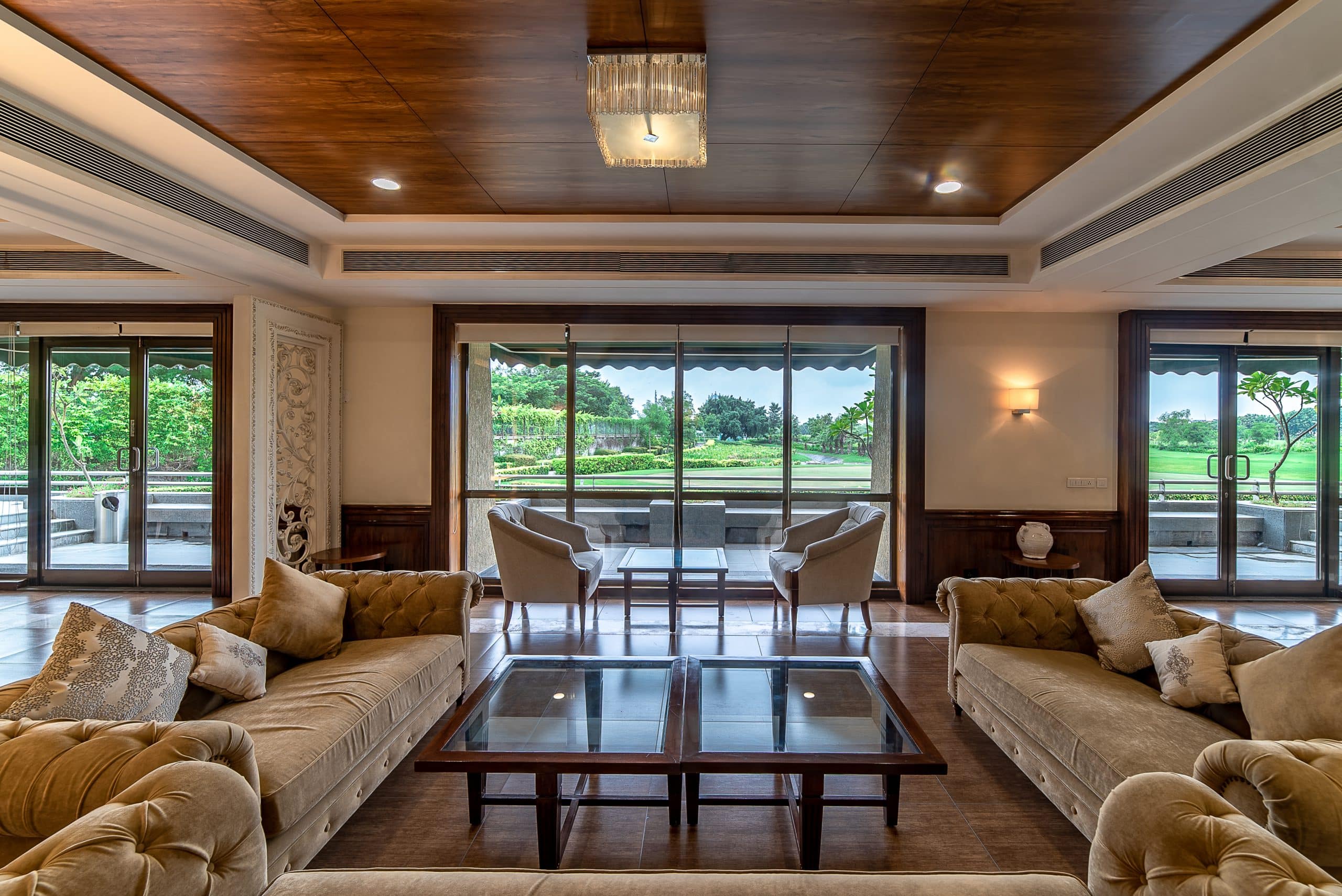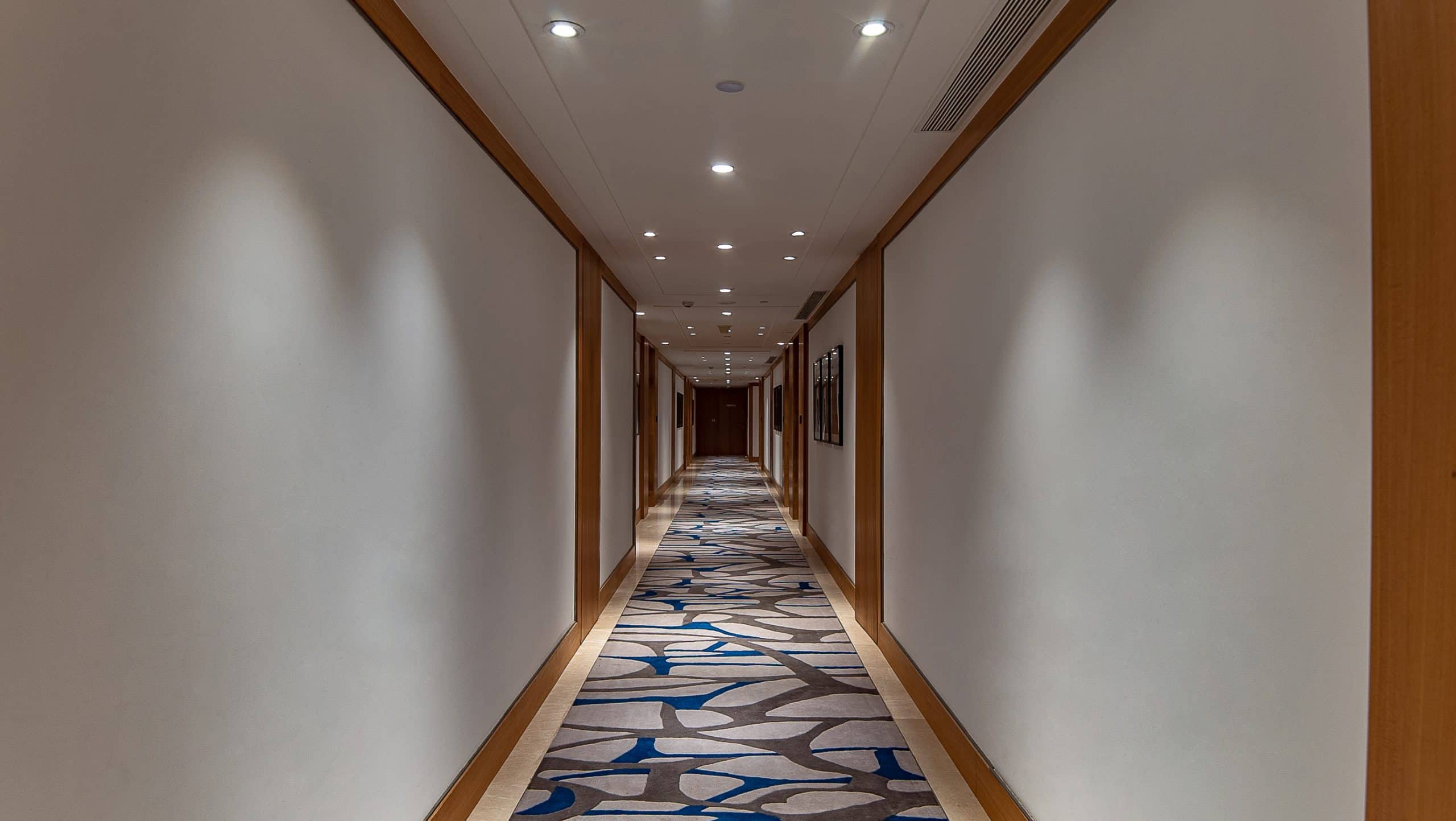 Evocative Surfaces Craft Distinguished Ambiences
Wall cladding and flooring in premium stones like Marble and Onyx, Faux wood tiled flooring and ceilings, engraved wood panels, variously textured and colored carpets, rich luster-finish paints, and uniquely designed wall textures are some of the finishes which enrich the interior surfaces in the lobbies, banquet halls, gyms and other spaces. A variety of light fixtures like chandeliers and accent lights add to the articulation of ambient exclusivity and world-class style.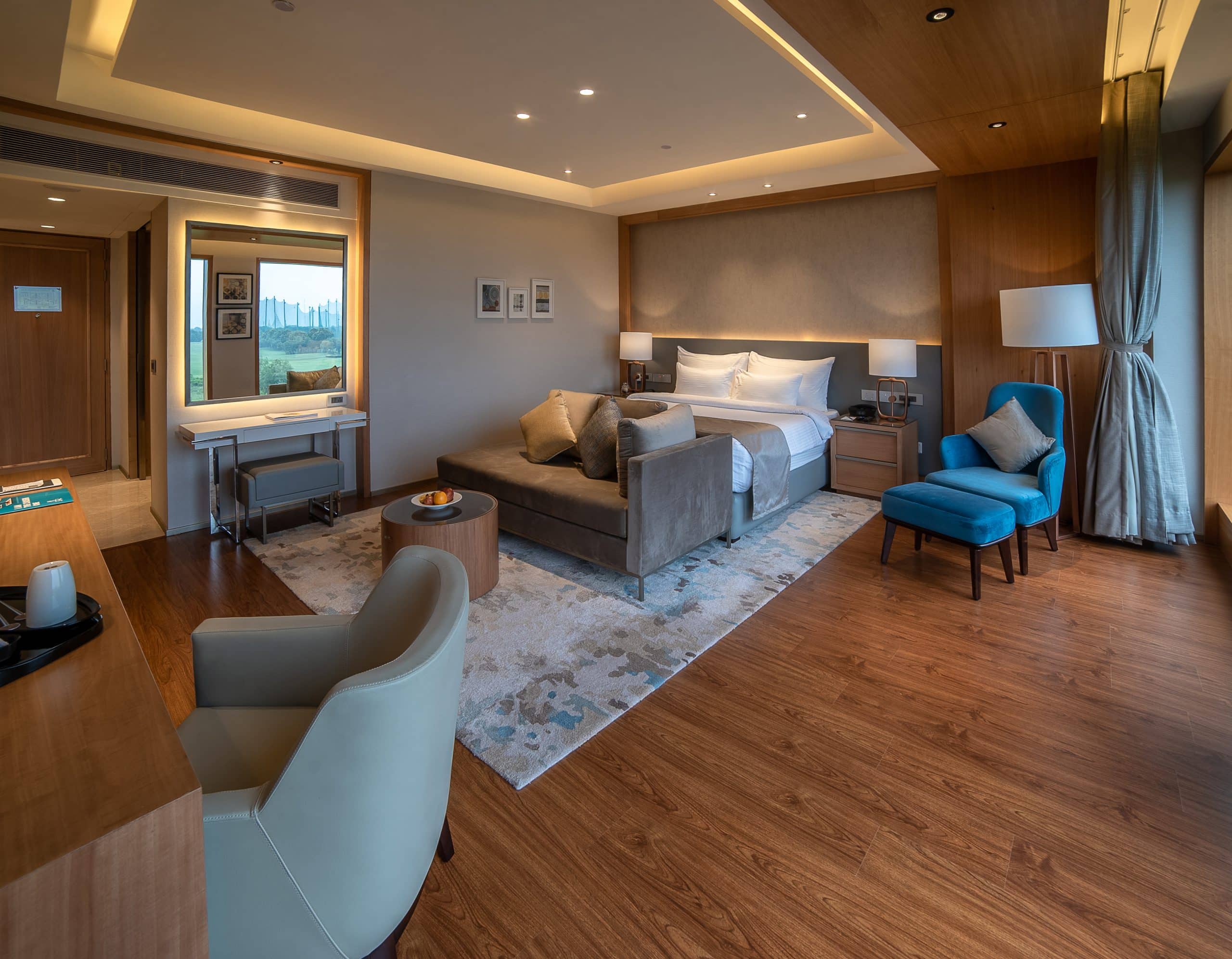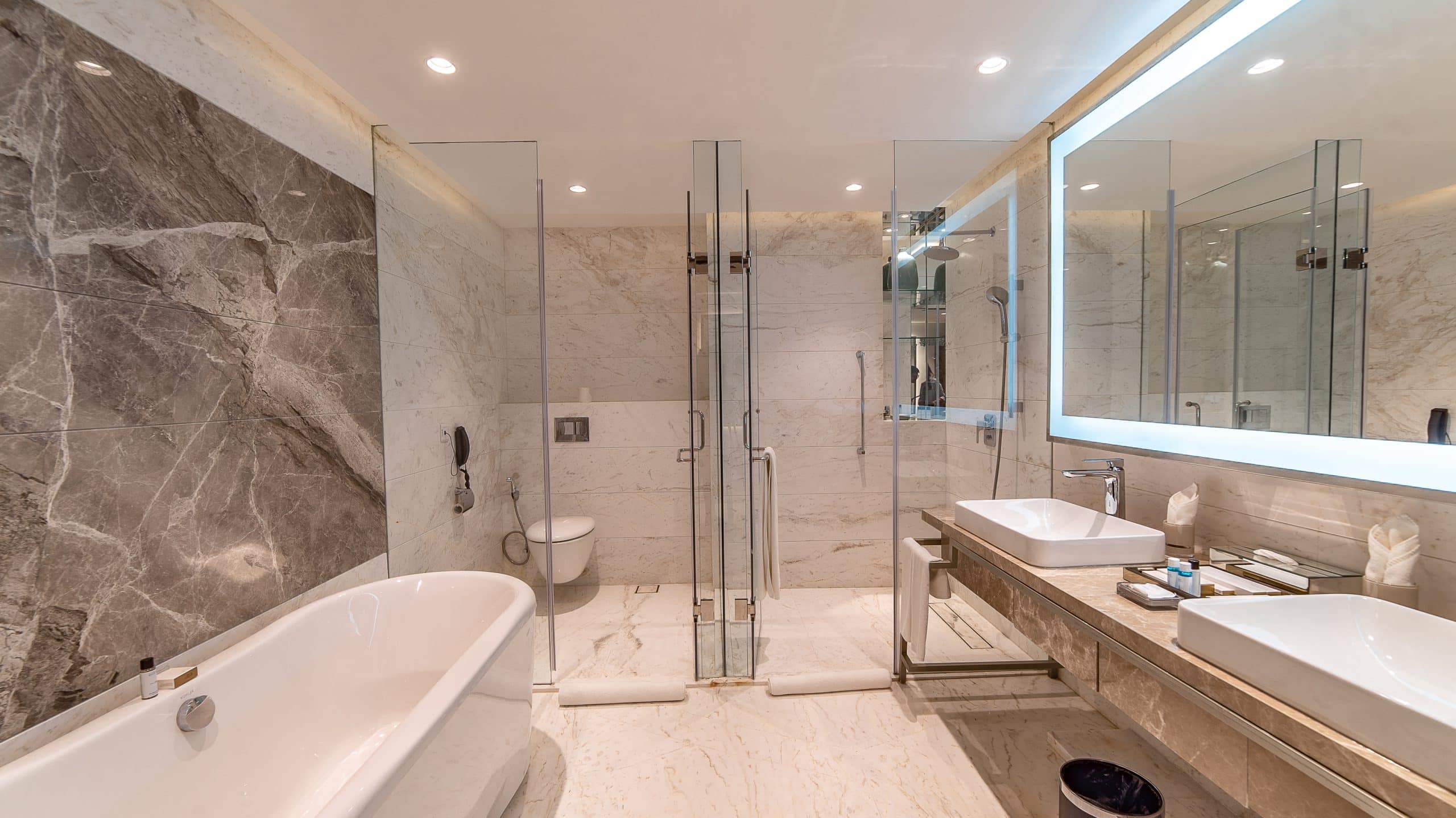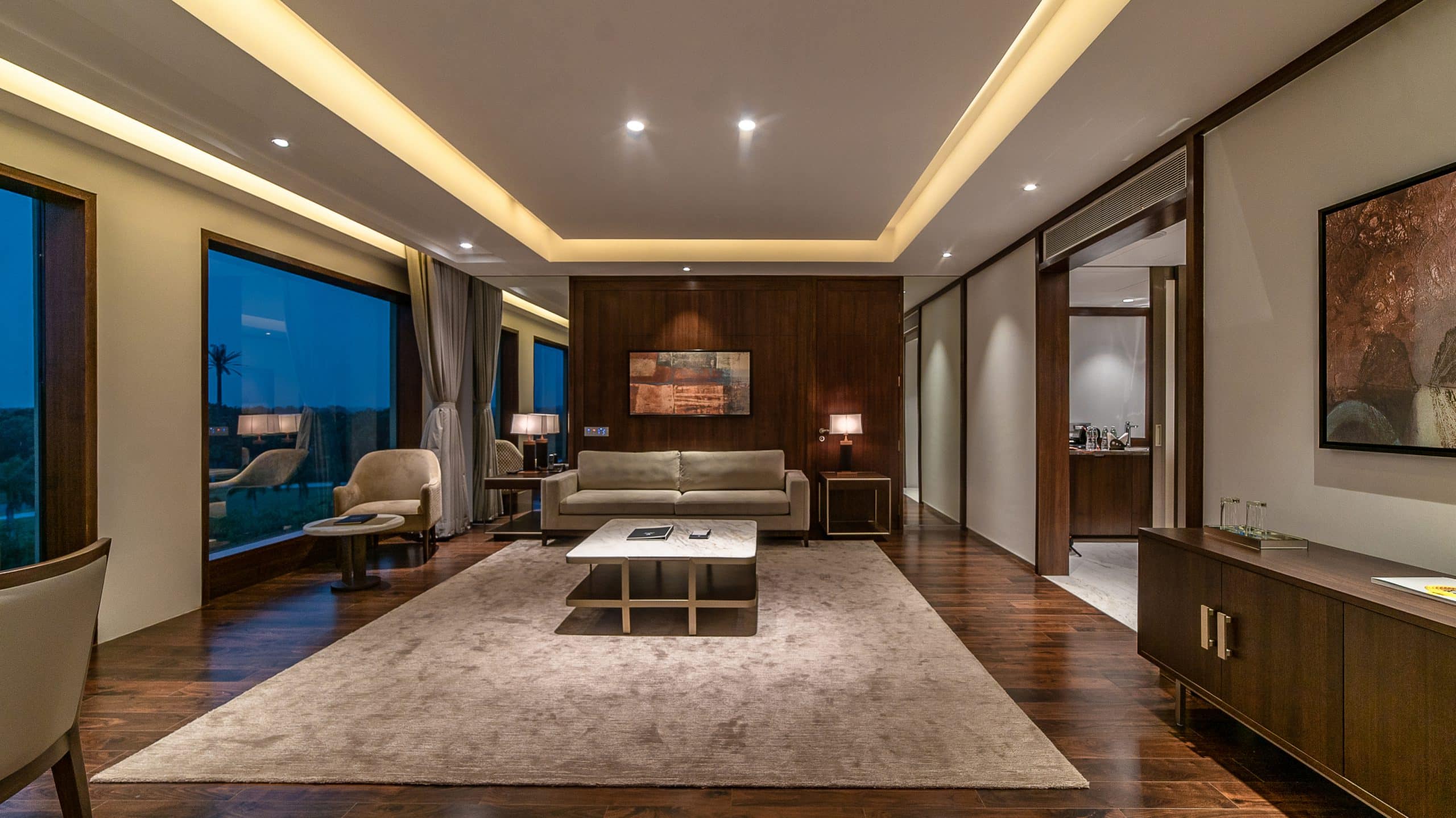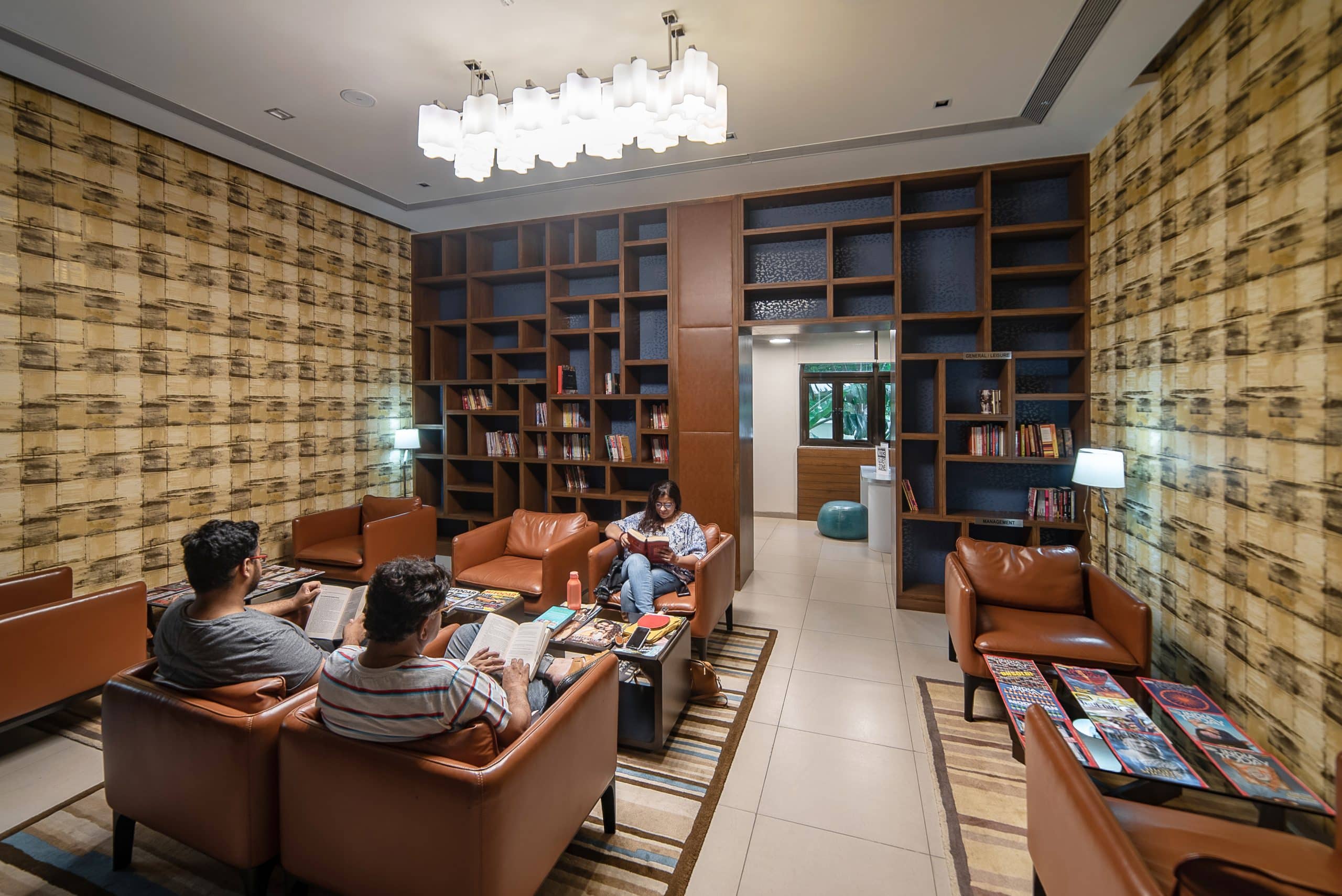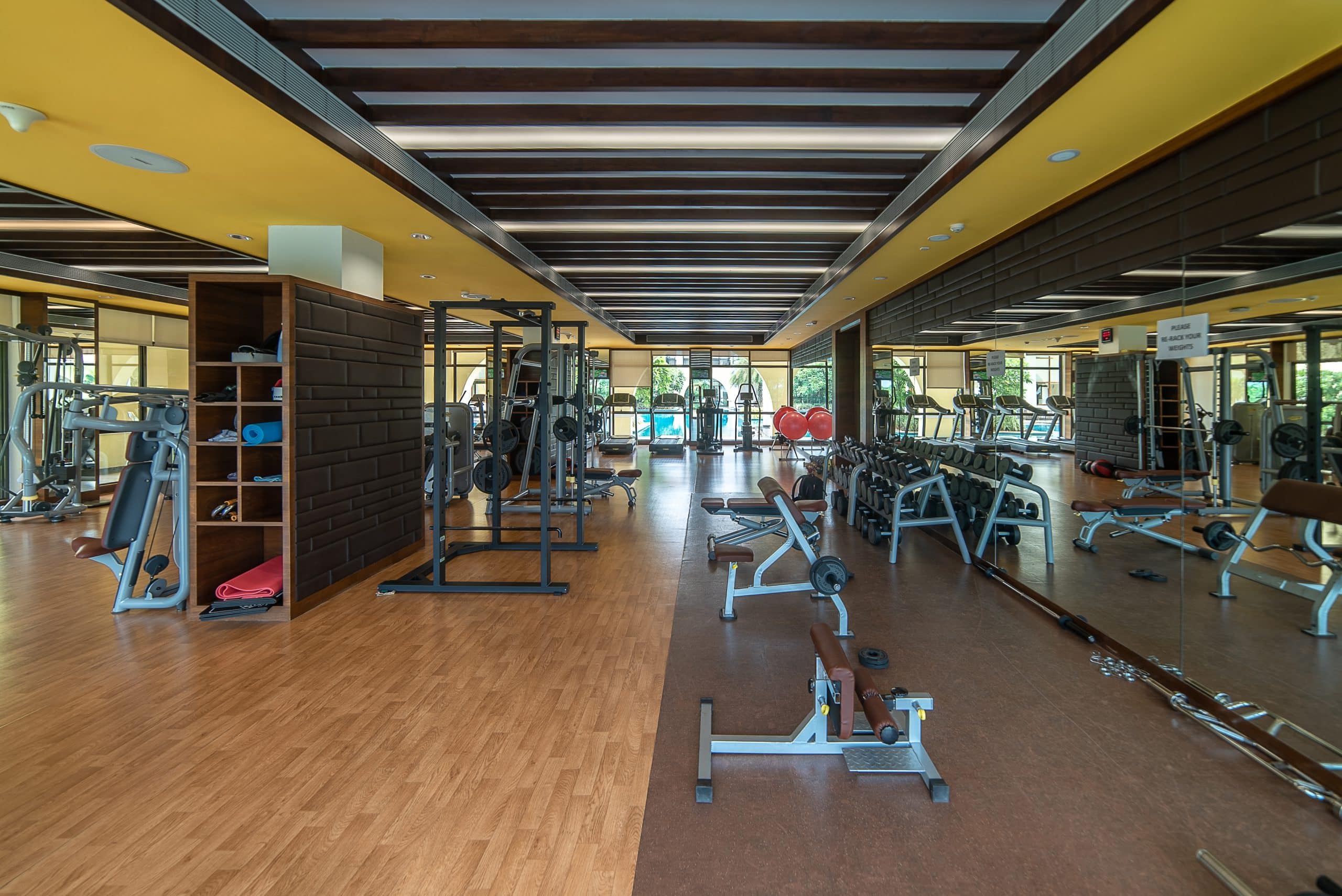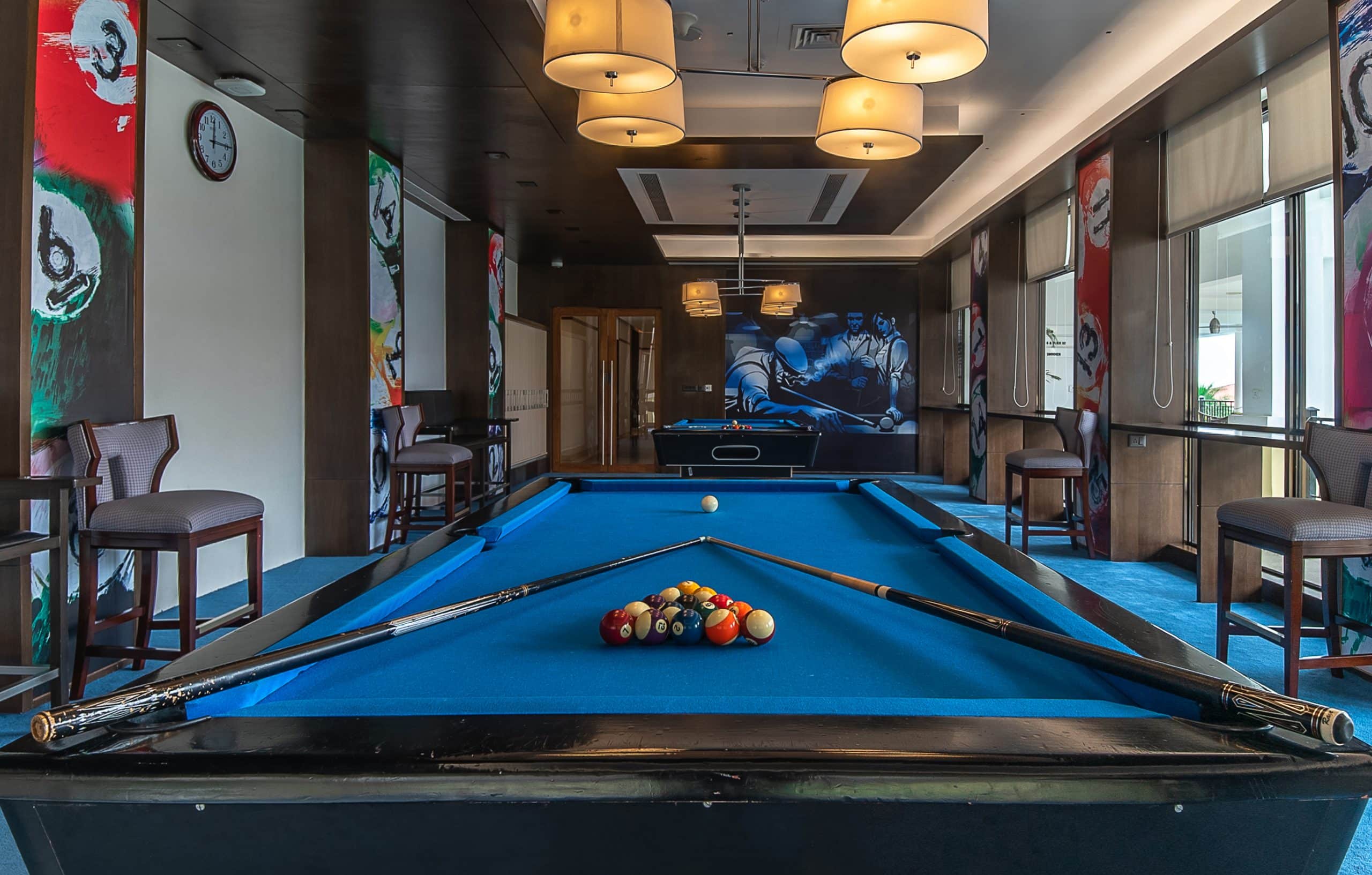 Colors, Graphics Inform Vibe & Verve in Youthful Spaces
The club being an indoor sporting venue is host to a diverse age-group of visitors including youth and children. Spaces fitted out for table-tennis, pool and other indoor games see vibrant blocks of solid color and vivid environmental graphics on the walls matched by extensive swathes of ceiling lights. The library with its ceiling high shelves, cushy seats, evocative wall finishes and warm lighting makes a cosy reading room.