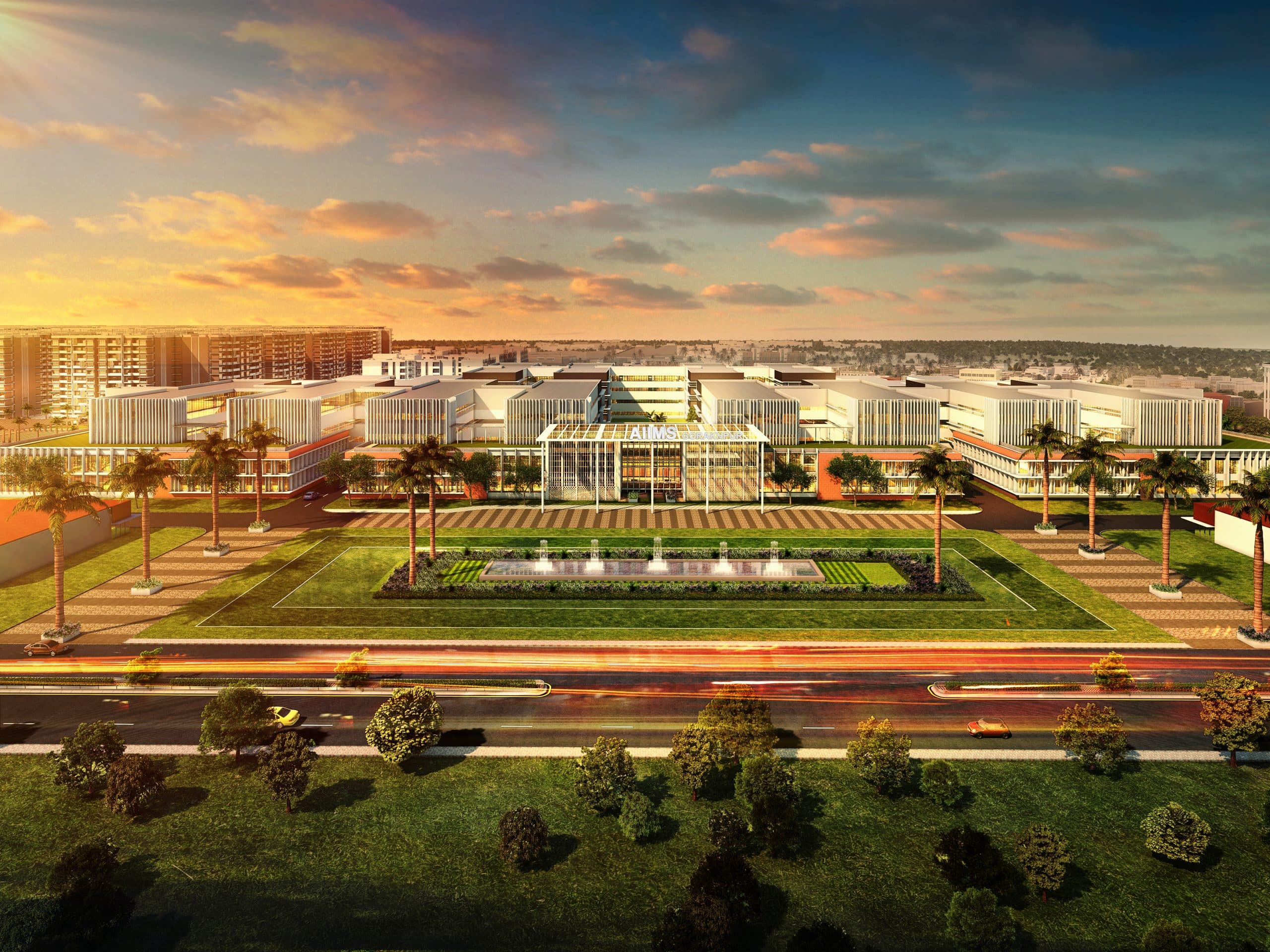 All India Institute Of Medical Sciences (AIIMS)
Gorakhpur, Uttar Pradesh, India
Integrated Campus for National Medical Care, Research & Learning
Located on a 112 acre site wedged between the Gorakhpur- Deoaria Road and the NH 28, the All India Institute of Medical Sciences (AIIMS) campus at Gorakhpur is proposed by the Indian Government to develop world-class multi-specialty healthcare and research facilities available to the region's population within easy access. The campus, therefore, needed to be well planned and executed for technical and functional efficiency as well as an ambience conducive for healing. The design approach is to create a campus that local citizens could easily connect with and to achieve this, stakeholder participation was sought at the planning and designing stages. The campus constitutes a 900+ bed educational hospital, a medical college and research center accompanied by residential facilities for students, teaching, non-teaching and research staff, dining, social and sports amenities and a variety of landscaped areas.
Site Area : 112 Acres
Builtup Area : 13,65,000 SF
Services : Master Planning, Building Design - Architecture, Interior Design, Infrastructure Design, Sustainablity, MEPF Engineering, Landscape Design (Bid Entry)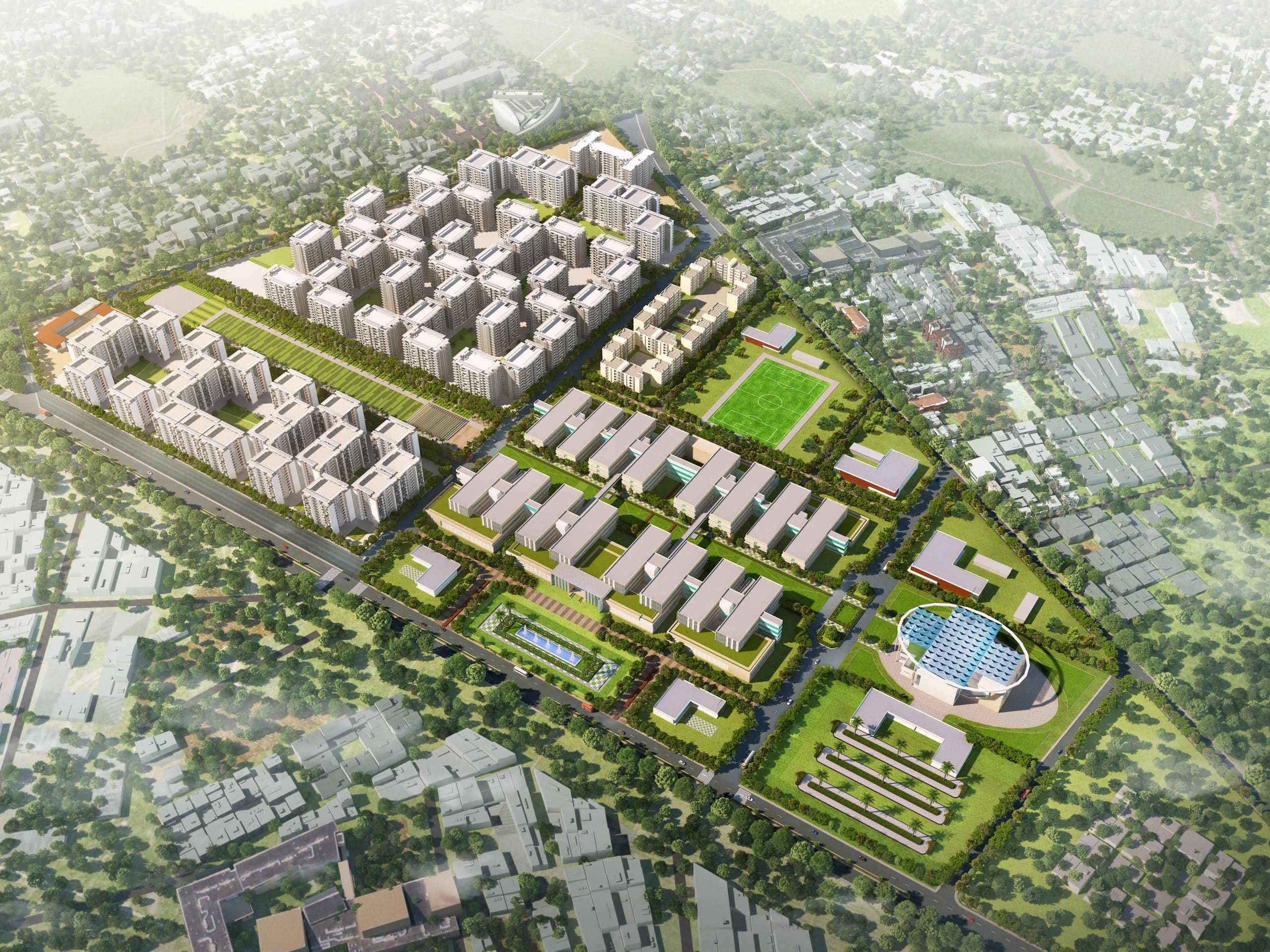 Organized Integration of Healing, Learning & Living Zones
Entry into the campus has been planned from the NH 28, where a large arrival plaza/ drop-off point is annexed by ample at-grade parking facilities for visitors. This arrival and parking complex directly connects by a wide internal road with the other entry/ exit point located on Gorakhpur – Deoaria Road. Internal roads parallel and perpendicular to this arrival road mark a minimal yet efficient network of internal vehicular and pedestrian connectivity through the campus.
The four blocks of hospital buildings come up facing the arrival plaza, with 4 blocks of the medical college building arranged at their rear. Referred to as the healing and learning streets respectively the hospital and college blocks are separated by a linear stretch of green crisscrossed by walkways. The entire northern part of the site forms the residential zone where various categories of housing for staff, hostels for students, guesthouses and dining facilities are provided. Interwoven amongst the facilities are landscaped open spaces, courtyards and sports & social facilities.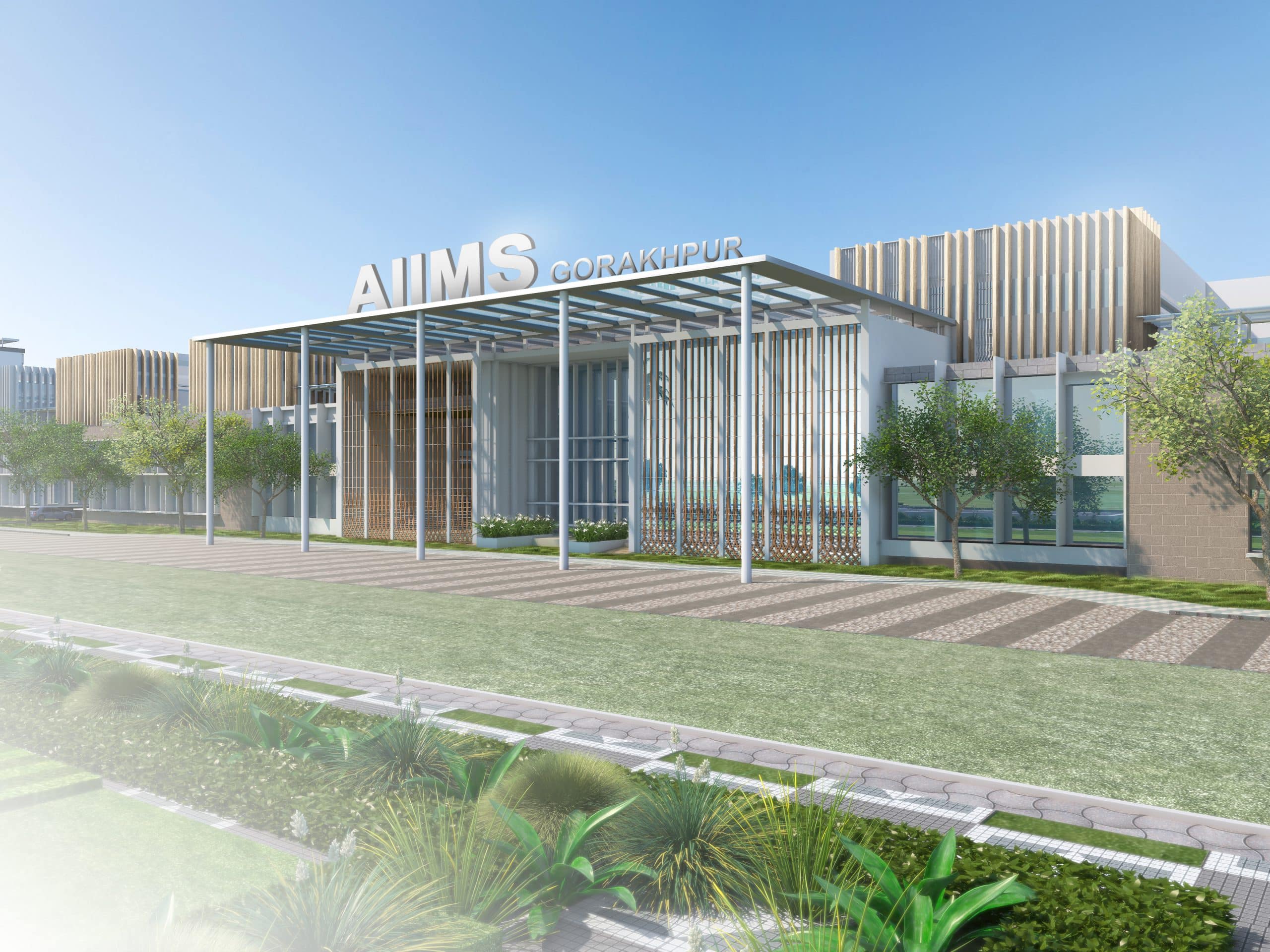 Holistic Wellness Enabled through Landscape and Vibrancy
A conscious effort has been made to introduce elements of landscape and greenery at every possible opportunity within the outdoor as well as indoor spaces. This has been done keeping in mind the need for a tranquil environment that connects with nature as a crucial requirement for healing. Well-lit interiors, stress-free navigability of the system, passive ventilation and a vibrant ambience have been emphasized in the design for the comfort, convenience and wellness of patients, visitors and employees on the campus.
Built-In Climate Response and Sustainability
The efficiently designed HVAC and other service systems are supported by many passive measures for climate responsive architecture. Similarly, sustainability measures for energy, water and waste have been well-integrated into the campus and building designs in keeping with IGBC Platinum standards.