Dadri, Greater Noida, Uttar Pradesh, India
Designing the interior space for a modern library that intends to accommodate new-age technology, latest browsing infrastructure yet maintain the age-old bookshelves was a challenging design brief that our team delivered efficiently. The spaces inside the library building were demarcated such that the sanctity of large reading halls was maintained, while also making ample space for browsing stations and reading pods and carving lively spaces for informal reading and interaction. The centrally placed staircase provides access to all parts of the library. The acoustics have been specifically attended to, to maintain the 'quiet' of the library. Considering the extreme temperatures that north India experiences, the air conditioning takes care of cooling and also heating to provide a comfortable study zone for students and faculty round the year. A lively café, informal seating along the corridors and an interactive information desk energizes the ambience.
Builtup Area : 72,302 SF
Services : Programming & Planning, Building Design – Architecture, MEPF Engineering, Civil & Structure Engineering, Interior Design, FFE, Sustainability & Green Certification, AV-IT, Acoustic, PMC Support, Lighting Design, Environmental Graphics & Signage
Accolade : IGBC - LEED Gold Rating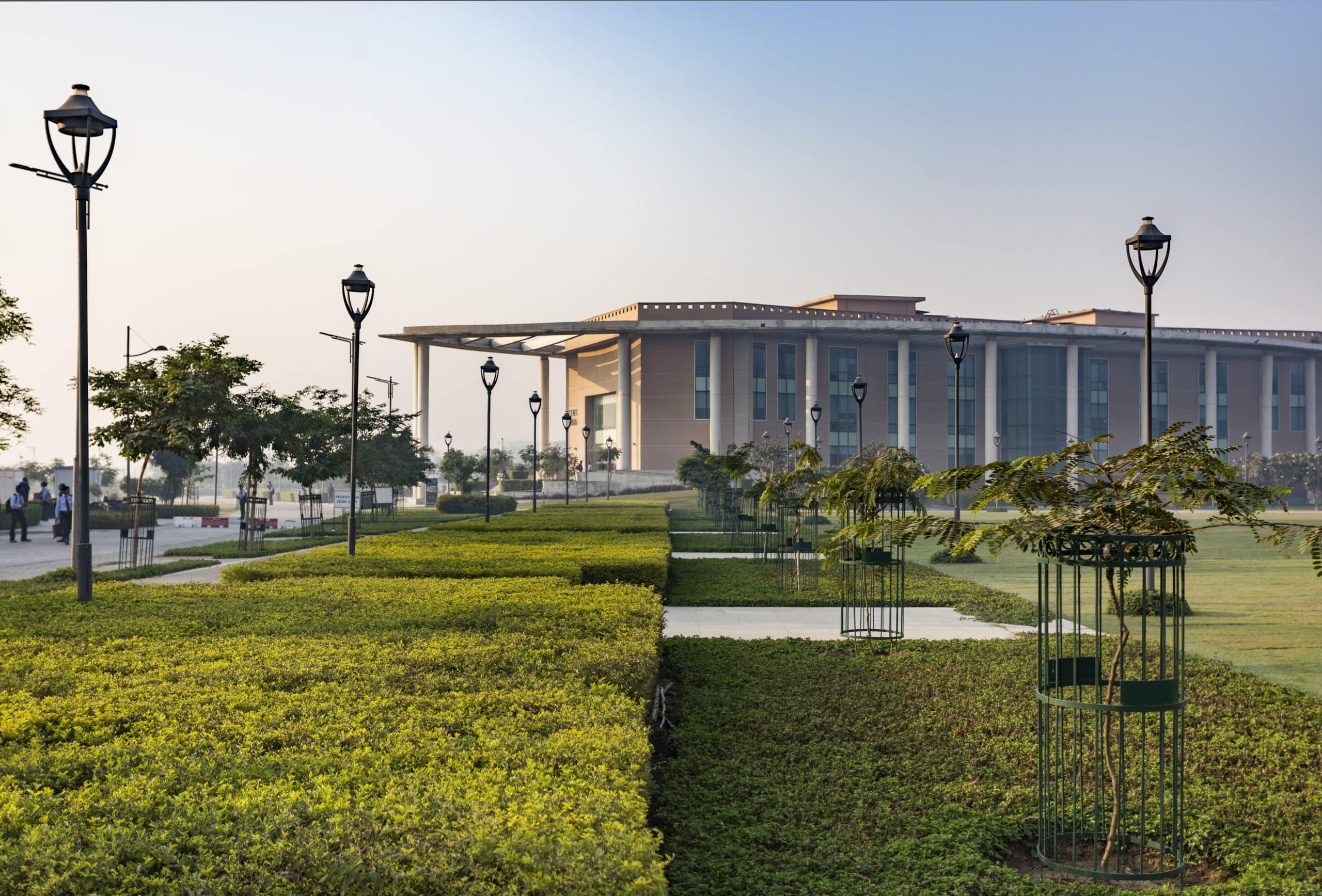 Knowledge & Identity Epicentre of a Grand Campus
Defining the farther southern end of the Shiv Nadar University Campus' central quadrangle is the Central Library building, standing loftily on an elevated plinth and outlined by a grand colonnade. The elongated quadrangle aligns itself along the north-south axis and is flanked by tree-lines avenues on its eastern and western edges across which the various academic clusters overlook it. As these avenues bring visitors or inhabitants from the entry gates to the central quad, the view of this grand library building forms the focus of their vision. It is accessed through its eastern entry up a ceremonial flight of steps directly from the radial and peripheral roads of the semi-circularly laid out eastern academic cluster. Thus strategically positioned and impressively visualised, the library forms a focal point in the SNU master plan befitting its status as the campus' knowledge centre.

The library's bow-shaped footprint rises from a semi basement to the second floor above which a wide overhanging eye-shaped canopy projects in all four directions to be supported on a tall peripheral colonnade. Surrounded by lush landscape and paved campus roads, a grand flight of steps leads up to the arrival porch, after which entry is gained through twin revolving doors into an inspiring interior.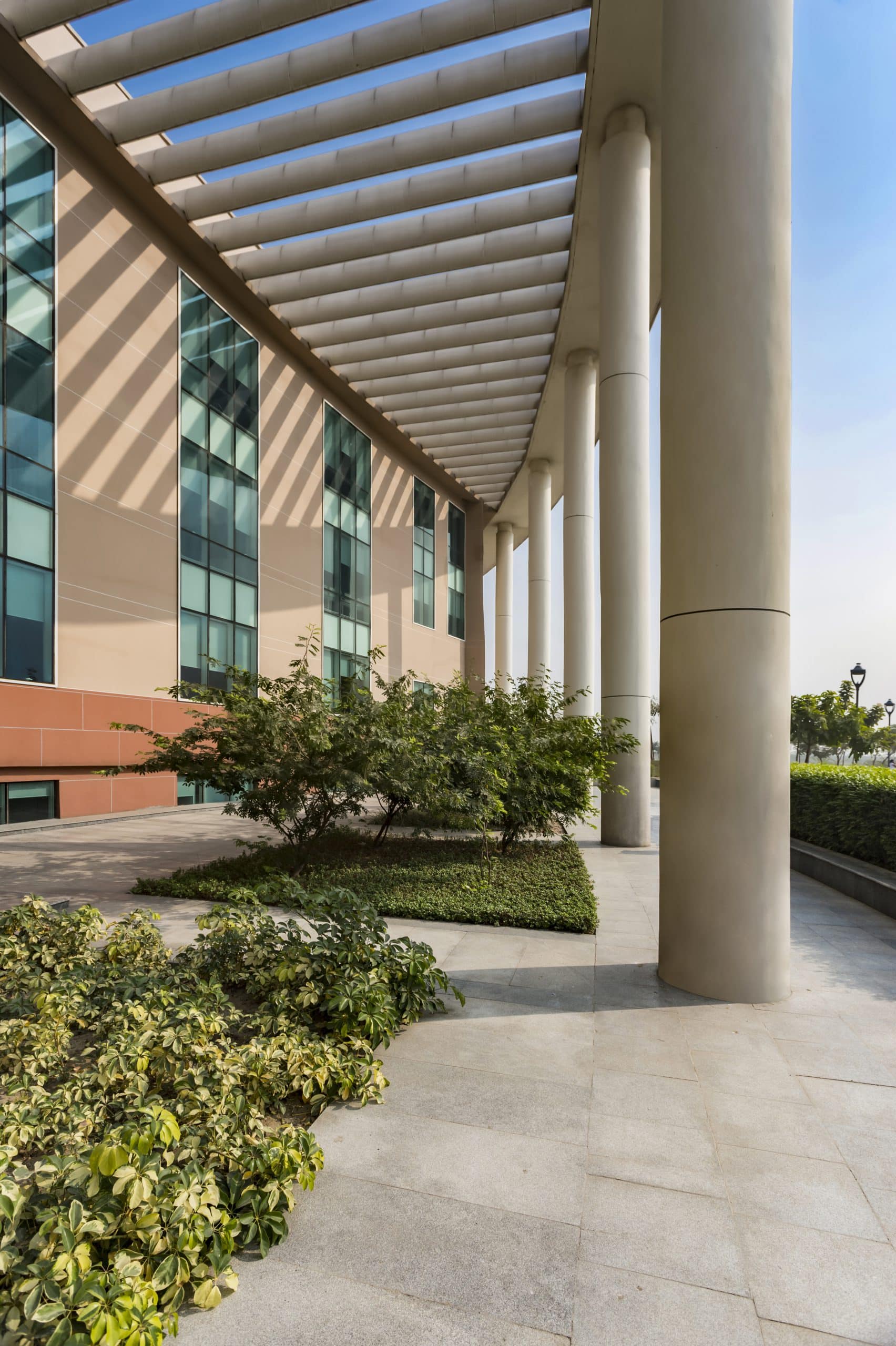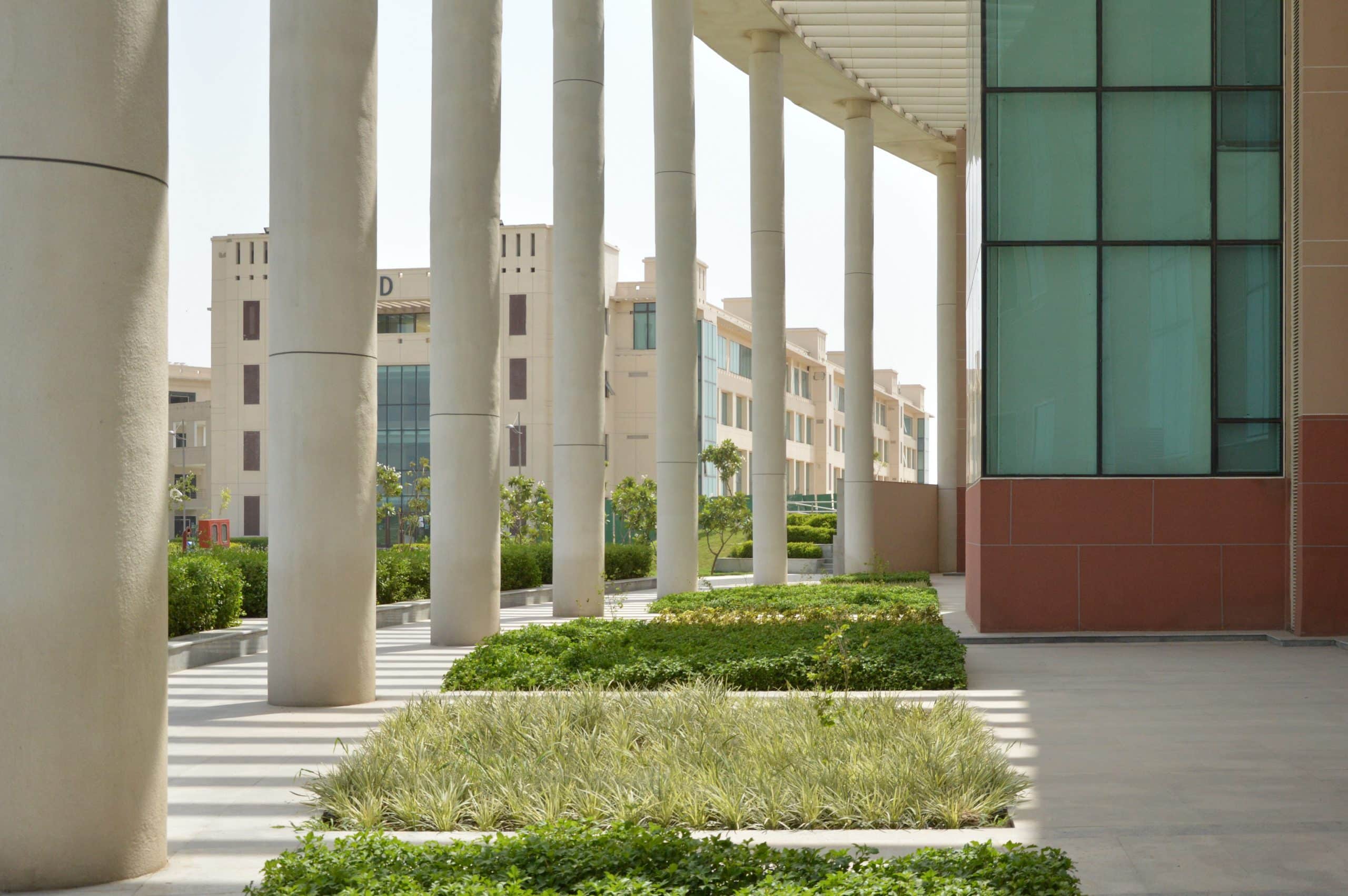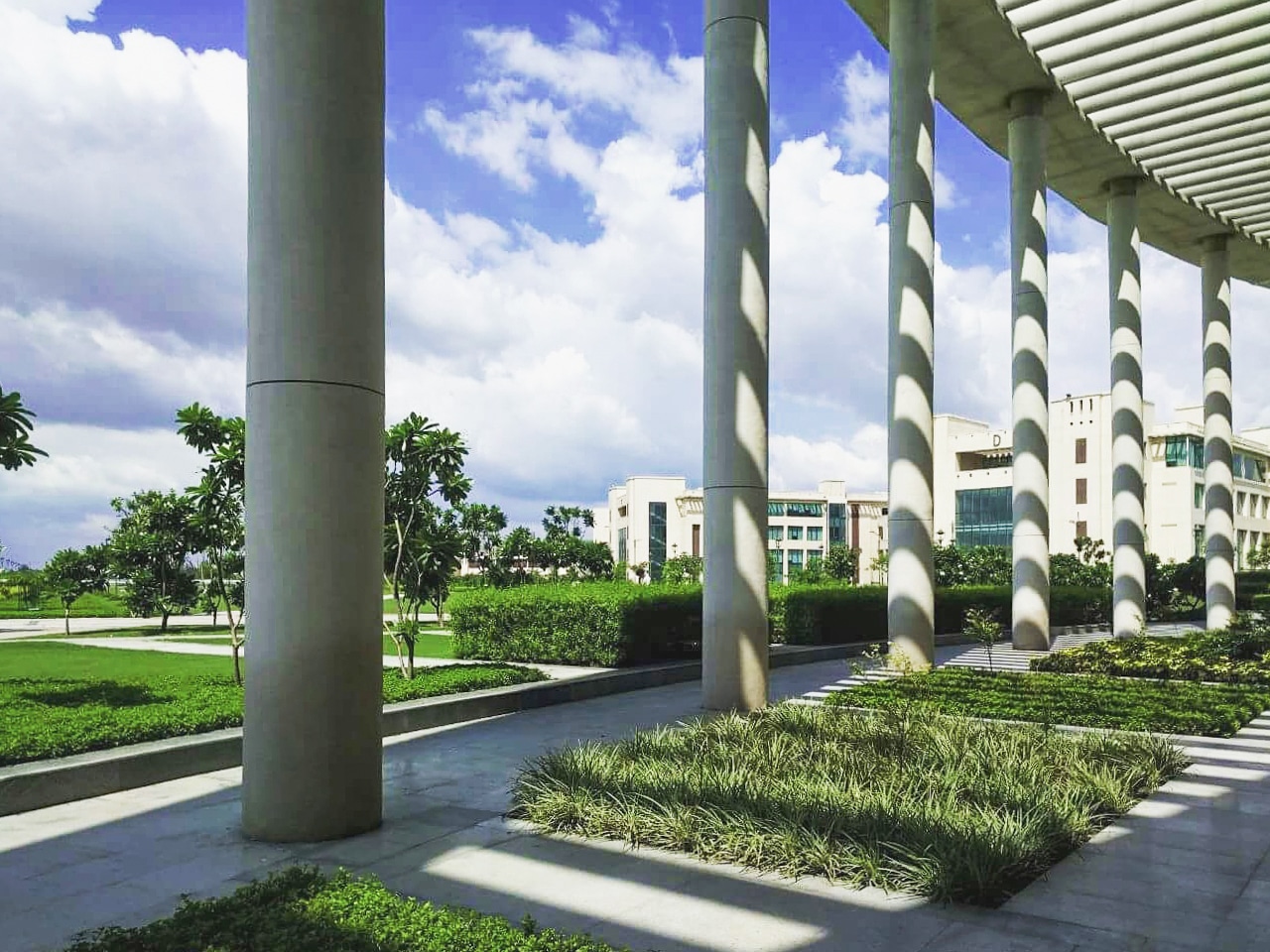 Planning Clarity, Attentive Detailing Enhances Interior Ambience and Functioning
One enters at the upper (plinth) level into a reception lobby flanked by a baggage counter on one side and a cafeteria on the other. Beyond the customary check-in and book-returns point, the layout is divided into a central core and peripheral bays through which the circulation passage loops around and back past a book issue counter to the reception lobby outside. The vertical circulation means like lifts and atrium staircase are located in the central core area along with the administrative functions, library staff cabins, rare books/ archives with supervised access, reprographics, and the SNU gallery with various displays on various floors. The remaining peripheral areas are taken up by various arrangements of book-stacks and reading & computer stations customised as per the categories of books as well as requirements of users in terms of interactive study, serious individual study, periodical browsing, digital library and others. The second floor plan follows an open plan arrangement of book-stacks interspersed with reading tables all across the floor.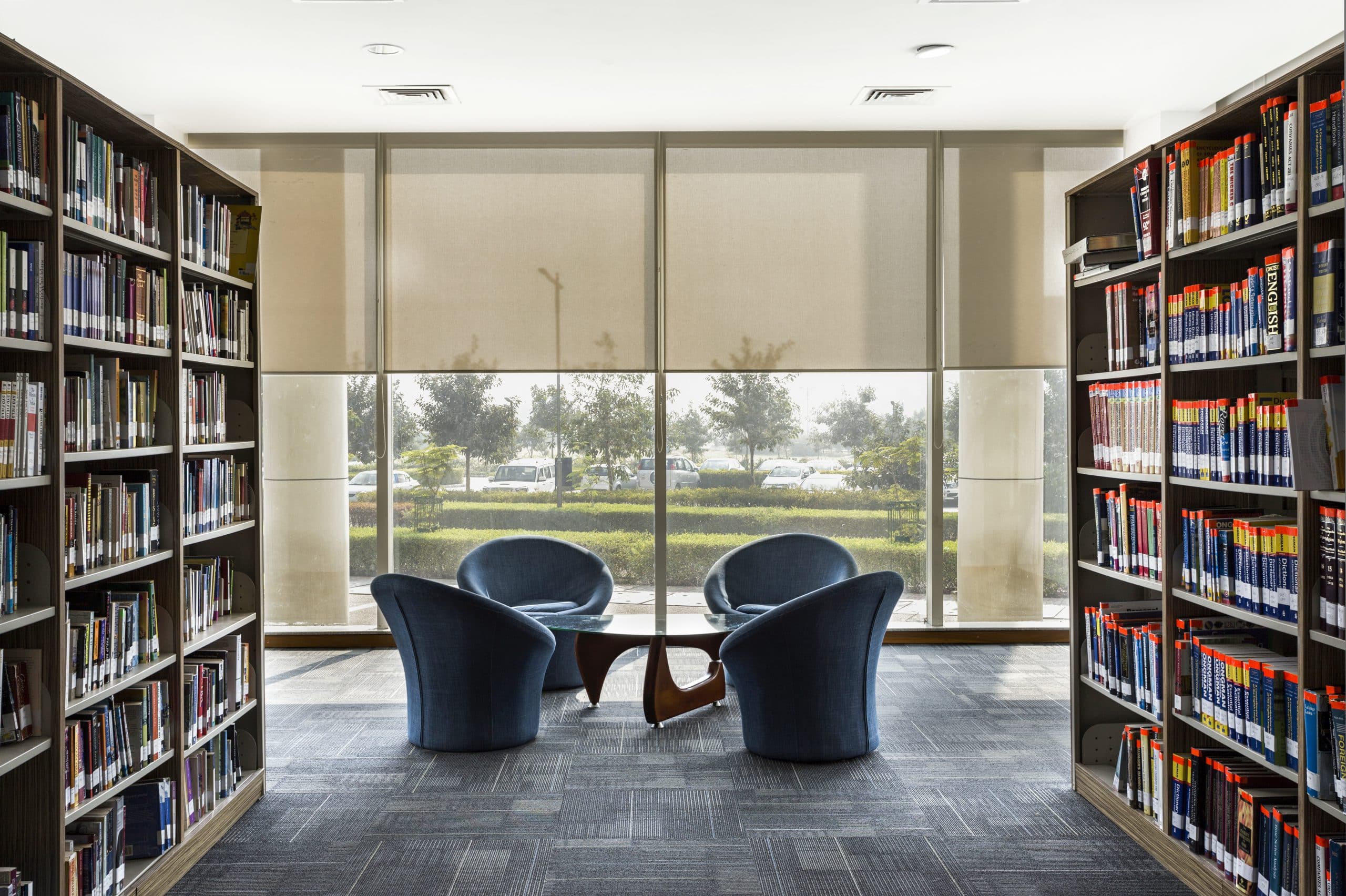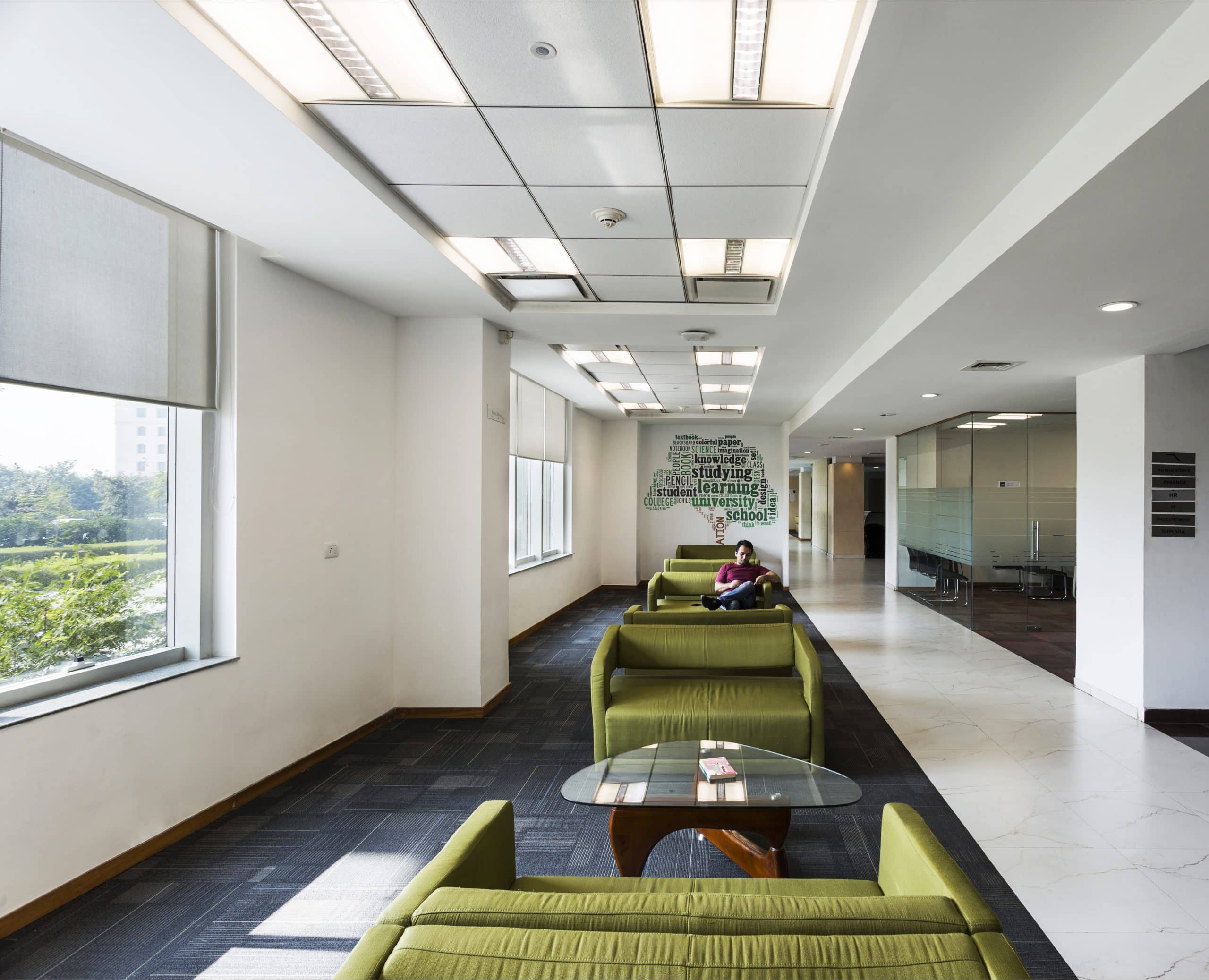 Climate Responsive Built Form Strengthens Sustainability Program
The colonnaded periphery holding up an overhanging canopy of shading pergolas affords a deep shaded recess to the floor to ceiling high windows that punctuate the library's outer walls. This arrangement ensures optimal day-light devoid of glare and heat entering the library interiors to create a comfortable well-lit reading ambience in coordination with aptly designed artificial lighting fixtures connected with day-light sensors. Along with the numerous passive and active green design strategies for energy, water and waste management sustainability employed in this and every other building on SNU campus, this library building design works to achieve a Gold rated Green certification.