Claris Pharmaceutical Manufacturing
and R&D Campus
Ahmedabad, Gujarat, India
Harmonious Industrial Campus for Global Life Sciences Firm
Claris Life Sciences, a global firm researching and producing a range of pharmaceutical healthcare solutions approached us with a plan to establish their second Indian campus, Clarion Campus II, at a 250 hectare Greenfield site near Ahmedabad. Tasked with designing the campus, the INI team's scope of work extended from planning the facilitation of infrastructure at the pristinely green location, preparing the master plan for the campus, designing its constituent built and unbuilt components, and project management and execution in phases. The project was approached with a holistic vision that encompassed principles of effective spatial organization, streamlining workflow for efficient production, coordinated MEP engineering, mobility/ circulation planning, climate responsive design, architectural aesthetics, Vaastu Shastra, green integration as well as sustainability.
Site Area : 250 Acres
Builtup Area : 7,64,238 SF
Services : Feasibility Study, Programming & Planning, Master Planning, Concept Architecture
The nine-square grid of the Vaastu Purusha Mandala superimposed on the entire site formed the basis for allocating the major component requirements of the brief to appropriate areas of the site. Accordingly, The heavy manufacturing lines are placed in the south-west (earth/ Nairutya square) and the boiler, co-gen plant furnaces, etc. get the south-east (fire/ Agneya) location, while the central portion of the site does not house any major structures but open parks and landscaped plazas and the north-west (air/ Vayavya) square) has the entrance followed by the massive green spaces. The peripheral areas projecting outside this square grid were used for locating service components, parking lots and a north-eastern main entry that leads the visitor/ worker into a pristine green landscaped area of gardens, forests and orchards along the main north- east to south-west axial road cutting through up to the co-gen plant in the north-eastern end which is the site's tallest structure.
Unobtrusive Blend of Manufacture & Nature
The Master Plan blends the built structures into the landscape, hidden from a visitor's direct view behind a screen of forests and groves, attempting to ensure the least intrusion to the existing environment. While most of the various production buildings are located in the western and southern portions of the site, the peripheral vehicular ring road serves them for raw material supply as well as finished product dispatch vehicles to ply on.
Establishing Fundamentals through Modular Master Plan
The entire larger Clarion Campus II has been devolved into four mini campuses for ease in planning, execution as well as daily administration through decentralization wherever possible. Within each mini campus, each manufacturing block is designed as a modular prototype and can be expanded as the business plan evolves while integrating future technological advancements. After a thorough study and analysis of movement of men and materials within, each unit is designed for a south to north flow of raw material to finished product, and east to west movement of the production assembly line. This Master Plan, when implemented in a phased manner on the site, ensures a streamlined, efficient and best production SOP.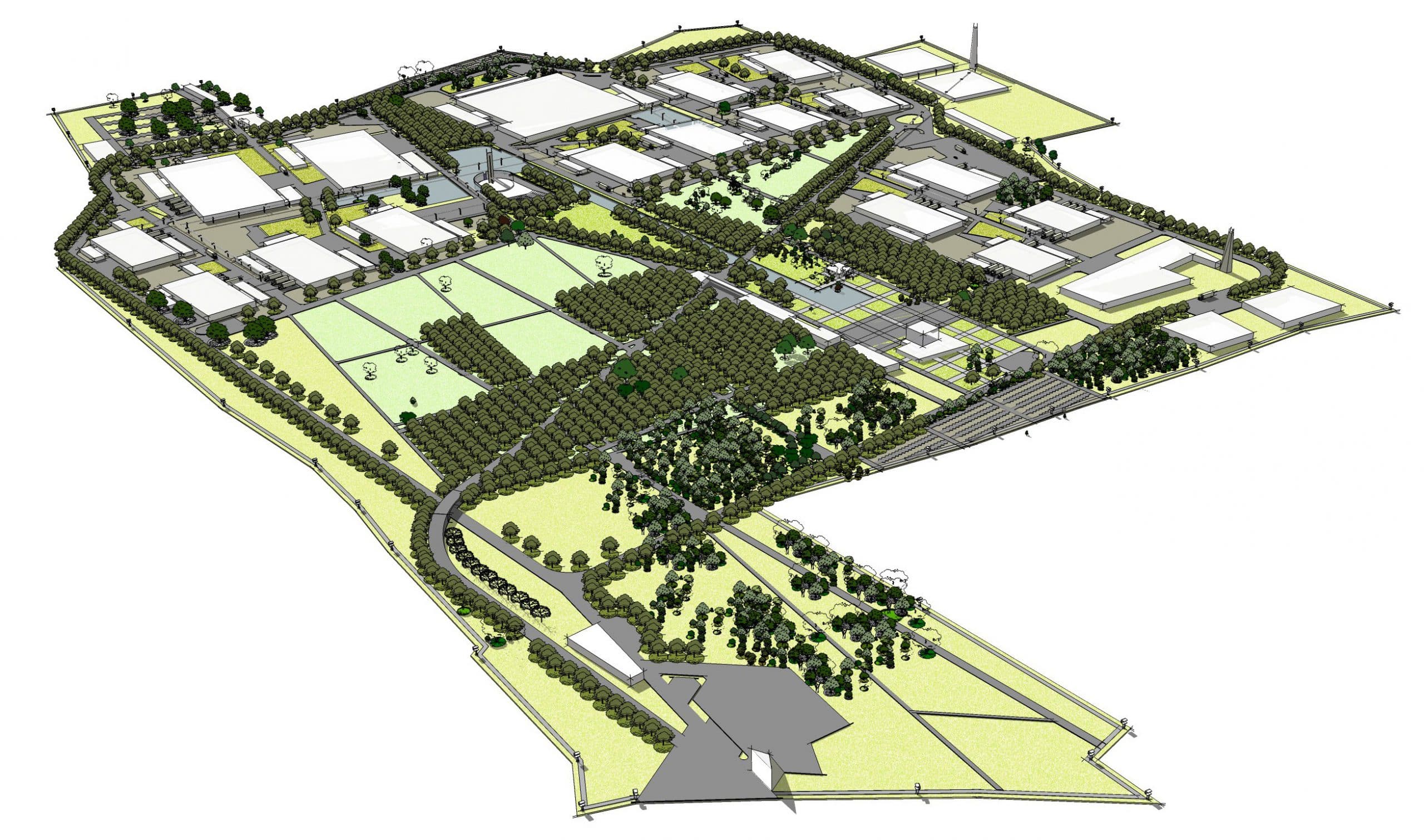 Reiterating Industry's Commitment to Green & Sustainable Progress
While master planning, care has been taken to retain the original smaller agrarian plots that constitute the site with an aim to cause least damage to the ecosystem. Extra efforts have been employed to retain as many existing trees as possible in their original positions as well as to move and transplant many of them within the site itself. Sustainability strategies include harnessing solar power for street lights, accent lights, signage, UPS of plant sites, water heating, etc., harvesting rain water and grey water recycle and reuse, optimal glare-free day- lighting and heat retardation through shading devices, and many more IGBC/ LEED recommended measures.