Mahindra World City - Origins
Janshali, Surendranagar, Gujarat, India
The proposed industrial park is proposed to be developed on a 363 acre land parcel located at Village Janshali, Taluka Limbdi, Surendranagar. The project is conceived and promoted by Industrial Cluster Private Limited, a 100% owned subsidiary of Mahindra Lifespaces Developers Limited. The proposed park envisages 92-100 industrial plots across plot sizes ranging between 5,000 sq yd to 20,000 sq yd with some larger plots of 25,000 sq yd. The park will be provided with state of the art infrastructure facilities which would enable the upcoming industrial units to produce high value added products. INI is providing the integrated infrastructure and MEP engineering design services for the entire site.
Site Area : 350 Acres
Services : MEPF Engineering, Campus Infrastructure Planning, Sustainability
Accolade : IGBC Green Cities Gold Rating
Collaboration : Surbana Jurong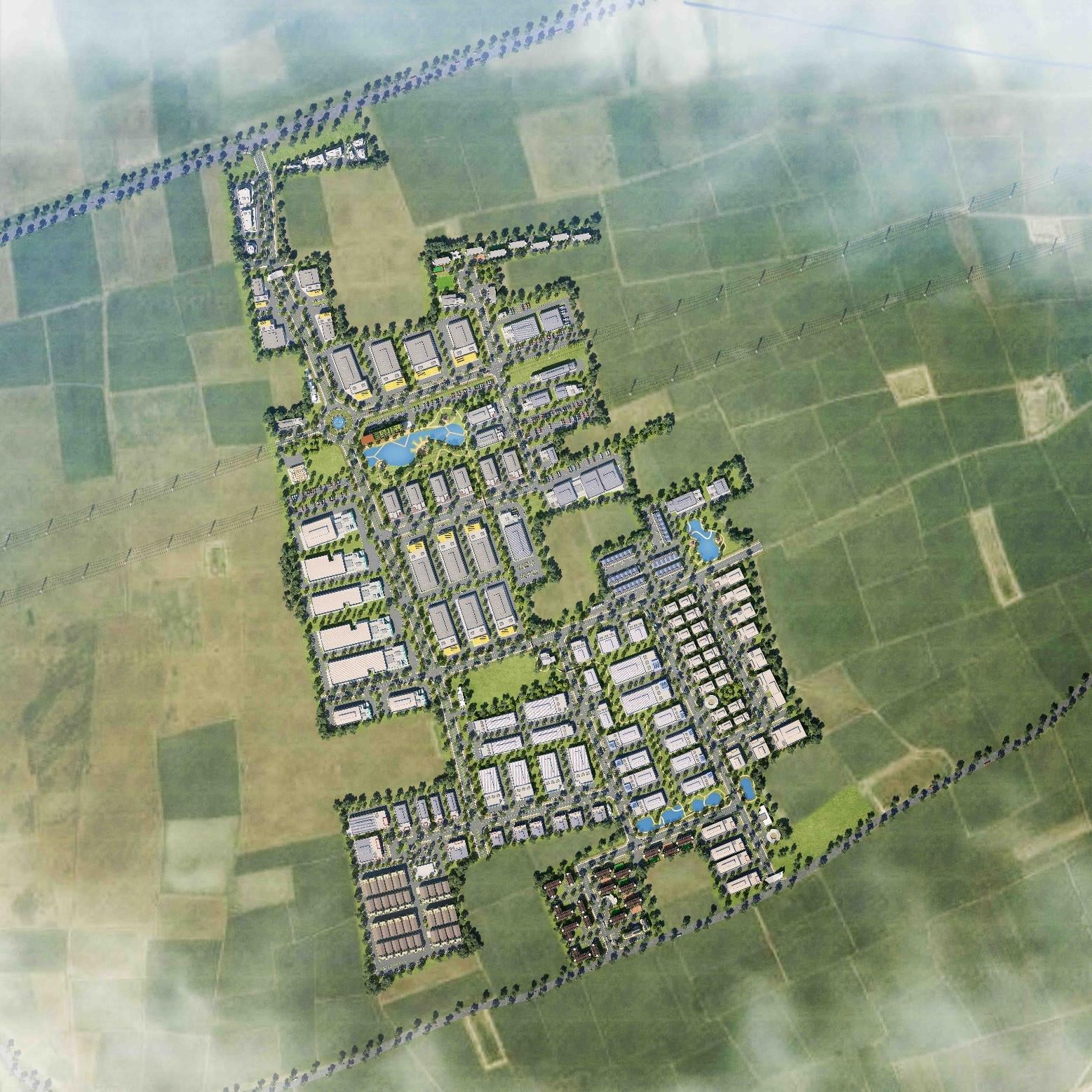 Impetus to Integrate, Solutions to Sustain
Environmentally Integrated Industrial Work + Living Hub
Mahindra Lifespaces Pvt Ltd, through their subsidiary MIPPL, is developing an industrial park for nonpolluting industries along with a quotient of amenity, business and living spaces at Janshali village, Surendranagar district, located 70 km to the west of Ahmedabad in Gujarat. The 350 acre site of this park, named 'Origins', is accessed at the northern end by the NH47 and lies amid verdant fields and waterbodies which get integrated into the infrastructure plan. The park has provisions for around 100 industrial plots of sizes ranging from 5000 sq yards to 25000 sq yards, in its industrial zone accounting for 65% of the masterplan area, bookended by mixed use, amenities and residential areas, and seamlessly woven with a massive green. Following in the footsteps of the Group's similar successful ventures of Mahindra World Cities at Chennai and Jaipur, this park was envisioned to raise the bar for sustainability, social amenities and building quality in the context of urban development. INI has provided the infrastructure planning, MEPF engineering and sustainability services for this ambitious project in collaboration with Singapore-based firm SJ Pvt Ltd. who have primarily envisioned the masterplan.
Infrastructure Plan for Contiguous Zones, Interdependent Focus Areas
The masterplan is categorized in different zones such as residential, mixed use, amenity, and park/greens which are all connected via the north-south green mobility spine. Business and amenity centers dot different zones of the layout, which take care of the comfort of the work force and reinforce economic sustainability through supportive infrastructure.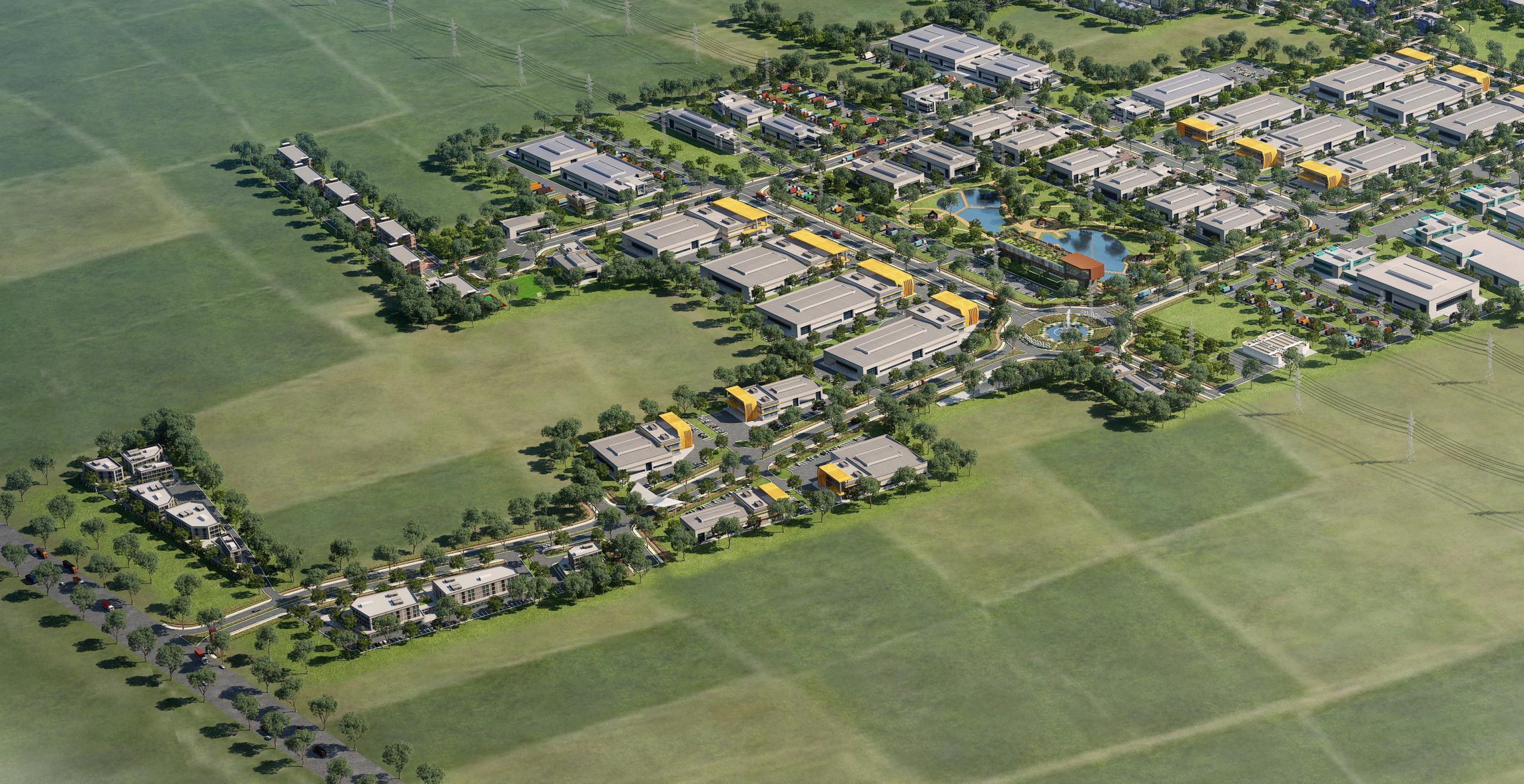 Urban Design Foresight with Contextually Coherent Landscape
Development progressed chronologically through the various identified focus areas to ensure a systematic unfolding of the plan's desired goals. The naturally occurring elements of the landscape have been artfully integrated into the plan as parks and green open spaces, with the large lake utilized as a retention pond to collect surface rain water as well as a recreational waterfront for the inhabitants and workers. Native varieties of trees and other greens have also been introduced to line the roads and sidewalks to reinforce ecological sustainability.
Planning & Engineering Aligned to Sustainable Urban Development Goals
As the key to achieving the desired level of long term sustainability, the MEPF design was critical for this large, bespoke and future-ready 'plug-and-play' development. Electrical, plumbing and HVAC installations and operations as well as infrastructure designs that match with global standards were planned and installed as a consequence of foresight and vision, and aid in ensuring the integrated functioning of this industrial park.