My City Township Landscape Masterplan
Dombivli, Mumbai Metropolitan Region, Maharastra, India
This is an integrated landscape design project for the My City township in Dombivili East, Mumbai. As the name suggests My City - the township is developed in a way that it belongs to the people of the city. The design in this project takes a hybrid approach where the natural and built cohabit to create an integrated landscape. By creating strong and enduring sense of arrival and grand gestures of the junctions, the landscape elements act as the defining and integrating essentials at the master plan level. The plantation has been chosen very sensitively that celebrates every color of the season. My City Central Park is placed at the heart of the township acting as lungs for the residents of the society. A defined path welded with green lush heavy vegetation has been bound with different activity zones for all age groups such as an international size cricket field, open air amphitheater, silent zones for meditation and contemplation, nature interpretation park, play grounds, coffee outlet etc. The rich landscape of the township adds up to the 'wow' factor of the township.
Site Area : 120 Acres
Services : Landscape Masterplan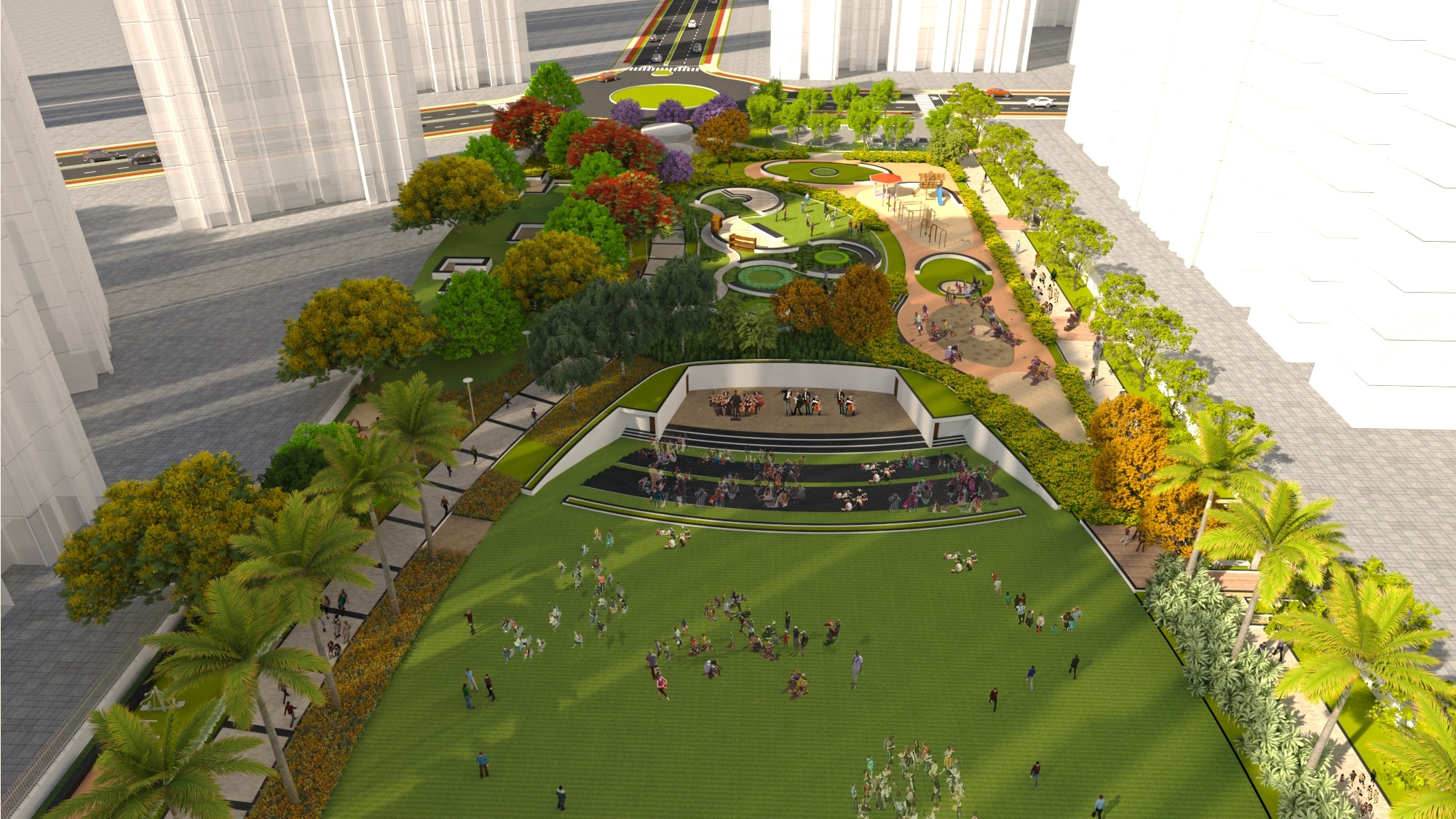 Landscape as Protagonist in High Density Urban Development
'My City' is a planned neighborhood community developed on 120 acres of land in the suburb of Dombivli in the Mumbai Metropolitan Region. The special design approach of this urban planning project revolves around the conscious and complete integration of landscape in the master plan such that its residents own and relate with every open space in it, making these greens an inextricable part of their day-to-day lives. INI's Landscape Design incorporates a wide range elements which are seamlessly woven into the community as compelling opportunities to connect with nature throughout their regular routines in more ways than one.
Beginning with a strong sense of arrival created on entry, the landscape of the entire township is designed to make relatable sense of every inch of open space by incorporating varied attractive uses and enduring imagery. A well networked hierarchy of roads connects a multitude of entry/exit points to the residential and amenity clusters in peripheral loops which allow uninterrupted, safe walkability within them. Other than the shared green spaces within these clusters, there are numerous small and large parks and greens designed as per the requirement they're each dedicated to, the largest being the central park at the heart of the township.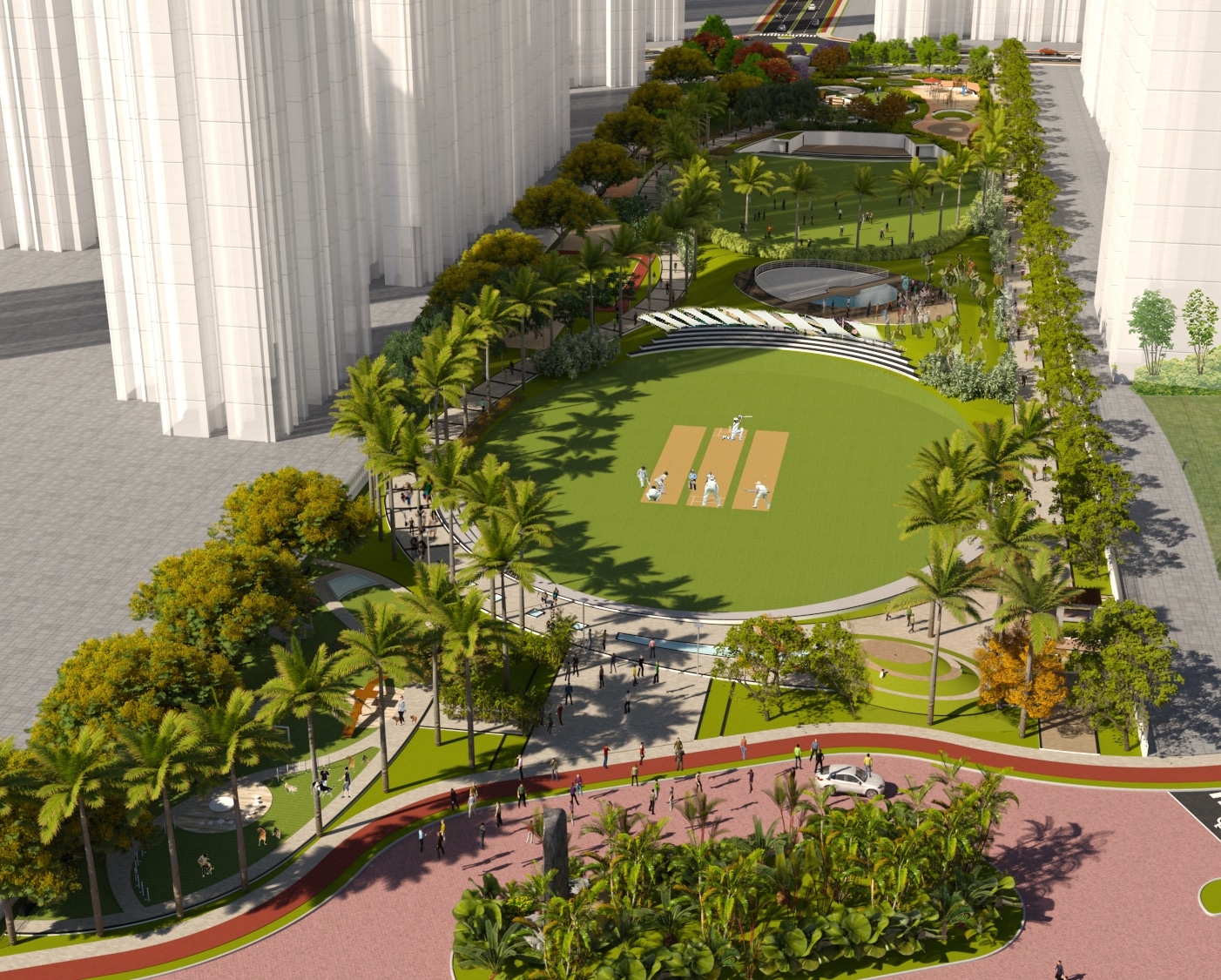 Central Park as Expansive Green Heart of Community
The greenest lung of My City, the Central Park, stretches in a linear North-South disposition out between two major road junctions, having two major residential clusters aligned across roads bordering its two longer edges. While these two long road edges have a thick multi-layered lining of varied green species that beautify the walking/ jogging track aligned with them, the internal area is divided into a progression of varied activities including a full- fledged cricket ground and an equally large open air theatre. Ample parking facility is provided near the southern entry point, and walking in further from here beyond a kids' park and cafeteria brings visitors into the ribboning folds of an open air library and nature interpretation garden. Across a walkway from this is a Peace Mound on which one can find several meditation pods. An open gym and a skating rink coupled with a splash pool are located further onwards towards the cricket ground, and a dedicated Pet Park has been created near the northern entry, which is marked by an iconic "My City" Mound. Thus this Central Park responds to the needs of varying age-groups and activity spheres.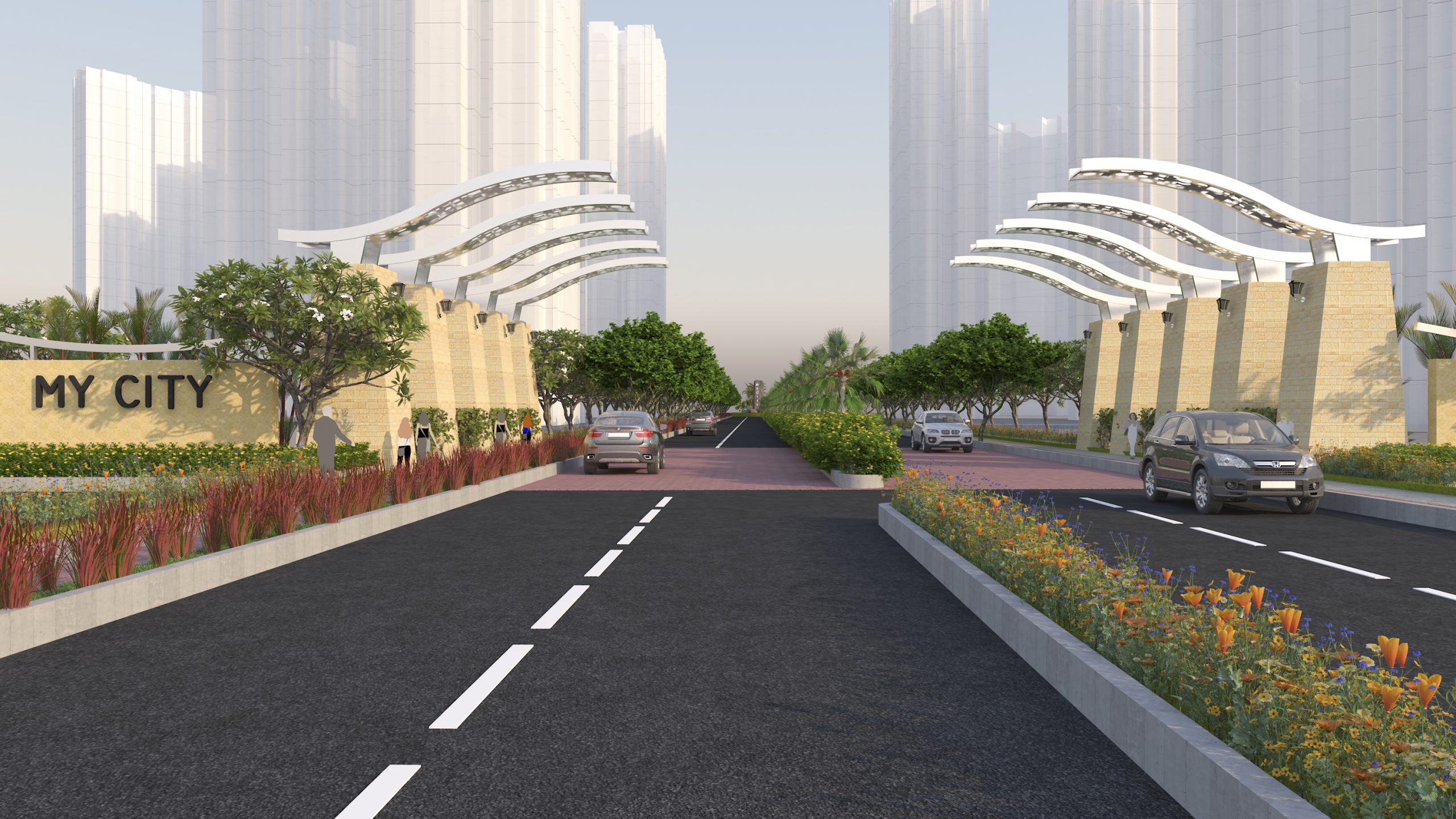 Pre-Eminent Soft-Scaping in Road & Junction Design Details
The attentively detailed sections of roads and road junctions, roundabouts, etc are further attempts at integrating landscape into the master plan design to the greatest possible extent. As a result the road edges, dividers, footpaths, bus-stops, street furniture as well as the traffic islands have layers of various native green species incorporated into them.