Ahmedabad, Gujarat, India
Premium City Club Re-Imagined as Landscaped Park
The Karnavati Club established in 1989 on a 5,00,000 sq feet plot on the Sarkhej-Gandhinagar Highway rose to be one of Ahmedabad's most premium and popular clubs. It was decided to build a new Karnavati Club on a larger site of 1,70,269 sq m in the Mulasana village on Ahmedabad's outskirts, serviced by the Sanand-Kadi Highway along its entire southern edge. The client's brief was to build a club which embraced nature in all its elements by emulating a verdant public park in its design while simultaneously making a spectacular contemporary architectural statement. The intent of the design was to offer visitors a memorable & immersive calming, rejuvenating experience at the club in close communion with nature.
Builtup Area : 1,35,416 SF
Services : Masterplanning, Concept Design for Architecture, Landscape Design & Interior Design (International Bid Entry)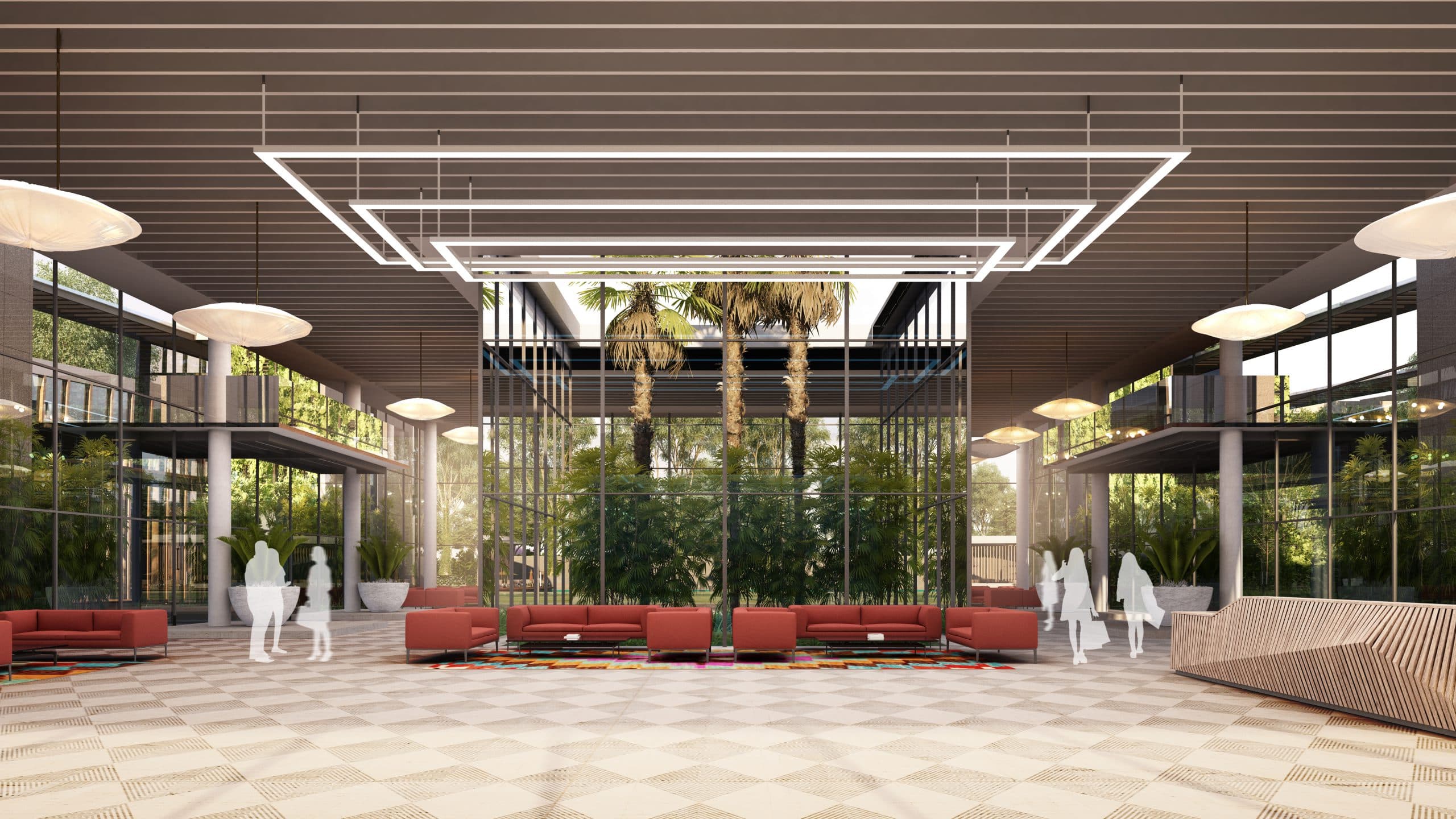 An exhaustive programme that includes recreation/ leisure activities, indoor & outdoor sports facilities, fitness and yoga centre, restaurant & cafe, guestrooms for visitor accommodation, shopping, spa, salon, kids' play, members' lounge, business centre, multi-purpose ground, swimming pool, water features with deck lounging, and many more elements has been arranged around the southern and western edges of a central green which extends to the north-eastern end into a created rainforest.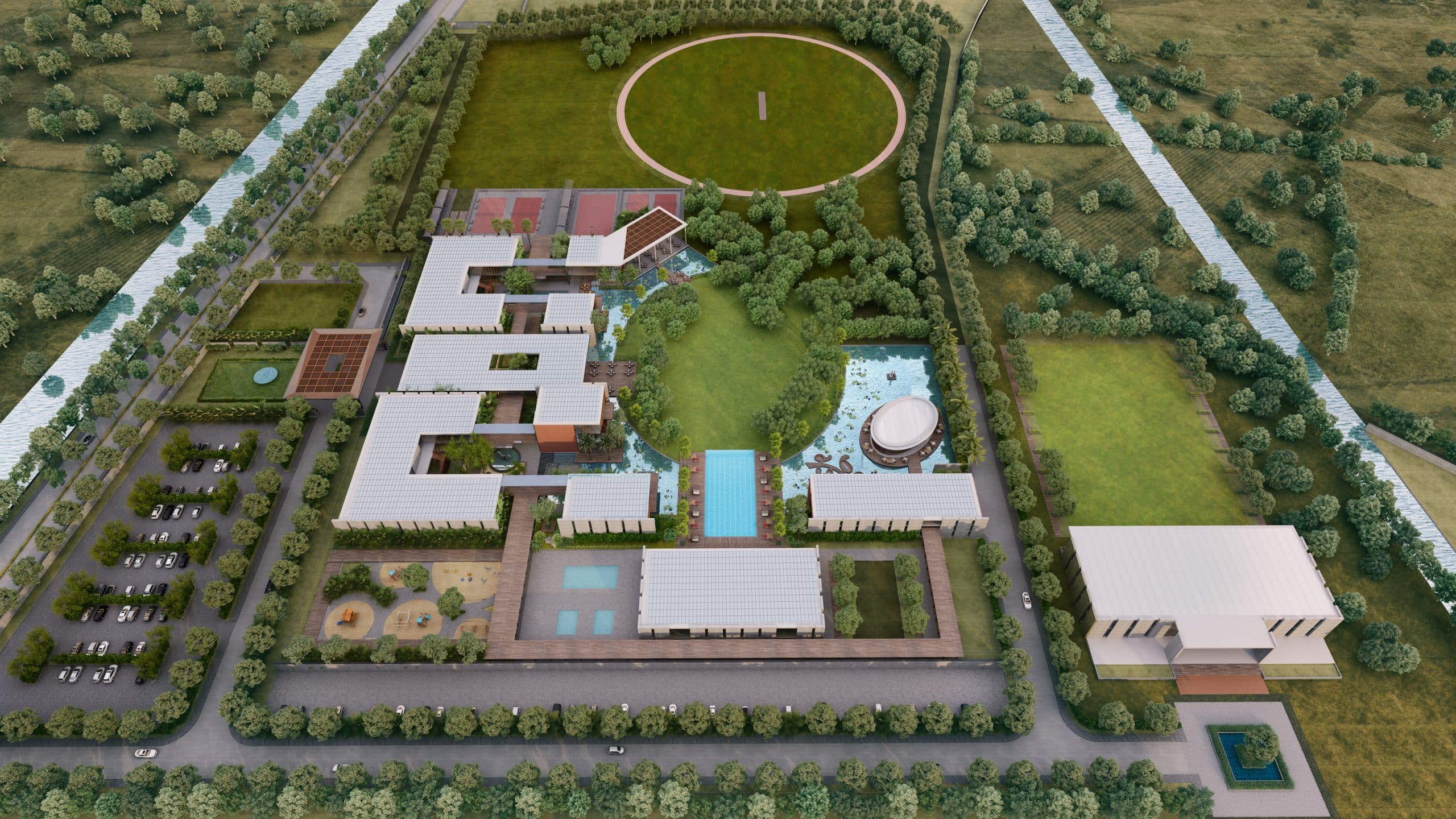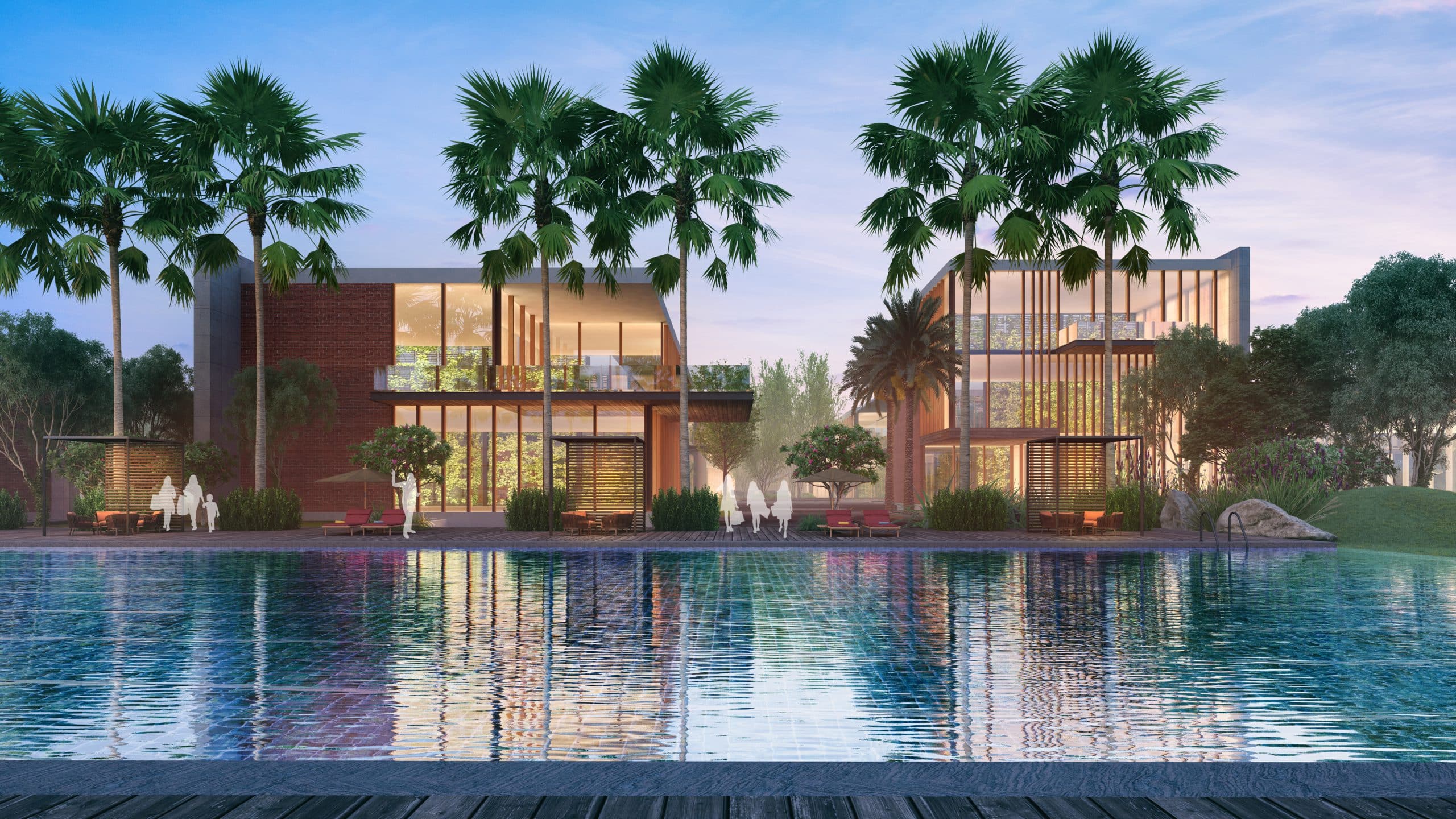 Club Elements Arranged around Interweave of Green and Blue
The vehicular entry from the highway into the site leads through a well-planned internal road hierarchy to the parking lot and beyond to the banquet hall and party lawn at the rear eastern end. Pedestrian pathways lead from the pedestrian entry and the parking through an ornamental entrance plaza to the grand arrival hall. From here, visitors may disperse in either direction, towards an array of indoor and then outdoor sports facilities to the north or others to the south. These include the recreational block, shopping, business centre, indoor/ outdoor swimming pools, children's play and splash pools, guestrooms, spa/salon lined up along the edge of a reflecting pool with a speciality restaurant projected within it, winding around the southern end of the central park.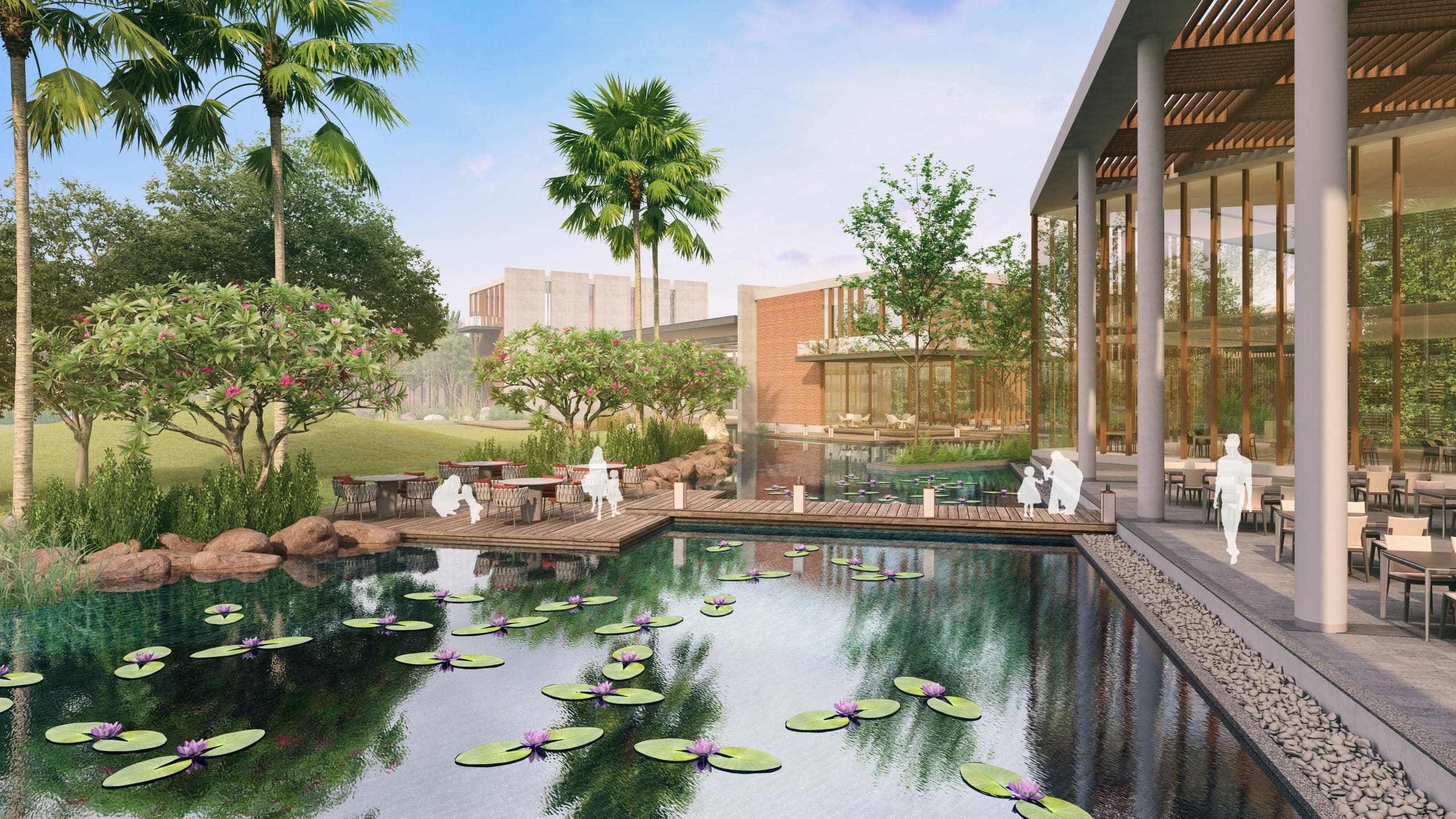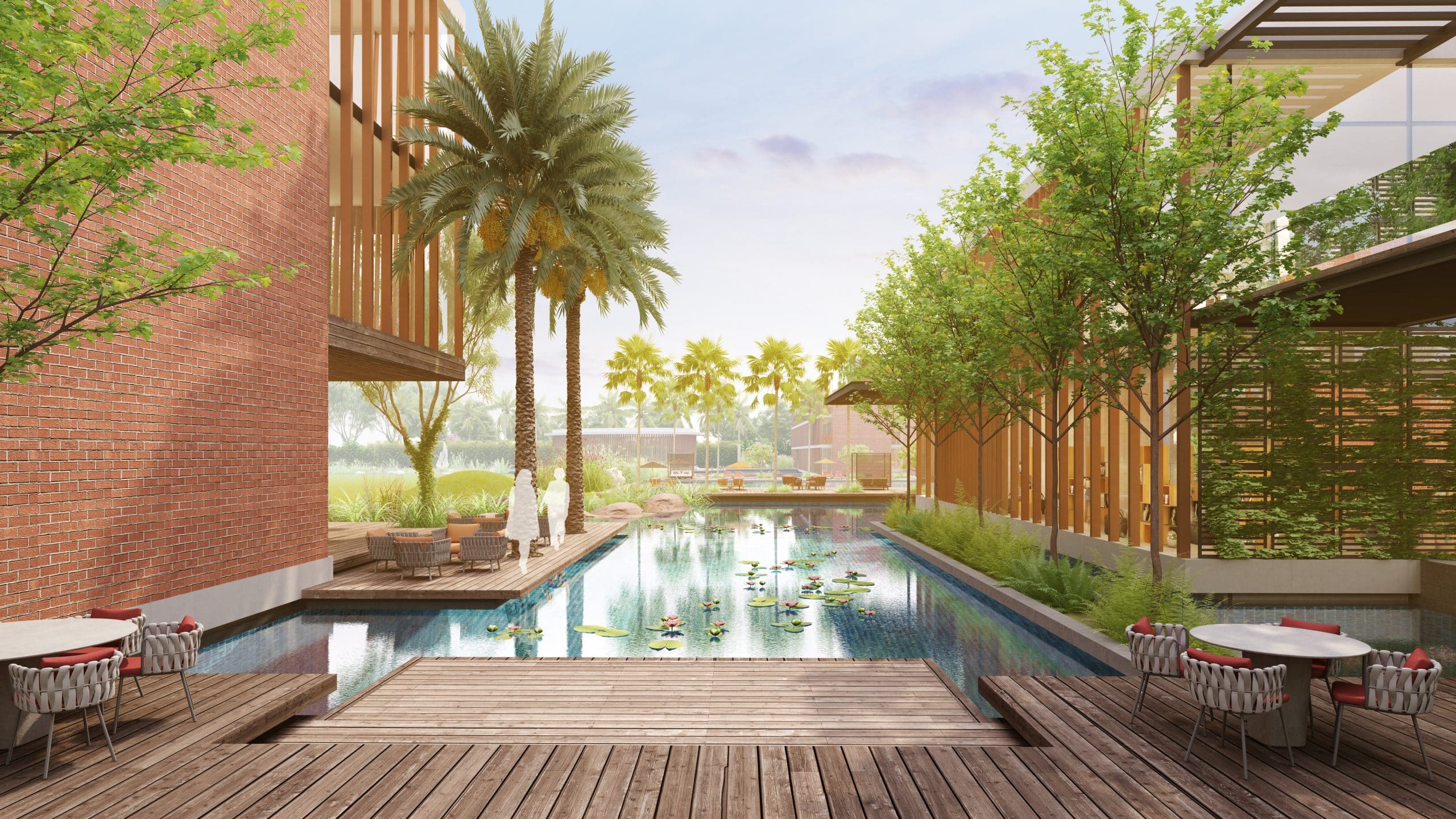 The architectural language of this mostly ground + 1 floor complex is low-slung intimacy and minimalist luxury exhibiting transparency through slatted screens, using natural materials like wood and stone. The ambience generated resembles the meditative calm and proximity with nature akin to a Zen garden.
Majority of Site Area Allocated to Variety of Landscaped Open Spaces
The core concept of the project revolves around the creation of immersive experiences within an exhaustive range of various types of landscapes. While the interweave of the club buildings with green and blue elements of the central park permeates calm meditative energy, the forest beyond with woody trails, grassy mounds, tree thickets interspersed with seating offer another type of natural experience. The outdoor sports ground with jogging/ cycling tracks along its perimeter as well as a variety of sports courts offer yet another opportunity of pursuing fitness and health in natural surroundings.
Active and passive sustainability and green practices have been incorporated in full measure with overhead solar PV panels for renewable energy, rain water harvesting, recycling and re-use, shading devices and low-E glazing, motion and heat sensors connected to centrally controlled BMS, net zero waste disposal systems, and many others contributing to achieve the highest LEED-IGBC rating awards.