Dasve, Lavasa, Maharashtra, India
Sinuous Built-form for Sports Club Merging into Contoured Landscape
Approached by the Lavasa Corporation Ltd. to design a sports complex of international standards for their green township on a hilly river-side site in Dasve, the INI team created a variety of design options that responded to the site's inspiring natural topography while fulfilling the brief to accommodate multiple sporting facilities. The final design has the built-form tracing intermediate contours between river and hills as a sinuous ribbon with a green, stepped roof-line which causes it to blend seamlessly with the surrounding green hills. The low-slung form of the building sports a façade of alternating solids and voids which create a porous screen connecting the green vistas on either sides of the structure. The building's immediate forecourt bears a large, winding swimming pool, with the pool-side decking around it extending to the river-edge. Looping walkways connect facilities on both banks of the river into an integrated sports complex. Stepped hardscape is introduced wherever necessary as spectator seating around sporting arenas or to approach the water's edge and bridges across it.
Builtup Area : 20,000 SF
Services : Master Planning, Building Design - Architecture, Interior Design, Landscape Design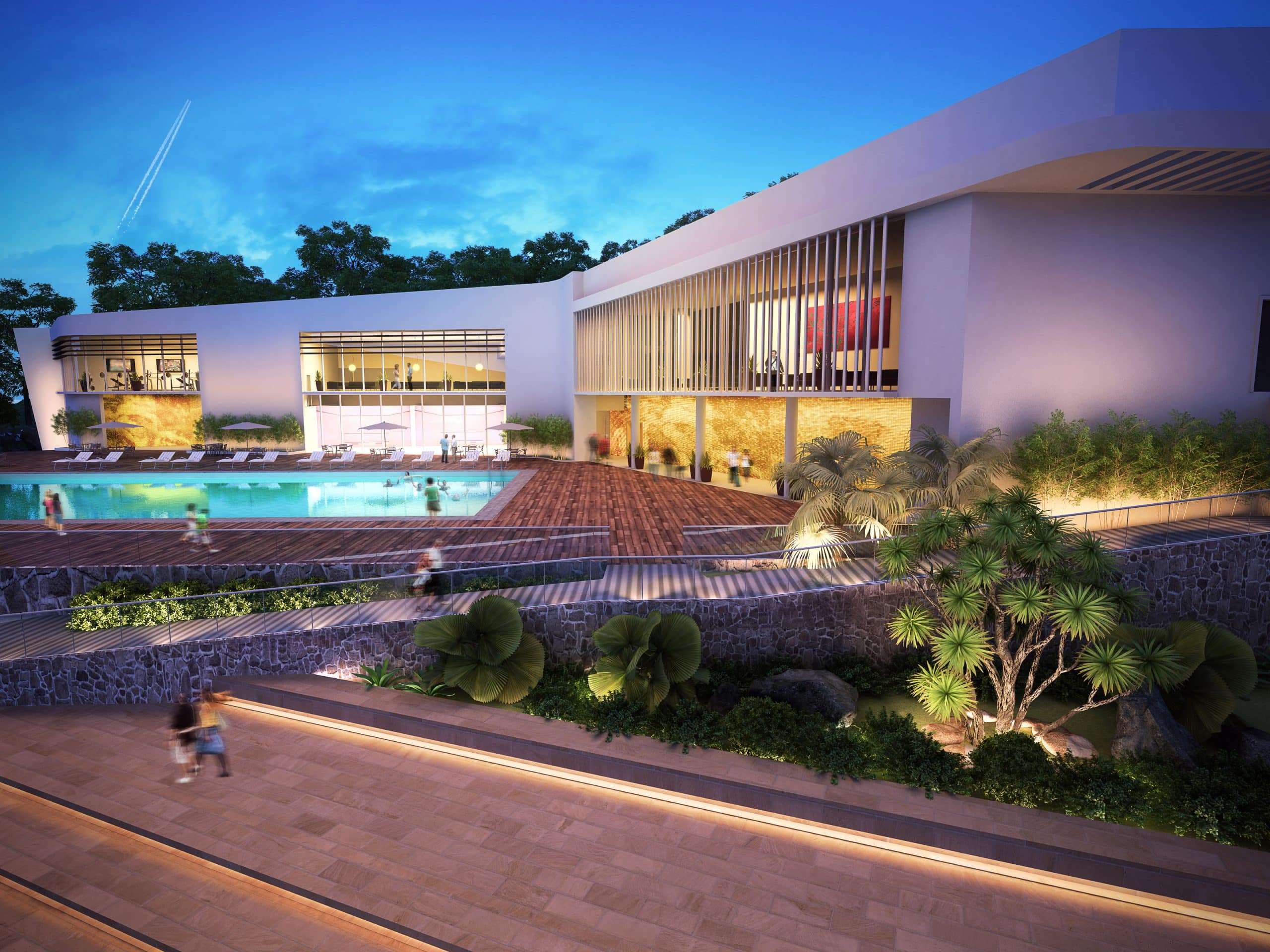 Terraced Ridge as Viewing Gallery Overlooking Riverside Outdoor Arenas
The stepping terraces on the structure's roof are landscaped to mimic a natural green ridge of the hillside, offering a green walkway and viewing gallery overlooking the sporting activities unfolding on the site and panoramic views of the surrounding landscape. Basketball, volleyball, and tennis courts as well as a cricket ground – all of Olympic standards – are laid out in the foreground of the building on either banks of the river.
Indoor Facilities Occupy Minimal
Built-Form along Hilly Terrain
The building consists of an upper-level ground floor housing indoor sports like badminton and table-tennis, and a lower ground floor having a gymnasium and admin area. These built levels trace the hilly contours, causing a minimal intervention in the existing topography and ecosystem.