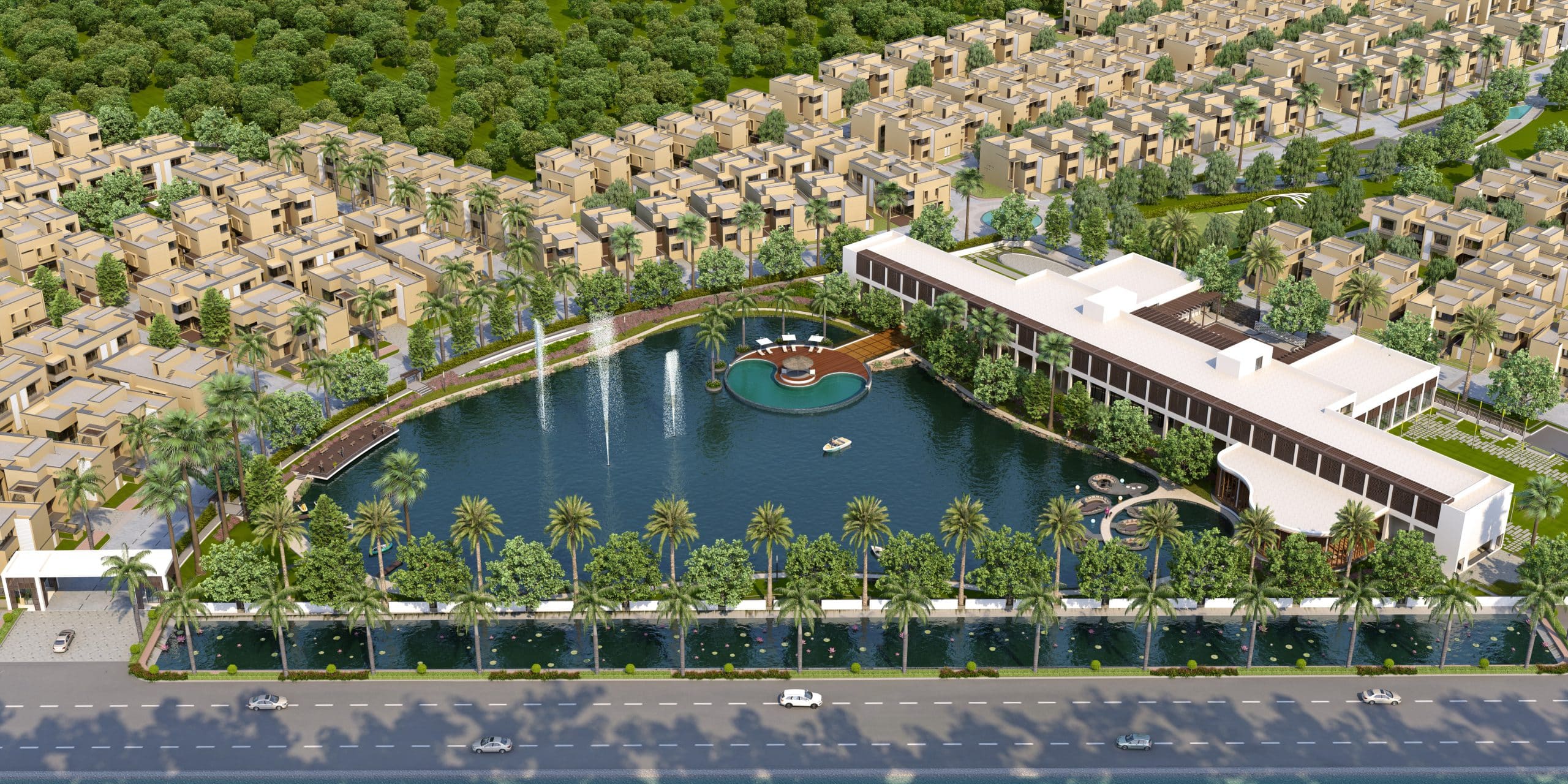 The Parkway Resort Community
The spatial massing of the homes is set in such a way that a sense of closed community with ample space for gardens and play surrounds giving prospect and refuge for the inhabitants. The key master plan objective is to create a walk able community connected through greens with large and small gardens in the public (central park) and private (limited access cluster park) realm. Right after passing the club house the view opens to sweep of greens with a series of terraced garden with water features, amphitheater, garden's layered spatially leading the visitors into surprises. The program for each garden and activity with in addresses engagement for all age groups. The high-end villas front porch opens to these precious view sheds. The park from the Club house is connected to the entire length of the property terminating at the exclusive neighborhood club.
Site Area : 51.12 Acres
Builtup Area : 17,88,851 SF
Services : Masterplanning, Building Design - Architecture, Interior Design, MEP Engineering, Landscape Design, Sustainability, Infrastructure Engineering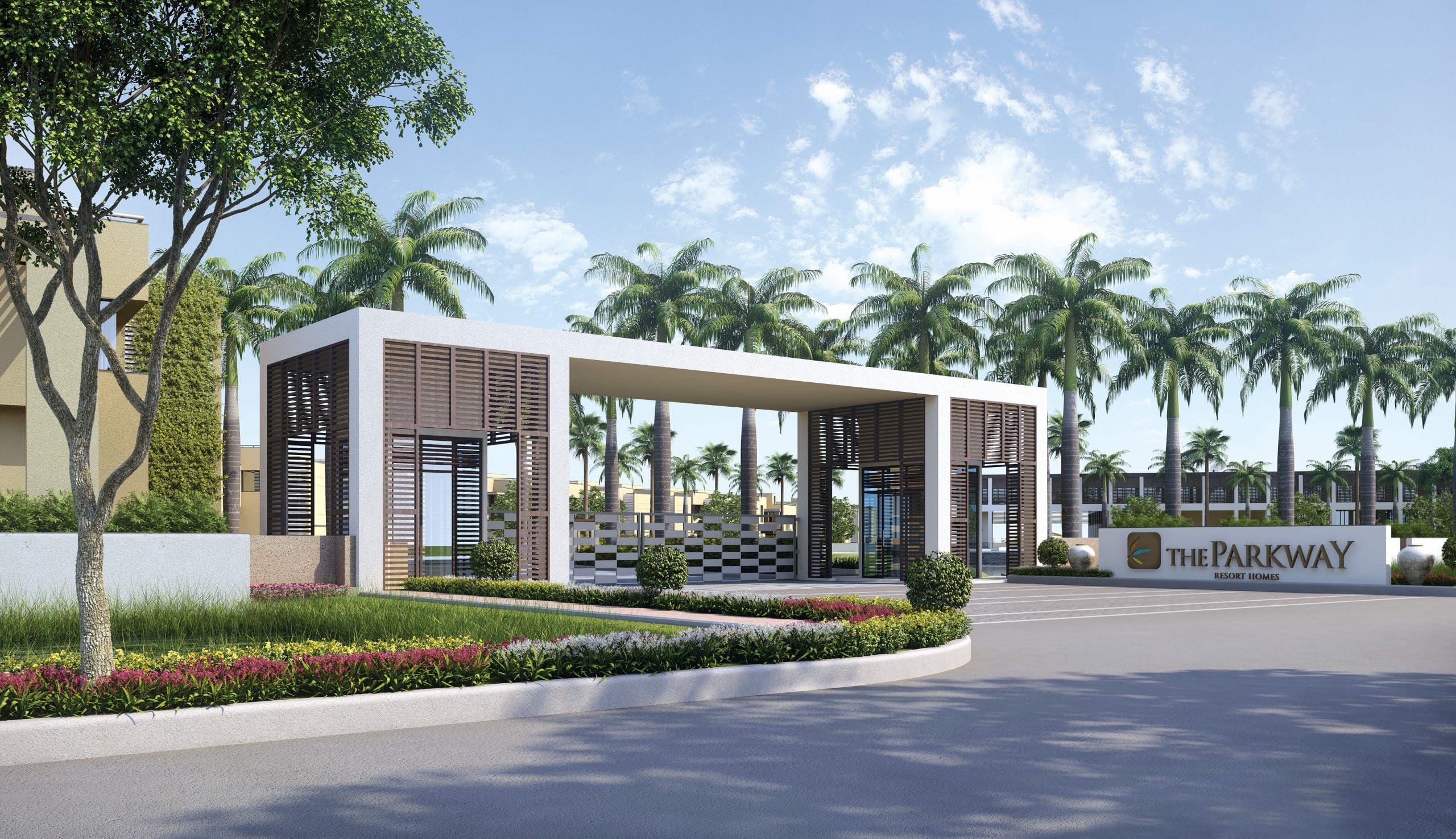 Exquisite Second Homes at a Water-Side
Green-Heart Commune
The Parkway is a snug and spacious community of 500+ premium villas which serve as holiday homes for Surat's elite, located on a part of a site which used to be a rose plantation historically with a beautiful heart-shaped lake within. The design, hence, endeavored to recreate the visage of an interconnected network of rose gardens and villas. The road form the entry point, meticulously detailed with flower-beds, shady trees and paved side-walks flanking it, runs along the lake-side abutted by an elaborate public clubhouse, and continues along a central spine of landscaped 'parkway' stretched out at the core of the neighborhood. This carries on up to the exclusive, inviting club-house at the rear of the linear T-shaped site. Exquisitely designed villas of various categories, with their private gardens, are laid out around the rest of the community. Gardens, parks and playgrounds of different sizes punctuate the entire community as a string of intermittent open green pockets.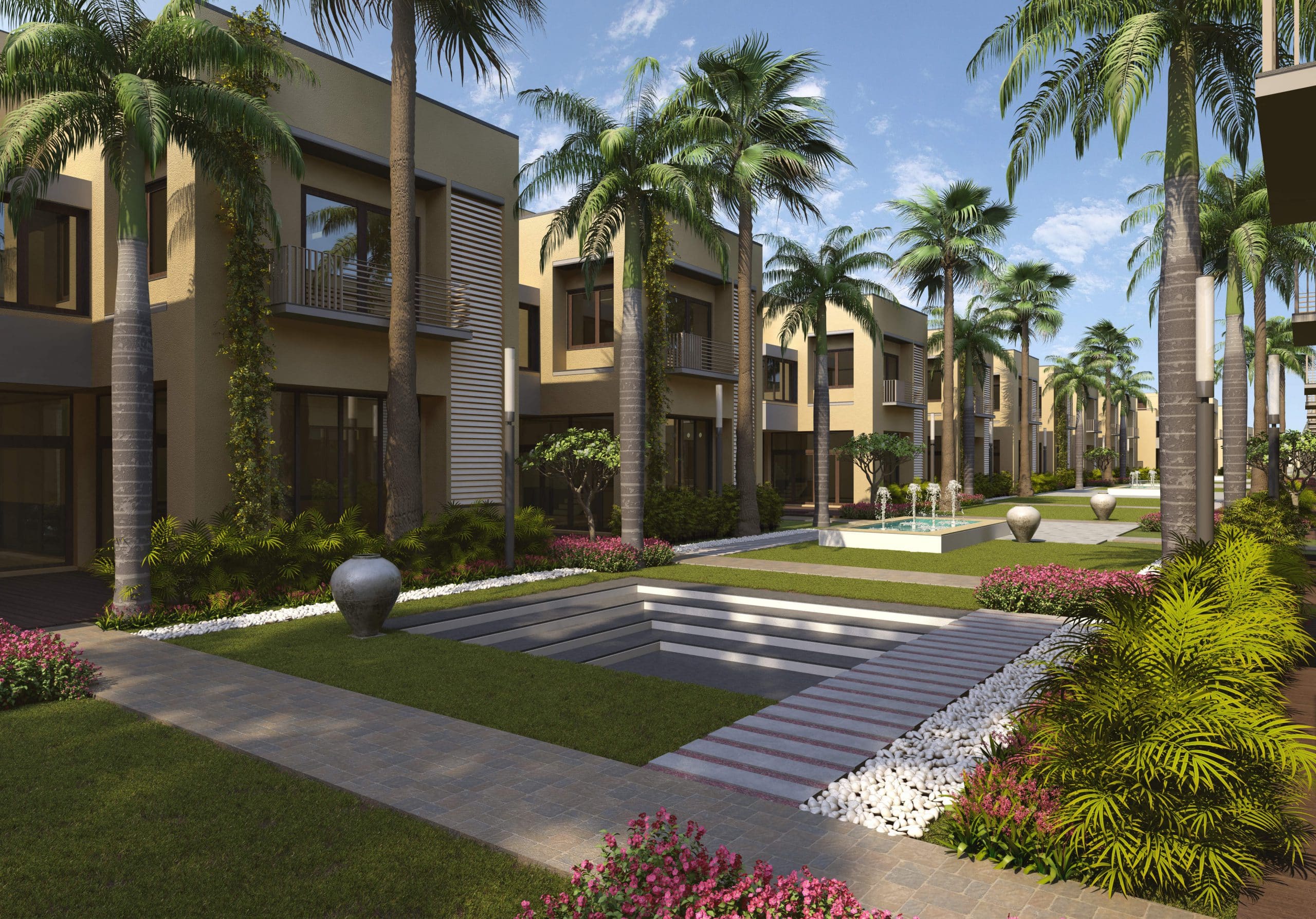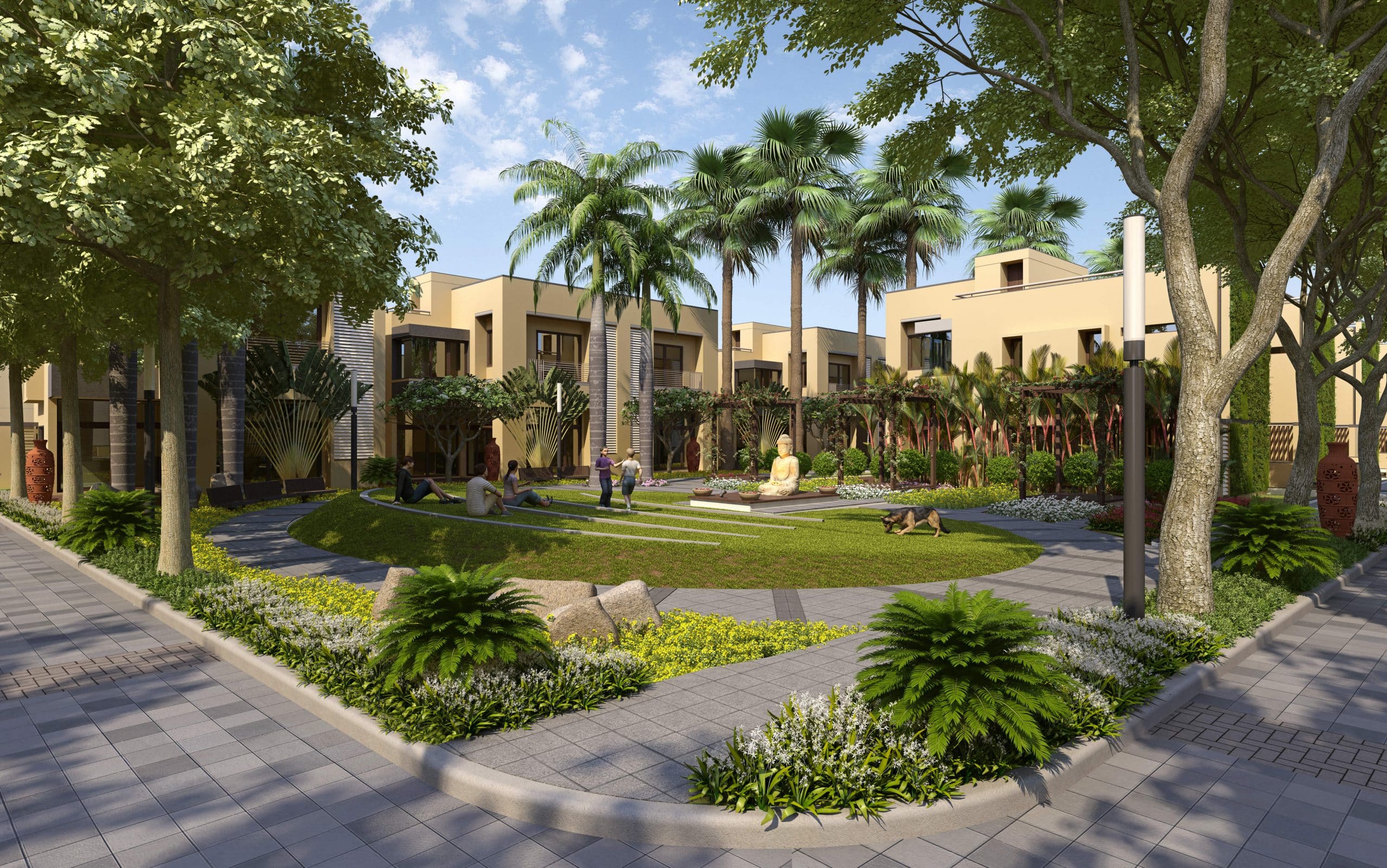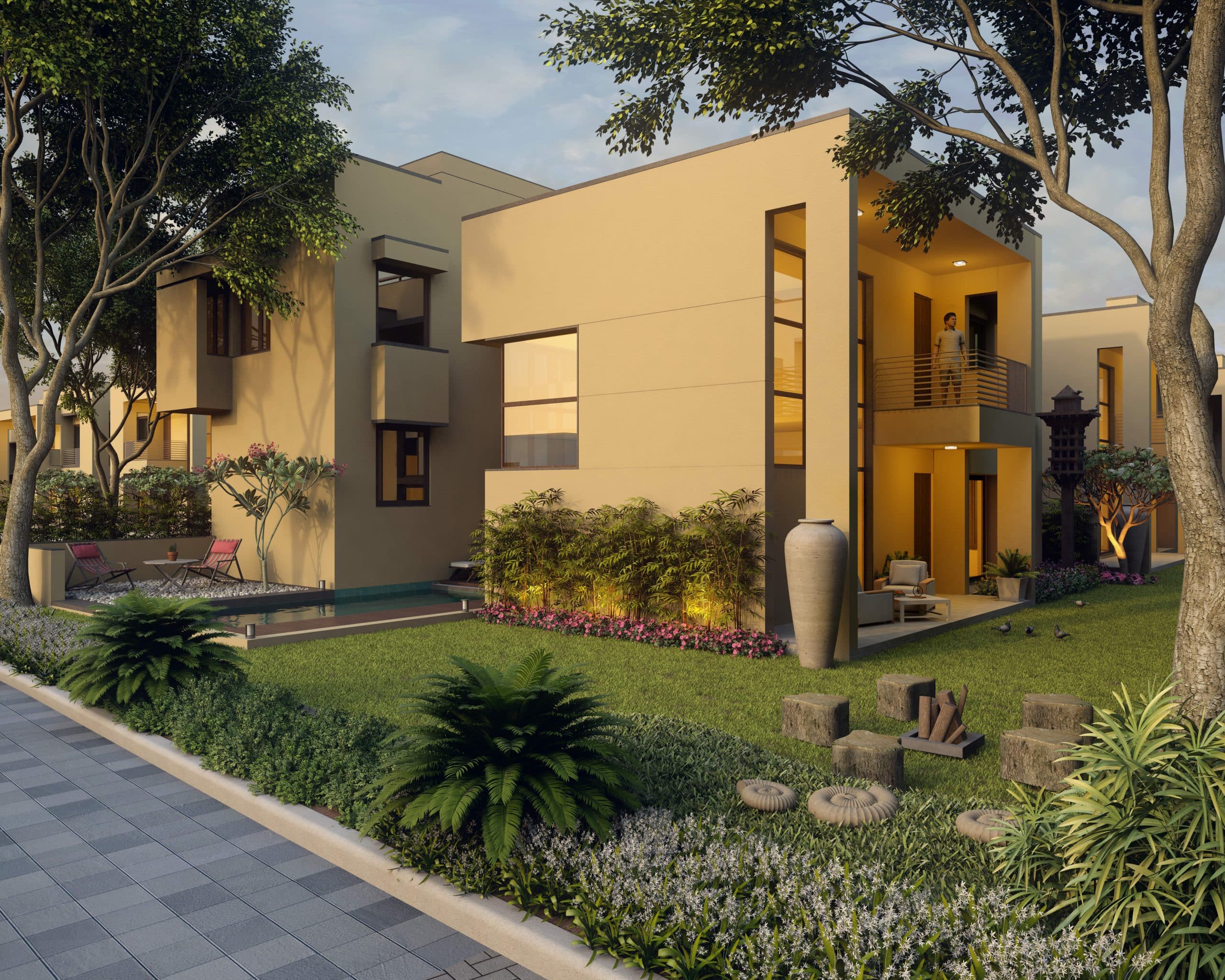 Homing In to a Green Unwind
Walkable, Private Access to a Vast Social & Recreational Range
Each individual open landscaped space adds to the interconnected experience while offering different surprise activities ranging from Zen, meditation gardens to children's play areas, from sports courts to rock-climbing, adventure parks. Thus, a hierarchy of programmatically varied open landscaped spaces ranging from small to large, private to public can be enjoyed by the homeowners' families and friends within the walkable enclosure of their own verdant commune. Two club facilities with indoor and outdoor sporting facilities, café, restaurant, banquet/ party spaces with a lake view, kayaking and boating opportunities at an idyllic lake bounded by jogging tracks, discotheque and water-front seating are some items on the spread of facilities made available for residents and visitors here. The design pans out as a walkable, all-season holiday resort within a private residential community.