Nestled within the humble confines of Anand city, 'The Annexe' stands as a remarkable embodiment of the delicate equilibrium between contemporary living and the deep-rooted principles of Indian culture. Serving as an addition to an already existing multi-generational family house, it has been meticulously crafted to cater to the expanding needs of the family and their evolving lifestyle. With a built-up area of 4500 square feet, 'The Outhouse' presents an exquisite manifestation of minimalist design, embodying a subtle and unpretentious elegance.
Builtup Area : 4,500 SF
Services : Building Design -Architecture, Interior Designing, Landscape Design, MEPF Engineering, Sustainability
The Perfect Fusion of Materials and Craftsmanship creating a timeless sophistication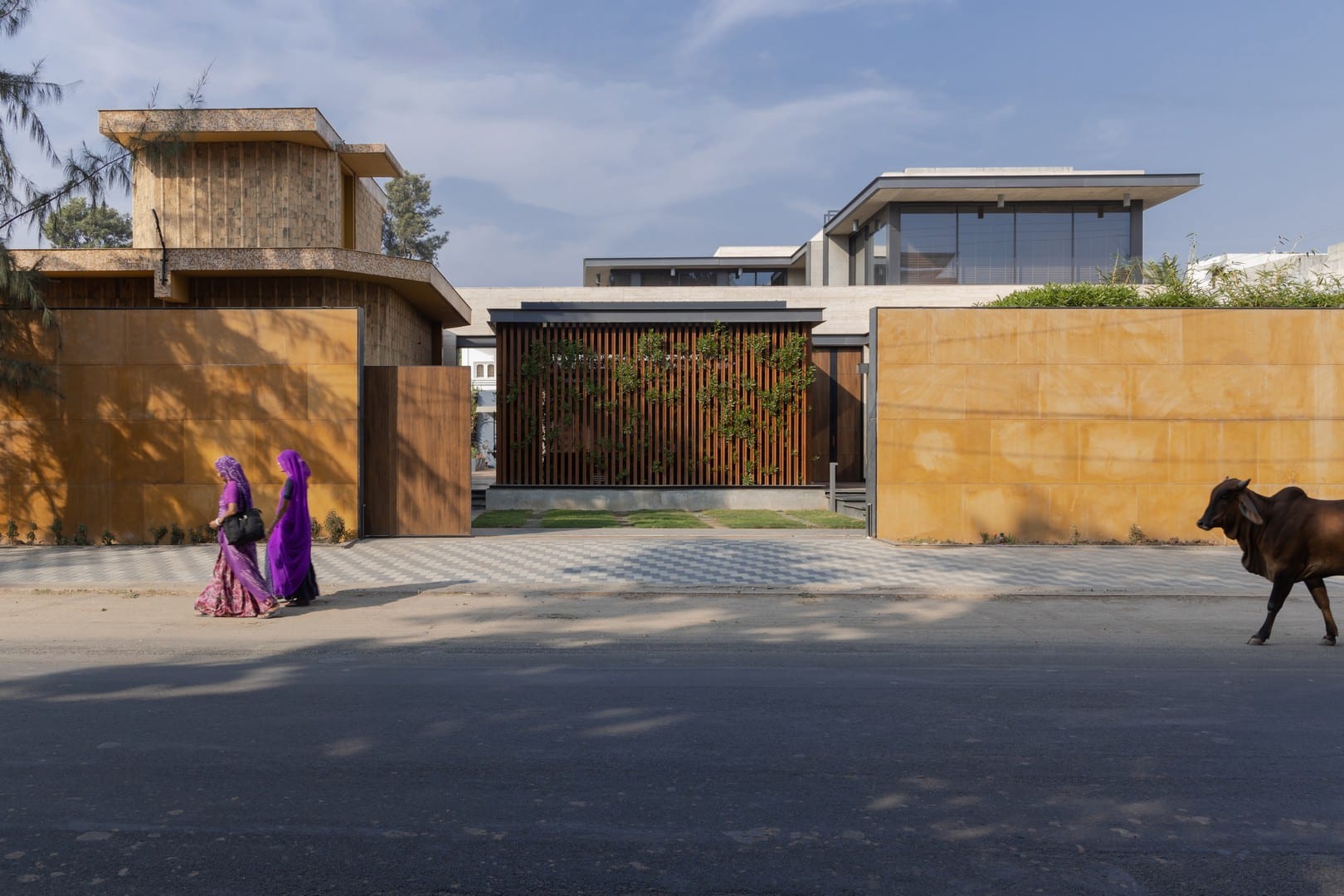 Exemplifying a truly modern aesthetic, the house sits over a monolithic expression of travertine stone accentuated by subtle touches with hints of concrete, metal and wood detailed to perfection. The upper section of the house showcases a captivating combination of glass, wood, and floating concrete canopies, adorned with metal accents along their edges. Abundant windows, strategically placed throughout the design, provide panoramic vistas that seamlessly connect the interior and exterior spaces. In keeping with the surrounding context, the compound wall is finished with local stone, both as cladding, and in the form of gabion, which creates a sense of tranquillity and seclusion, shielding the abode from the clamour of the bustling street.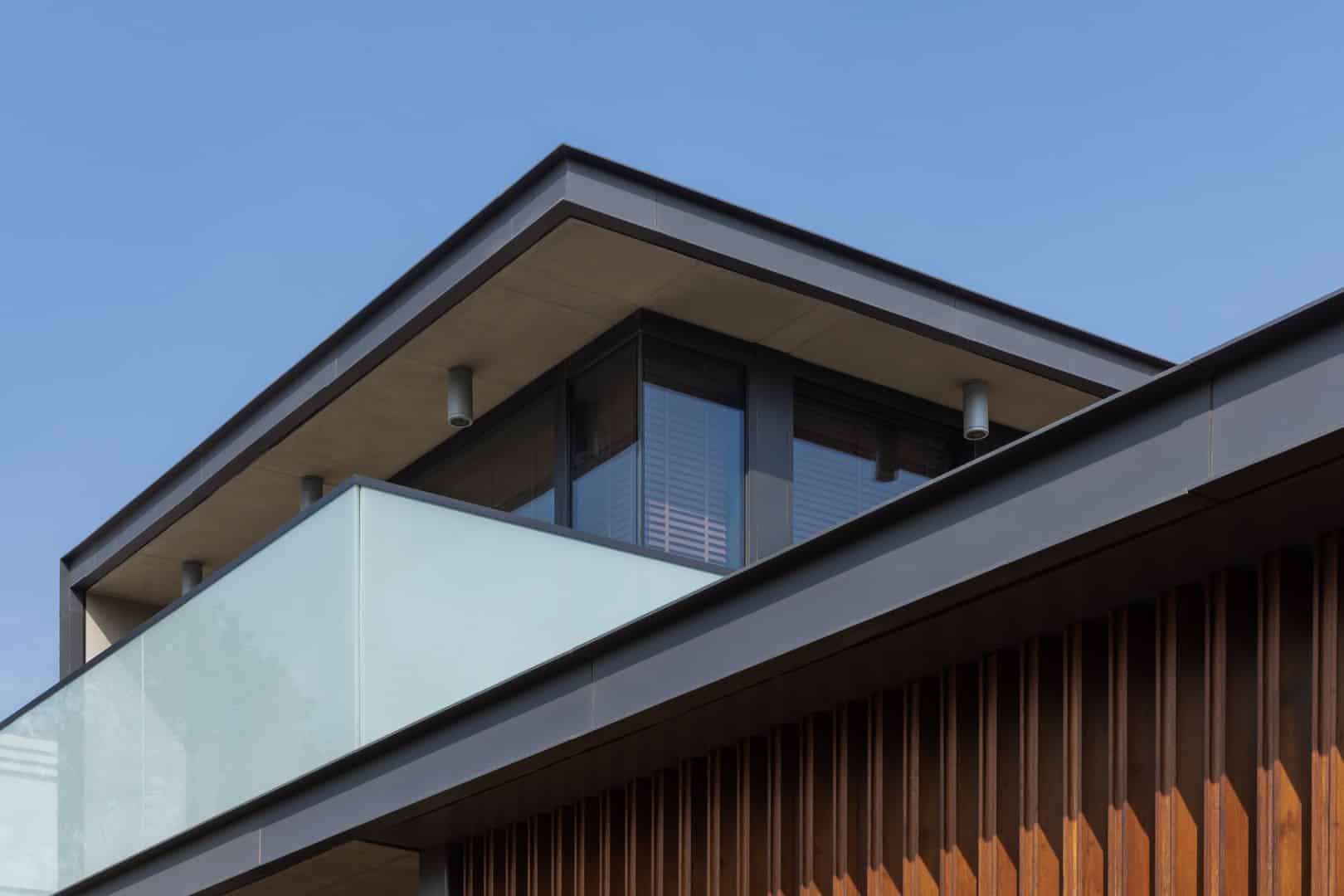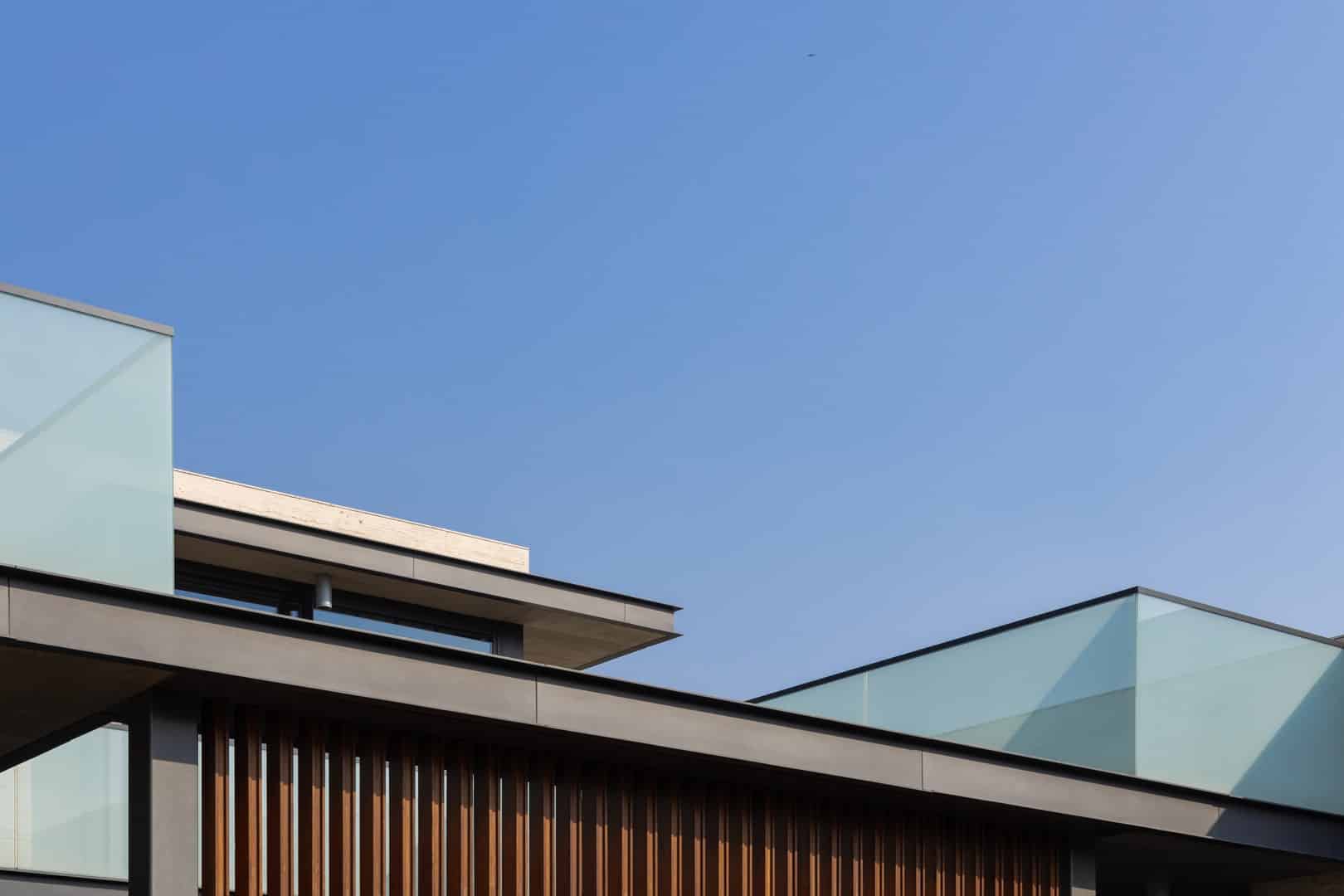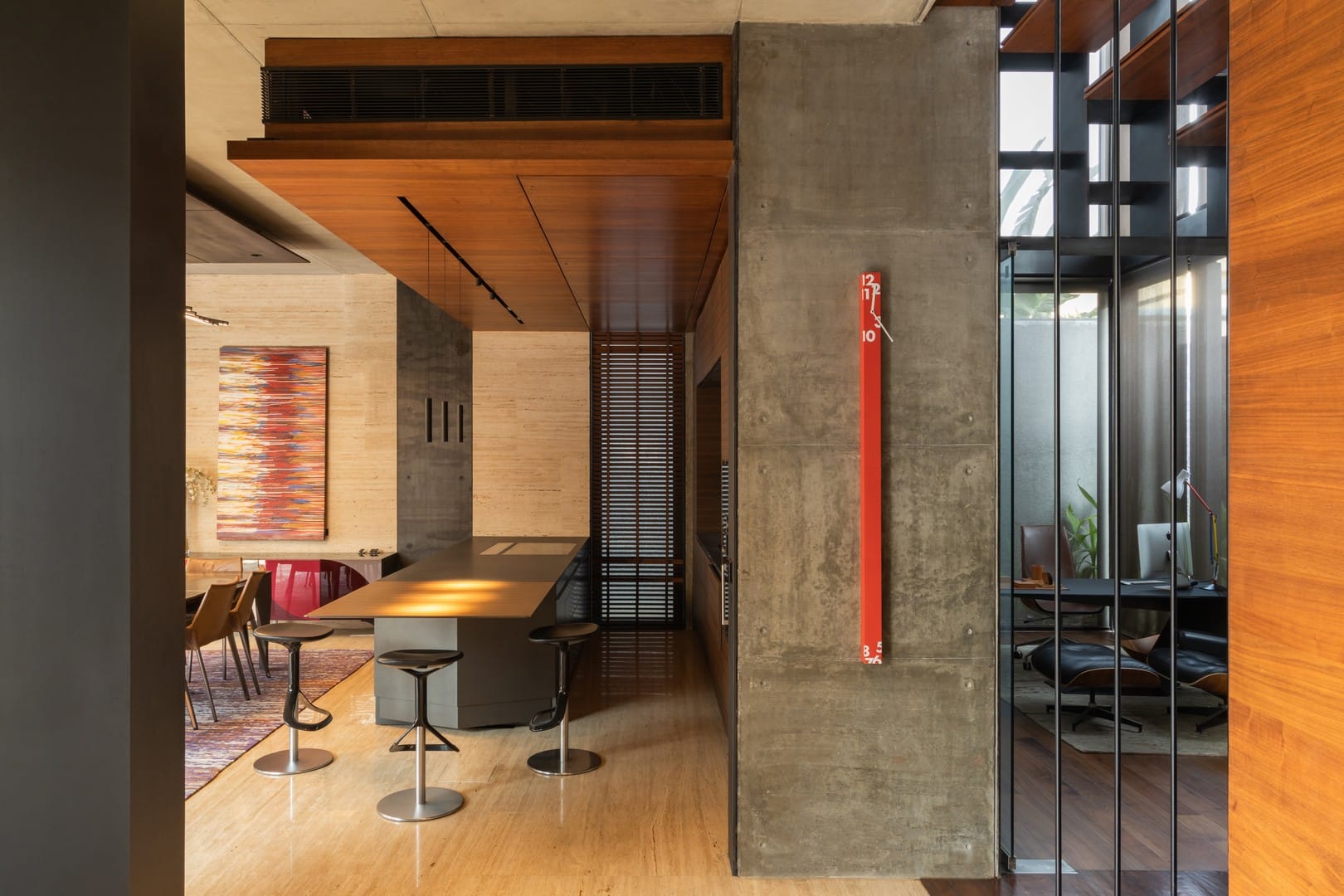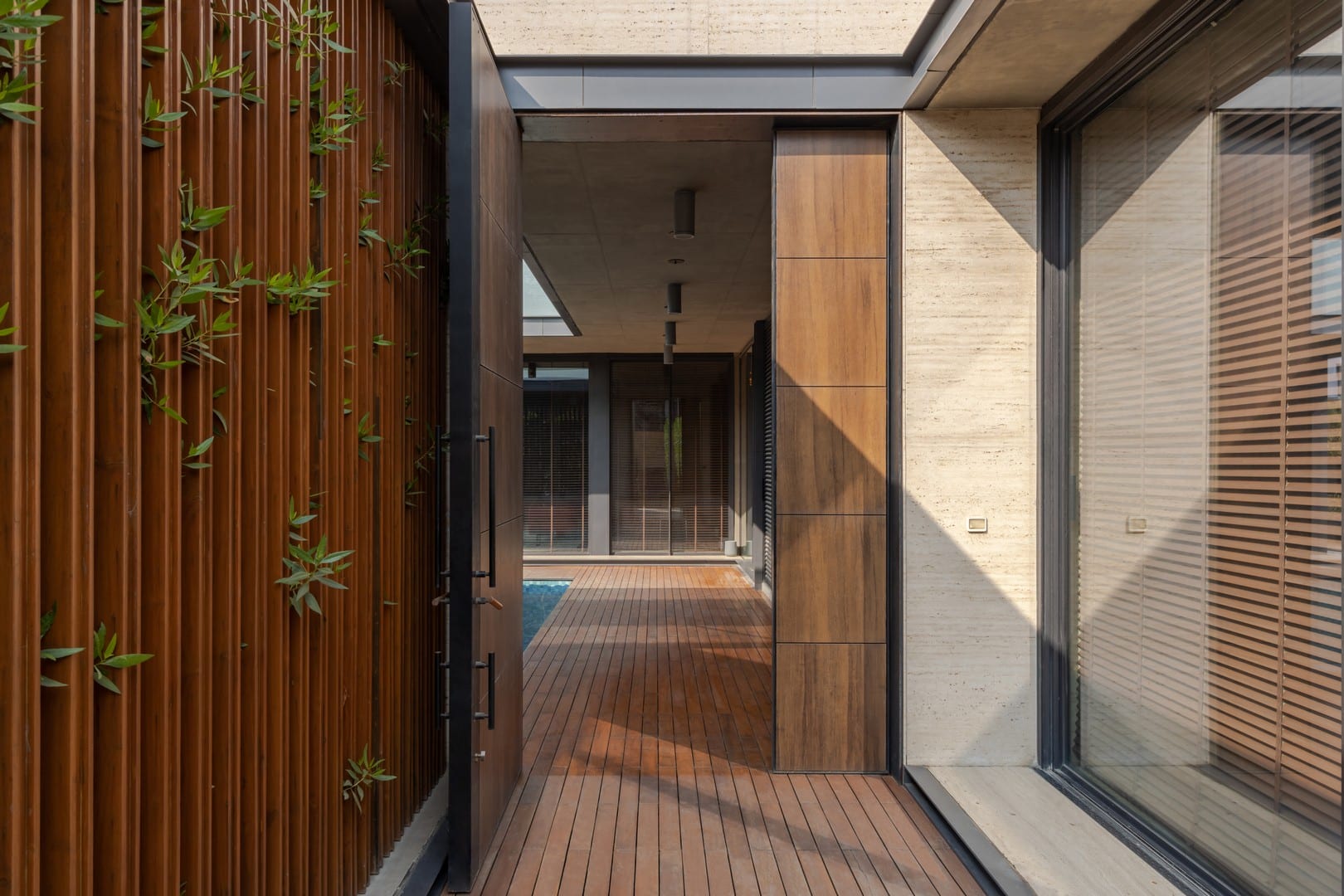 Modern Living, Traditional Inspiration: A Contemporary Ode to Indian Architecture
The architectural design seamlessly blends a minimalist aesthetic with thoughtful elements, featuring a sleek, elevated structure juxtaposed against a solid travertine stone base. Exposed concrete projections further enhance the visual composition. The beauty of this design lies in its simplicity, where every detail is carefully curated to exude an understated elegance.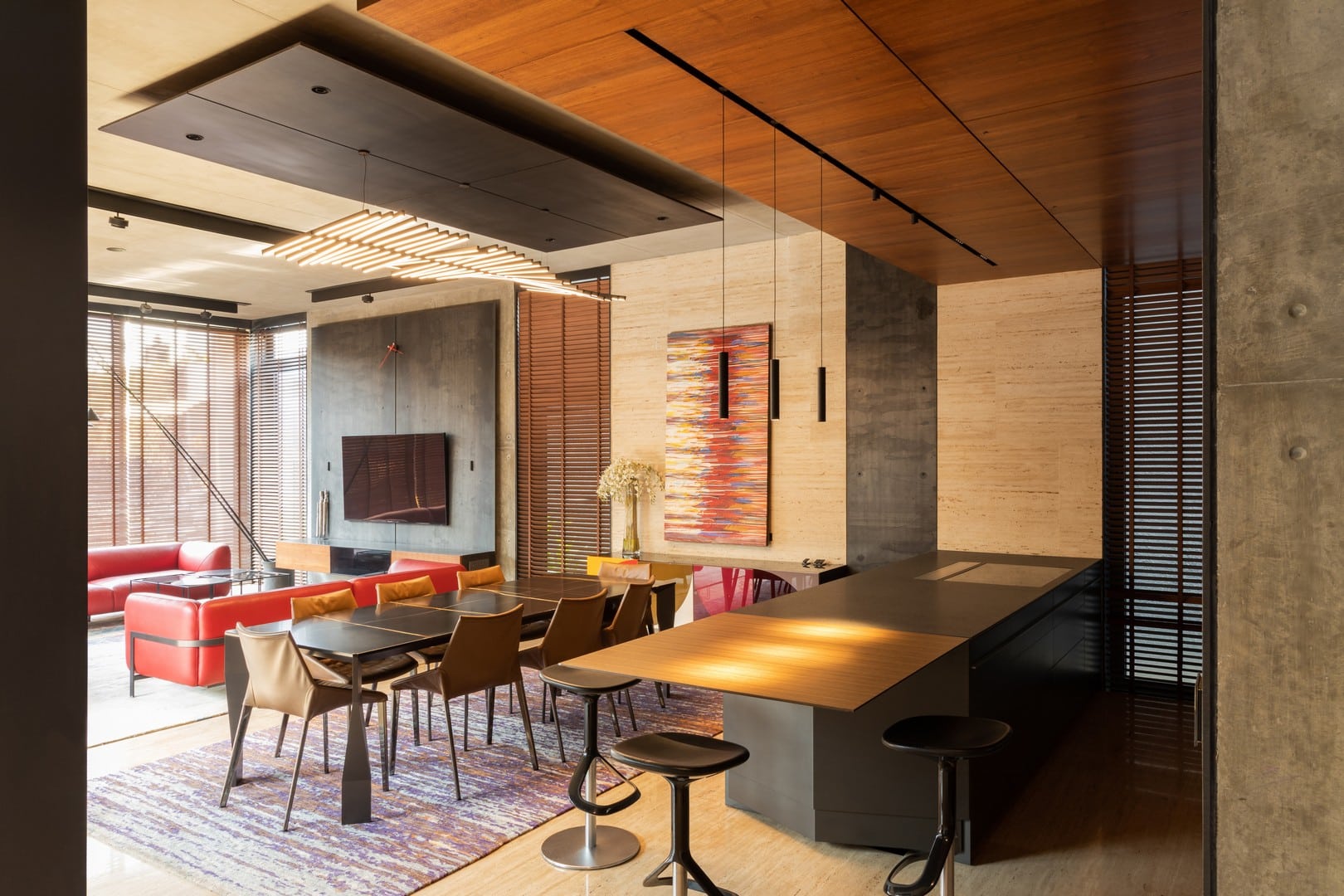 The integration of various materials is masterfully executed, creating a harmonious interplay that brings the larger concept to life—a space that commands attention while providing a comfortable and inviting haven for the family.
Inspired by traditional Indian homes, the spatial layout centers around a semi-covered courtyard. Enclosed by family spaces on three sides and an adjoining lawn on the remaining side, this central courtyard acts as the heart of the abode. The upper level of the dwelling is dedicated to private quarters, overlooking the courtyard and the pool.