The design of the Bhopal Sports complex was envisioned to create a multi-venue sports enclave of international standards and facilities in Bhopal. The sports complex contains a hockey stadium, an athletics stadium with a 400m running track and football ground, an Indoor sports centre, a common cafeteria, and a cricket stadium, an archery range, tennis courts, and other outdoor & indoor games. The masterplan is designed to accommodate parking of 1000 cars, and 2500 two-wheelers and is planned in a way to get connected with the public transport routes through 25 buses. With world-class modern infrastructure and stadiums that can compete on a global platform, the complex also hosts a set of buildings that are iconic in their structure and architecture. The site is well connected to Tatya Tope Stadium, Madhya Pradesh State Equestrian Academy, Madhya Pradesh State Shooting Academy, Aish Bagh Stadium, SAI Athletic Stadium, and BHEL Sports Complex, making it an integrated place for pursuing sports for sates citizens while offering state of the art international standard sports infrastructure.
Site Area : 55 Acres
Builtup Area : 12,48,893 SF
Services : Master Planning, Vision Document, Programing & Sports Planning, Concept Architecture, Landscape Design, Sustainability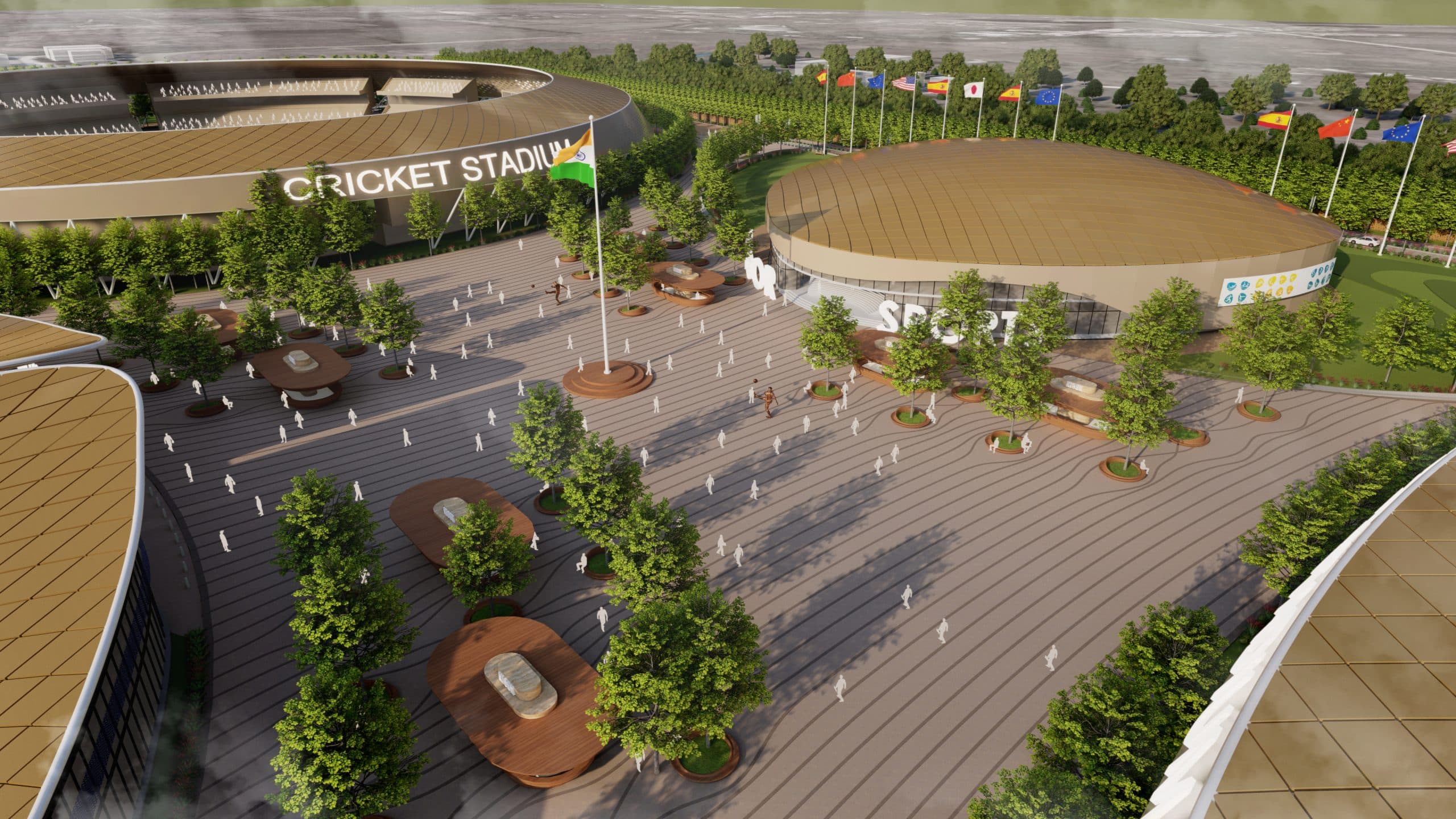 The master plan is guided by the topography of the contoured site and other site's feature including water body and nearby water canal Master plan well integrates all sports zones into wholistic sport complex and include - athletics, hockey, archery, tennis, cricket, indoor sports, and a central plaza that connects everything. The architectural form is tying all programs and zones together with a roof inspired by organic forms in nature and the regional architecture of Bhopal. The material palette includes – Agra red stone, Gwalior mint stone, Sandstone, Kalzip Roof, Exposed Concrete, and Glass with an architectural language balancing between the regional and modern context. The landscape of the complex enhances the relationship between interior and exterior spaces and effortlessly integrates all the architectural elements creating an enthralling journey.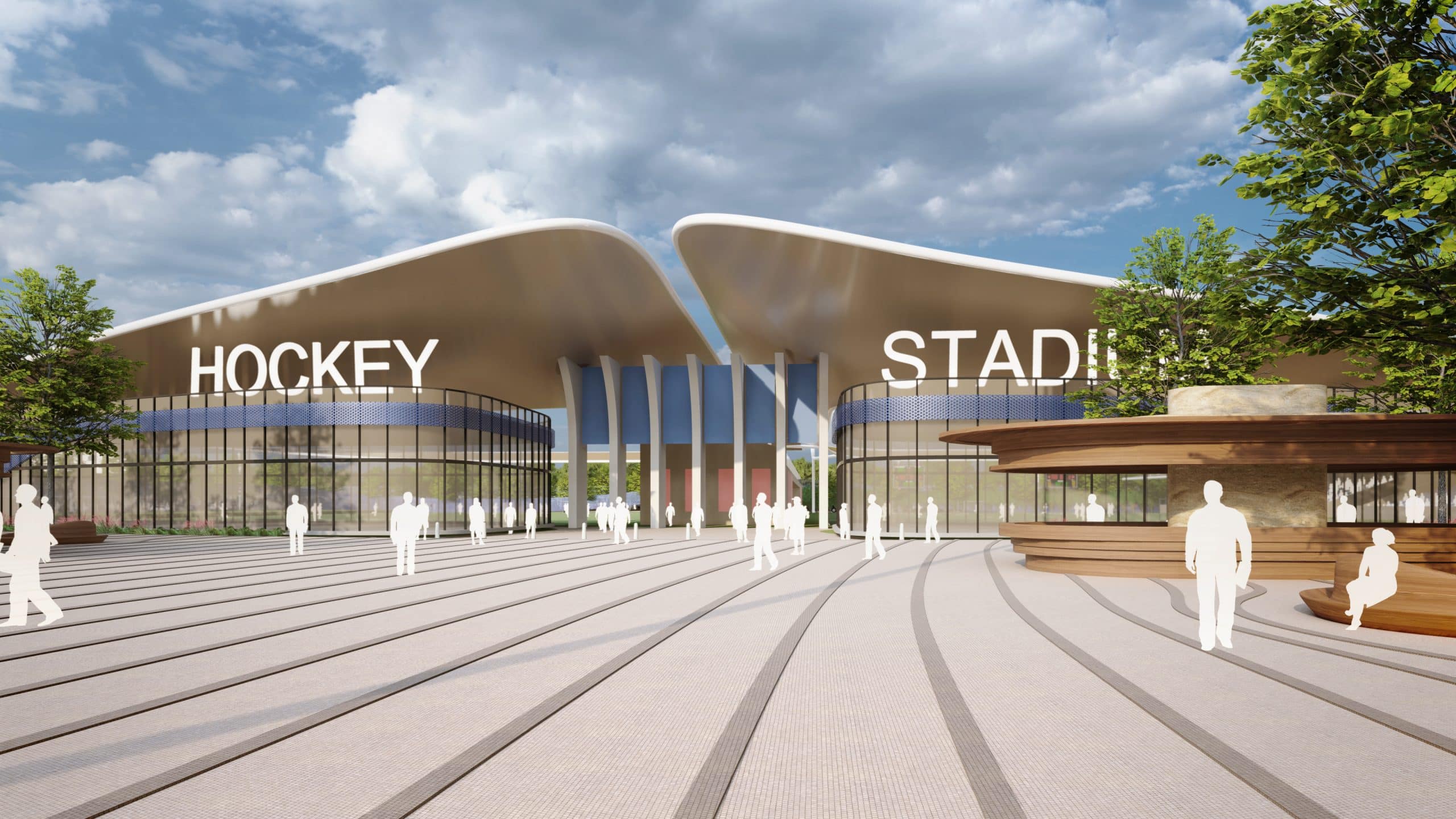 A sustainable space for sports
The design integrates sustainable features like – a solar PV integration as BIPV strategy, water conservation and recycling, rainwater harvesting, sensor-based energy-efficient LED lighting, and use of locally available materials and native landscape. The master plan provides for solar power generation of a 2 MW making the stadium complex net zero campus self-sustainable.
The program envisions a new typology of spaces that elevate and engage the city and communities during sports events and alternately act as a community gathering space supporting restaurants, cafeterias, food plazas, and more for regular non sport event days.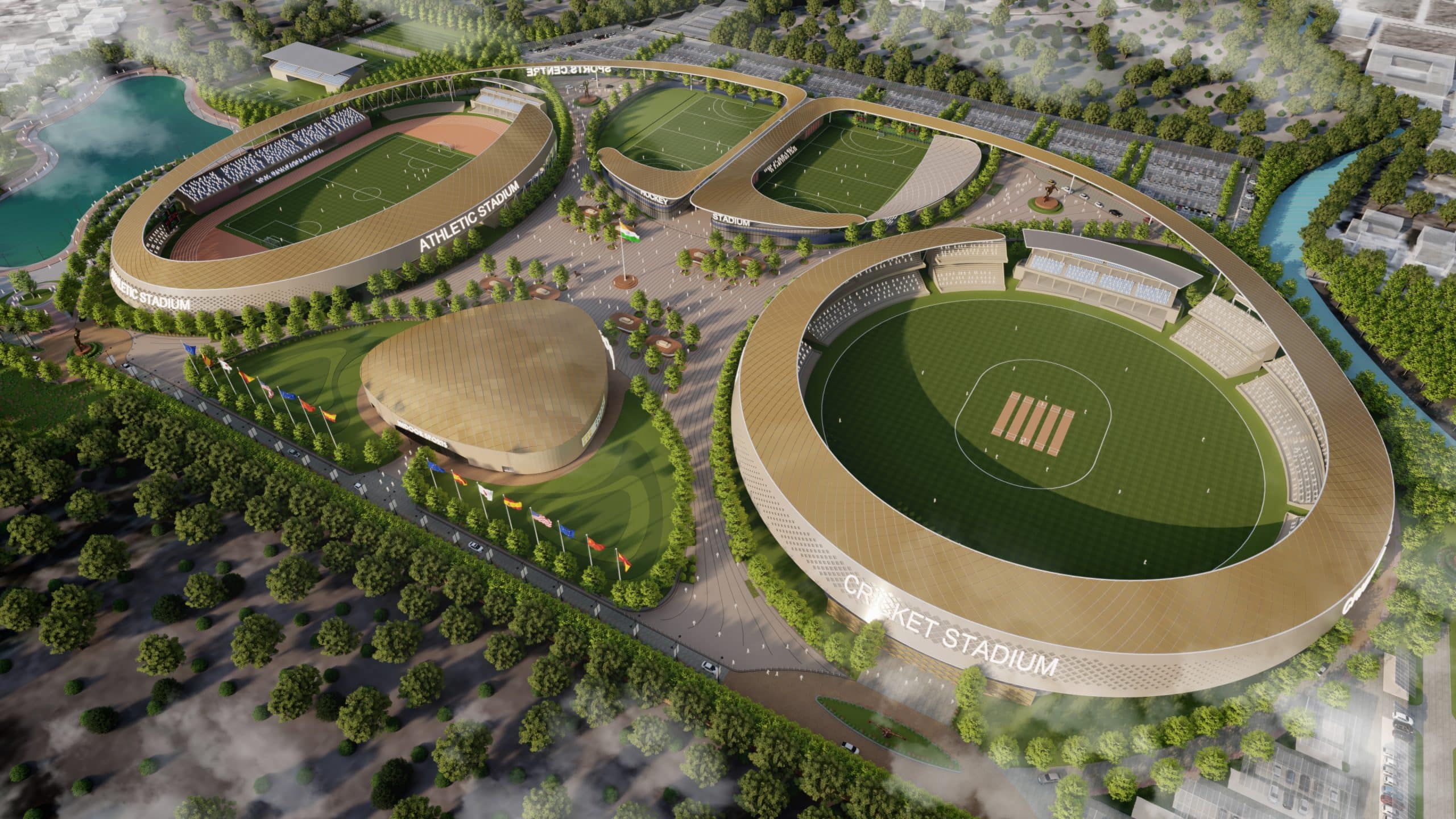 Each stadium is designed to keep the training, coaching and performance of the athletes at its heart. The stadiums embark on a viewing experience that is one of a kind, intricately designed the roof element offers unobstructed views and drama. The cantilevers of the roof float and bend according to the zonal function of the complex. With a capacity of 10,000 for the football stadium, 4000 for the indoor sport, 4000 for the hockey stadium, and 25,000 for the cricket stadium the sports complex becomes a wholistic space for all kinds of sporting activities. The complex will be an efficacious space, competing with global infrastructure standards, and inspiring young talent to pursue sports as a career which wholistic character development, a practicing and performing ground for the future sports legends.