Ahmedabad, Gujarat, India
Indian Potash limited is conceptualized as an encompassing theme of energy efficiency enveloped by dia-grid structural system. Being a compact floor plate, conceptualizing a design that allows maximum use of floorspace to the user, was one of the main aspects considered. The same was theorized by incorporating Dia-grid system as the project envelope. Dia-Grid structural system acts as an external framework, redirects lateral load and permits to develop column free internal space. It further adds an identity to the building that is effortlessly recognizable in its context. Designing an energy efficient workspace was another aspect considered in design development of Potash Tower. Double skin façade with an air cavity in between was considered to reduce the incident solar radiation, further reducing the energy consumption and increasing the indoor thermal comfort levels. The project is designed with an intent to be IGBC-Green Certified.
Site Area : 9,446 SF
Builtup Area : 51,613 SF
Services : Building Design - Architecture, Interior Design, Structure Engineering, MEPF Engineering, Façade Design, Landscape Design, Lighting Design, Acoustic Design, Sustainability - Green Building Certification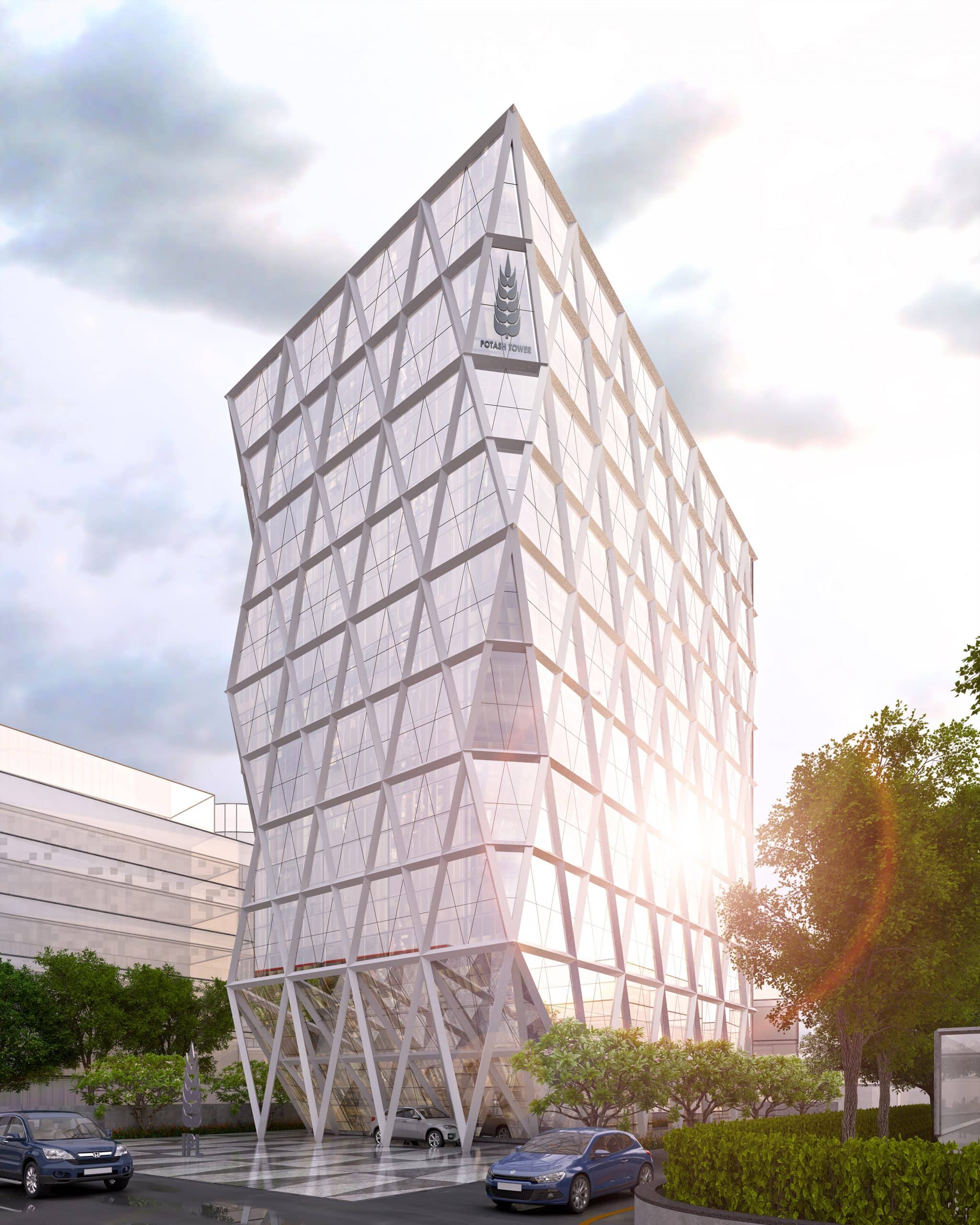 Dignifying Design for Fertilizer Company Corporate Tower
This Corporate Office of Indian Potash Limited needed a new building to be built on an identified site in Ahmedabad. The compact site was accessed by a main road on the front and two subsidiary roads on other two sides, with the rear edge abutting another plot. The INI team's design housed the fertilizer manufacturer's corporate office in a ground plus seven stories building having a compact footprint that occupied the center of the site with a larger front court available for arrivals. A double basement accessed by ramps in the side and rear marginal spaces facilitates ample parking space for 4 and 2 wheelers, leaving the ground area clutter free. Thus, an open landscaped forecourt sets off the elegant, triangulated geometry of the dia-grid façade of seven-plus floors strikingly to create an impressive address.
Spacious Offices Encased in Elegant Envelope
A dia-grid exoskeleton which allows the lateral transfer of loads in the multi-storied building through its triangulated geometry facilitates a column free interior space allowing flexibility and adaptability as per the users' needs. An efficiently planned service and circulation core is lined up along the south-western façade, fronted and accessed by a lavish double height lobby at the ground floor. While the ground and first floors have exclusive retail spaces, the remaining floors house offices of various configurations.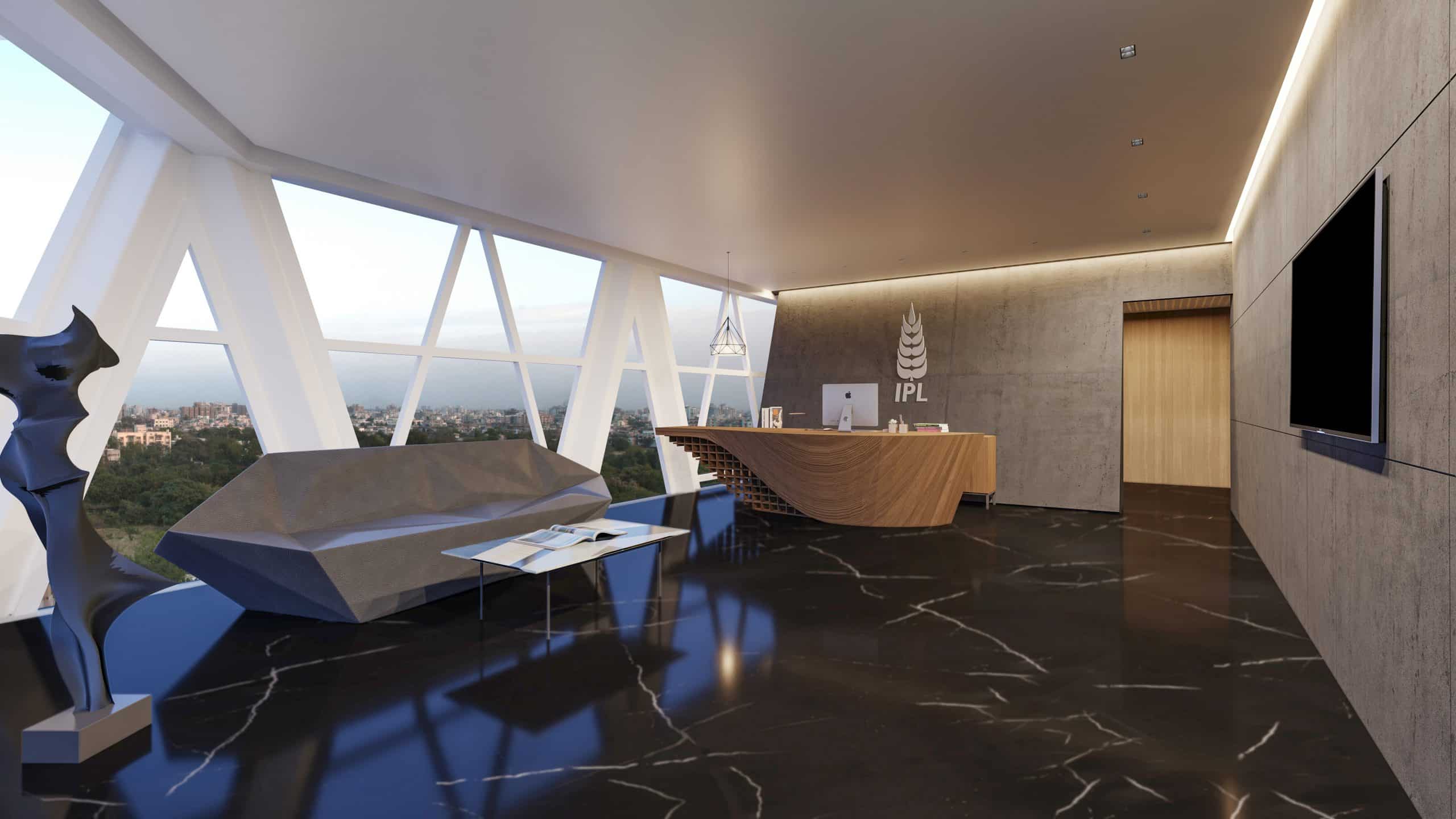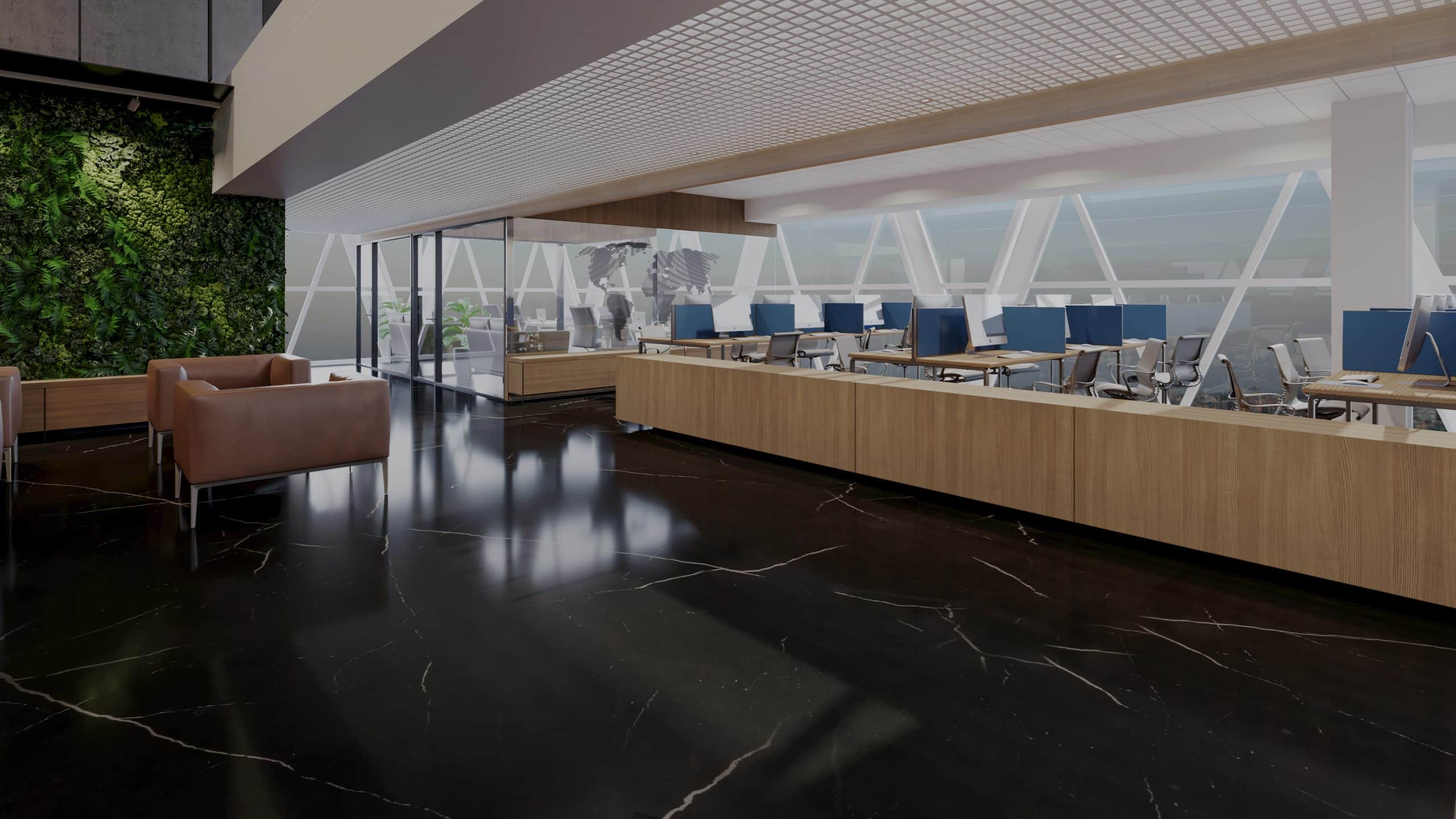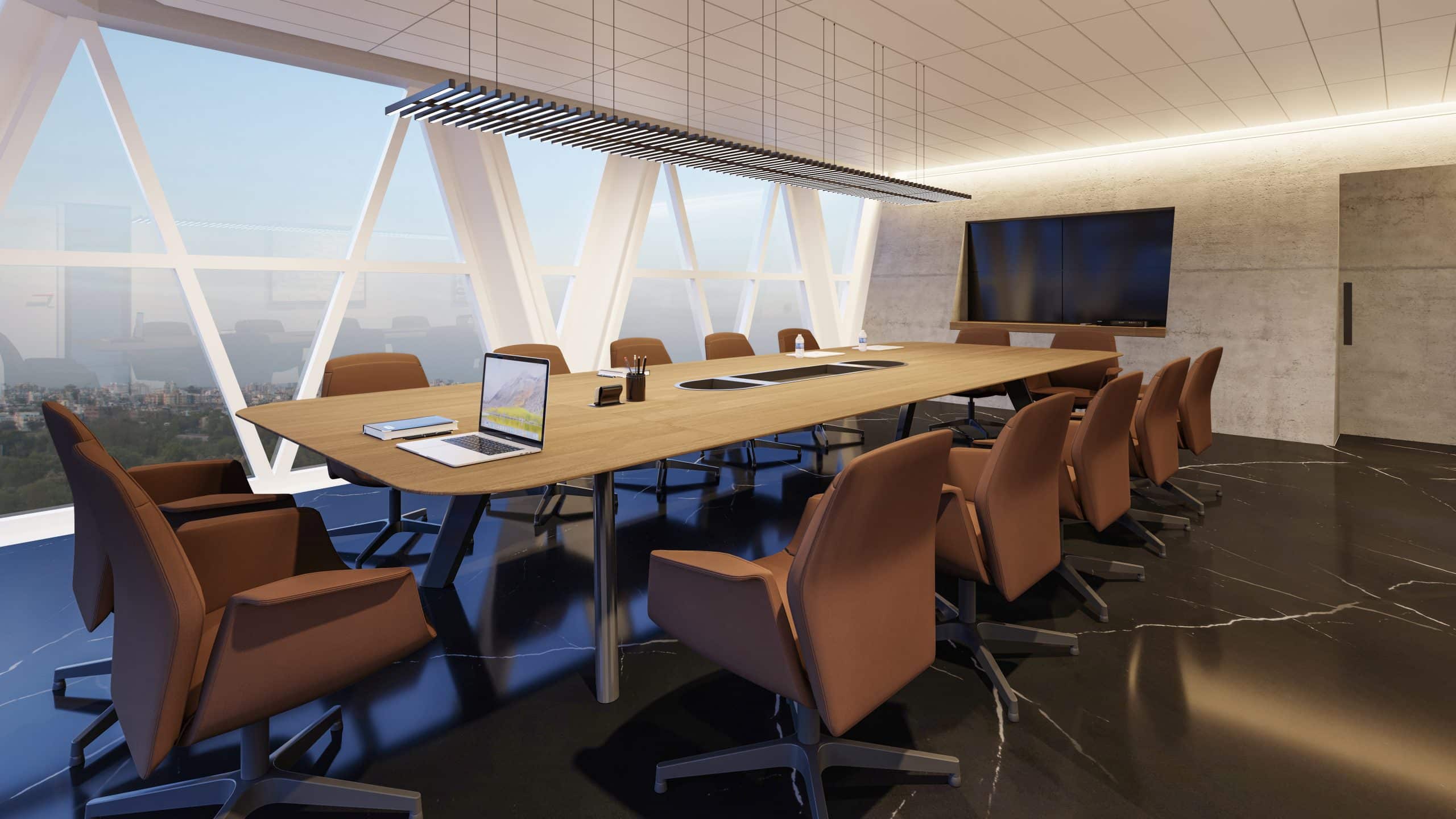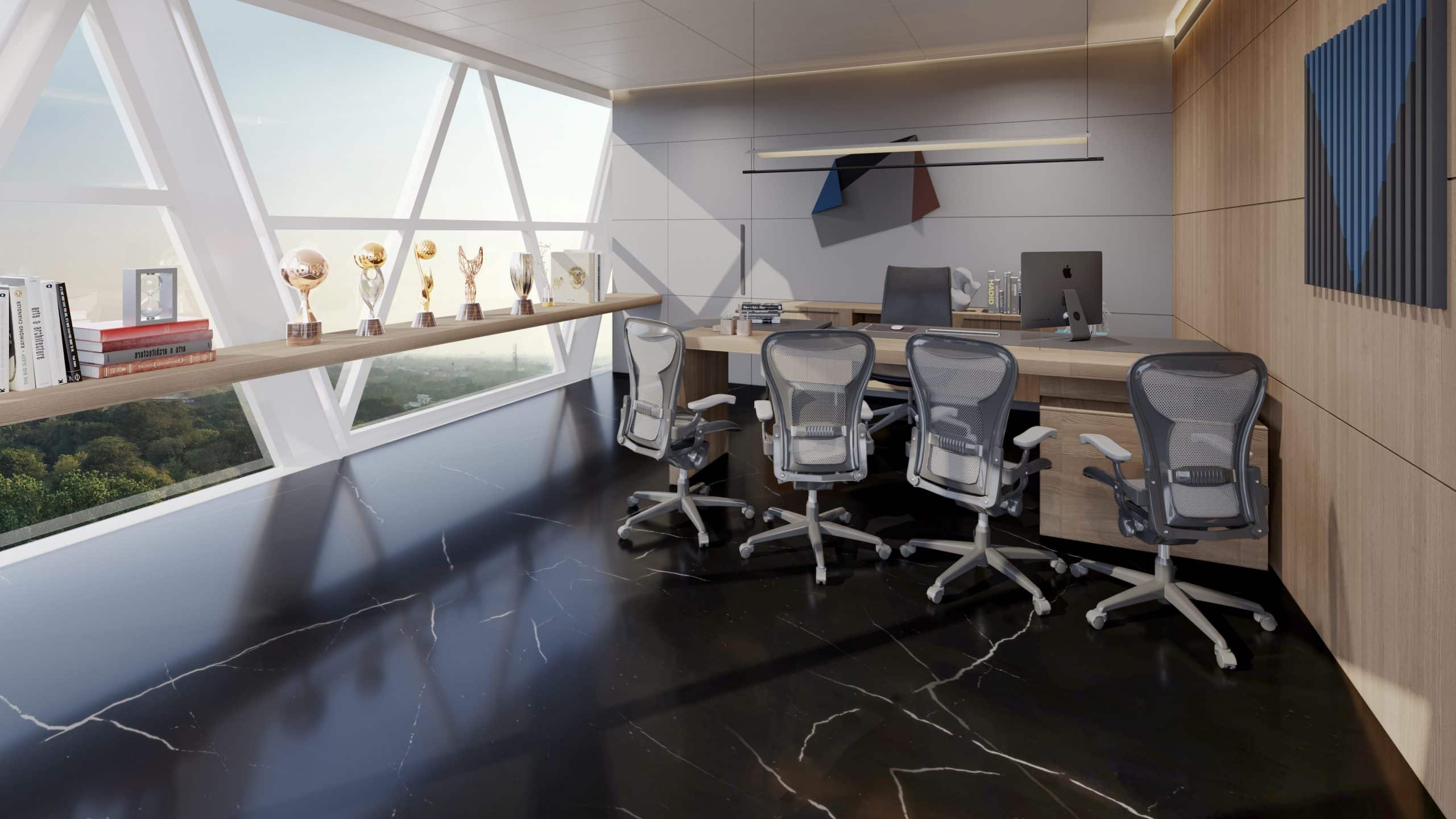 Sustainable, Climate Responsive Building Design
The efficient planning of the south-western core and compact floor plate allow the entire interior space on every floor to be lit up by glare-free northern sunlight, while remaining shaded from the harsh south-western sun. A double skin ceramic fritter high performance glazing system within the diagrid with an interstitial air-cavity insulates the inner spaces from radiant heat consequently reducing the load on air-conditioning. Many such passive as well as active sustainability strategies employed qualify the building for an IGBC Gold rated Green Building certification.