Development of Kerly Recharge Reservoir (Mokarsagar)
Porbandar, Gujarat, India
Ecologically Sensitive Wetlands Sustained Through Ecotourism Development
The Kerly Recharge Reservoir is located next to and fed by the Arabian Sea bordering an area of wetlands close to the port city of Porbandar in Gujarat. Further than being a precious wetland rich in biodiversity, the area has vast stretches of serene green and is home to 92 bird varieties including many migratory species. The local and outsider population remained largely unaware of this potential birders' paradise and wealth of natural heritage vested here, which the government sought to preserve and support by developing the area into a world-class sustainable ecotourism destination. The site's location in close proximity to several religious and commercial tourism spots lends the project further operational viability. The INI Team has planned the development of this area by designing a sensitive yet educative interface for tourists with the various natural life forms inhabiting the ecosystem of the reservoir in a manner that perpetuates its sustenance. While the Ecotourism destination thus planned attracts tourists from within and outside the state and the country and provides for their comfort, convenience and recreation, it does so with a focus on promoting awareness of and interaction with the reservoir's ecosystem with a view to sustaining its ecological wealth and spreading awareness about its importance for the planet.
Size : Confidential
Services : Masterplanning, Urban Design, Physical assessment and site surveys, Beachfront development, Landscape Design, Traffic Assessments, Transportation Planning, Stakeholder Consultations, Environmental Impact Assessment, PMC, Infrastructure Engineering, Sustainability

World-class Tourism Hub Woven by Connecting Dispersed Experience Zones
Having identified a list of spots around the perimeter of the reservoir and on small islands within it which had the potential to offer attractive experiences, these were connected through pertinent applications like earthen bund roads, aprons and elevated boardwalks. Bundles of these spots were then developed as arrival zone, experience zones, community activity zone, accommodation zone, and so on by incorporating relevant infrastructure to support the planned activities. The arrival and accommodation zones lying across the narrow mouth of the reservoir are connected by an apron; these house an interpretation center and observation tower, a wellness resort run on PPP basis along with parking facilities set amid aptly landscaped environment and offering boating and boardwalks as experiences. Among two more experience zones planned, one is located within a natural cove while another is on an island at the center of the lake.
Activities Designed to Promote Educative Interface with Nature
A community zone planned at the opposite edge of the lake in proximity to populated inland areas houses a community eatery and shops with steps going down to offer an interaction with the water. Another zone which is a birding area is designed as a wetland park with boat rides and elevated boardwalks offering an exploration into its depths. Adventure zones planned on other edges have caravan camping sites, experimental trails, air decks, observation towers and boating opportunities along with amenity blocks for the tourists' convenience. All these activities and experiences are designed to entertain while educating the visitor about the region's ecological wealth and its importance.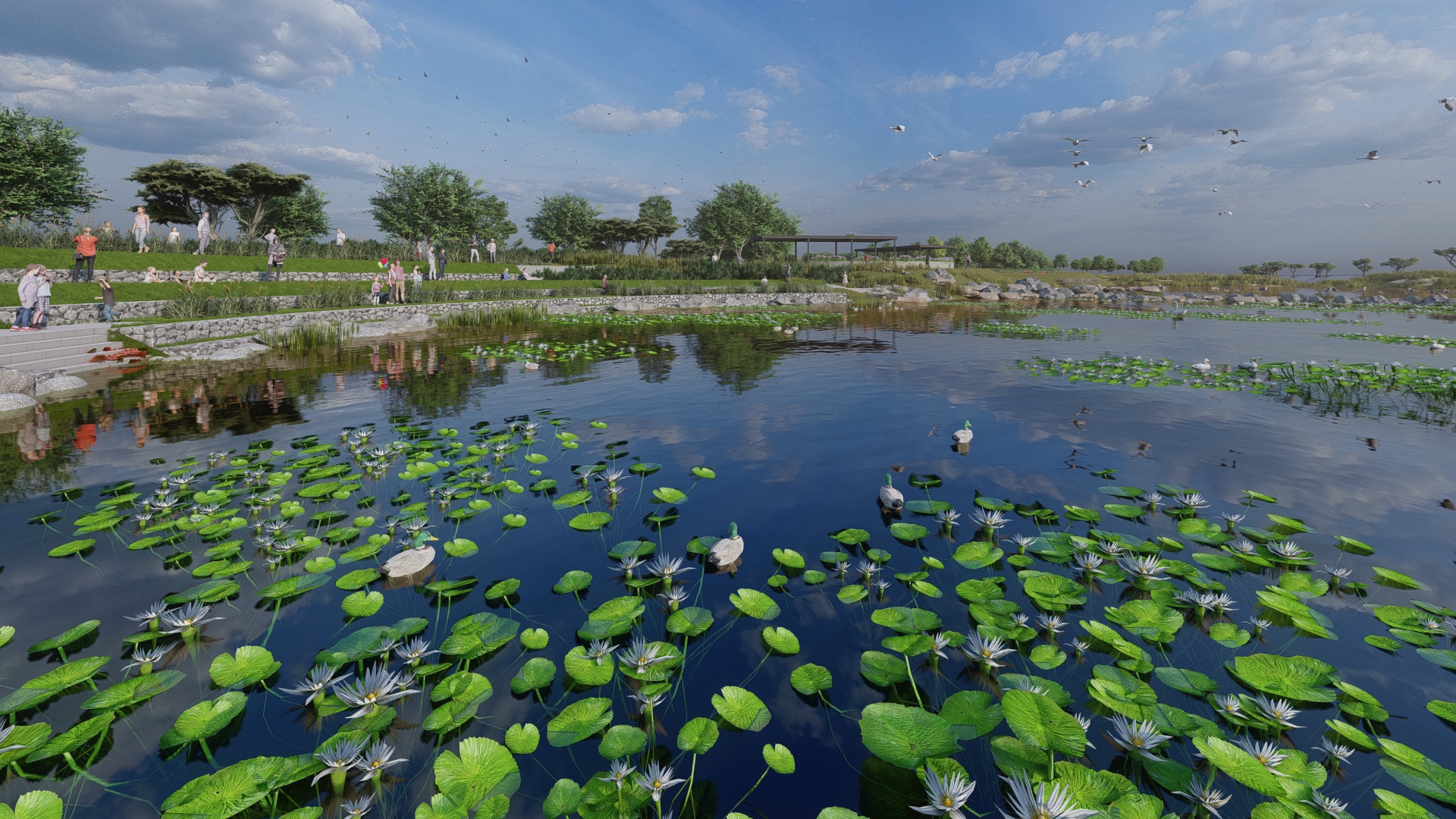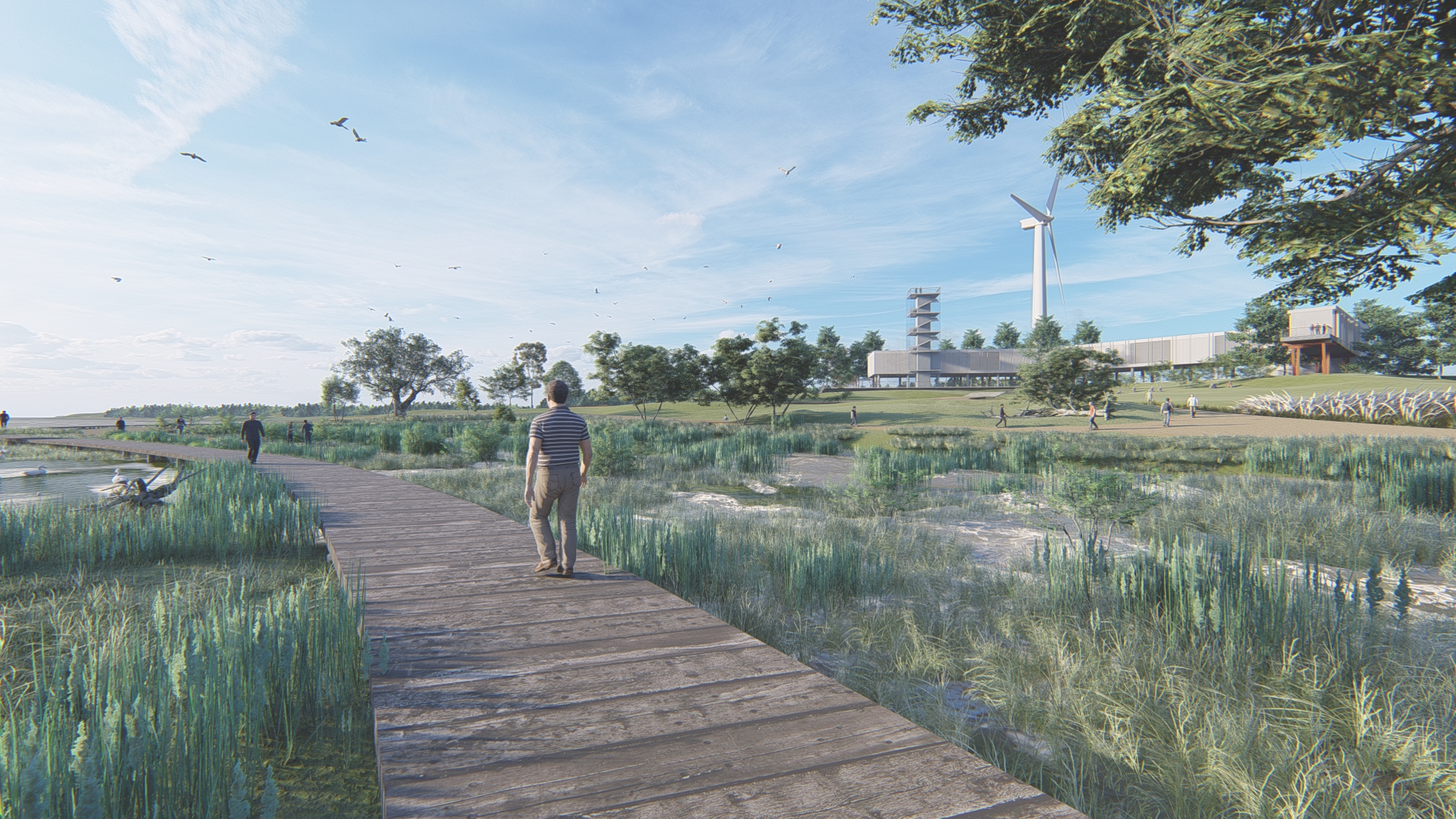 Sustainability Ensured through Eco-sensitive Design, Materiality and Capacity Planning
Sustainability and conservation are the two essential threads that weave the each part of the entire Kerly program at various levels. The planning was preceded by a thorough understanding of the site's hydrology and ecology and its temporal changes, and also by taking into confidence various stakeholders ranging from the forest and environment departments of the government to local communities. Capacities of the facility during various seasons are planned to ensure optimization of tourist footfalls while avoiding harmful overburdening. Materials and technologies selected in the design are mainly natural, locally sourced and intended to cause the least ecological impact. Measures have also been taken to incorporate resilience against cyclones in this known disaster-prone area.