Chembur, Mumbai, Maharashtra, India
The client brief was to design a K-12 school in one of the Mumbai suburb's. The key challenge was to provide for constructing the building in 3 phases and to ensure a non-rigid environment. The fact that the school was going to be built in a phased manner over 5 to 8 years, presented an opportunity to design a building that grows. The very high land rates in Mumbai coupled with regressive building regulations made it very challenging to introduce un-programmed spaces beyond the design program. It also implied a vertical school building. The challenge was to create a horizontal feel within the vertical environment while implementing principles of sustainability.
Size : 1,00,000 SF
Services : MEPF Engineering, Infrastructure Engineering, Sustainability
Collaboration : Photographs and sketches - Tushar Desai & Associates, Mumbai
A Wholesome Educational Space overcoming Contextual Constraints
Space, and related regulatory byelaws, being the prime constraint in crowded Mumbai, a city that lays a steep premium on land prices, institutional design speaks a language of vertical optimization here. The Green Acre Academy project entailed a multi-storied school building for classes K to 12 built in phases and one that allows flexible use of spaces over the time.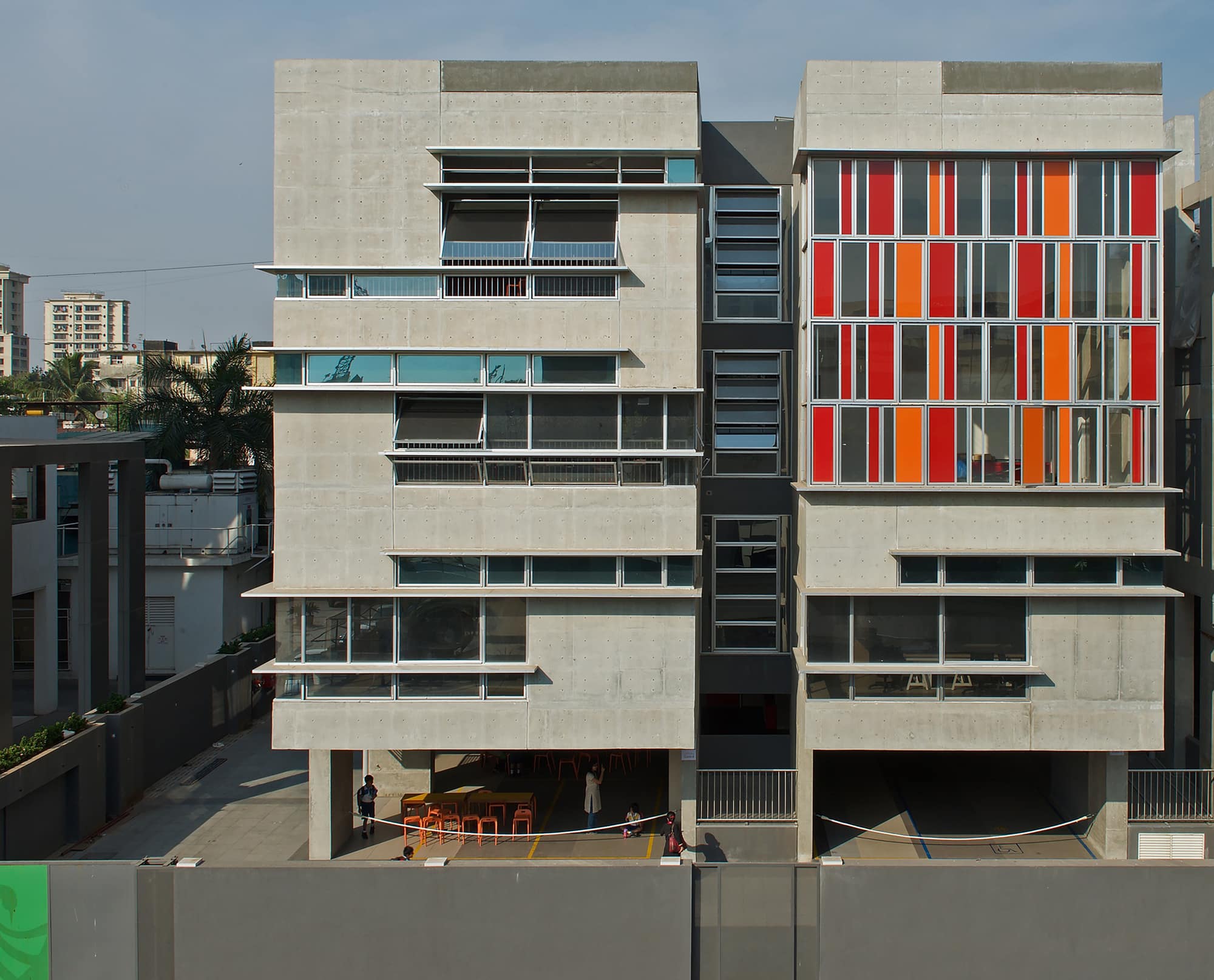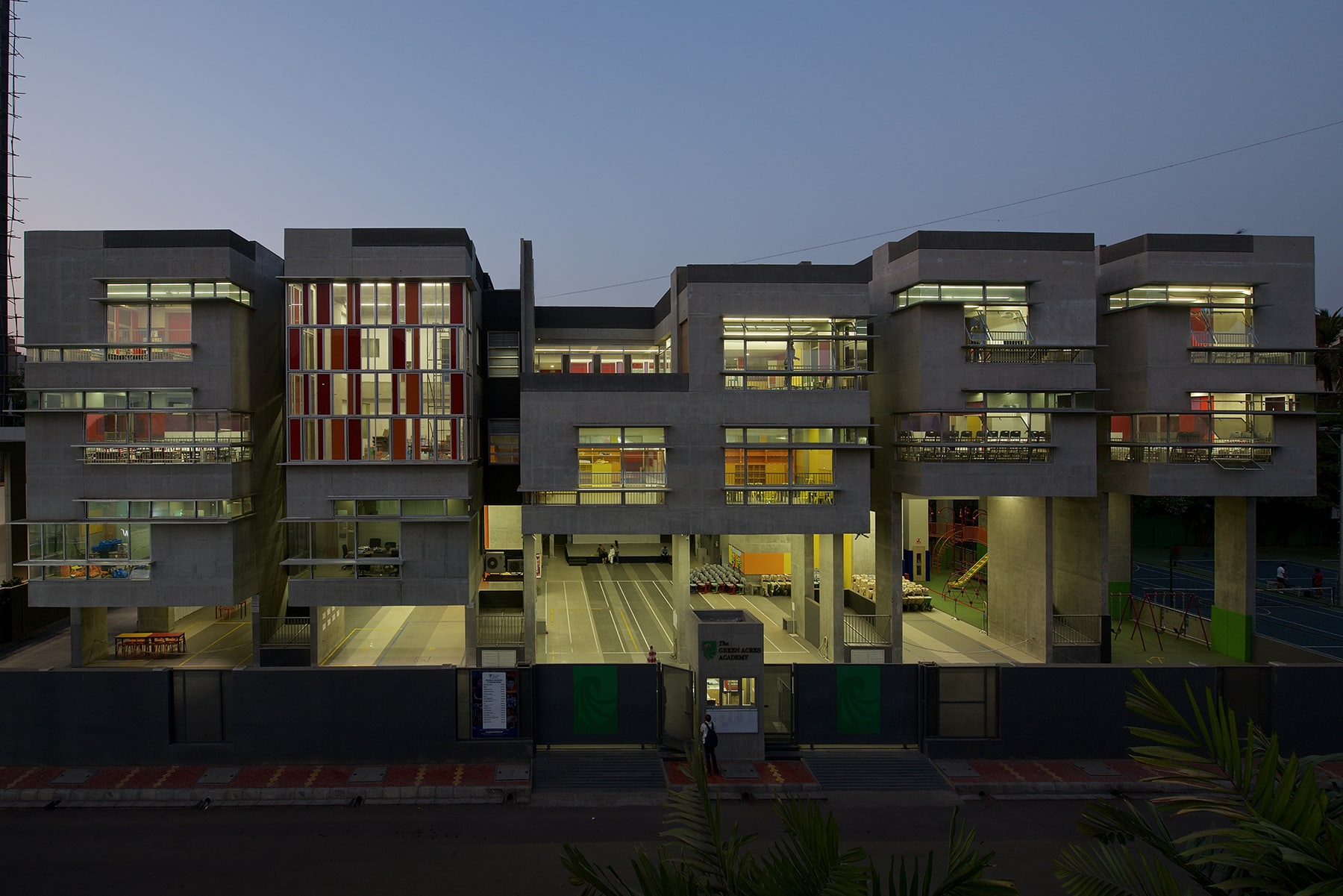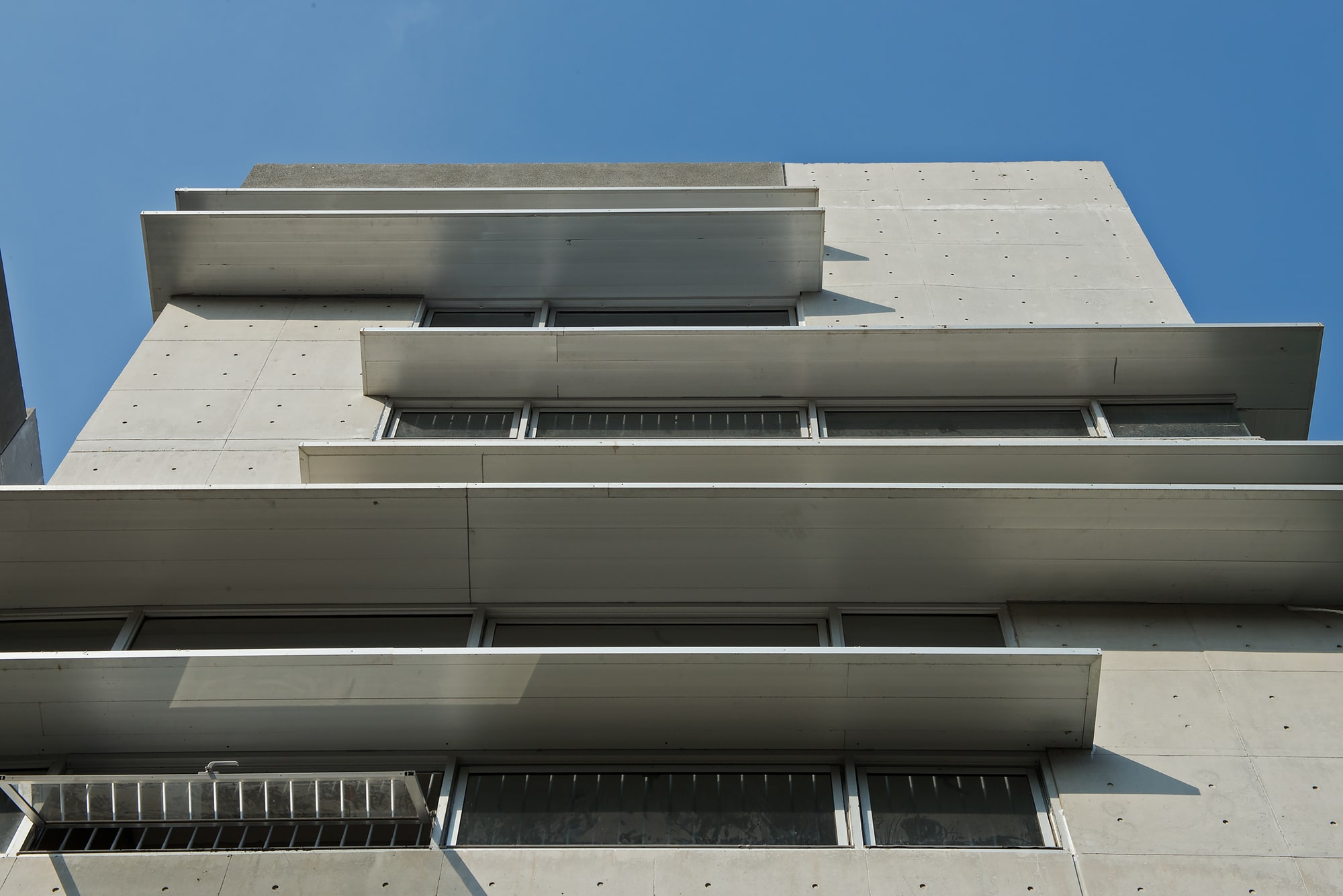 The integrated design approach divided the built-form in three parts, with the central portion offering larger column-free spaces spanned by waffle slabs to house facilities like laboratories, library, etc. The two wings flanking this central one were planned along the classroom grid, economizing on the structural cost by this composite arrangement. Staggering levels between the side and central blocks enabled a split leveled continuous connection across the vertical aspect of the building, mitigating the stacked-up feeling. Taking advantage of staircases, the steps negotiating these split levels were designed to enable seating and playful activities. These continue into widening interactive pockets in passages, adding both variety and horizontality to interior spaces. Local building bye-laws mandating a minimum height of 3.6 m for institutional spaces and 2.4 m for toilets enabled three vertically stacked toilets to be provided for two floors of classrooms, with additional access from the stair mid-landing. Added to these were several double height activity spaces through the building and play zones in the ground floor stilt area. Summarily, reimagining the required vertical arrangement and creatively responding to building bye-laws to weave in a horizontal continuity through the school resulted in creating a wholesome, interactive, uncluttered, brightly lit and well-ventilated child-friendly, nourishing learning environment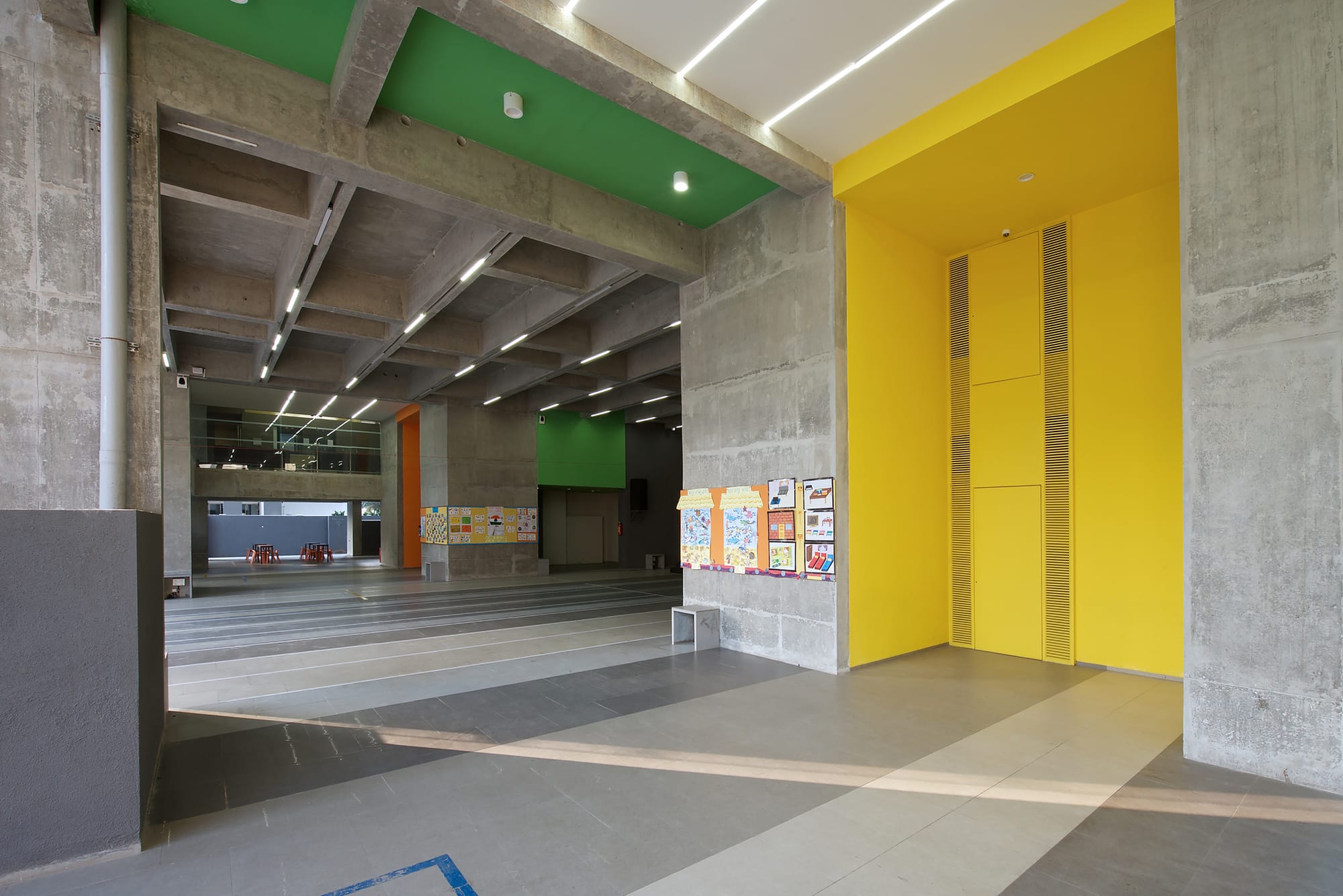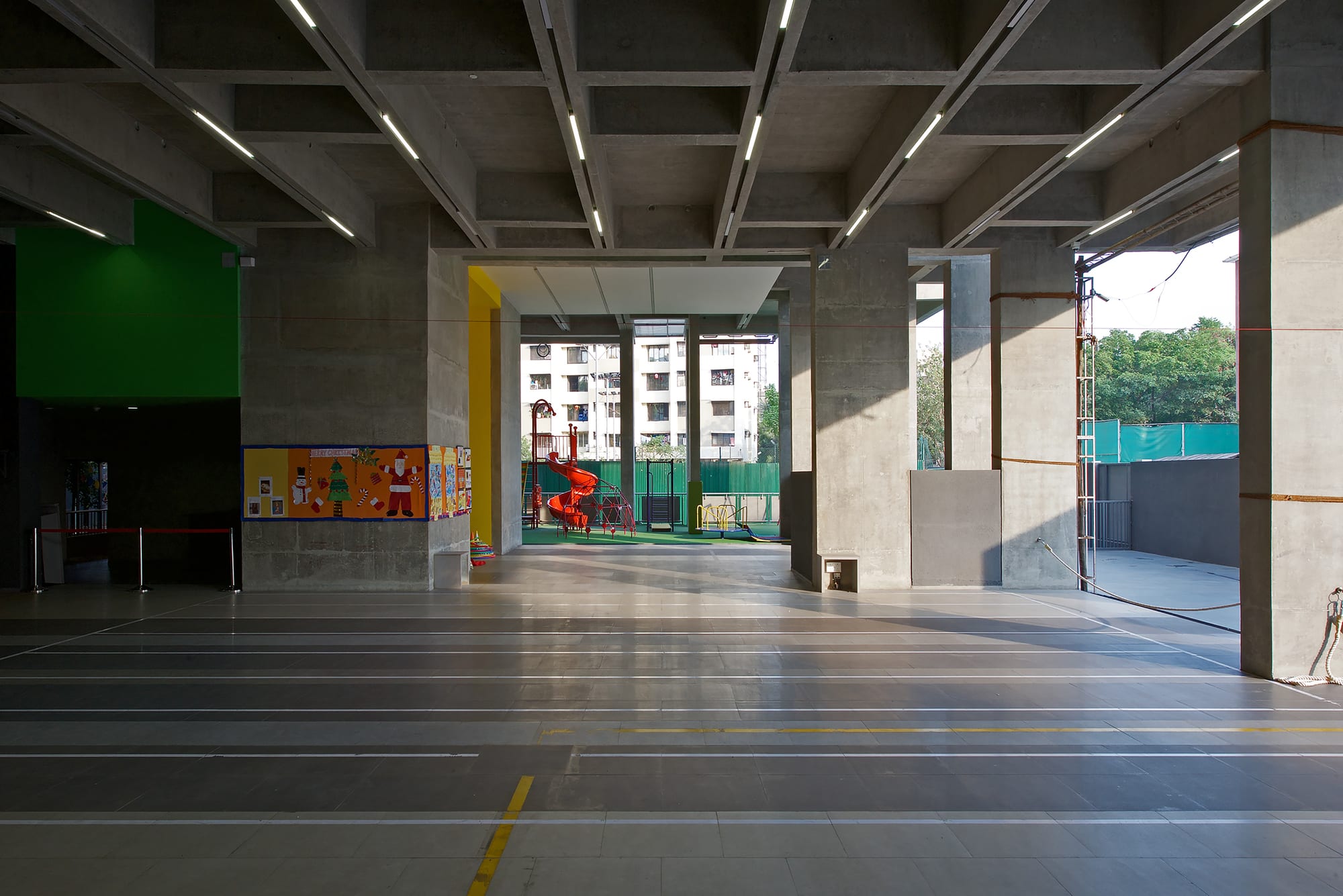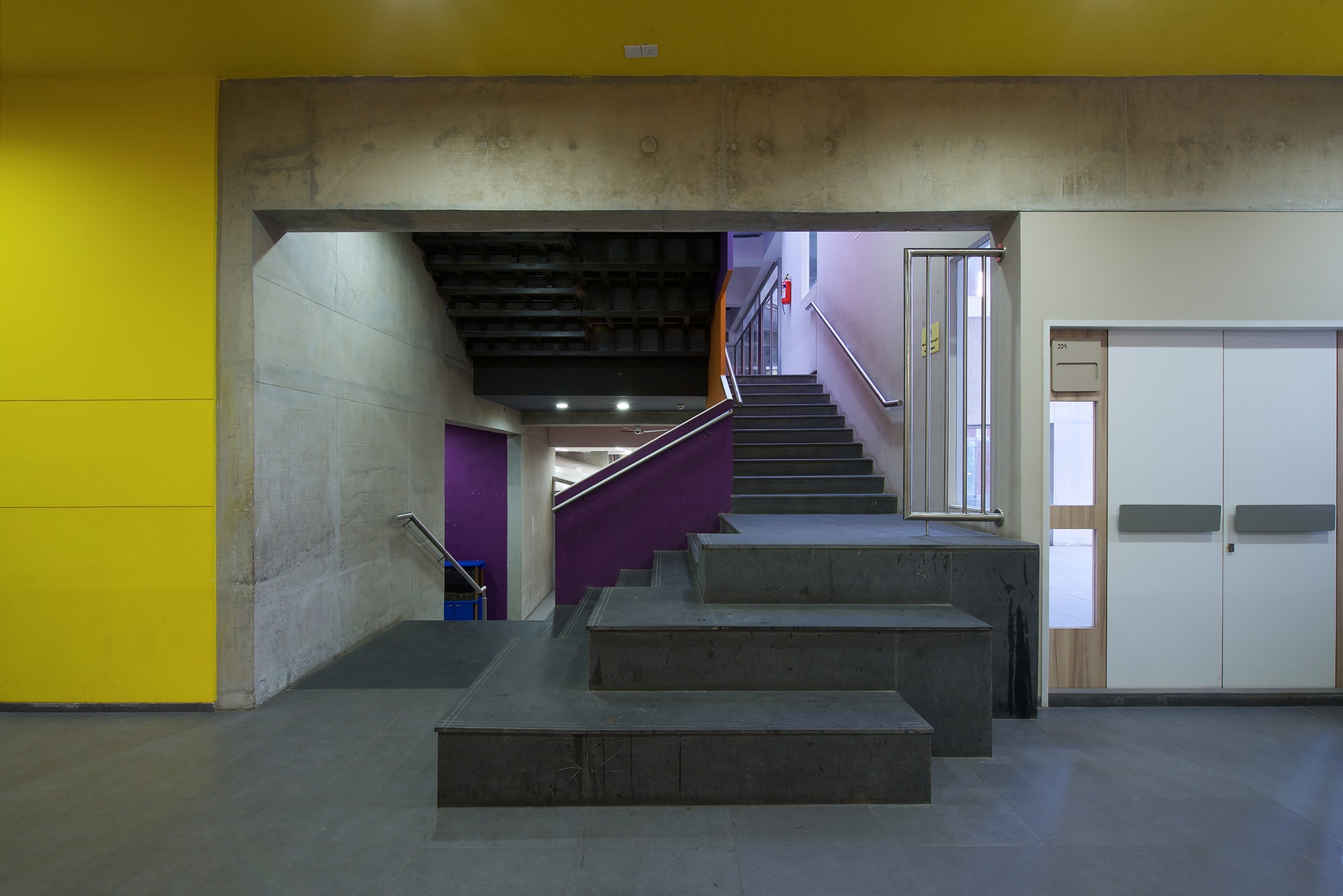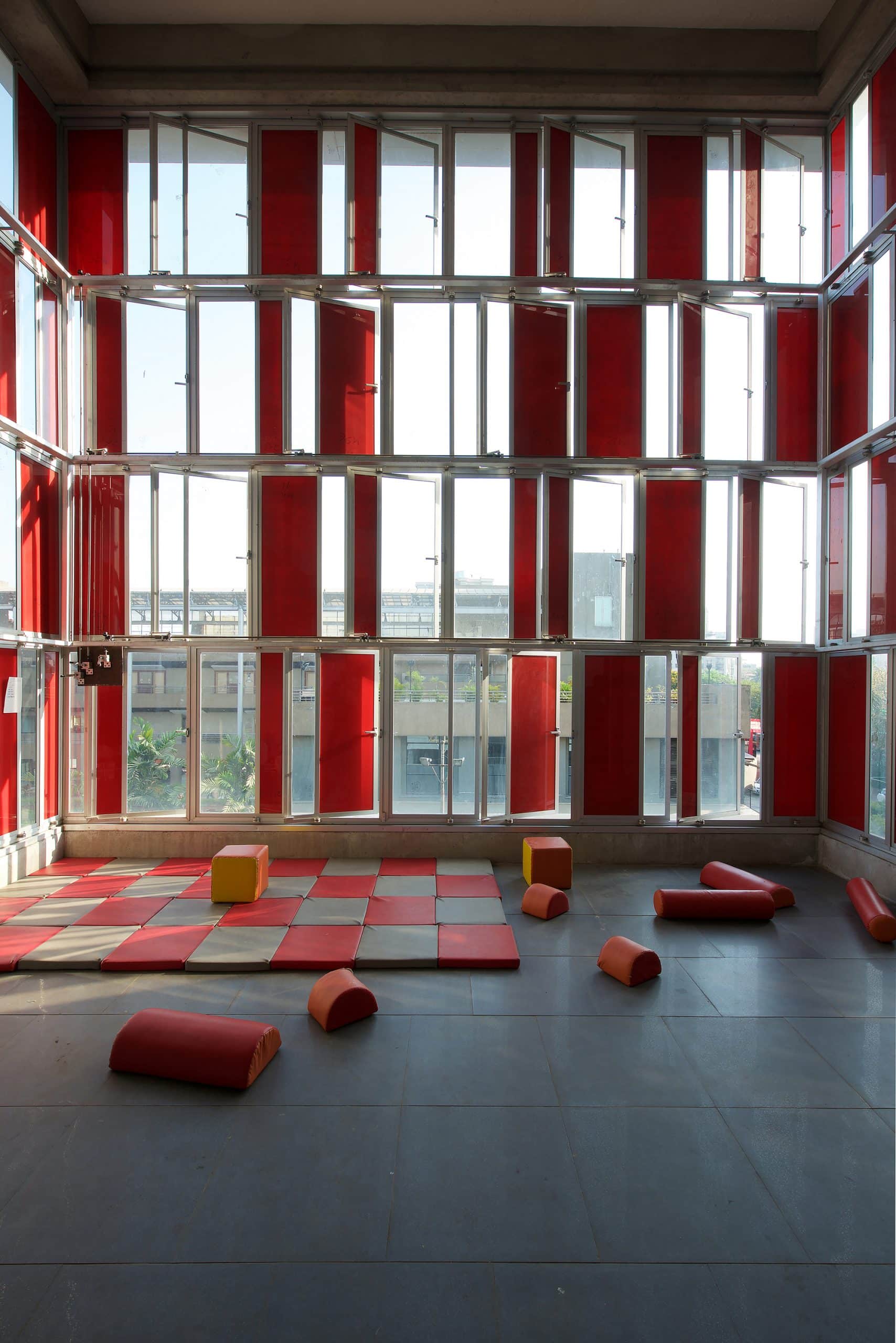 Engineering Integration - Ventilating, Lighting up the Learning Turf
Understanding the criticality of quality of light to the interiors of an educational campus, special efforts went into day-lighting as well as artificial lighting here. Sun, wind and climate studies dictated the fenestration design where Aluminum panel clad fins and shades, which blend with the exposed concrete walls, combine to form light shelves which admit concentrated glare-free day-light to optimum depths of the interiors. Thoughtfully applied shutter arrangements allow light, ventilation and views to be admitted in accordance at different times of the day or season. A collage of colored and clear glass panels contributes light, ventilation and cheerful aesthetics to interior double height activity spaces and to the façade.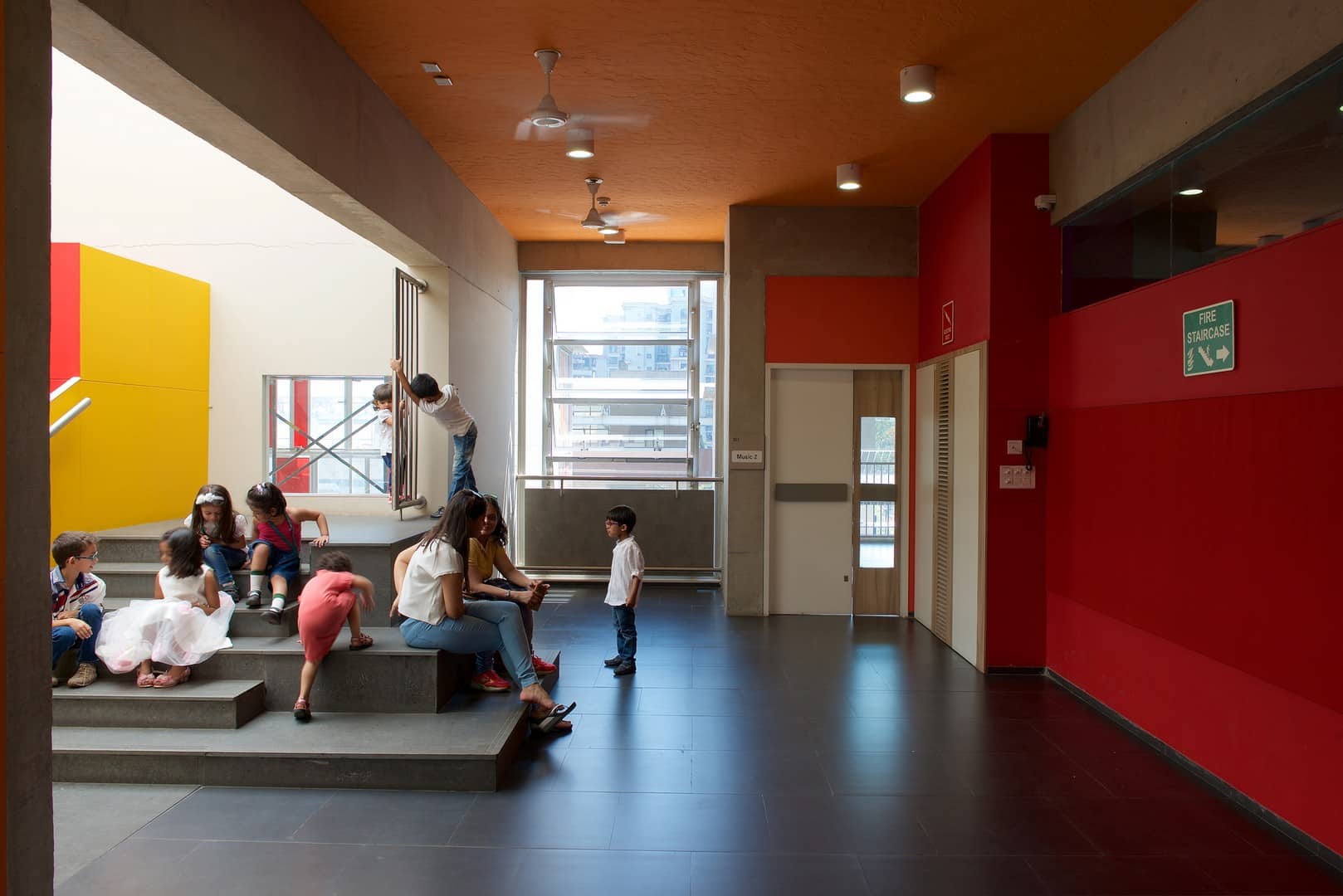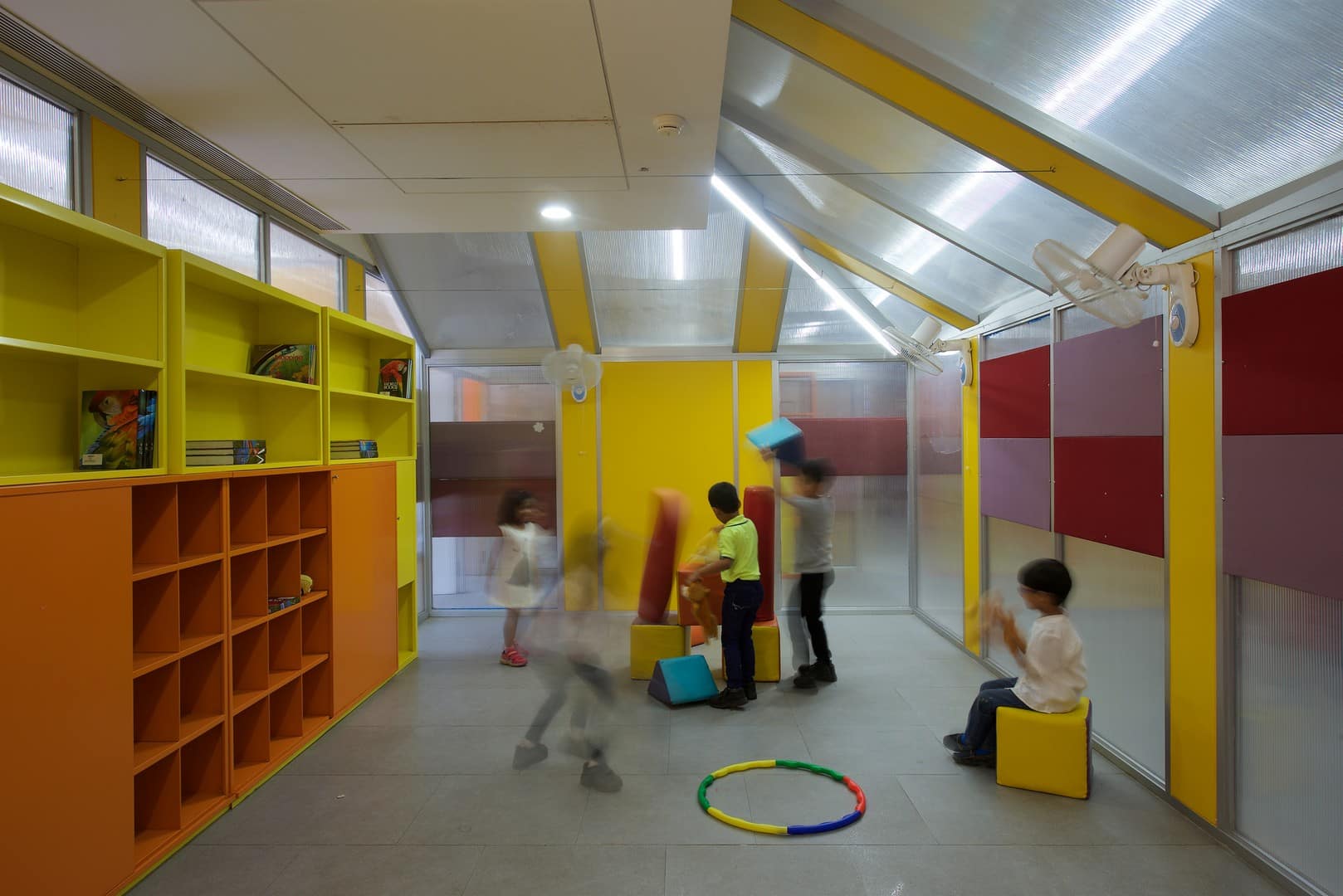 Economical Factoring in of Discreetly Arranged Services
The provision for concealing of services within the chosen exposed concrete finish also enjoyed special focus while designing. Beams have been made the carriers of many service lines by leaving grooves in their sides and bottoms. Strip lighting was achieved by accommodating light fixtures in grooves planned in beam soffits; pipes of indoor AC units for drainage and gas were concealed in grooves left at the sides of beams and covered with concrete panels. Prominent deep niches occurring in the façade make room for service ducts and AC outdoor units.
Color Panels on a Concrete Canvas for a Sanitized yet Vibrant Ambience
Juxtaposing solid brightly colored panels over parts of the neat, resilient exposed concrete surfaces in every space yielded an economically accomplished vibrant school environment.
*All Images and Photographs Credits: Tushar Desai Associates