Shiv Nadar Foundation K12 School
Faridabad, Haryana, India
K-12 School Campus Design Crafted as New Age Learning Environment
The campus for the Shiv Nadar Foundation School at Faridabad in Uttar Pradesh is located on twin land parcels lying across a 24 m wide main road. With a vast experience in the design of educational institutions in general and K-12 schools in particular, the INI team was able to approach this campus design with a comprehensive insight into the changing global trends in school pedagogy and effective learning environments. The team's recognition of a worldwide transition from traditionally prescriptive, teacher-centric classroom based models to vibrant, interactive learning environments that could flexibly cater to individual learning needs fell in line with the desired approach outlined by the Shiv Nadar Foundation. Thus, the design of this campus creates a friendly, inspiring learning environment as seen from a child's perspective; it replaces classrooms with collaborative learning studios clustered around common spaces for interaction and activities.
Site Area : 2,35,661 SF
Services : Master Planning, Architecture Concept, Sustainability
The two parts of the campus stretch deep inwards in opposite directions from the main approach road along a north-south axis. Building clusters interweave with open spaces and are connected with shaded walkways across both parts of the campus which are connected across the road by a foot-over bridge. The southern campus hosts the younger classes from kindergarten to class IV along with their ancillary open and built spaces and a common grounds, as well as staff residences at the southern end. It has a dedicated western feeder road creating an additional entry with drop off and pick up point dedicated to the kindergarten section. The northern campus has the building clusters for middle and high school sections along with the amphitheatre, multipurpose hall and other facilities.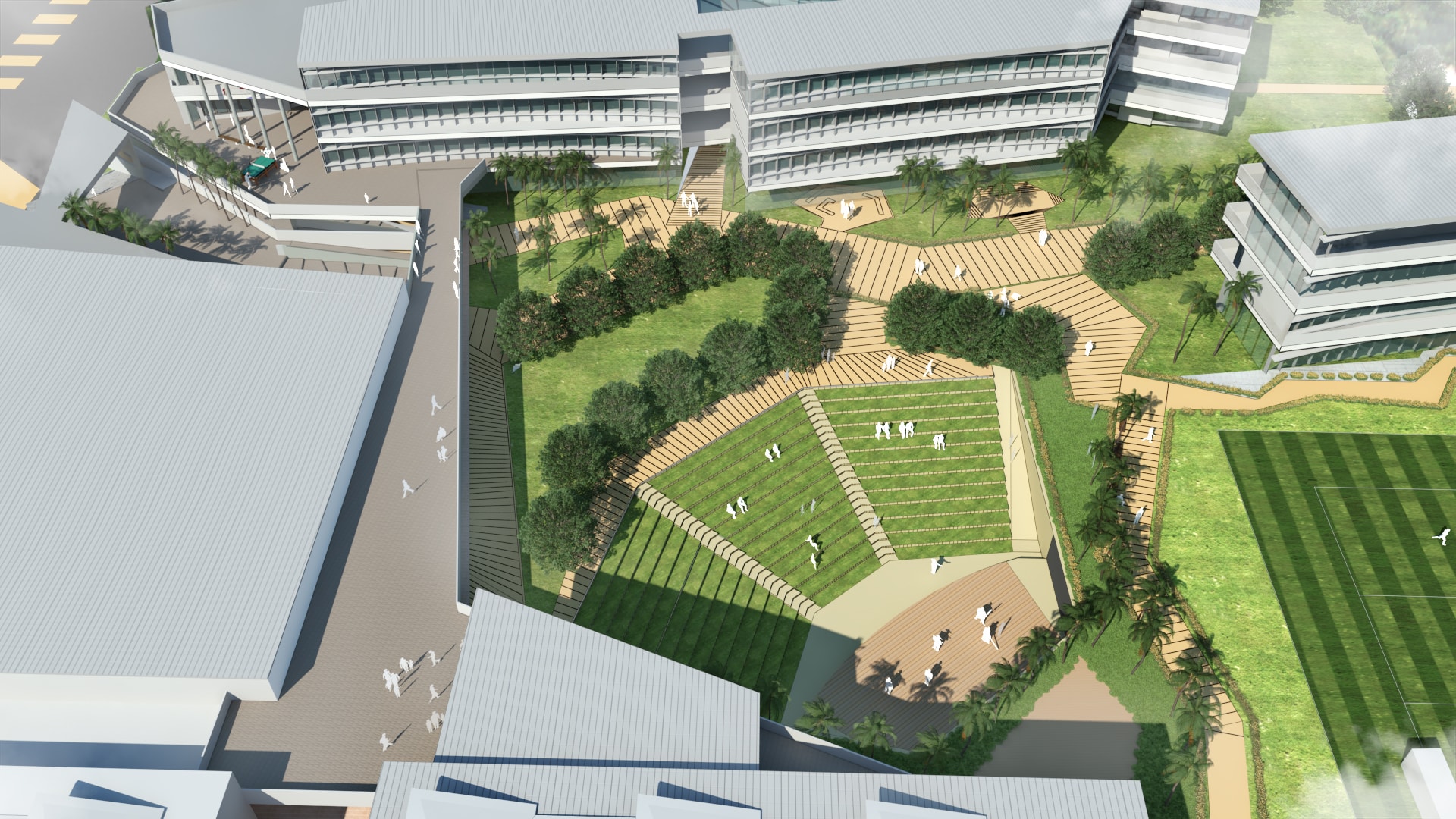 Learning Studios Clustered Around Vibrant Interactive Spaces
The kindergarten classrooms line up along a double curvature stretched out west of the sinuous central spine traversing the southern campus, enclosing twin secure courtyards for kids' play & activity in each curve. East of the central spine lies the junior school cluster with common spaces at stilt level, between built blocks and surrounding gardens encouraging interactions. Volley ball courts and a congregation ground also grace this part of the campus.

On the northern campus, building clusters for the middle school up to class X are similarly arranged across the western edge of the meandering central spine, with the cluster for classes XI and XII located further to the north and connected across the spine by a bridge. A large multipurpose hall with tennis and badminton courts on the roof, and a shaded amphitheatre are integrated into the east near the arrival point on the north campus. The north east corner is developed as a full-sized football field.

Keeping open stilt areas, scooping out courts and atriums from the centres are some ways in which porosity and visually connected levels have been achieved through both parts of the campus. Class rooms reimagined as learning studios with flexible seating and movable partitions have been designed to enable small and large interactions that would foster inspired team/ project based learning free of conventional trappings. Laboratories, support spaces, kitchens and dining areas are also designed for happy learners to gather for mutual give and take.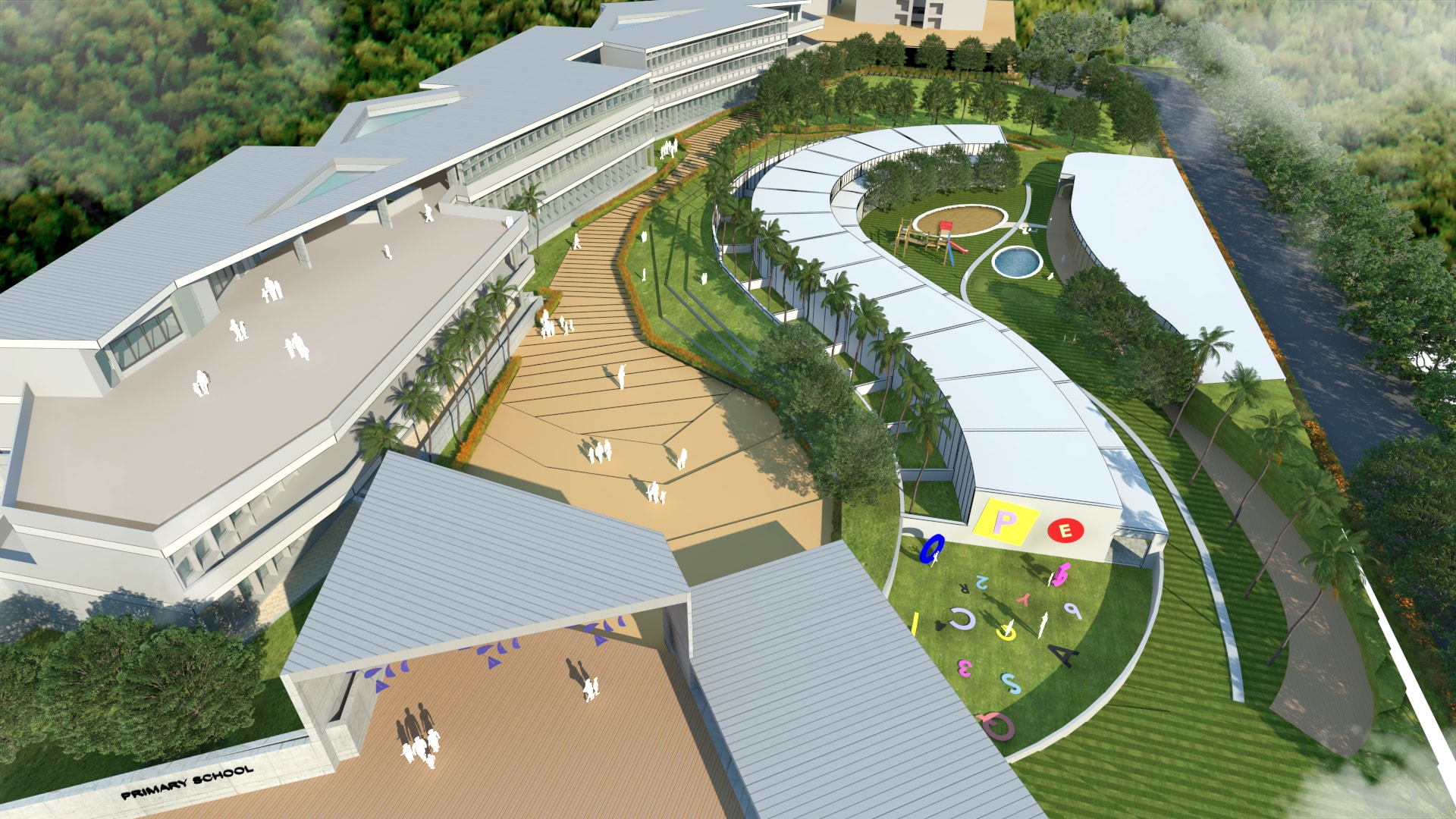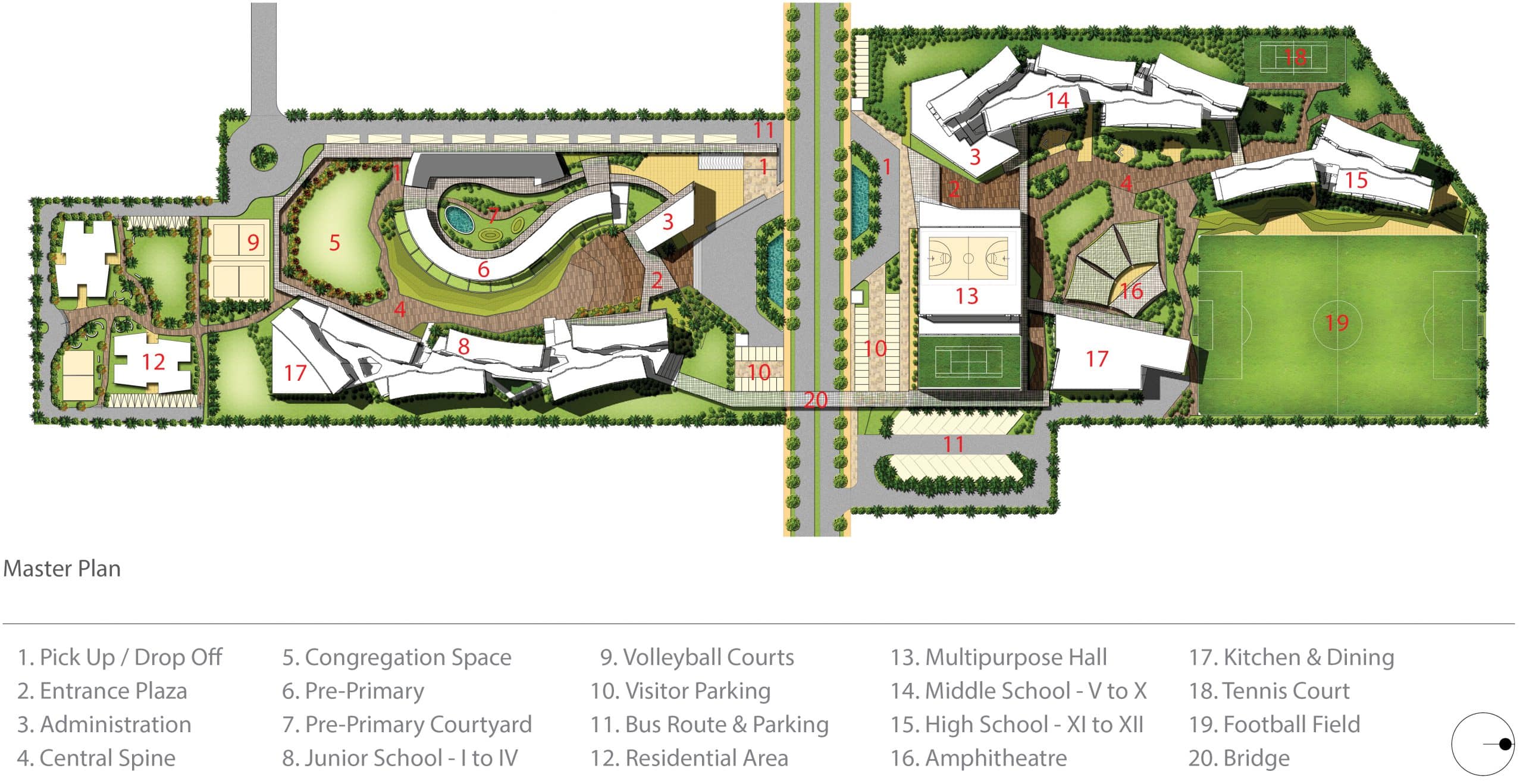 Close-Knit Walkable Campus Interwoven with Range of Open Spaces
A continuous walkway, shaded in most parts, is threaded through both parts of the campus connecting every block, open space, playground and court along its journey. As this trails through the alternating built and open spaces of the campus it becomes pleasantly and completely walkable through all seasons. Each of the open spaces is tailored in its design to serve some specific purpose while simultaneously remaining flexible to a variety of uses.