Astronomy and Space Science Gallery,
Science City
Ahmedabad, Gujarat, India
The Astronomy and Space Science Museum has a diverse program including a Planetarium with 200 seat capacity, an Observatory (with 40 Inch Aperture Telescope) and Retractable Dome, Solar Telescope (with 10 Inch Aperture Telescope), 2 Simulators for Virtual Experience, a Photo Booth, an Intro- Projection Hall, Cockpit Simulators, Virtual Reality Exhibits and Large Exhibits with Thematic, Scientific Content and Originality. The designs of the galleries are driven by the basic understanding of the purpose a theme-based gallery serves in society in general. The interactive exhibits in galleries serve as a starter for a discussion between students, student and teacher or between a parent and a child.
Site Area : 10,000 SM
Builtup Area : 8,500 SM
Services : Feasibility Study, Programing, Masterplanning, Building Design - Architecture, MEPF Engineering, Interior Design, Landscape Design, Project Management Consultancy (PMC), Civil & Structure Engineering , Exhibit Design, AV/Acoustics, Lighting Design, Infrastructure Engineering, Art Curation
Collaboration : Observatory & Planetarium Expert: New Era Technical Consulting, Ian Dyer, UK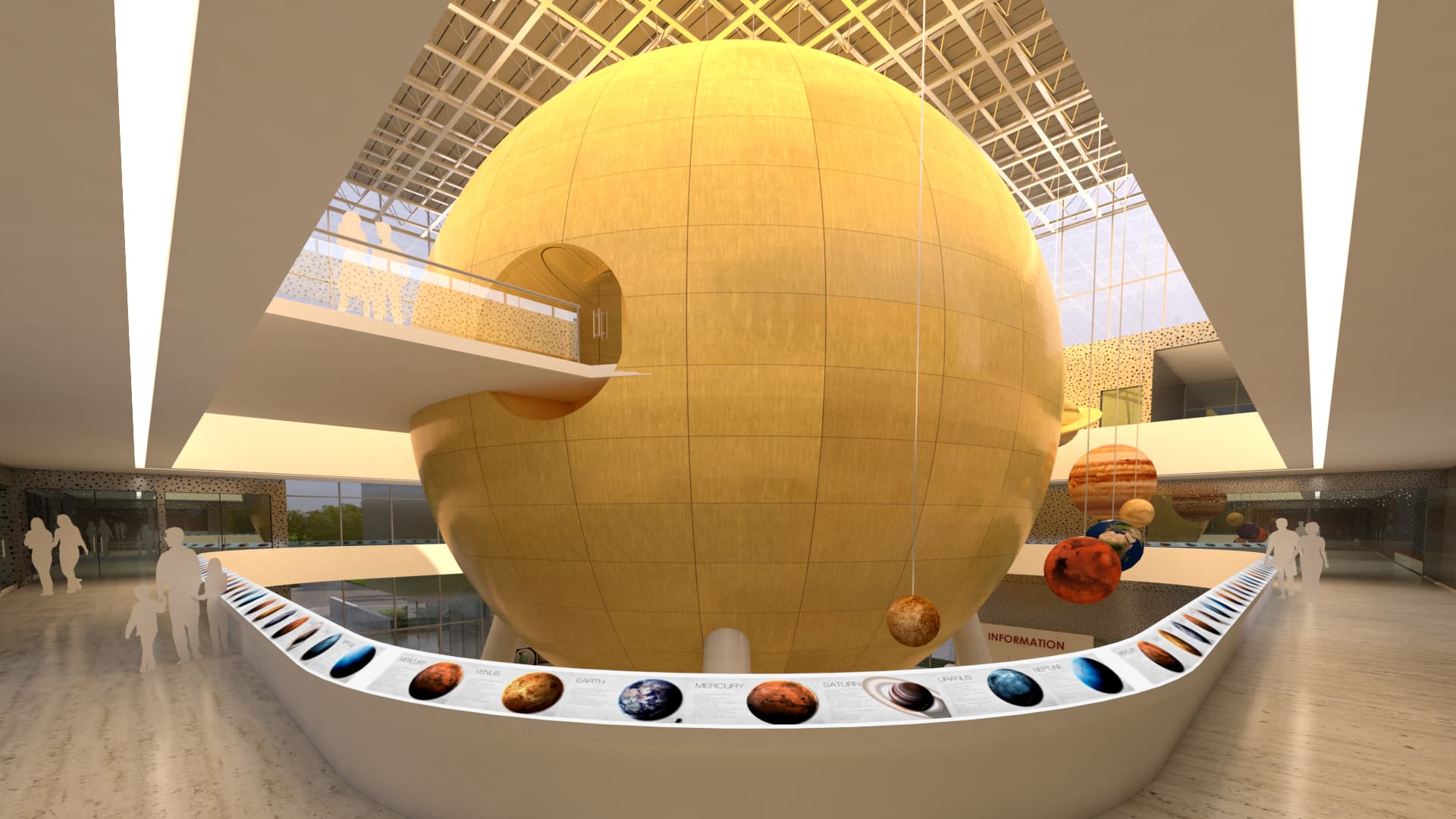 Unique, Attractive Facility for Enjoyment of Astronomy & Space Science
This Astronomy and Space Science Gallery is the largest in India and forms a part of the Gujarat Science City project which is a State Government initiative to build a mega exhibit and experience center to promote awareness regarding scientific phenomena and cultivate a scientific temper among common citizens. This particular gallery, one among many at the science city, is located on an ear-marked hexagonal plot of 1 hectare adjacent to similar plots housing the Aquatics and Planet Earth Galleries, thus completing the triumvirate of earth, water and space. The design requirement for this particular gallery was to create an impactful, attractive venue for public exhibits which people can easily navigate around and can simultaneously educate and entertain while disseminating information regarding the subject.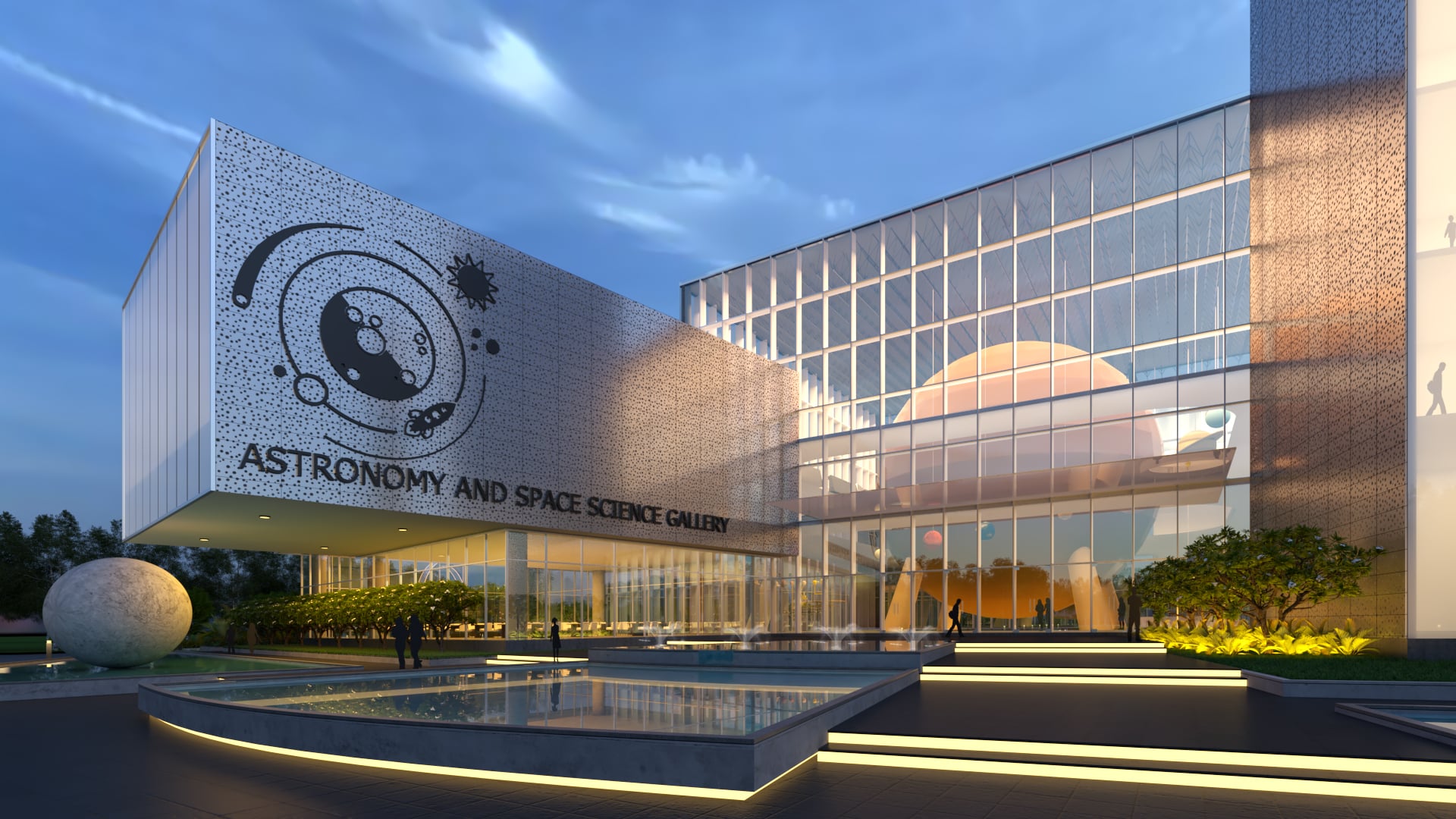 The design dispenses the gallery in 5 blocks, 4 of them surrounding the central three floors high atrium block enveloped in transparent glazing system inside which a massive brass-plated globe representing the sun is housed, visible from the surrounding landscaped exteriors. A combination of soft and hardscapes and water features that surround the structure is intermittently adorned with large interactive outdoor exhibits like a tellurian, a moon-buggy racer and miniature Jantar Mantar to create an irresistibly inviting venue for visitors.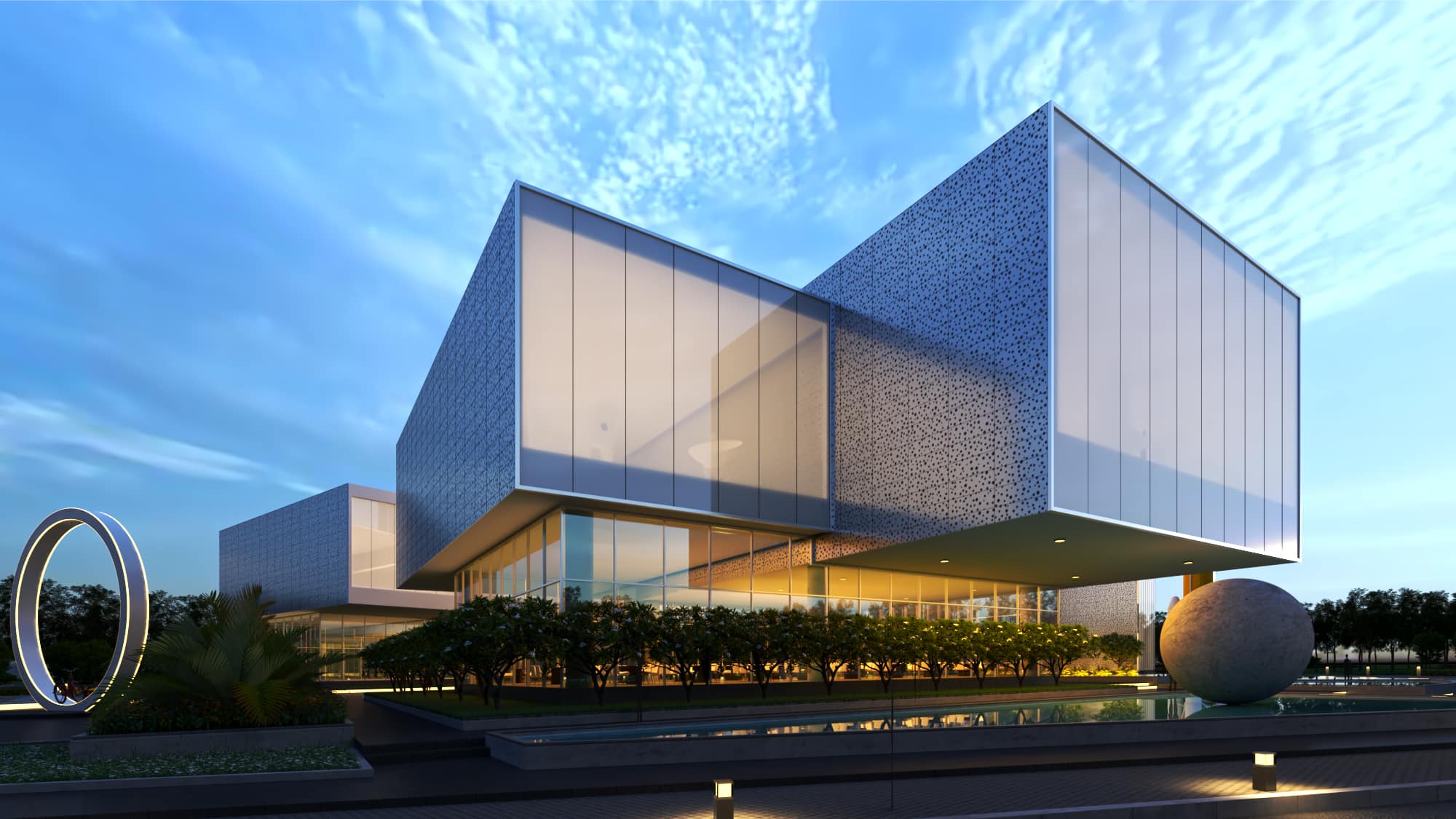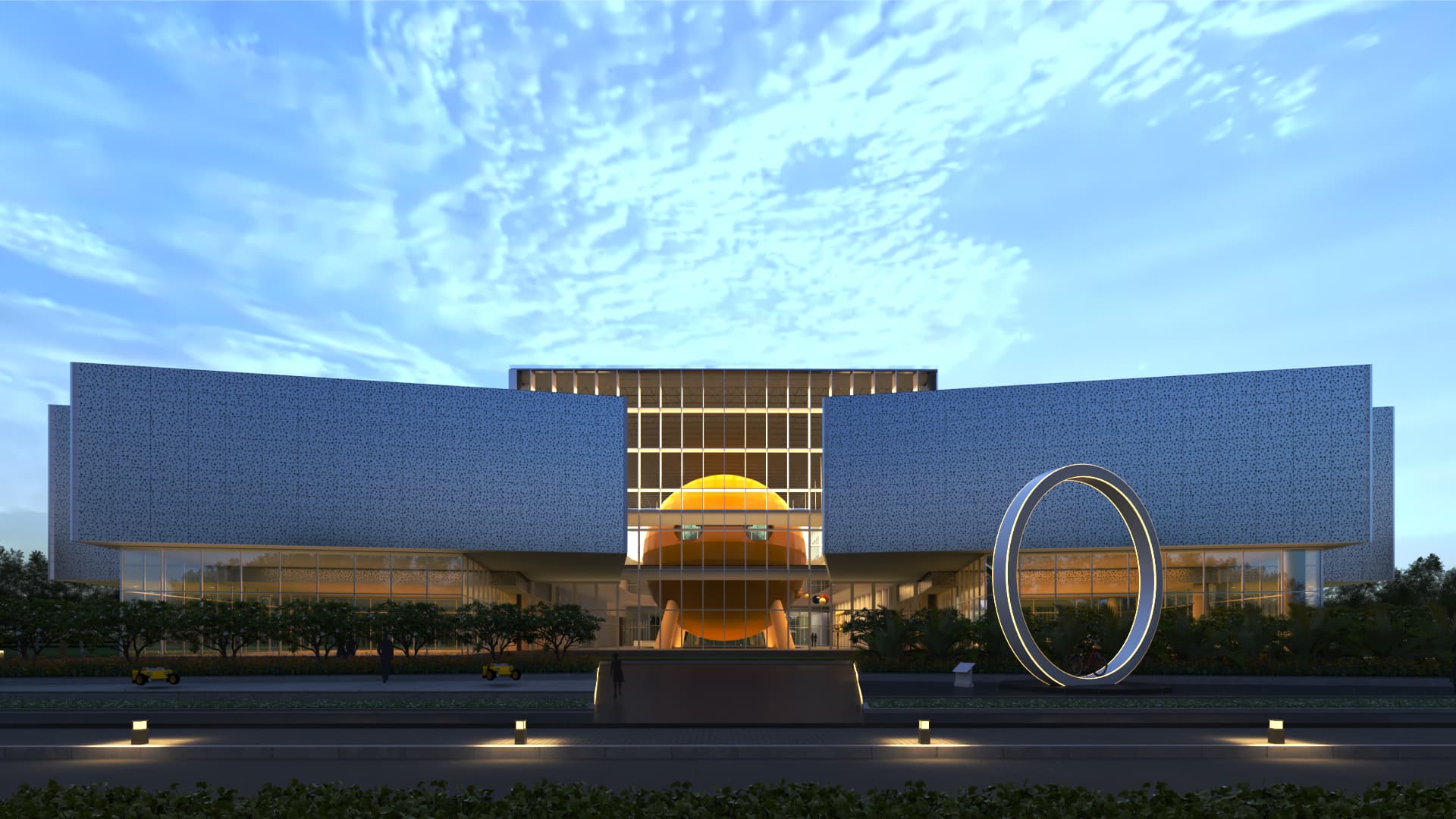 Solar System Inspired Self-Orienting Layout
The massing of the four surrounding blocks is subdivided in two parts each to create a metaphorical interpretation of the solar system of eight planets orbiting around the sun. Visitors gain entry through a northern entranceway into the central atrium and face the monumental globe representing the sun hoisted on peripheral steel supports as though in suspension over an amphitheater event space in the center. This central piece creates a focus that helps the visitors get spontaneously oriented during their clockwise perambulation through three levels of each of the four blocks housing various exhibits, galleries and experiences.
The very first block in the circuit houses the intra-projection orientation room and has the means of vertical circulation that lead to each upper level and to the 40" lens telescope-equipped observatory with a retractable roof at the top most level of the attached tower.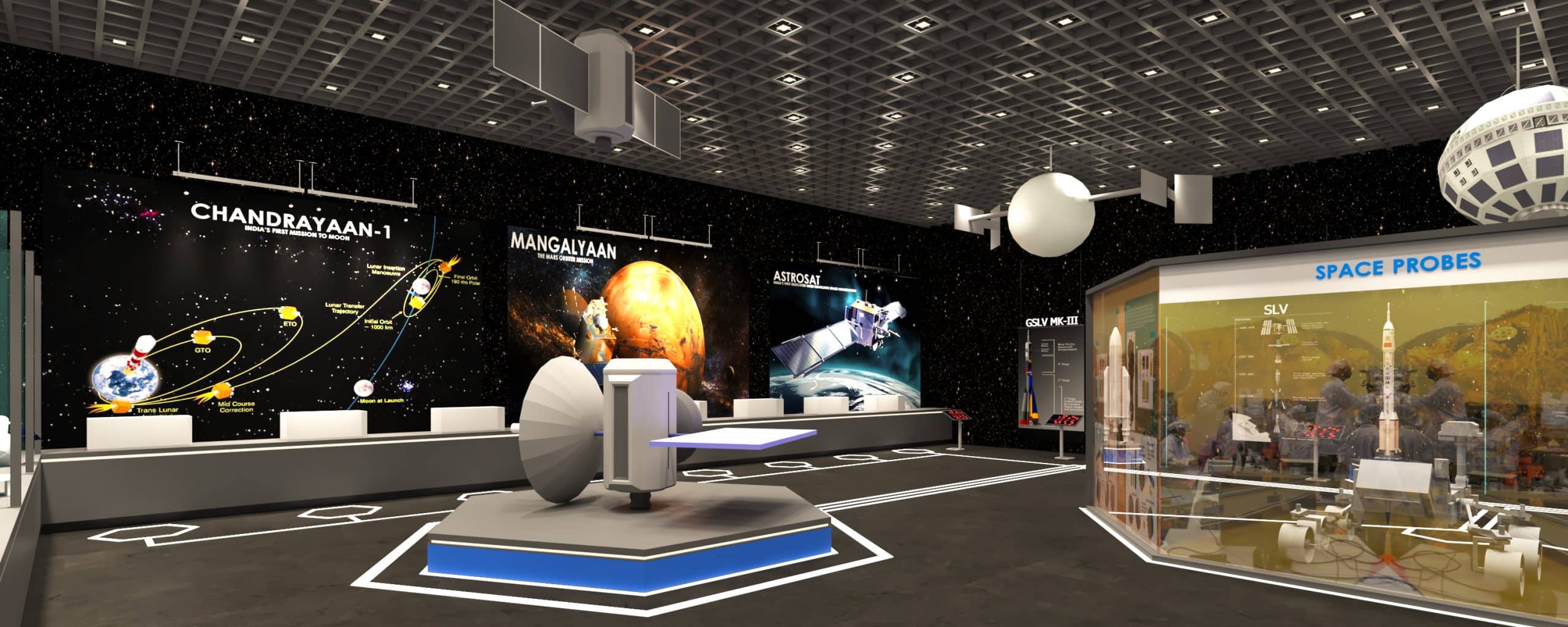 Thematic Organization, Educative Content, Immersive Experiences
The massive globe hoisted at the atrium's center houses the planetarium accessed via a bridge at the upper level. The surrounding circulatory passages leading to various galleries at the upper levels overlook the central space where the eight planets suspended around the globe complete the solar system model. Infographics about each planet adorn the top counter of parapet wall of these circulatory passages encircling the atrium's centre, which also has a Foucault's Pendulum and an Orrery.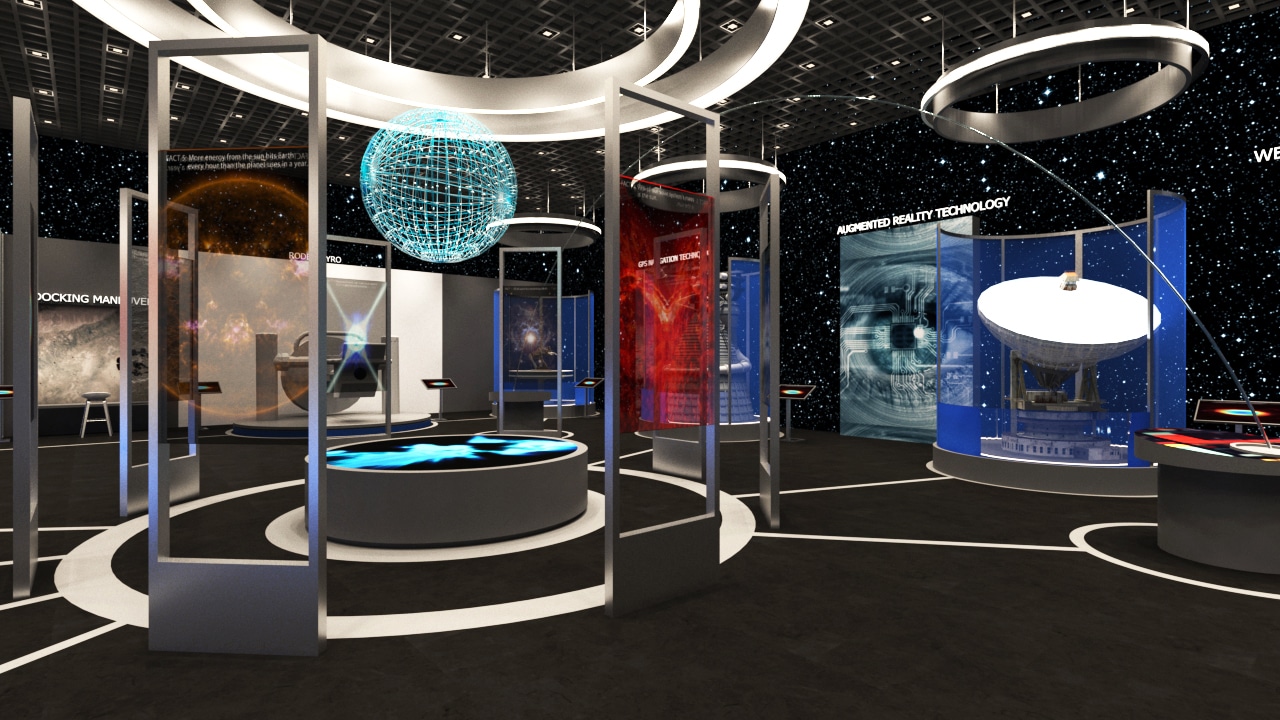 The galleries are categorised through a time lens as past history, present advancements and future projections of astronomy and space science where the dark interiors house lit-up exhibits and installations interspersed with informative audio-visual media interfaces to engage the visitor in an entertaining and enriching journey of education about our cosmos.
Global Best of Interactive Exhibits for Space Education
Electromagnetic Spectrum, Gravitational Wave, Gravitational Lens, Air Thrusters, Twin Paradox, various spacecraft models and immersive simulations, various space experiments are few among the hundreds of experiences and exhibits housed in this space and astronomy centre.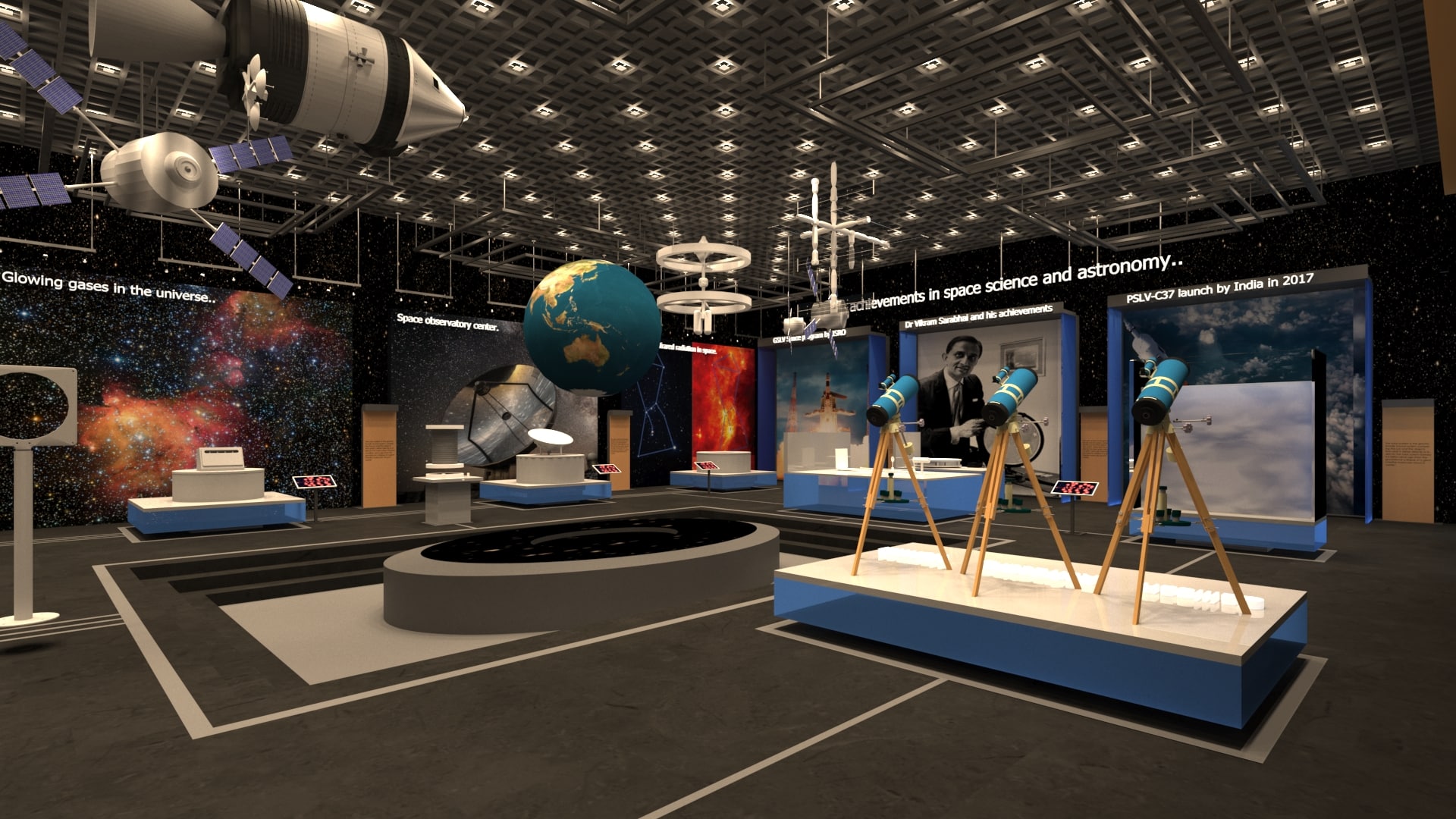 Integrated for a Sustainable Future
The Astronomy and Space Science Gallery is designed to align with highest global sustainability standards as defined by IGBC/ LEED. Some of the measures adopted are solar shading, ventilated rain-screen façade system, low-e glazing, rainwater harvesting and reuse, efficient central cooling, renewable energy through solar PV panels, water efficient plumbing systems, operable windows, daylight sensors and others.