'Net Zero' Community by Culture, Lifestyle & Design
Sanskriti Eco.mmunity was an idea seeded with the vision of a developmental alternative for human communities/ settlements to the existing consumer centric, capital intensive and resource guzzling models of building which have brought upon our planet the climate emergency, ecological unsustainability and a bleak future for the human race. This alternative model of development seeks to pursue an ethical strategy which is in alignment with natural systems and integrates the larger good of the planet with a technologically advanced, well provided, comfortable built environment and lifestyle within the community site. It seeks investment from like-minded individuals in establishing a mixed use community which incorporates systems that ensure a net zero energy, water and waste disposal situation where resources are not just conserved but are regenerated to yield ecological, socio-cultural and economic benefits to its residents as well as to the world at large.
Size : 125 Acres
Services : Master Planning, Building Design - Architecture, Feasibility Study, Programming, Urban Design, Sustainability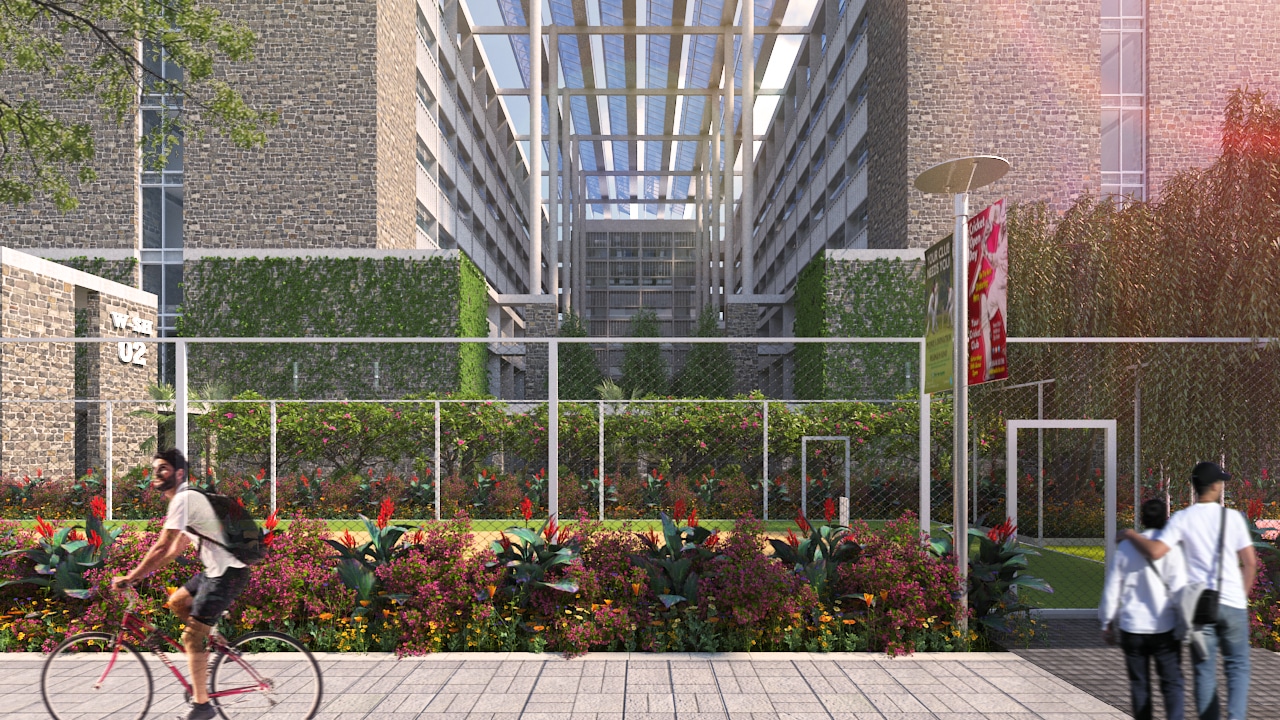 Planned on a rectangular site of around 125 acres in the Ahmedabad Gandhinagar stretch, in the vicinity of GIFT City, this township has a mixed program inclusive of residential, institutional, commercial, and recreational sports uses, urban farming and fosters a complete live-work-learn-play-farm lifestyle opportunity. More importantly, by virtue of intent and design, it supports and enables a life-cycle which is self-sustaining, carbon and energy neutral and opportunity-generating for myriad economic activities. With sports, leisure and recreational districts aligned along a central axis and the commercial (shopping) zone located in its immediate adjacency, vast residential and institutional zones are integrated into symmetrically laid out eastern and western stretches on either sides of this central axial zone.
Residential & Institutional Districts
While a stretch of residential area along the rear central axis has individual villas with private gardens woven seamlessly into the common greens, the vast eastern and western residential campuses on either sides of the central axis have apartments in the denominations of 2, 2.5, 3.5 and 4 BHK. Laid out in continuous east-west aligned rows with shared walls, these apartment buildings have parking and quarters for affordable housing on the ground floor, accessed by peripherally laid roads and internally laid pedestrian green spines with lawns, orchards, parks for kids and seniors as well as urban farming opportunities. Four floors of apartments are topped by green terraces for urban farming which are further capped by PV panels arrayed for solar farming.

A similar layout informs the institutional campuses where the ground floor typically has indoor games and cultural activities, whist the terrace floor has urban farming capped by solar farms. Residential hostels for students are laid out at the far ends along with outdoor sports fields and courts. Inter-building spaces are given to greens with lawns, orchards and farms. Research laboratories and higher education centers are located on the eastern campus, while an interactive campus is created at the ground level with plenty of opportunities for cultural events, art and other exhibitions.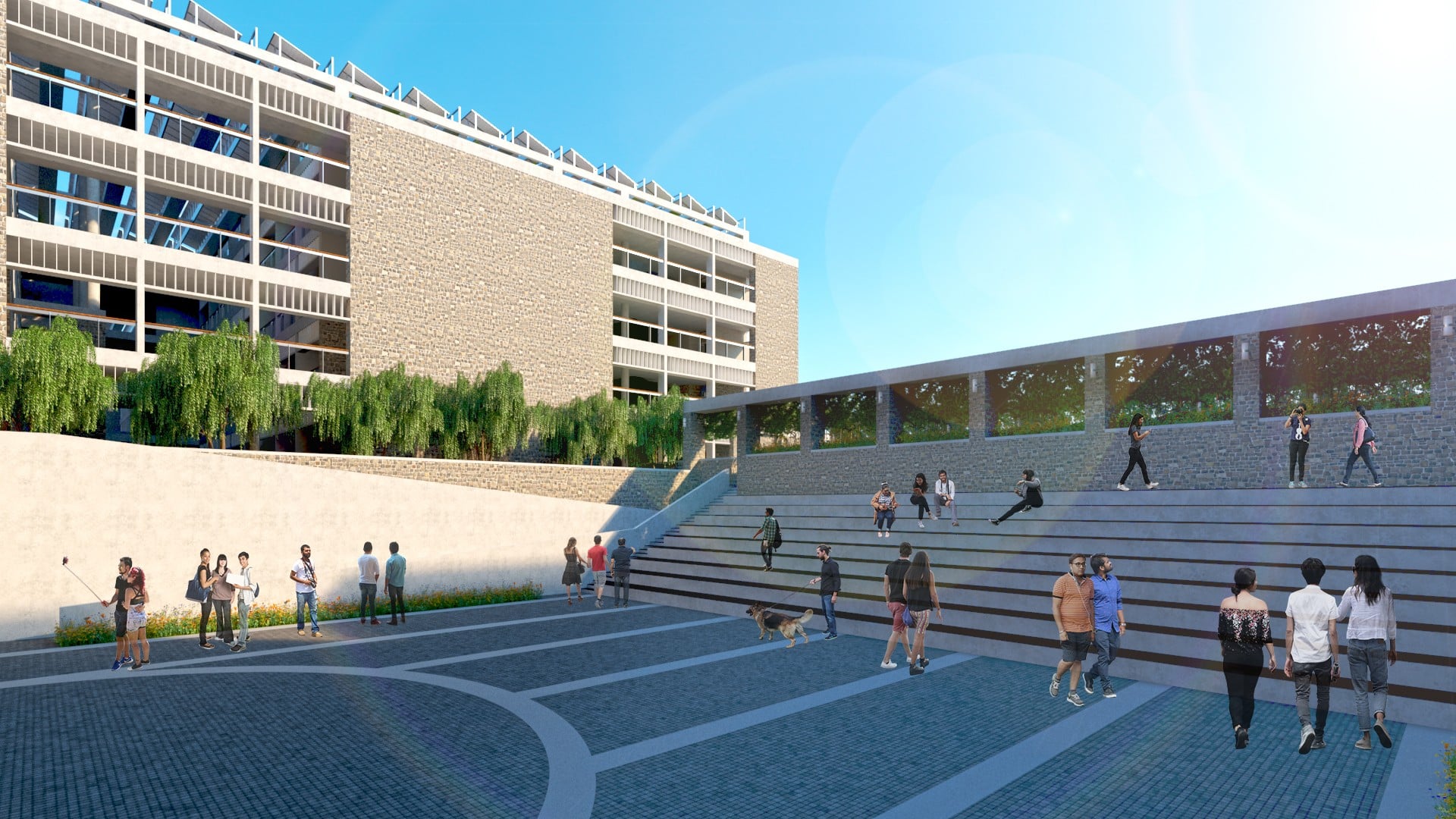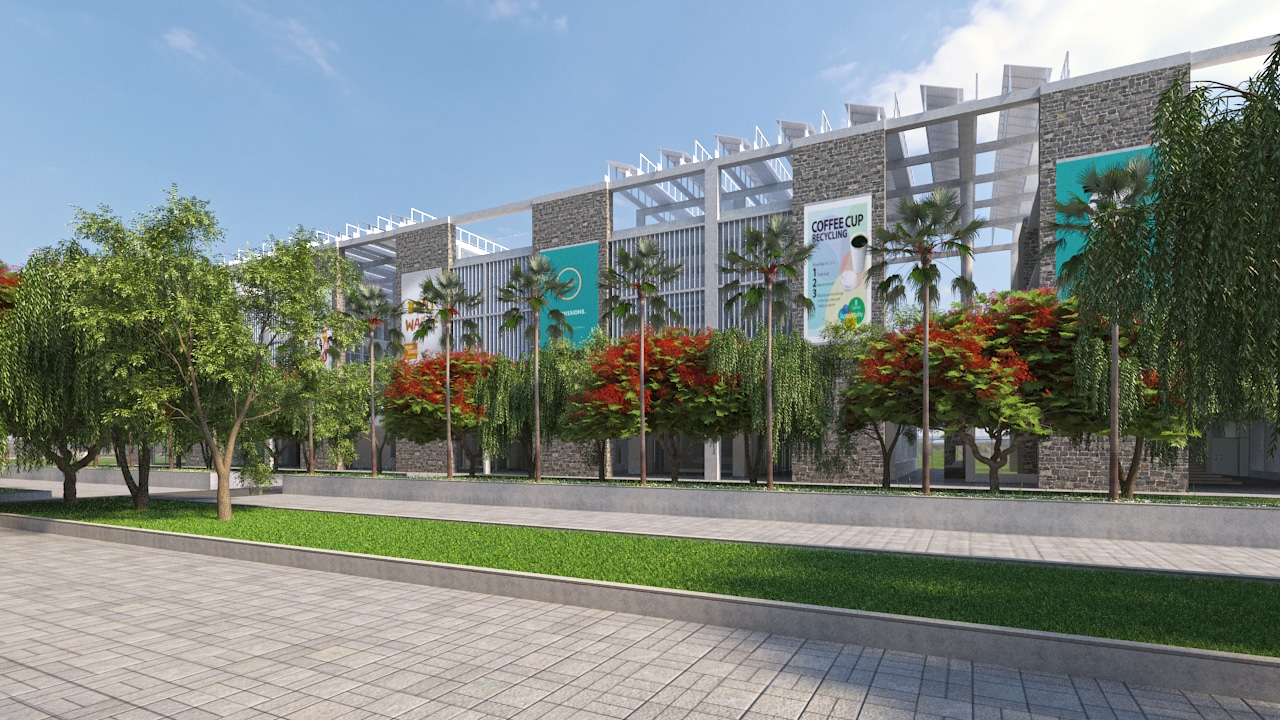 Sports, Leisure & High Street Commercial Districts
The centrally aligned sports district has a large cricket/ football field at its heart, with changing rooms, stadia, gym, swimming pool, health club and other facilities annexed around it. A club hotel and banquet with party lawn and recreational facilities are located to between the recreation and residential zones. On either sides of this central axis are the tree covered high street boulevards lined with shops, kiosks, retail showrooms, gaming outlets and outdoor cafes.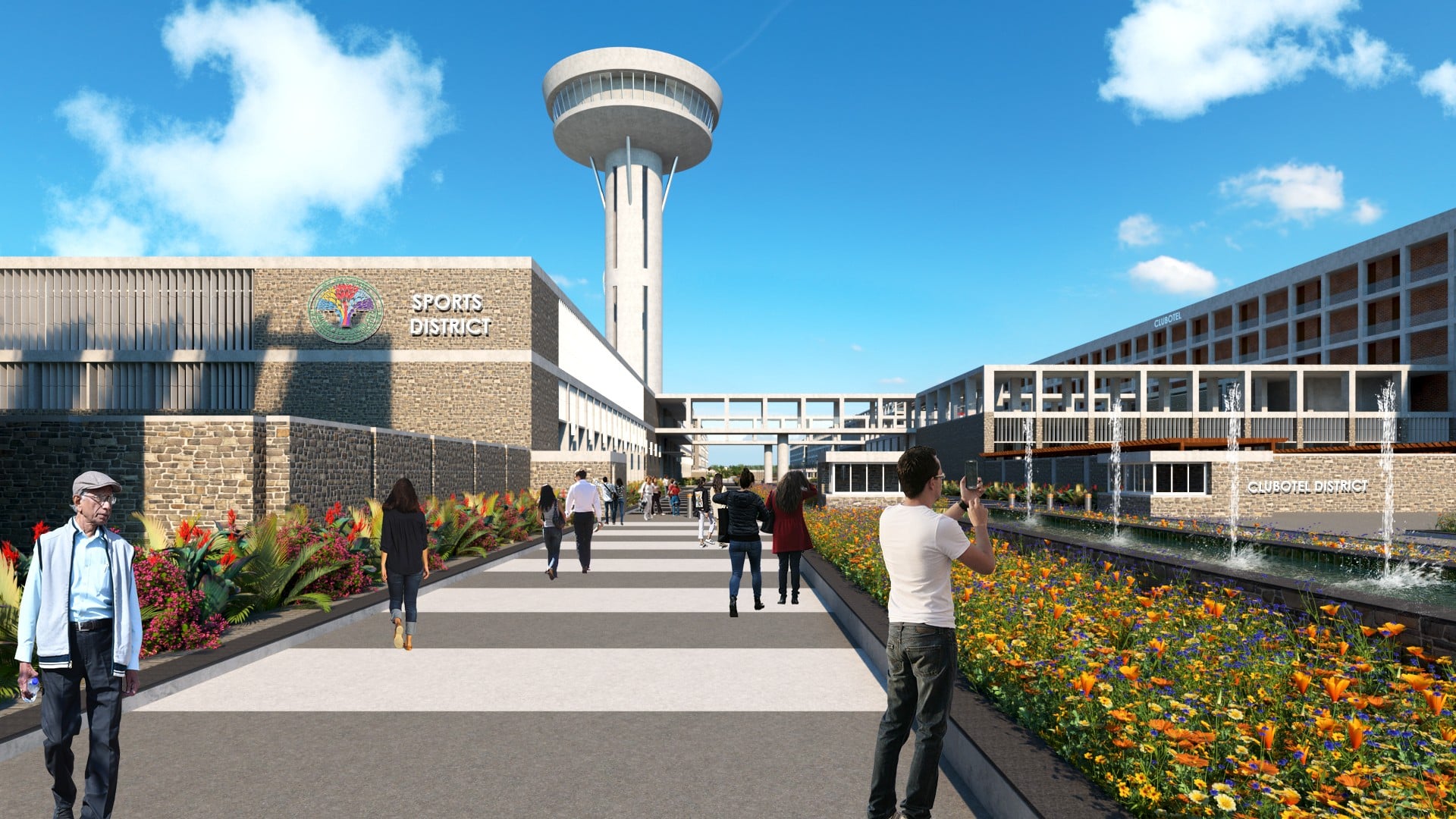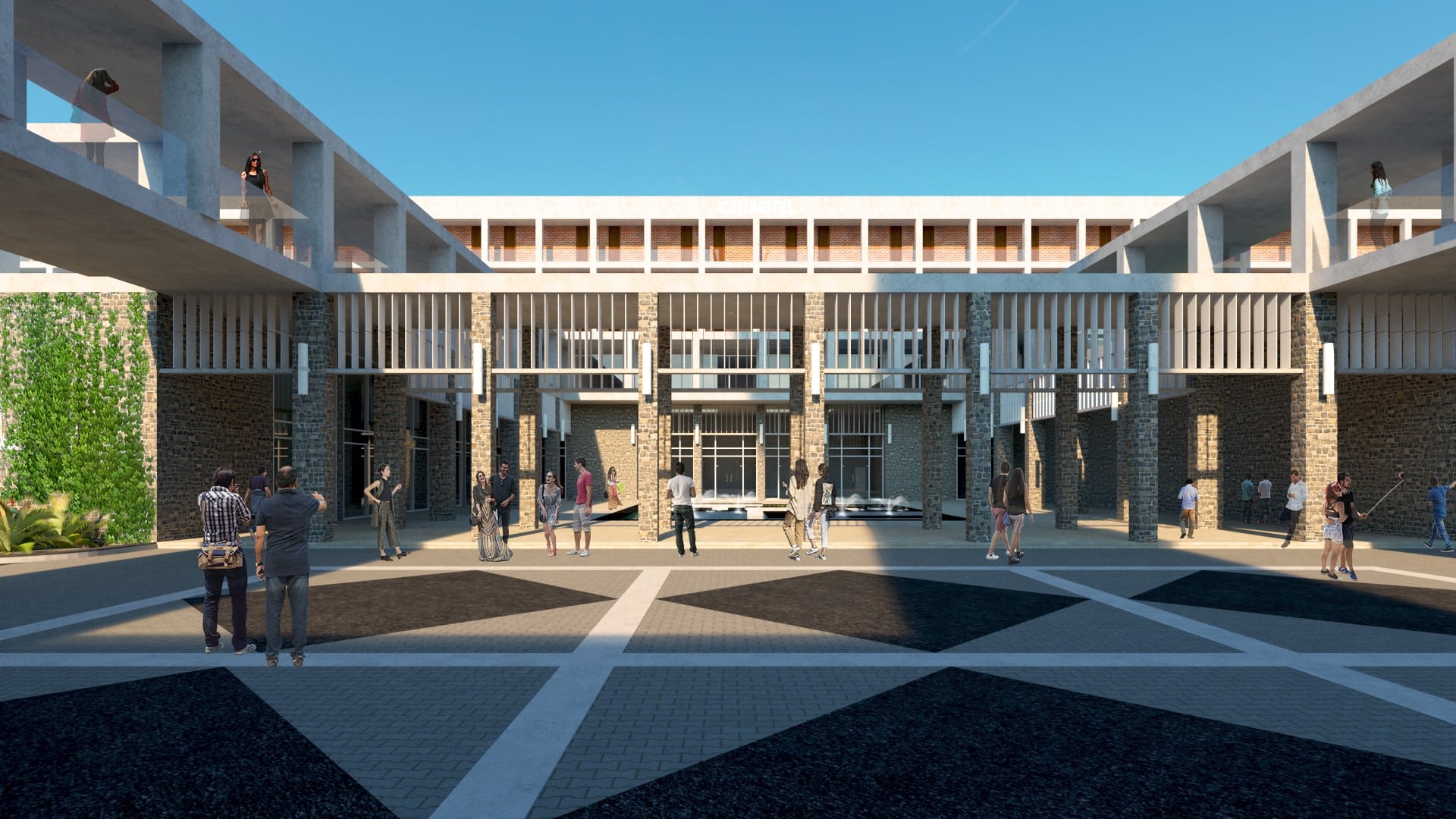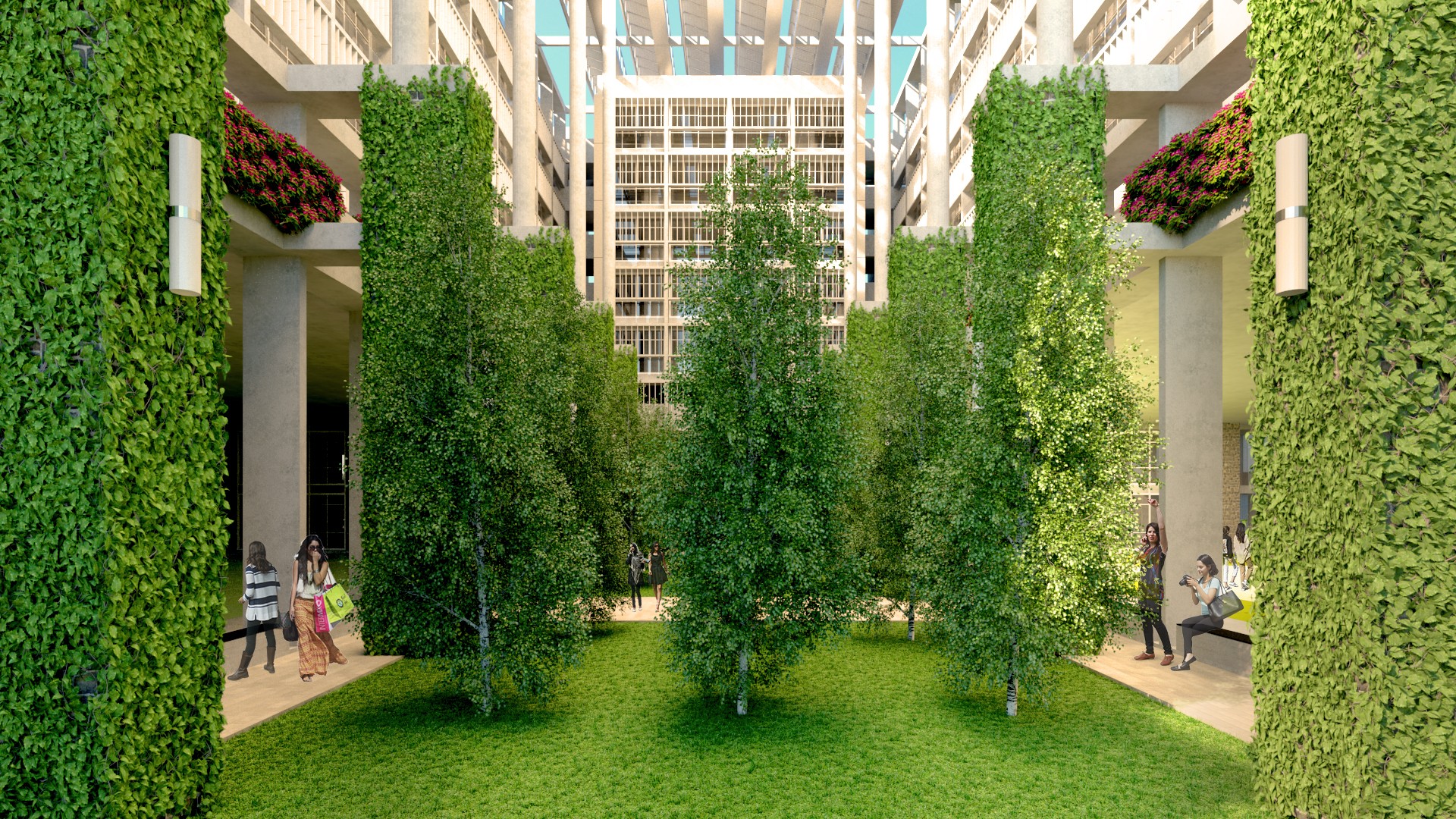 Site Completely Optimized for Walkability, Water Retention, Urban & Solar Farming
Like a sandwich, the entire site's built-forms of all typologies are tucked between two layers of green vegetation, one at the ground level and the other at their roof level, which are continually mutually integrated throughout the campus – by virtue of which it is called an ecological or E community. Further, this continual integration makes the entire campus walkable within a span of 15 minutes, and each zone within it walkable within 5 minutes. The layering also enables the entire site area to be optimized for urban farming as well as for solar farming, taking it in the direction of energy and resource positivity. Water retention lakes created all along the borders of the community and its component zones couple up with the rainwater harvesting system to create a self-sustaining cycle of water supply and reduced waste disposal systems are also supported intrinsically by the design.