Ahmedabad, Gujarat, India
Located on Iscon-Ambli Road in Ahmedabad, this upscale residential complex offers an extraordinary and sublime living experience, boasting of 76 meticulously crafted 5-bedroom and 4-bedroom apartments. Exuding an air of sophistication, the complex redefines the concept of luxury living by seamlessly blending contemporary architectural prowess, lavish interiors, and unmatched amenities. Each apartment within this opulent haven has been thoughtfully designed, featuring private lift foyers, servant quarters, and abundant scenic vistas, ensuring a harmonious and grandiose lifestyle for its residents. The layout and orientation is designed to harmonize with the traditional principles of Vastu, fostering a flow of positive energy and cultivating an atmosphere of well-being. Close proximity to premium schools, hospitals, shopping centres, and entertainment options as also excellent connectivity to major transportation hubs provide a seamless integration into the vibrant fabric of the city.
Builtup Area : 5,04,870 SF
Services :Programming, Master Planning, Building, Design -Architecture, Interior Designing, Landscape Design, MEPF Engineering, Sustainability, PMC, Facade Design, Structure
Tranquil living spaces embodied by thoughtful design where opulence merges with comfort
Each meticulously designed apartment within this complex has been artfully designed to bestow upon its residents a lifestyle of opulence and comfort. These exceptional dwellings boast expansive private lift foyers, guaranteeing both exclusivity and privacy for the occupants. Moreover, each unit is complemented by the inclusion of a servant room, amplifying convenience and providing additional assistance to residents.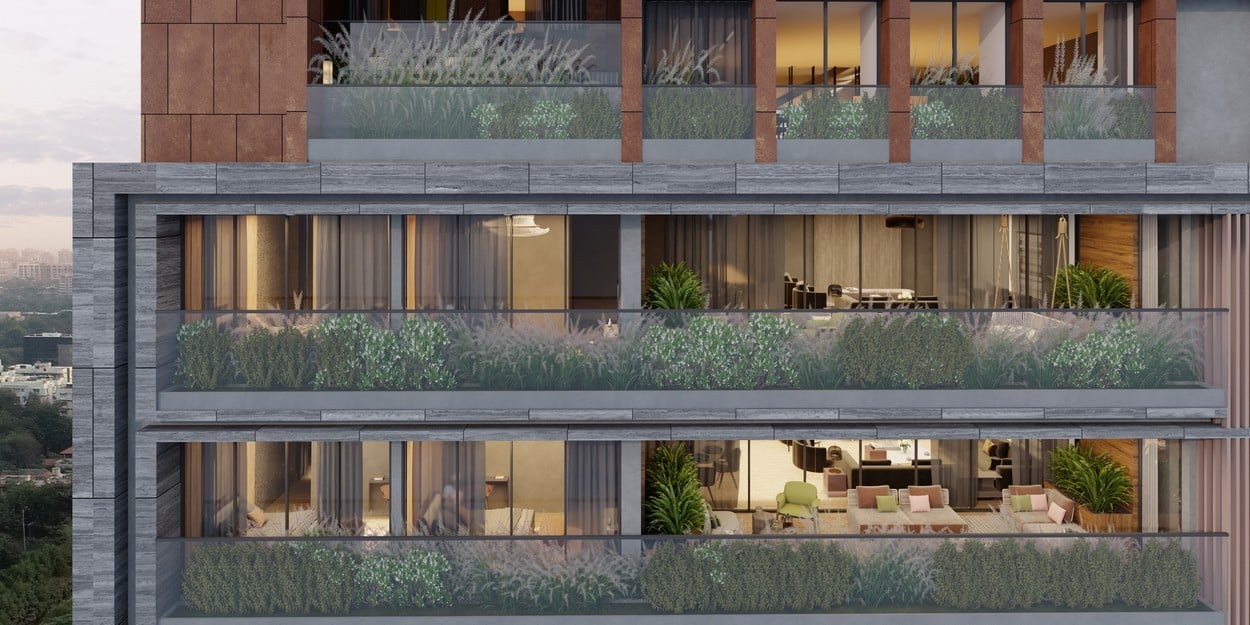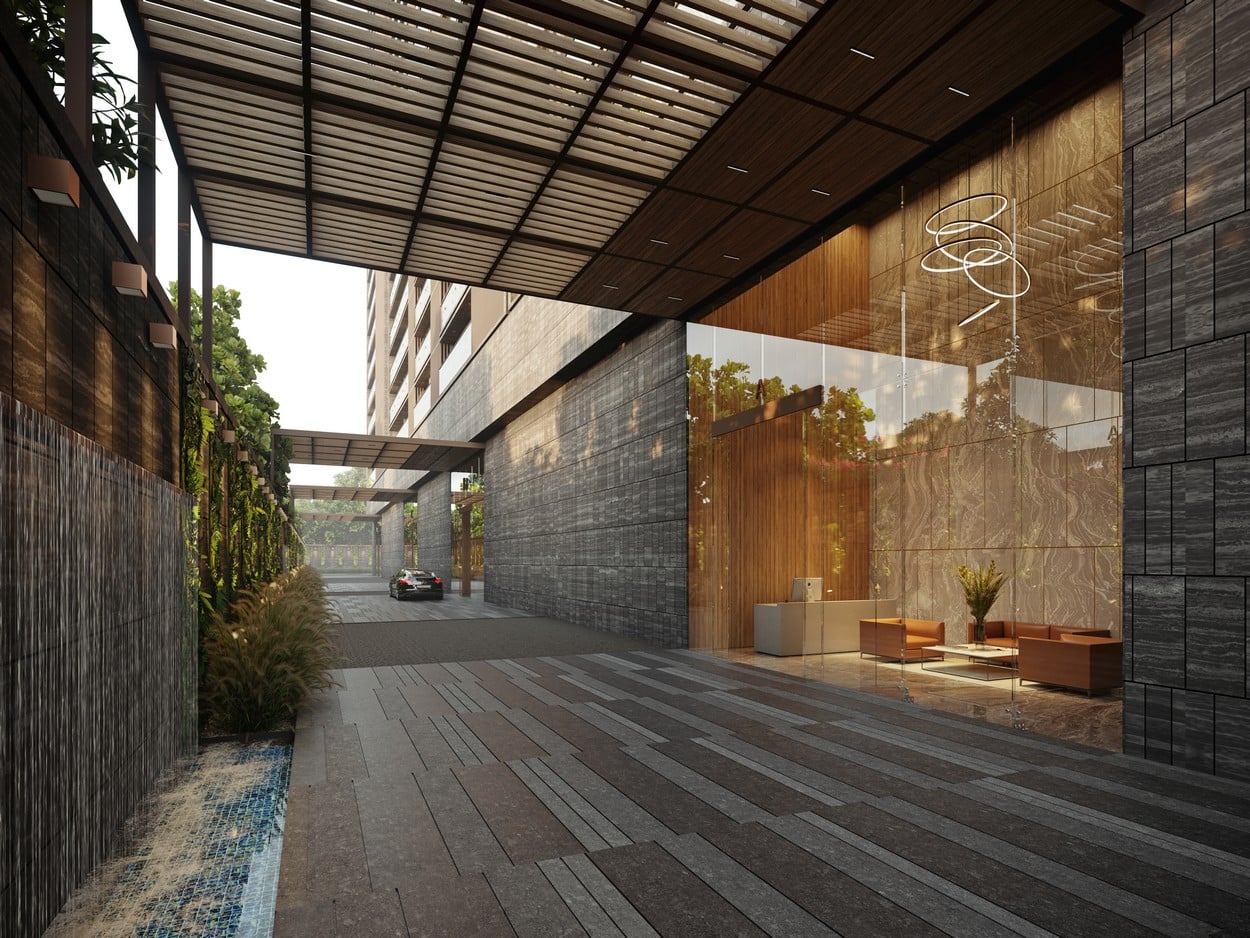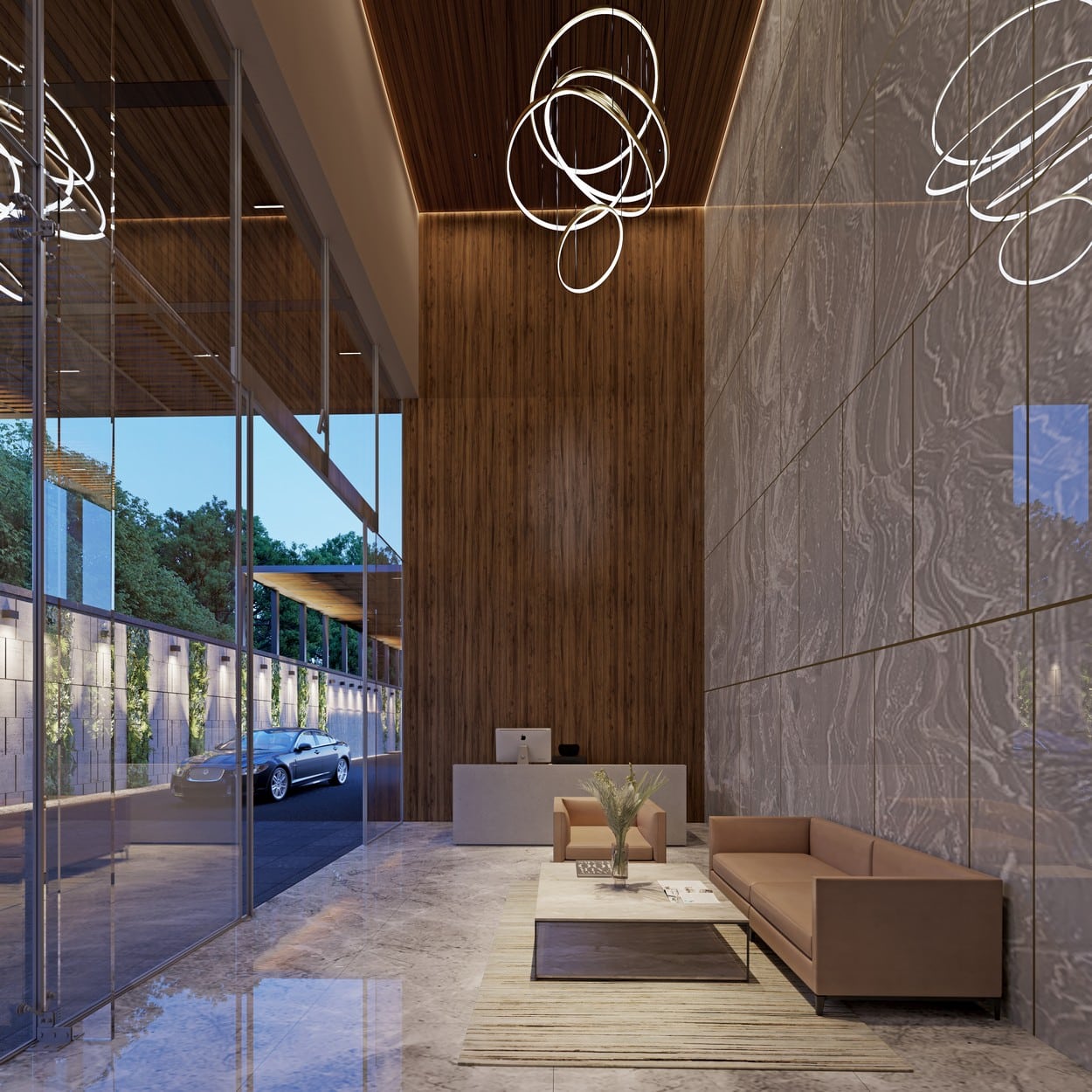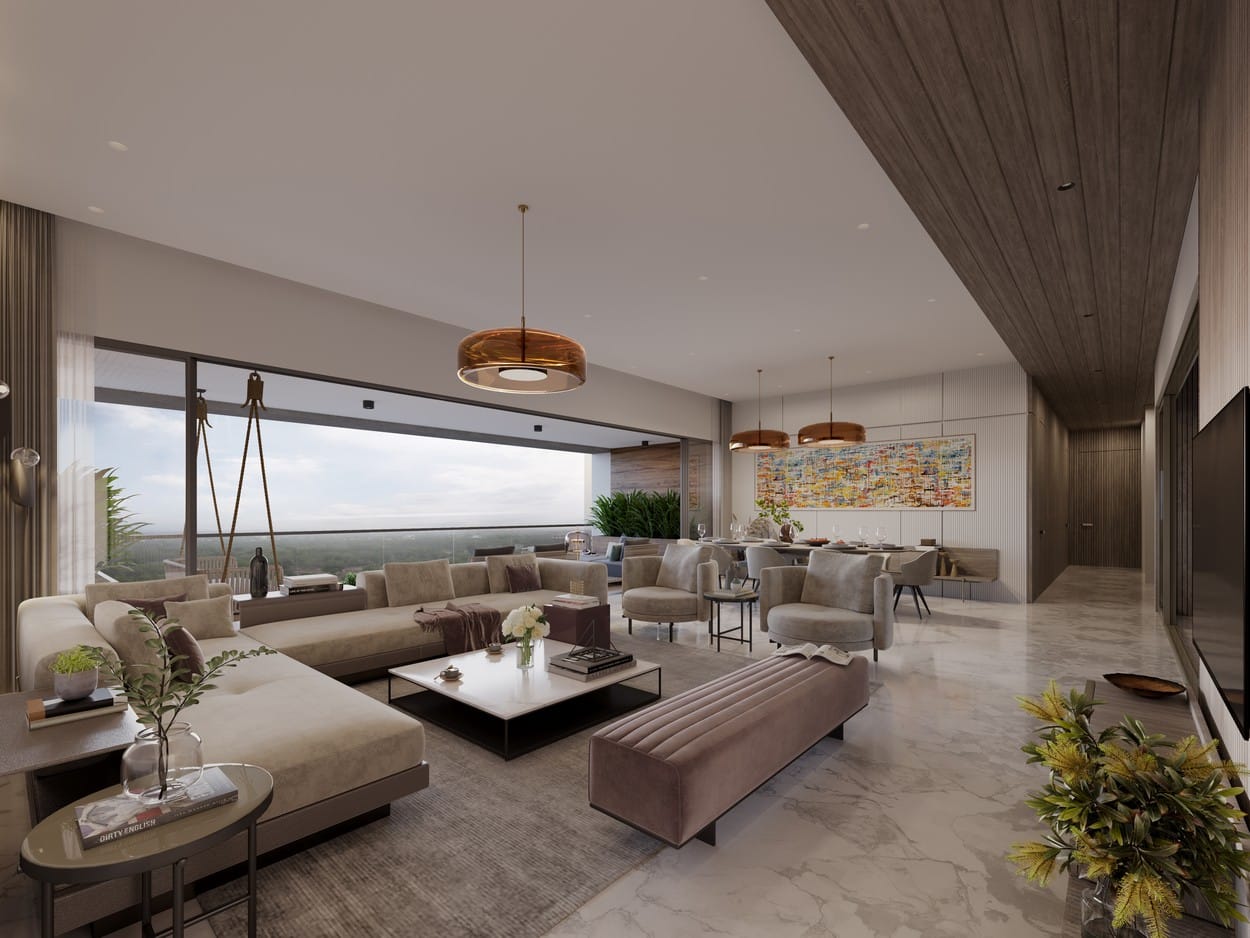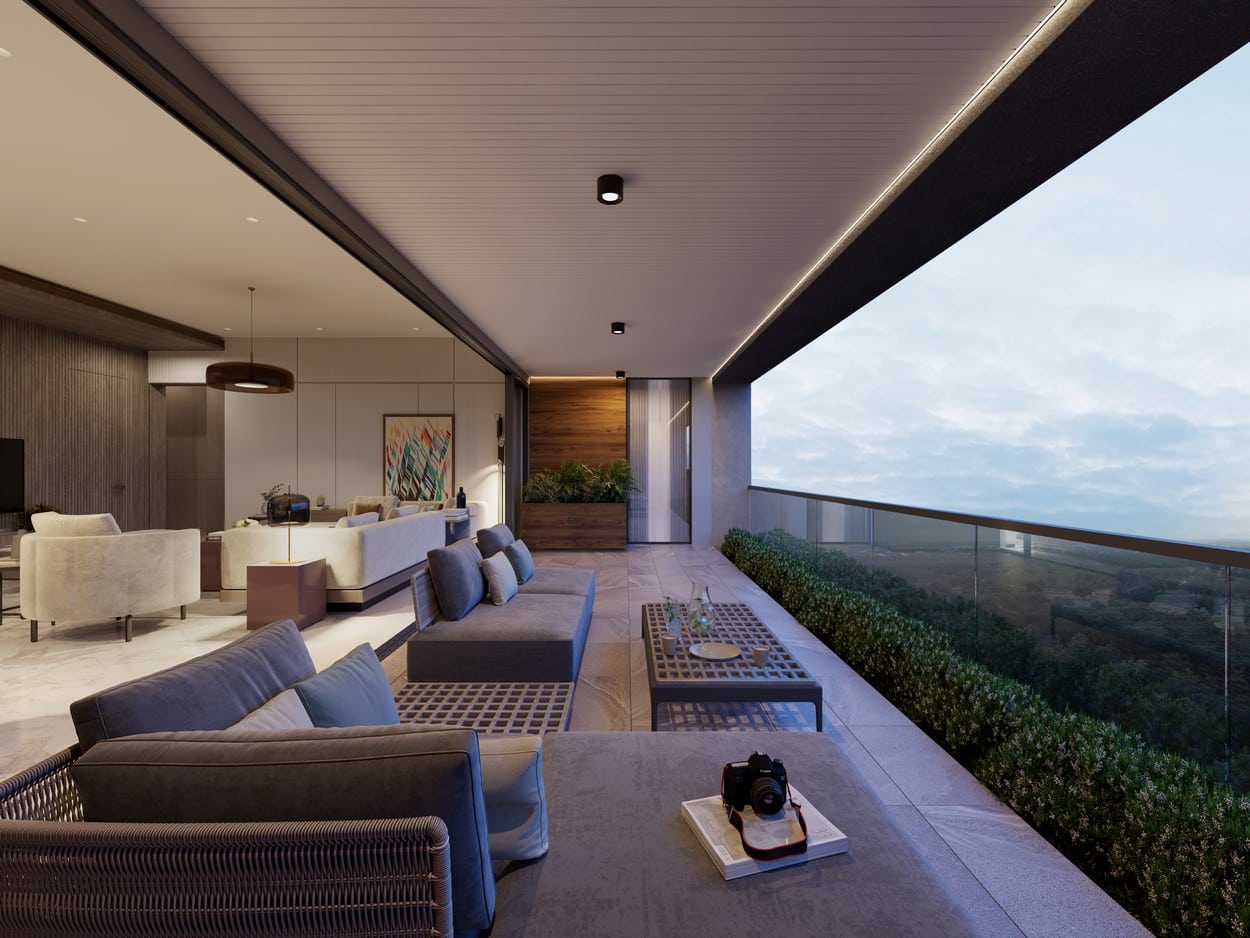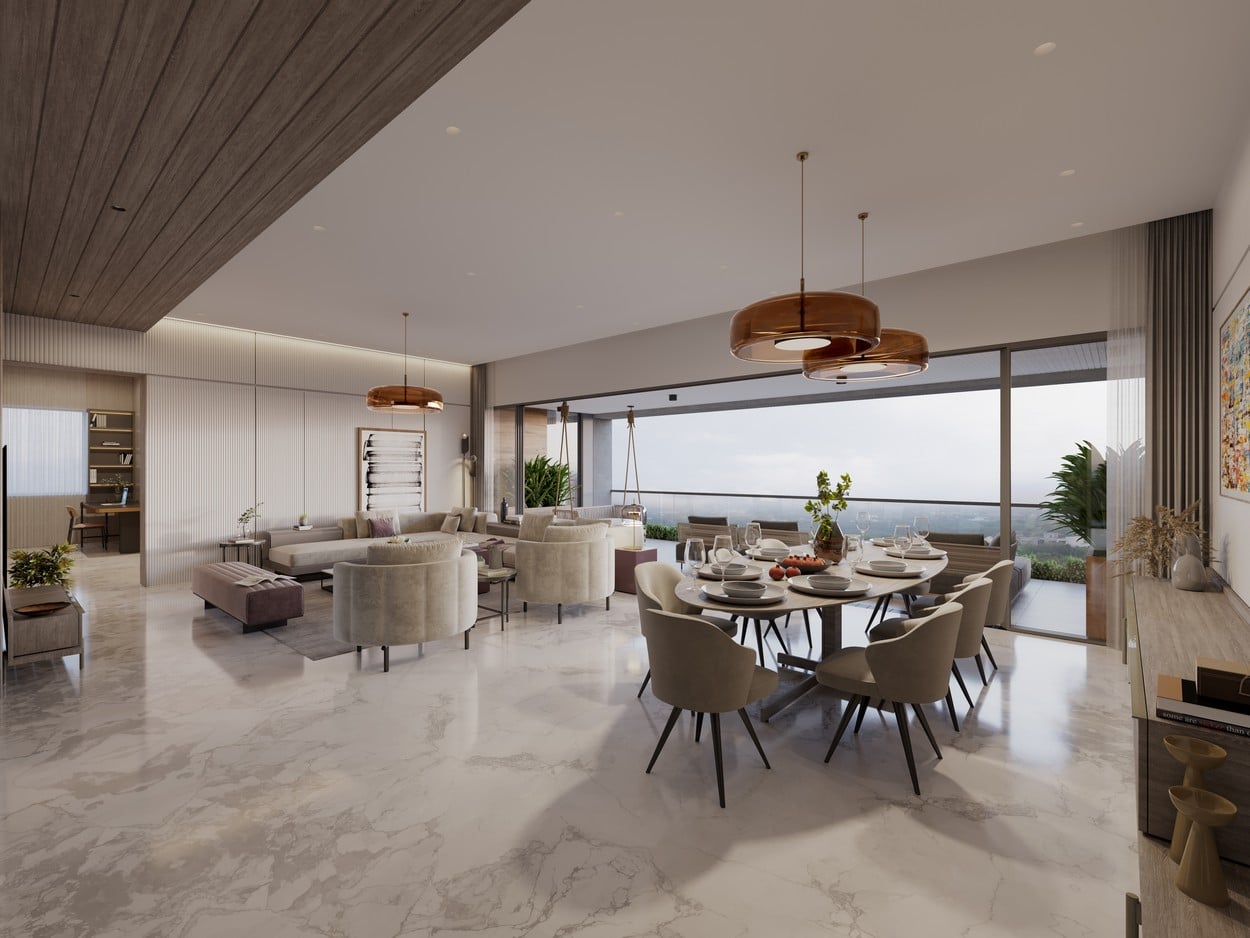 Harnessing the splendour of the surrounding landscape, the apartments have been thoughtfully designed to provide awe-inspiring views. Whether it be the captivating city skyline, verdant expanses of lush greenery, or idyllic natural landscapes, residents will find themselves immersed in a panorama that captivate the senses. Expansive windows and inviting balconies ensure an abundance of natural light within each apartment, creating an ambiance that is both serene and rejuvenating. The four exclusive penthouses have been provided with private pool and double height living spaces overlooking the tranquil panoramic views.
A plethora of amenities augments convenience and well-being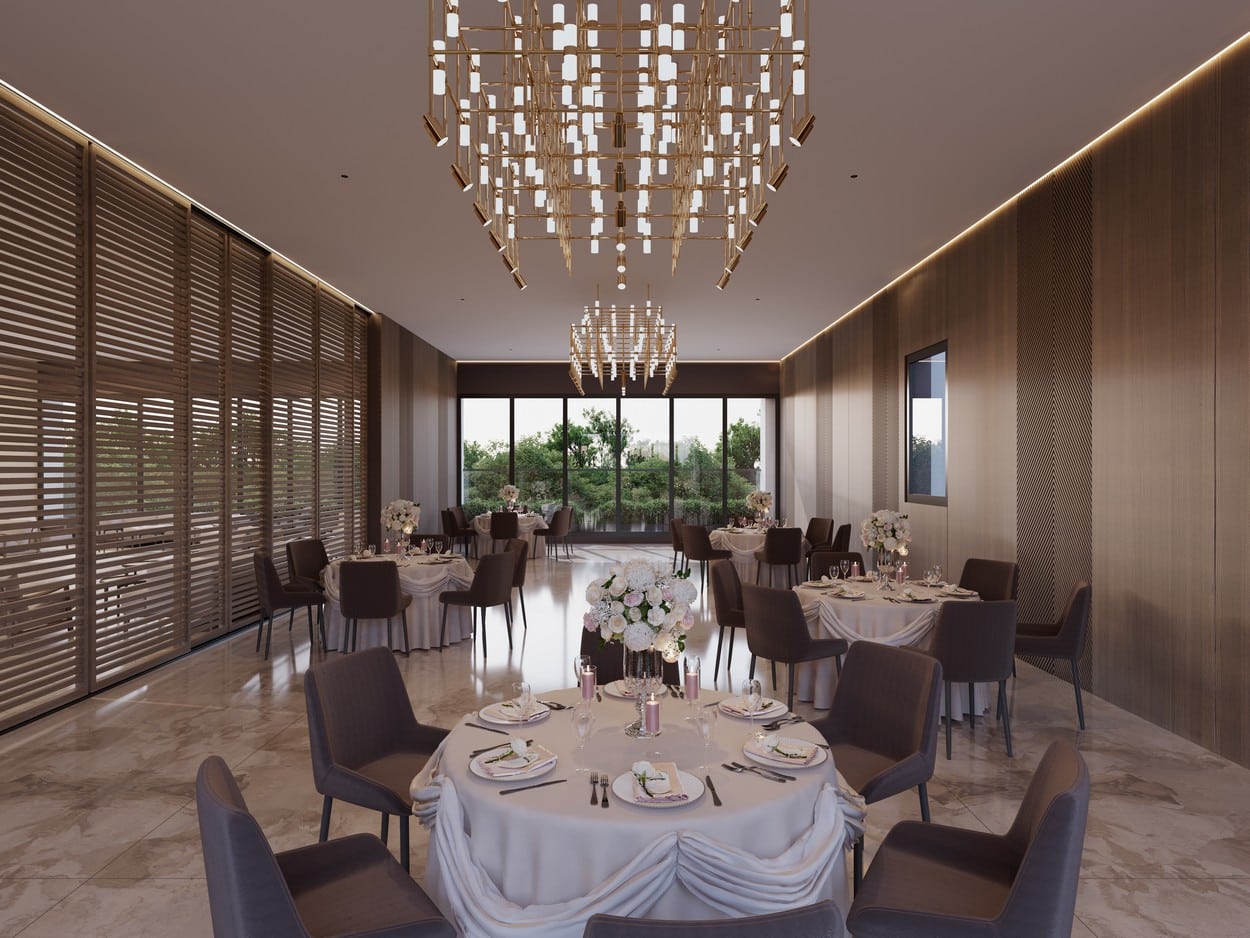 The complex boasts of an impressive array of amenities to cater to the discerning needs of the residents. Within the premises, a 24/7 concierge service stands ready to deliver personalized assistance, attending to every request. A well-equipped fitness center and yoga studio offer spaces for invigorating workouts and rejuvenating practices, fostering a healthy and balanced lifestyle. The rooftop sun deck and meticulously manicured gardens create a serene oasis, where residents can unwind and soak in the tranquil ambience. Pathways wind through beautifully landscaped gardens, inviting residents to stroll amidst nature's resplendent beauty. Promoting a vibrant community spirit, a multipurpose community hall serves as a versatile space for social gatherings and events, facilitating meaningful connections and shared experiences. A dedicated children's play area allows young imaginations to run wild, fostering joyful engagement and youthful delight. Amenities like ample parking spaces for both residents and visitors, high-speed elevators and 24/7 security and surveillance systems, ensure peace of mind around the clock, blending luxury with convenience, and providing an exceptional living experience.