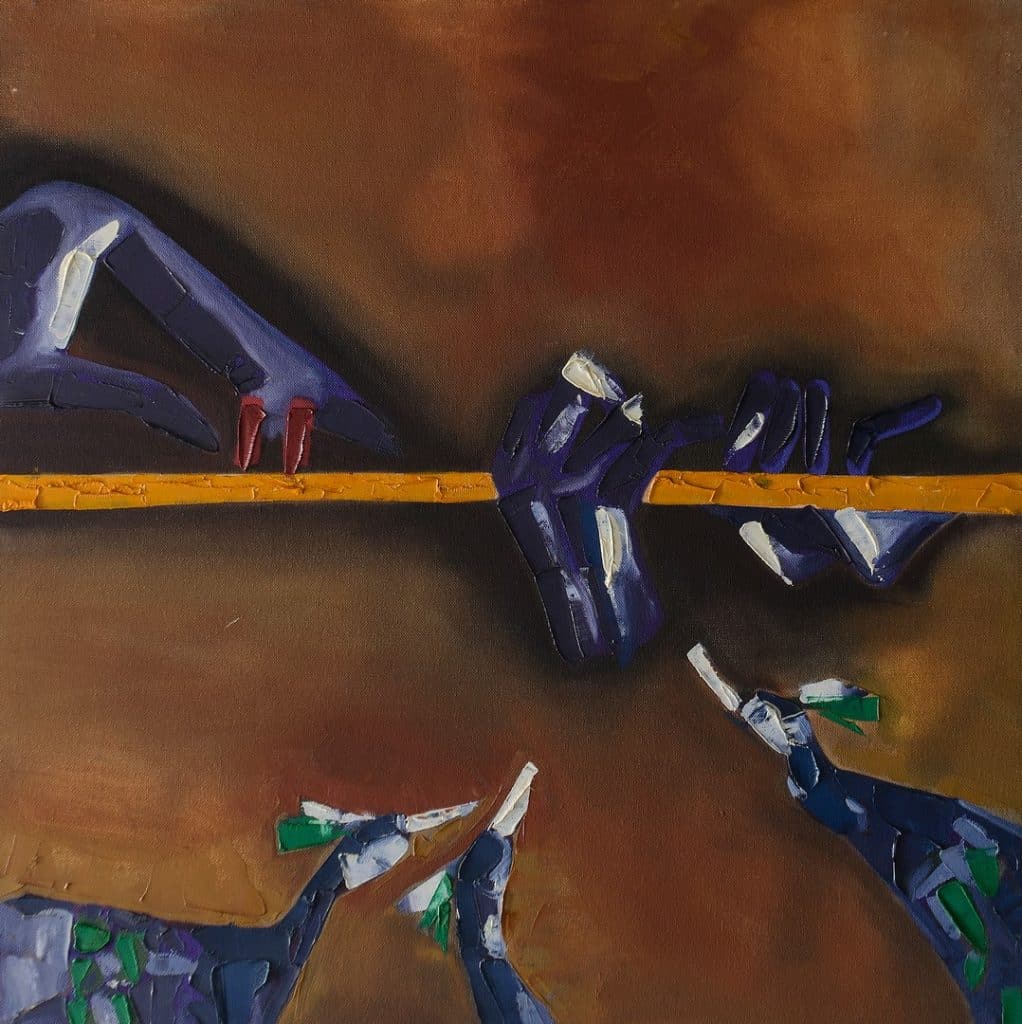 When Krishna blew the nectar of his lips into the flute, a melodious raga with a slow rhythm and a deep base emerged. This wonderful vibration enchanted the peacocks in and around the Govardhan hills. Their hearts began to sing in happiness and fill the skies with their own song. The resonant vibrations from the flute encouraged the peacocks to dance. Krishna, who is the source of all dramatic arts, was pleased with their dance and encouraged them by his kind glances and sweet smiling. They cried with joy and it sounded all over the hills. Krishna accepts to dance and moves amidst them, dancing like the peacocks increasing the tempo and playing to the rhythm of His steps. The bliss of the peacocks increased multifold when Krishna danced with them. It was so overwhelming, that some peacocks fainted. The spectacle was extremely splendid when seen from the top of the Govardhan hills. King of the peacocks approached Krishna with great humility, bowed down his head and said, "You have created a festival of bliss for which we remain eternally indebted to You. It is our duty to offer you 'Gurudakshina'. I request You to accept our only opulence, our plumage. Wear them on your crown as an ornament." With large tears of ecstasy, the king of peacocks dropped many divine feathers. Sri Krishna lovingly accepted the offering of the peacocks and picked up the feathers and to everybody's joy, placed a few of them on his turban.
Artist: J Hariyani
Medium: Oil on Canvas
Size: 28"x24"

Note By Artist: J Hariyani
I see our ecosphere as big interconnected web. Things unfold as we pass thru passage of time. Being an Architect and Urban Planner; I have fun working with infinite dimensions. Often Architects try to connect art with architecture, architecture with music so and so forth and we hear quotes such as….
"Architecture is art, nothing else" ….
"Architecture is the greatest of the arts" …
"Architecture at its best becomes works of art that we can move through and live in" …
To me it is about life. It is about interaction of "jivas" and "natural & built forms". These interactions create built environment and built experiences. It is about how built environment can make a difference for the progress in individual's life and for the society at large. The more you practice this phenomenon it grows on you and becomes your nature. At the core what matters is Values you believe in and how it guides "Design" & "Design Process". It takes you to journey of discovering something, learning something new. It brings joy of thinking, sketching, communicating, making, creating and recreating.
Practicing across the globe and working with many cultures, new materials and new technologies implanted multi-disciplinary approach in me. It has influenced me and how I design and create … be it Architecture or Art. It is impossible for one to be an expert in all aspects. One cannot master every material or every technology and that is where collaboration and collaborative creation comes to play. This is what we do day in and day out while practicing Architecture or Urban scale projects. While travelling and designing projects often I have ideas that are not directly applied on given project, but it sure provides me new avenue to explore them further as fun side projects that leads to my journey as an Artist as well. It takes me to different expeditions … sometimes it is journey of digital sketching using new app and tab, other times it takes me on tour of designing textiles or leads to creating ceramic art and titanium art and so and so forth.
Last year while visiting Nathdwara and Haridwar with family I ran into few art books on miniature paintings. The paintings that excited me most were on life of Lord Krishna and various forms of landscaped environments. Similarly, while on banks of Ganges; an evening Aarti and energy of lights energized me. These left impressions in me that lead to an idea of making digital paintings on Lord Krishna, urban vs rural landscapes and art on energy of Aarti and more. I started experimentation on new app on tablet which resulted in unique style. The creation of about 20+ digital paintings were a consequence of journey to Nathdwara, Haridwar followed by journey of app + tablet. Later interaction with Artist Prakash Vani and his Team of Platypus Lab textile weavers inspired me to work with them to transform my digital arts and canvases into textile and other mediums.